Pumpkin Spice Latte
Learn how to make a homemade pumpkin spice latte with this simple recipe.  It's much more affordable than going to the coffee shop every day, and so cozy and delicious.
'Tis the season again for all things pumpkin spice!
Since it has been five years since I first posted my pumpkin spice latte recipe (and a not-so-appetizing photograph), and people still seem to love their lattes even more than they did five years ago (so much so that Starbucks bumped up the release even earlier this year), I thought it was time to revisit this old favorite on the blog.
I have to admit that I'm not quite as obsessed with this drink as the masses, preferring my daily black pour-over coffee to sweetened lattes.  But on occasion, I definitely love one for a treat.  And when I do, you'd better believe I go all the way with homemade whipped cream (or vegan coconut whipped cream) and caramel sauce and a nice sprinkle of cinnamon on top, thankyouverymuch.
Still, if your Facebook feed looks at all like mine, it has been filled this month with doomday articles about howtheworldisending what's "really" in your pumpkin spice latte at Starbucks.  I don't know how much of those are true.  But I did decide years ago that — when I have the time — I really like making mine homemade and knowing exactly what goes into them.  Namely, real pumpkin.  And other natural flavors.
So if you happen to be a big fan of the ol' PSL, grab a can of pumpkin puree and let's make one!
The first step to making a homemade pumpkin spice latte is to make the 5-ingredient pumpkin spice syrup.  I made an enormous (quadruple) batch here, in order to have extra to share with some friends.  But you can make a smaller (much more reasonable) batch if you'd like.  :)
I make mine with less sugar than the original, but there's still quite a bit in there.  So feel free to adjust if you'd like.  (And stay tuned for an all-natural sugar version coming out soon on the blog using dates!)
There is quite a bit of real pumpkin puree in there, though, so cheers to that!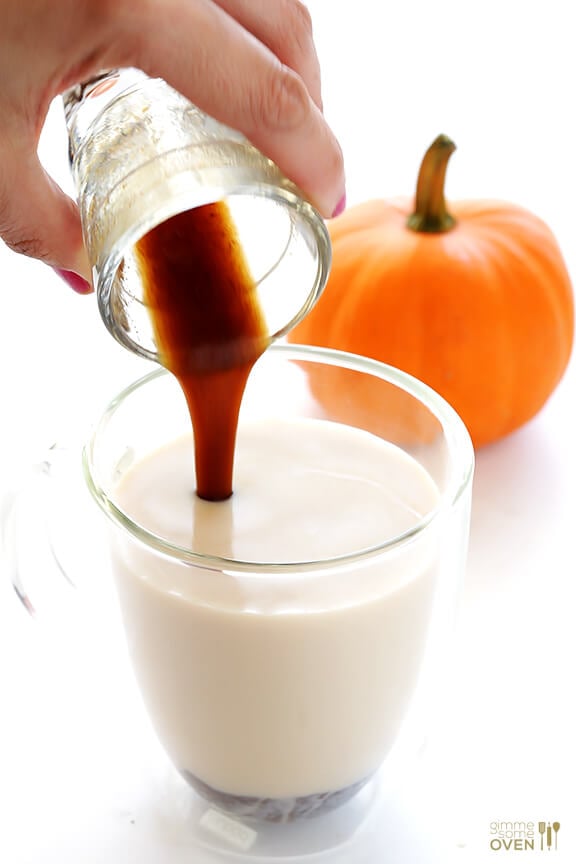 Once your syrup is ready, just combine it with some frothed milk (I use almond milk) and espresso (or strong coffee).  Stir them together…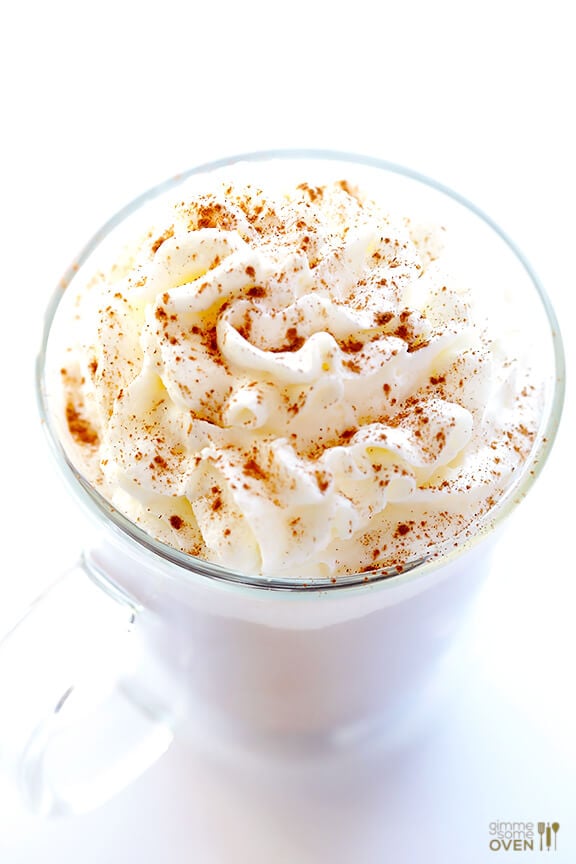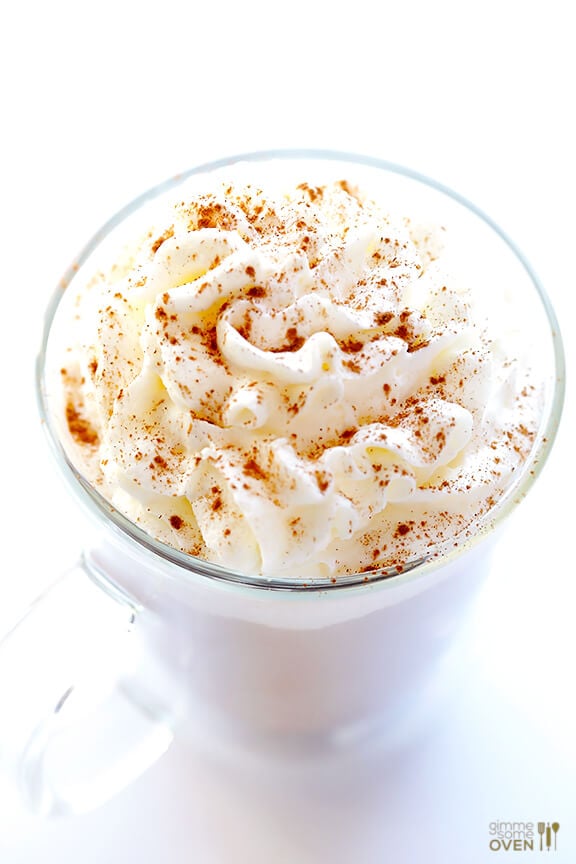 …and then if you really feel like a treat, top it off with some whipped cream, caramel syrup and a sprinkle of cinnamon.  And then enjoy!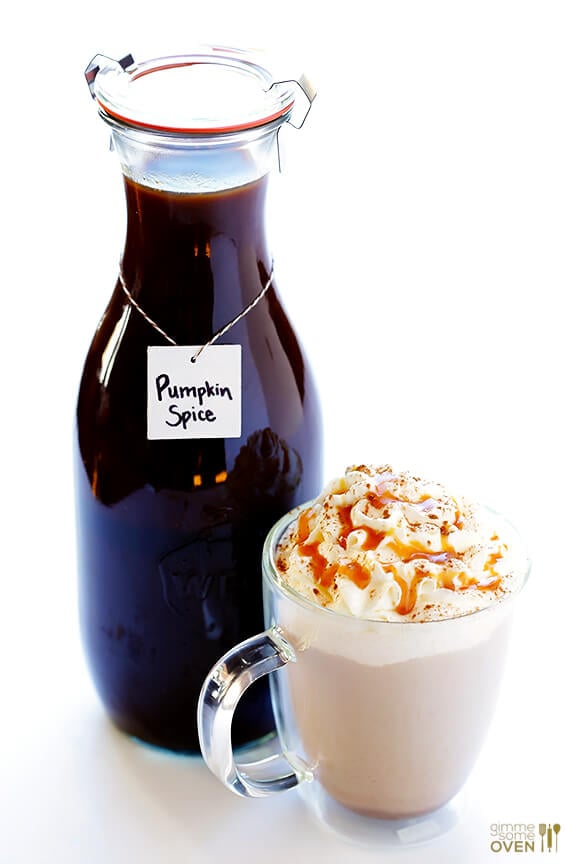 Cheers to fall!
Pumpkin Spice Latte
Learn how to make homemade pumpkin spice lattes (and homemade pumpkin spice syrup/concentrate) with this simple recipe.
Ingredients:
Pumpkin Spice Latte Ingredients:
1 shot (1.5 ounces or 3 tablespoons) espresso or strongly-brewed hot coffee
1 shot (1.5 ounces or 3 tablespoons) pumpkin spice syrup (see below)
6 ounces (3/4 cup) steamed milk, any kind
optional toppings: whipped cream (or vegan coconut whipped cream), caramel sauce, ground cinnamon
Pumpkin Spice Syrup:
Directions:
To Make The Pumpkin Spice Latte:
Add all ingredients together in a mug and stir to combine. Top with optional toppings if desired.
To Make The Pumpkin Spice Syrup:
Whisk together water, brown sugar, pumpkin puree and pumpkin pie spice together in a small saucepan over medium high heat. Bring to a boil, stirring occasionally. Reduce heat to medium low and simmer for 3 minutes until slightly thickened. Stir in vanilla extract, and remove from heat.
Use immediately, or refrigerate in a sealed container for up to 1 week.
*There are all sorts of different options for sweeteners here.  You can either use all brown sugar (as stated in the recipe, which I think tastes most like the traditional coffee shop version).  Or you can replace the brown sugar with maple syrup, or experiment with other natural sweeteners.  And of course, you can always add more/less sweetener if desired.
Everyone has different sugar needs/preferences, so do what works best for you.
**Recipe updated September 2014.
All images and text ©
If you make this recipe, be sure to snap a photo and hashtag it #gimmesomeoven. I'd love to see what you cook!