Greek Yogurt Gingerbread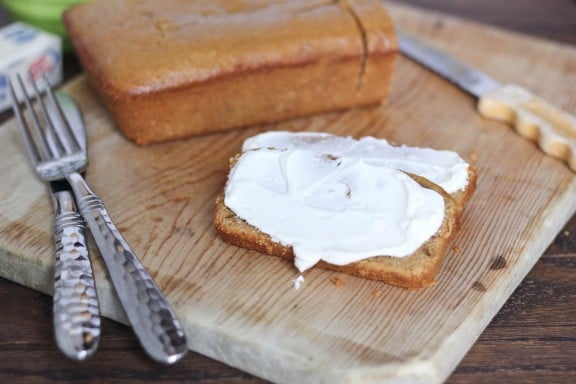 Hi friends – Ali here!  While I am away this month in Europe, I am thrilled that Cassie from Bake Your Day is guest posting here today.  In addition to being an incredible food blogger (you must check out her yummy site), Cassie is my next door neighbor and one of the dearest friends I could ask for.  I am so grateful to have her in my life.  And I'm extra grateful to have her sharing this delicious recipe with you today!  I know you will love it!
Hello, my name is Cassie and I'm addicted to Greek yogurt.  Not really addicted in the way that I can't stop eating it from the container with a spoon. No, really just using it to make other things really soft, moist and flavorful.  My love for baking with and cooking with Greek yogurt is nearly walking the fine line of obsession.
I keep it stocked in the fridge all the time because I constantly have ideas popping into my head of ways to use it in recipes.  Lately my mind has been fixated on a Greek yogurt pound cake that I made a while back.  I keep asking myself how I can add a little holiday spin to that pound cake.  Ginger, cinnamon, Greek yogurt…I was in business.
Admittedly, I have never made gingerbread.  I'm not really sure what the texture is supposed to be like, and I'm not even exactly sure what the flavors are but if I eat gingerbread, I want it to be as soft and silky as this one.  I made a quick topping that semi-resembled whipped cream but made with – you guessed it – Greek yogurt, some powdered sugar and vanilla.  It was the perfect topping for the bread.  I'm pretty sure that I could eat this every morning while enjoying fresh coffee and the lights on my Christmas tree.
Thanks for having me Ali, hope you are having an amazing trip.  We are all here just living vicariously though you!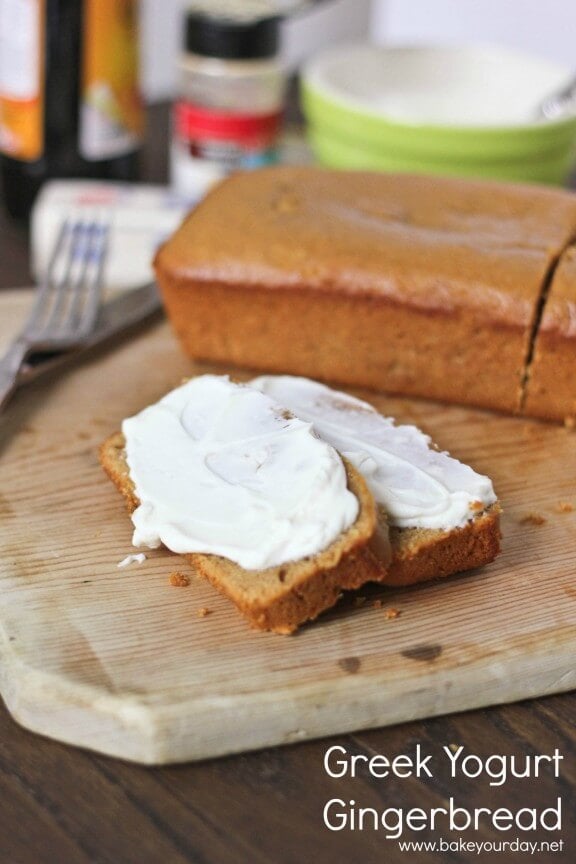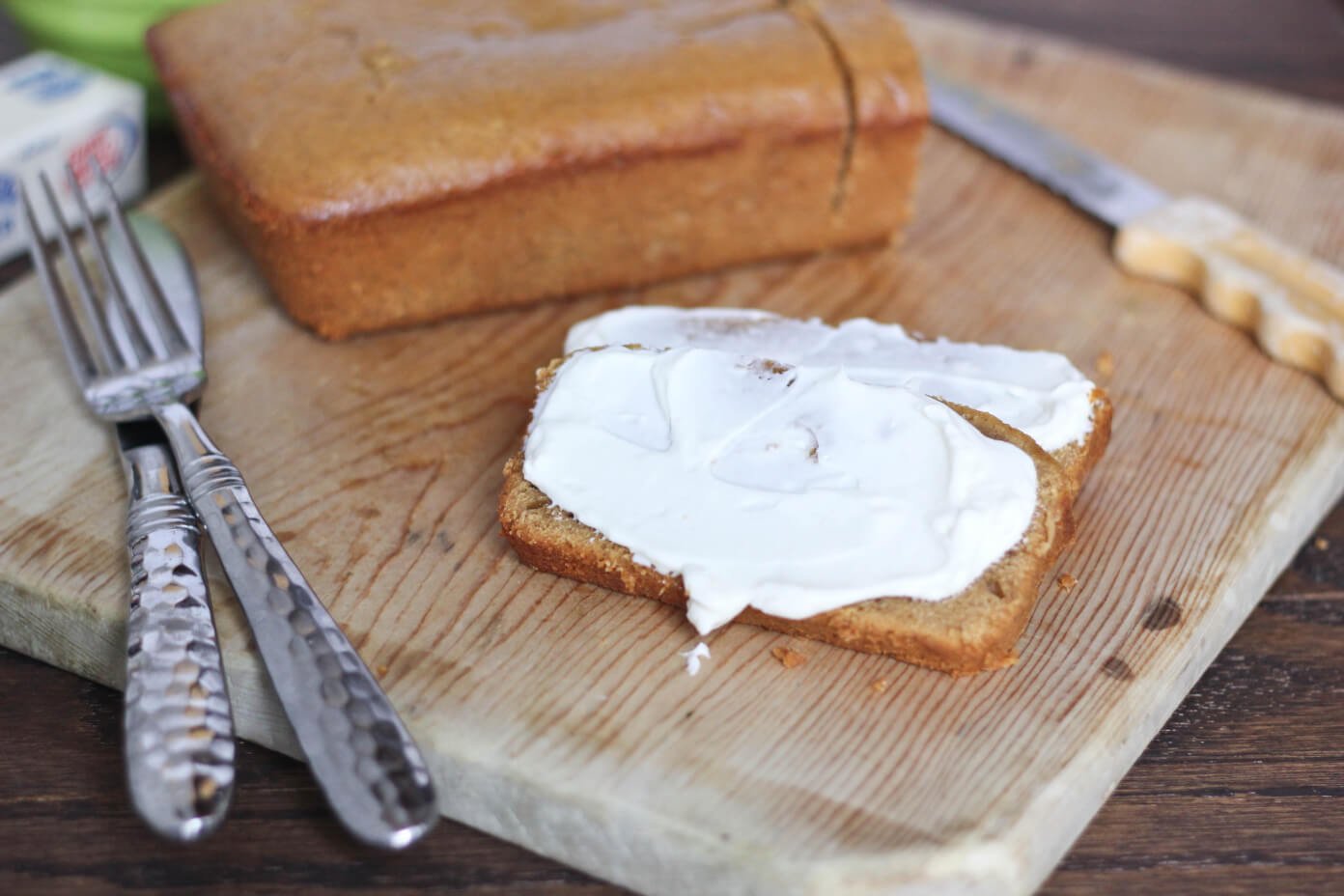 Greek Yogurt Gingerbread
An amazing spiced gingerbread recipe made with greek yogurt!
Ingredients:
For The Gingerbread:
1 1/2 cups all-purpose flour
2 tsp. dried ginger
1/2 tsp. ground cinnamon
1/2 tsp. ground cloves
1/4 tsp. baking powder
1/4 tsp. salt
1/8 tsp. baking soda
1/2 cup butter, softened
3/4 cup sugar
1/4 cup dark brown sugar
1/4 cup molasses
3 eggs
1 tsp. vanilla extract, store-bought or homemade
6 ounces 2% Greek Yogurt (plain or vanilla)
For The Greek Yogurt Topping:
1/2 cup Greek yogurt (plain or vanilla)
2 tsp. powdered sugar
1 tsp. milk
1 tsp. vanilla extract
Pinch of ground ginger
Directions:
Preheat oven to 325 degrees. Grease one 9×5 loaf pan and set aside.
In a medium bowl, combine the flour, baking powder, baking soda, and salt. Set aside.
In the bowl of a stand mixer, cream the butter. Gradually add the sugar and cream until light and fluffy, about 7 minutes. Add the molasses and mix until combined. Add the eggs, one at a time, mixing each until fully incorporated and then mix in the vanilla.
Slowly add the dry ingredients, alternating with the Greek yogurt, to the creamed butter and sugars and mix just until incorporated. Add the vanilla extract and beat on low just until blended.
Pour the batter into the prepared pan and bake for 45-50 minutes until the edges begin to brown and a toothpick inserted in the center of the loaf comes out clean. Cool in the loaf pan for 10-15 minutes before transferring to a wire rack.
For the topping: mix the Greek yogurt, powdered sugar, milk and vanilla in a small bowl until combined. Serve with the gingerbread.
If you make this recipe, be sure to snap a photo and hashtag it #gimmesomeoven. I'd love to see what you cook!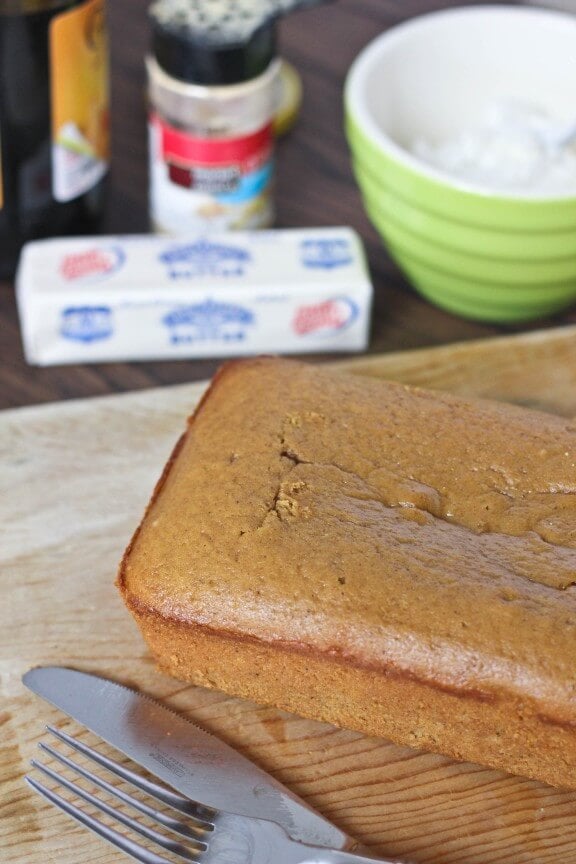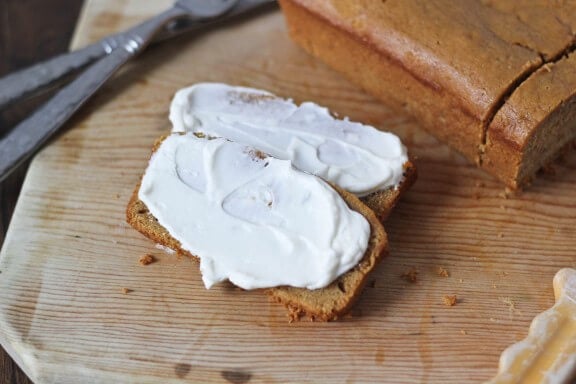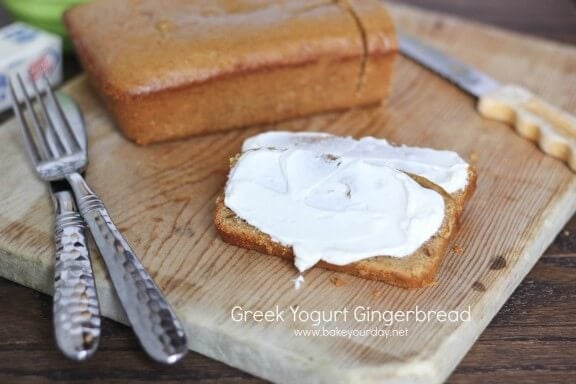 Don't forget to check out more of Cassie's amazing recipes at Bake Your Day, and follow Cassie on Facebook, Twitter, Instagram and Pinterest.