Healthier Green Bean Casserole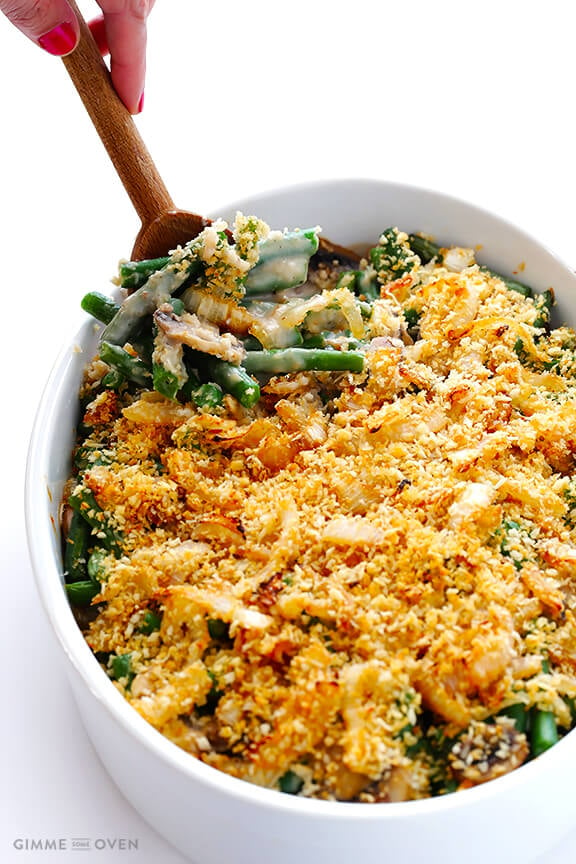 Hey hey!  Guess who's finally getting on board with the Thanksgiving recipe train?
This food blogger, that's who.
I've been a little slow getting to all of the classic holiday recipes this year, partly because there are already lots of Thanksgiving recipes on the site, and partly because — ehh — sometimes even a food blogger doesn't really want to eat lots of holiday food until closer to the holiday too.  But I cooked up a huge pre-Thanksgiving feast last week and have all sorts of good recipes ready to share with you over the next few weeks.  So get hungry, because it's going to be a feast!  
First up this year is my take on classic green bean casserole.  It tastes decadently creamy, it's chocked full of fresh green beans, it's topped with a crispy onion topping that everyone will love — oh, and it's totally lightened up!  Yep, no processed cans of creamy soup or deep-fried canned onions in this one.  Just a decadent, delicious casserole that your guests will probably never guess is better for them than the original.  Shall we?
I have to admit that I was a little late to the liking-green-beans party in life.  But my gateway into trying them was always classic green bean casserole on Thanksgiving.  Yes, I was totally "that kid" who would sit there and pick off the French's fried onions to eat.  And then maybe choke down a green bean or two when Mom was watching.  But over the years, the beans somehow started to grow on me Thanksgiving after Thanksgiving.  And then once I learned how to roast them — which is basically how I learned to like every vegetable — I was hooked.
Nowadays I'm a big fan of all green beans.  But I still have a soft spot for the casserole that started it all many Thanksgivings ago.  I just like to make it my way now.  And my way is generally lighter, fresher, and more seasoned — which works out great for this casserole!
To make the recipe, we actually begin with the end in mind — the crispy onion topping.
Now I love those canned onions just as much as anyone else, but the fact that they come from a can has always kind of weirded me out.  And, well, let's just say they're not the best for you.
So instead, simply saute up an onion until it's nice and browned (you can use butter or olive oil), and then transfer the onions to a separate bowl with a slotted spoon.  Then add some Panko breadcrumbs to the pan, and saute them a bit more until they are nice and browned and extra crispy.  Transfer the Panko to the bowl with the onions and toss them all together with some grated Parmesan and salt, and you've got your topping.  Set it aside.
(If you would like more of an Italian twist to this dish, I also recommend adding 1 teaspoon of Italian seasonings to the onion topping.)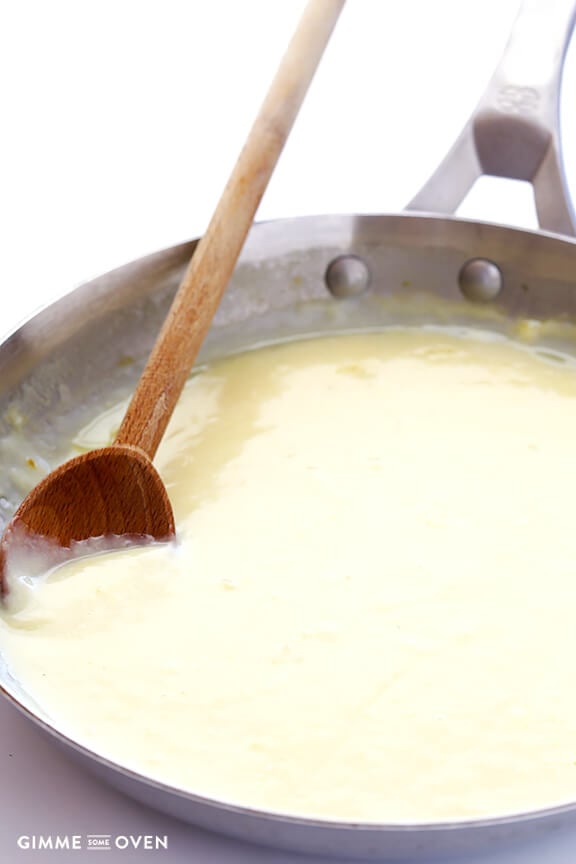 Next, you get to make the creamy mushroom sauce.  As I mentioned, it is based off of my favorite Skinny Fettuccine Alfredo recipe.  (I forgot to take a photo of the mushroom sauce, so here's a pic of the alfredo.)   It is garlicky, it's Parmesan-y, and it's thick and creamy but made with regular milk instead of heavy cream.  Readers always give it great reviews, and I'm a big fan.
Simple saute up some fresh mushrooms until they are cooked.  And in the same saute pan, make your creamy alfredo sauce.
Meanwhile, prepare your beans.  I like mine in bite-sized pieces with the ends snipped off, but you can prepare them however you want.  Simply place them in boiling water for about 5 minutes, or until they are cooked and bright green but still have a "bite" (or you can cook them to be as soft as you'd like).  Then drain the beans, and transfer them into a large bowl of ice water to stop the cooking.

Drain the green beans again and toss them with the creamy sauce.  Then transfer the mixture to a greased baking pan, and sprinkle the onion mixture on top.  Bake it up until it's nice and crispy and bubbly.
And then dig in!
Seriously, this casserole is everything I love about the original.  But all the more enjoyable knowing that it's made with fresher, healthier ingredients.
You still might catch me picking off that crispy onion topping every now and then, though.  ;)
Enjoy!  And stay tuned for more Thanksgiving recipes coming soon!
Healthier Green Bean Casserole
This healthier green bean casserole is made with fresh and lighter ingredients, yet tastes just as comforting and decadent as the classic recipe!
Ingredients:
Casserole Ingredients:
2 pounds fresh green beans, trimmed and cut into bite-sized pieces
mushroom sauce (see below)
crispy onion topping (see below)
Crispy Onion Topping Ingredients:
1 Tablespoon olive oil or butter, divided
1 medium onion, peeled, quartered and thinly sliced
1/2 cup Panko breadcrumbs
1/4 cup freshly-grated Parmesan cheese
1/4 teaspoon salt
Mushroom Sauce Ingredients:
2 Tablespoons butter or olive oil
8 ounces white button or baby bella mushrooms, thinly sliced
4 cloves garlic, minced
3 Tablespoons all-purpose flour (or cornstarch, if gluten-free)
1/2 cup chicken or vegetable stock
1 cup milk (I used 2%, but any milk will work)
1/2 cup Parmesan cheese, grated (not packed)
1/2 teaspoon salt
1/4 teaspoon ground black pepper
Directions:
To Make The Casserole:
Begin by preparing the onion topping.  Then make the mushroom sauce.
While those are cooking, preheat oven to 375 degrees and bring a large stockpot of water to a boil.  Add the green beans and boil for 3-5 minutes, or until they reach your desired level of doneness.  (I like mine cooked but still slightly crispy.)  Drain the green beans, then transfer them to the bowl of ice water and stir them in.  This will stop them from cooking more.
When the mushroom sauce is ready, transfer the green beans into the pan with the sauce and toss until combined.  Pour the green bean mixture into a baking dish that has been greased with cooking spray.  Then sprinkle the onion topping evenly on top.  Bake for 25 minutes.  Serve warm.
To Make The Crispy Onion Topping:
Heat half of the butter in a large saute pan over medium-high heat until melted.  (Or if using olive oil, heat until it is shimmering.)  Add the onions and saute, stirring occasionally, for about 5 minutes or until they are soft and starting to brown around the edges.  Use a slotted spoon to transfer the onions to a separate mixing bowl.
Add the remaining half tablespoon of butter (or oil) to the pan and heat until melted.  Add in the Panko breadcrumbs and stir until combined.  Cook, stirring once every 30 seconds or so, for about 3-5 minutes until the Panko is toasted and lightly golden.  Remove from heat and transfer the Panko to the bowl with the onions.  Stir in the Parmesan and salt, and toss the mixture until combined.  Set aside.
To Make The Mushroom Sauce:
In the same saute pan that you used to cook the onion and Panko, heat butter in a large saute pan over medium-high heat until melted.  (Or if using olive oil, heat until it is shimmering.)  Add mushrooms and saute for 3-5 minutes until they are soft and cooked, stirring occasionally.  Add the garlic and saute for an additional 1-2 minutes until fragrant, stirring occasionally.  Sprinkle with flour, and stir to combine. Saute for an additional minute to cook the flour, stirring occasionally.
Slowly add chicken broth, whisking to combine until smooth. Whisk in milk, and bring the mixture to a simmer. Let cook for an additional minute until thickened, then stir in Parmesan cheese, salt and pepper until the cheese is melted. Reduce heat to low until the sauce is ready to be tossed with the green beans.
(*If the sauce seems too thick, you can add in an extra 1/2 cup of milk.  If the sauce is too thin, you can add in an extra 1/4 cup of Parmesan cheese.)
All images and text ©
If you make this recipe, be sure to snap a photo and hashtag it #gimmesomeoven. I'd love to see what you cook!