Honey Lemon Cupcakes (with Honey Cream Cheese Frosting)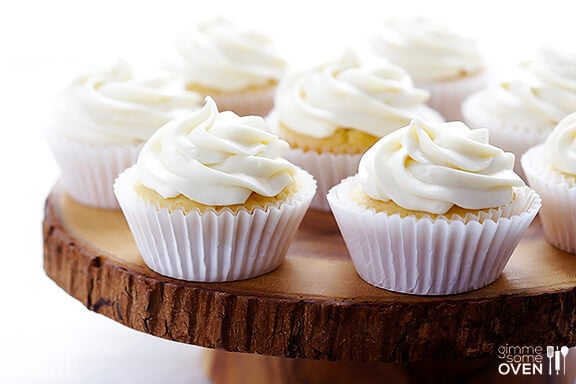 As I mentioned in my last post, there was some monumental news in my loft building this past week.
We got a grill, people!
Yeah, after smoking up my little loft apartment for the 100th time with my grill pan, it seemed like summer was the perfect time to see about getting the real deal.  So my friend, Liz, and I petitioned our management to see if they would give it the "ok".  And miraculously they agreed and a big shiny new grill was delivered to our loft last Friday night.  Success!!
To put it to use, I somehow found myself organizing the first of our #neighbornights (oh yes, we're hashtagged) this past weekend to celebrate.  I had some shrimp and a zucchini ready to grill, but I honestly wasn't sure if anyone would show up.  I started texting everyone I knew, and spreading the word to anyone I saw on the stairway.  And one by one, people started responding that they were planning to be there.  Lots of people.
I was stoked, but the entertainer in me began to kicked in, and I immediately started to worry about if there will be enough food.  (I know, I know.  I have yet to ever host a gathering where we actually run out of food, or even come anywhere close.  But everyone is entitled to an irrational fear, and I feel ok about the fact that mine at least produces good food for leftovers!)  So I ran to the market to grab the essentials to make a humongous strawberry spinach salad, a big batch of balsamic veggies for grilling, and a few pounds of shrimp to season with my favorite blackening powder from the spice merchant down the street.  I think it was easily enough food to feed a small army.
Every good meal needs dessert, though, and all I could find myself craving was cupcakes.  I know they are not really "grill food", per se, but they are my kind of dessert.  And for some reason on a hot summer night, a rich batch of cream cheese frosting sounded perfect.
I had been thinking a lot about honey that week after learning about Haagen-Dazs for Honey Bees, a hugely important project that Haagen-Dazs is helping to support in some really cool ways.  (And you should check out too!)  So I decided to make some cupcakes to show support with my favorite hot tea combination — honey and lemon.
The cupcakes turned out even better than I had hoped!  The cakes were that perfect balance of sweet and tart, and tasted extra fresh with the freshly-squeeze lemon juice and zest in there.  And then I made a huge batch of honey cream cheese frosting and piped it on generously.  Oh, and right after I snapped all of these photos, I had the idea to sprinkle them with some lemon zest.  A cute extra touch!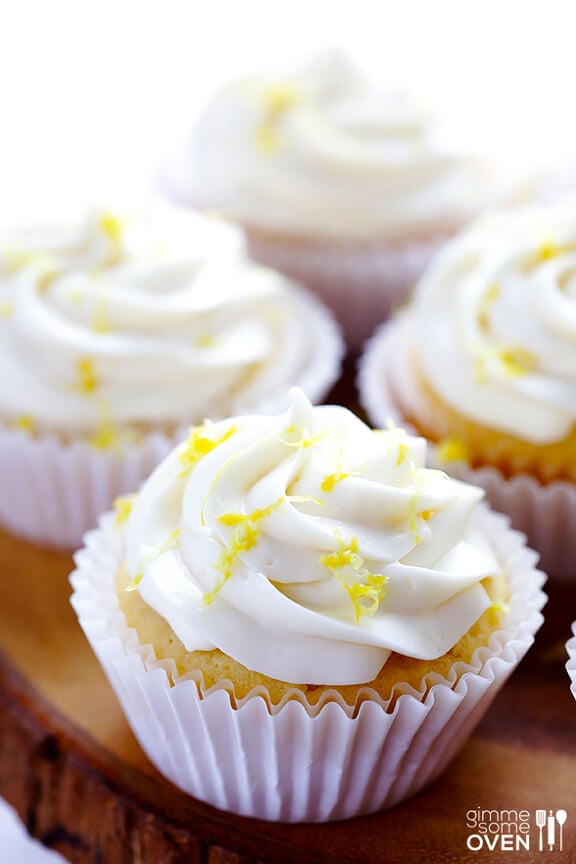 There's my solitary photo with said lemon zest.  ;)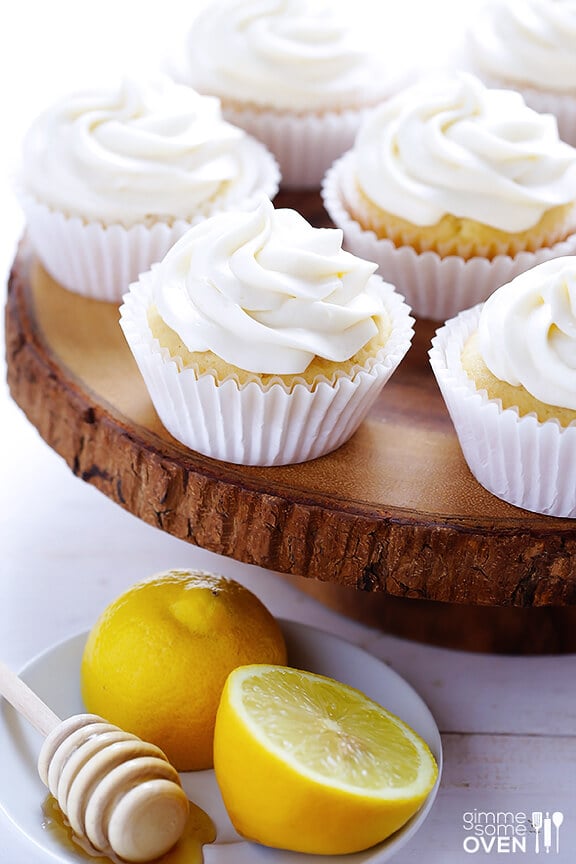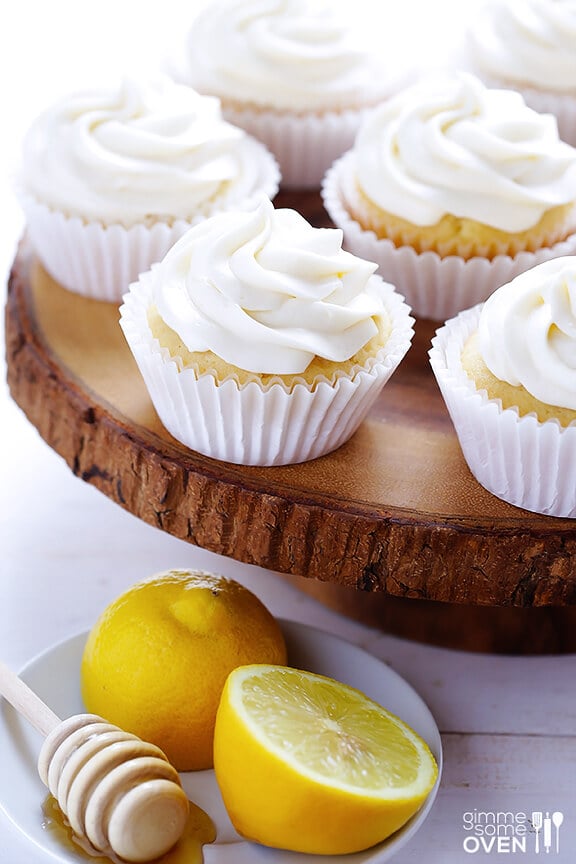 Sure enough, when I started hauling my smorgasbord of food and cupcakes downstairs to the grill, along with some goodies from my recent Moment for Me surprise box from Haagen-Dazs — some tasty snacks, white wine, and limoncello gelato.  I was elated to find that others were already down there with drinks in hand ready to go!  And of course they brought along a ton of food as well, so as is usually the case, there was no food shortage to be had.  So we loaded up the grill, and everyone took shifts cooking brats, and veggies, and kabobs, and fish, and burgers until we had an absolute feast on our hands.
More and more neighbors started showing up, including friends from the surrounding lofts who didn't want to miss out on the fun.  The cooks from the farm-to-table restaurant next door even came over to hang out, and offered some enormous fresh pork chops as a grill-warming gift to the crowd.  Everyone of course brought their dogs, who were thrilled to spend the evening off leash and playing and licking up crumbs.
And once everyone was completely stuffed after dinner, they insisted on making room for cupcakes.  I had made a triple batch as I was experimenting with the recipe, so there were plenty to go around.  We even ended up having some extras, which we happily offered to surprise passersby who were out for a Friday night in the market.
Needless to say, they were a huge hit.  Everyone asked for the recipe, and gushed over the magic that is cream cheese frosting.  Sure, they might not have technically been "grill food", but I'm pretty sure they ended up being the perfect end to our first-ever grilling neighbor night.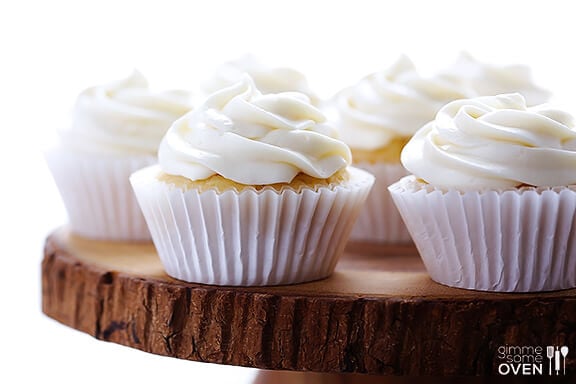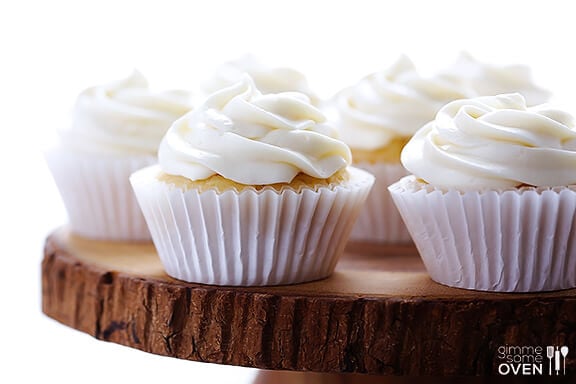 To be honest, I was initially going to write about my time making these cupcakes as my Moment for Me, my project with Haagen-Dazs where a few bloggers are helping celebrate the small and large moments (#hdmoments) that you set aside during the day to savor some re-energizing time for yourself.  But as has happened with some of my previous posts with this campaign, I've realized that more often than not, my favorite moments seem to be those shared with good friends — especially when they involve food shared with good friends.
I will always love getting to spend time in my kitchen, mixing batter and taste-testing and adding an extra teaspoon of lemon zest here and there.  Cooking has always been an intensely comforting and rewarding day to day part of my life.  But when it came to these cupcakes, the "moments" I will cherish most were those when my friends' faces lit up at the sight of a table filled with cupcakes.  And their eagerness to bounce over to the cupcake table after finishing their last bite of steak.  And the eyes squeezed shut with delight upon savoring the first bite, licking the frosting off their fingers and laughing as the dogs sat nearby on high-alert for crumbs falling to the ground.
Those are the kind of moments which overwhelm me with gratitude, and remind me why I started cooking and baking in the first place.  Life is definitely sweeter when shared, and all the sweeter with lemon honey cupcakes like these.  ;)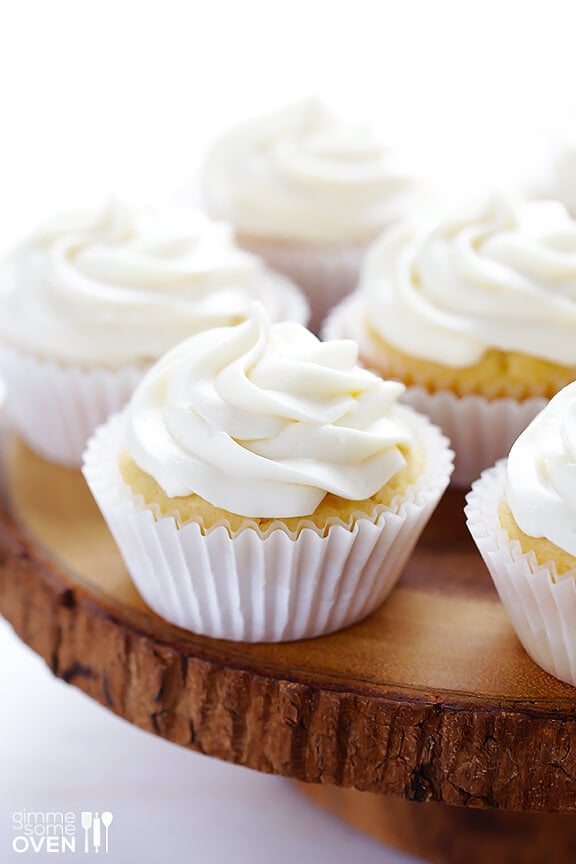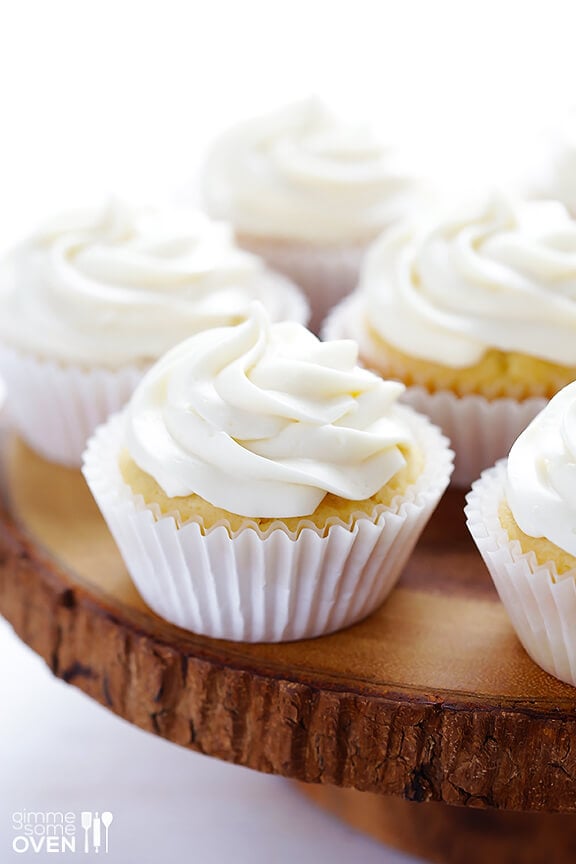 Honey Lemon Cupcakes (with Honey Cream Cheese Frosting)
Lemon and honey come together to make the perfect tasty cupcakes!
Ingredients:
Honey Lemon Cupcake Ingredients:
1/2 cup (1 stick) unsalted butter, softened
3/4 cup granulated sugar
2 eggs
1 1/2 cups all-purpose flour
1 tsp. baking powder
1 tsp. salt
1/2 cup milk
1/4 cup honey
1 Tbsp. lemon juice
1 tsp. vanilla extract
2 Tbsp. lemon zest
Honey Cream Cheese Frosting Ingredients:
1 (8 ounce) package cream cheese, room temperature
1/4 cup unsalted butter, room temperature
1/3 cup honey
3-4 cups powdered sugar
Directions:
To Make The Honey Lemon Cupcakes:
Preheat oven to 350 degrees. Line a muffin tin with baking cups.
Using an electric stand mixer, cream together butter and sugar on medium-high speed for about 2 minutes. Add eggs, one at a time, and mix until just combined.
In a separate bowl, whisk together flour, baking powder, and salt. In a smaller bowl, combine milk, honey, vanilla, lemon juice and lemon zest.
Add half of the flour mixture to the butter mixture, beating until just combined. Add in the milk mixture, then add the remaining flour mixture, mixing until just combined.
Fill baking cups 2/3 of the way full. (Check out this post http://www.gimmesomeoven.com/how-to-fill-cupcake-and-muffin-liners/ to see how I fill cupcakes uniformly.) Bake for 18-20 minutes, or until a toothpick inserted in center comes out clean. Transfer to a wire rack to cool completely before frosting.
To Make The Honey Cream Cheese Frosting:
Using an electric mixer, beat the cream cheese, butter and honey until fluffy, about 2-3 minutes. Gradually add in powdered sugar until you reach your desired consistency. Pipe or spread onto cupcakes.
If you make this recipe, be sure to snap a photo and hashtag it #gimmesomeoven. I'd love to see what you cook!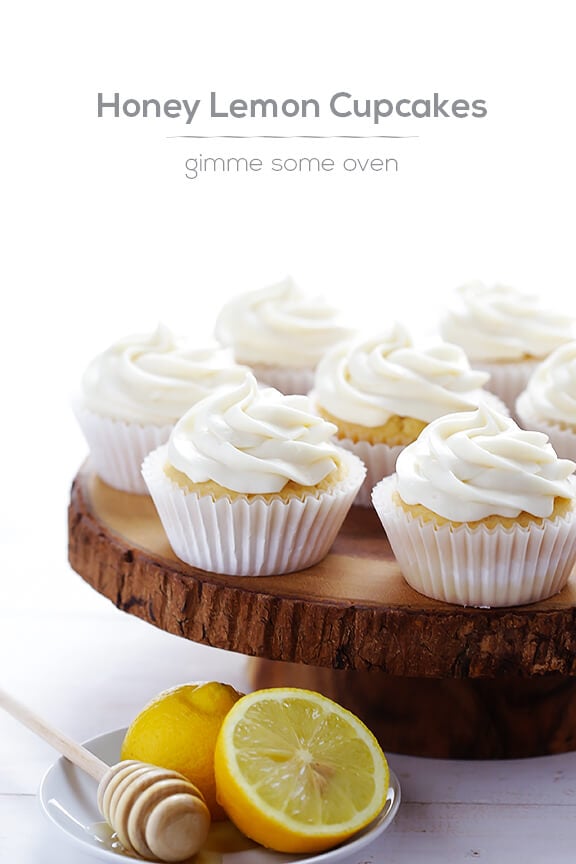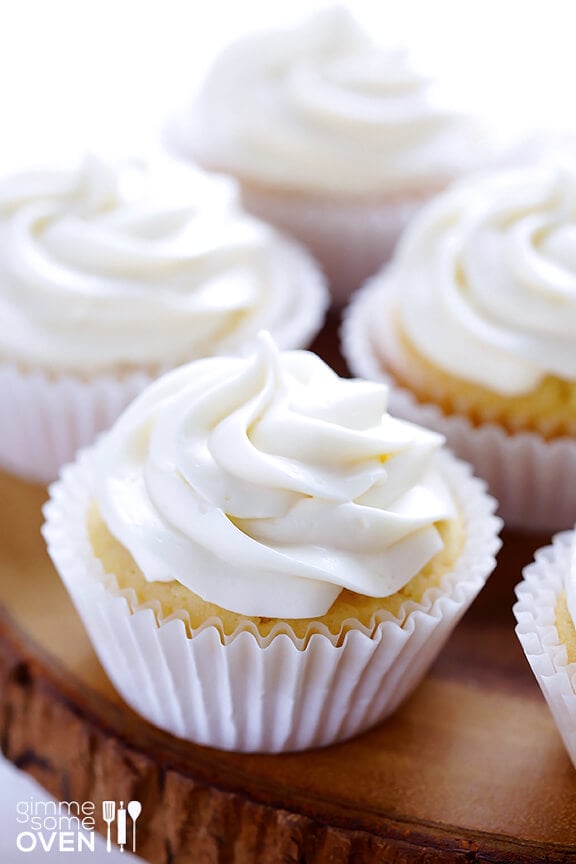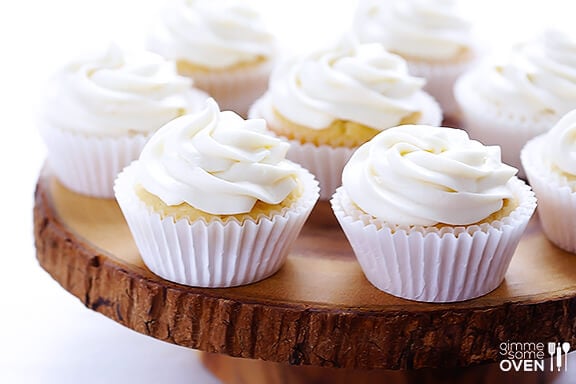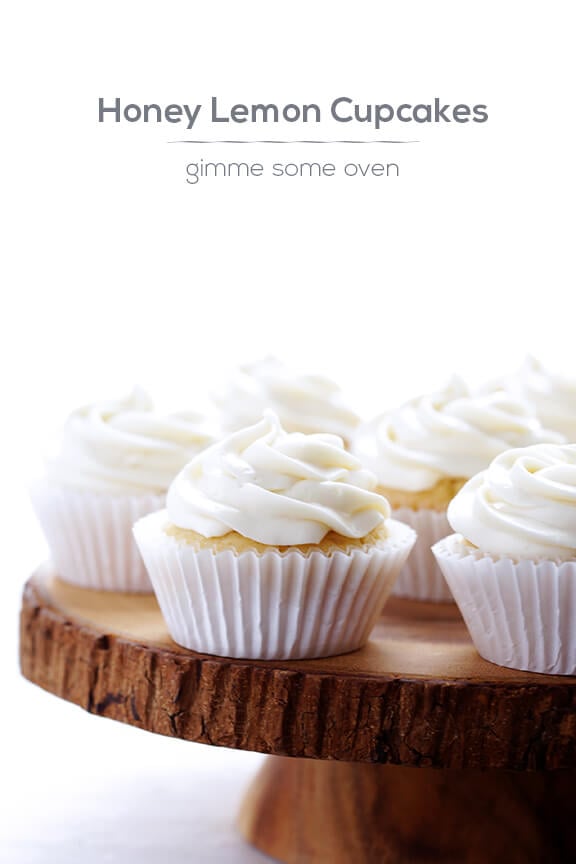 Disclaimer: I am a part of the Moment for Me campaign with Haagen-Dazs.  I was not compensated for this campaign, but receive surprise Moment for Me boxes from HD with fun gifts to help create special moments.  All opinions are 100% my own, as always.