Easy Asian Quinoa Slaw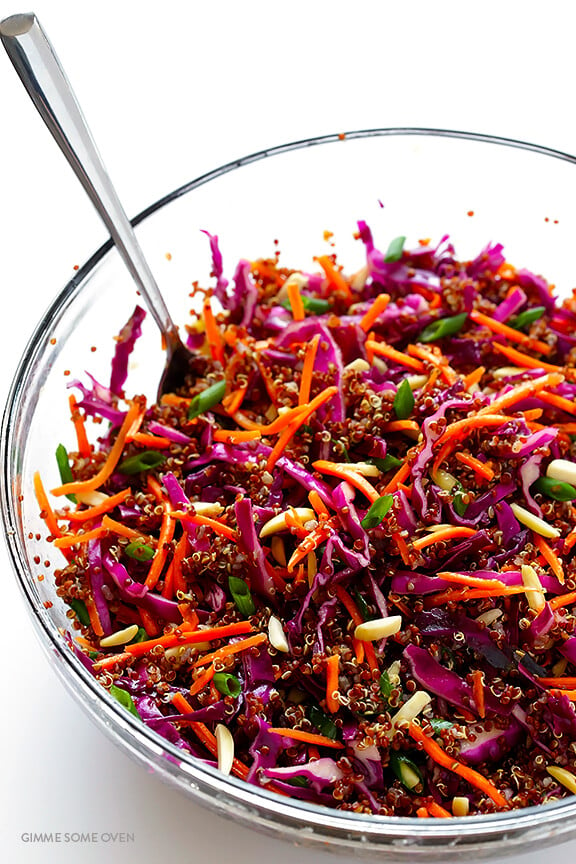 I think that today may win the award for the most relaxed I've ever felt on a Monday morning.
Or as my yoga instructor from our retreat this weekend would say, the most blissed out.
Seriously.  It's remarkable what just a few days of R&R can do for you, especially when those days include things like a road trip through the wide-open Kansas plains during a thunderstorm, settling into a quaint little cabin in the woods, enjoying morning and evening restorative yoga sessions, dining on a buffet of fresh and healthy meals, curling up with a favorite book during downtime, and — oh — getting 100% lost in the woods for hours on a trail hike with some friends, which actually turned out to be one the highlights of the weekend.  I mean seriously, how often nowadays with Siiri by our side do we ever get actually factually lost?!?  It was delightful.  And I must say, all the more so because this wasn't some 5-star resort where you pay thousands of dollars to get your zen on.  It was just a simple small retreat, put on by the most thoughtful people, attended by some of my favorite old friends, along with some dear new ones.  I literally loved every minute.
Well, I could still always do without bugs in life.  Namely, ticks and mosquitos and spiders, all of whom decided to take a sweet bite out of me this weekend.  (And were then squashed immediately.  Sorry, no mercy when you drink my blood, suckerzzz.)
But of course, other than that, loved every charming minute.  :)
Anyway, after so much clean and healthy eating this weekend, it seems that this slaw I had planned to share with you on the blog today is extra meant-to-be.  I made it this past week with some leftover ingredients from my Rainbow Fish Taco Nachos, kind of as a healthier riff on my favorite Crunchy Asian Ramen Noodle Salad.  And, as probably should have come as no surprise with those ingredients, it turned out to be a vibrant, delicious, total winner.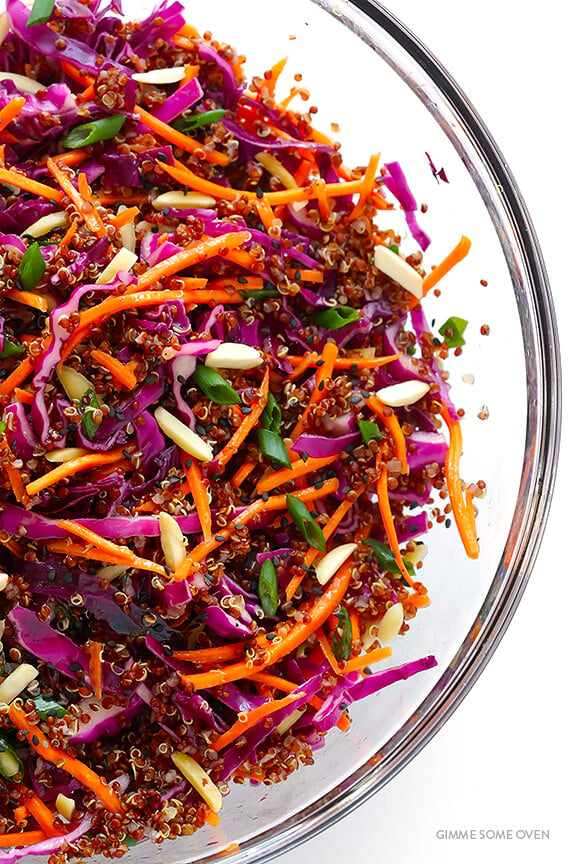 I mean, seriously, get a load of all that color!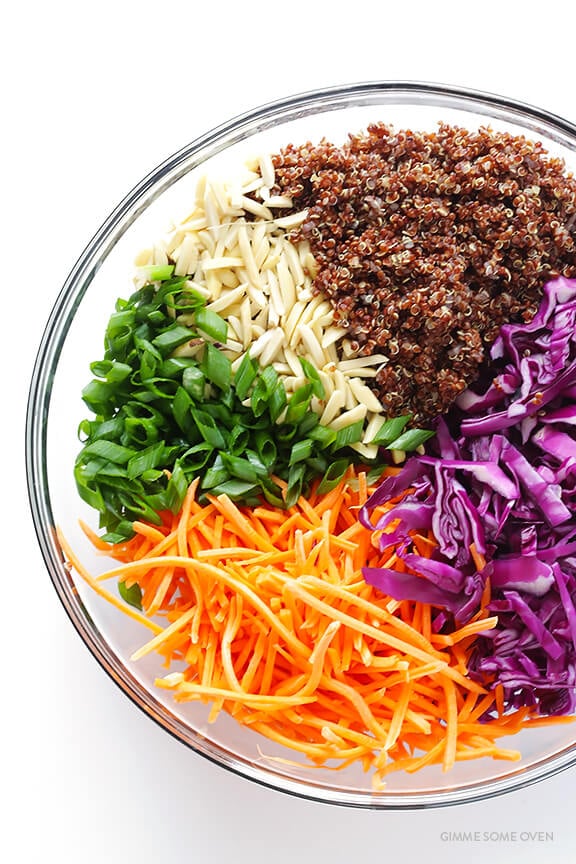 The ingredients are actually surprisingly simple and affordable.
All you need is some red cabbage (you can either chop it yourself, or buy it bagged), shredded carrots, green onions, almonds (slivered or sliced), and lots of cooked quinoa.  I went with red quinoa, but any color will do.  (And if you need it, here's my step-by-step tutorial for how to cook quinoa.)
Then, whip up a simple Asian vinaigrette.  (I used significantly less than in the Crunchy Asian Ramen Noodle Salad to make this one healthier.)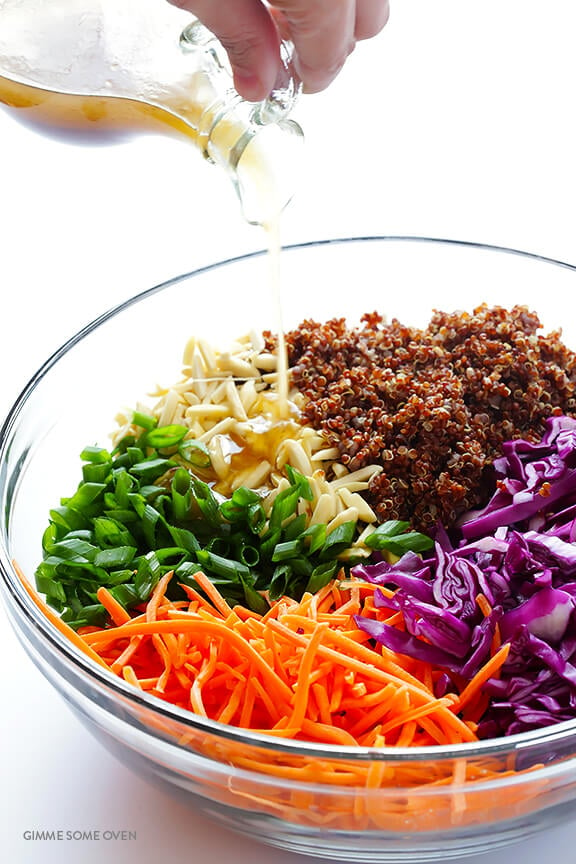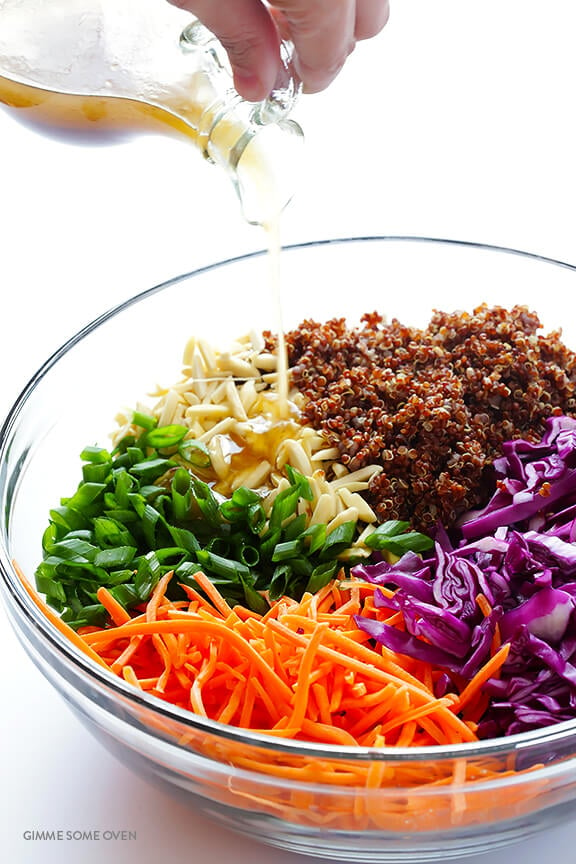 Pour it into the slaw…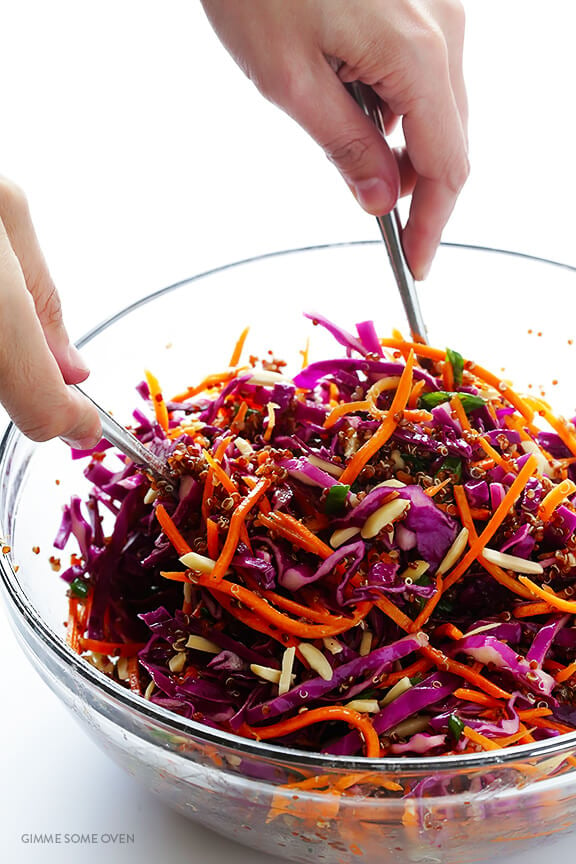 …then toss it all together until combined.  And if you feel like it, sprinkle some sesame seeds on top.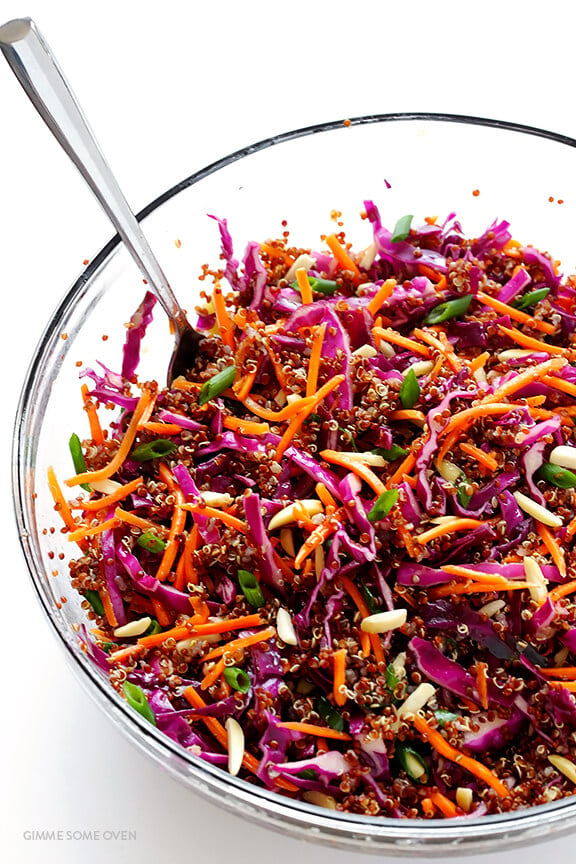 It's easy, fresh, flavorful, and SO GOOD.  Feel free to add in some protein like cooked chicken or shrimp if you'd like.  But otherwise, it makes a satisfying side or main dish all on its own.  Perfect for a quick weeknight dinner, a weekend picnic or potluck, or even a relaxing yoga retreat.  :)
Enjoy!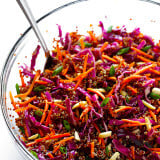 Easy Asian Quinoa Salad
Ingredients:
Slaw Ingredients:
1 (16-ounce) bag shredded red cabbage (or about 4 cups shredded cabbage)
2 cups cooked quinoa (I used red quinoa)
2 cups shredded carrots
2/3 cup thinly-sliced green onions
1/2 cup slivered or sliced almonds, toasted
2 tablespoons sesame seeds
Asian honey vinaigrette (see below)
Asian Honey Vinaigrette Ingredients:
1/3 cup vegetable oil (or any cooking oil)
3 Tablespoons rice wine vinegar
1 tablespoon honey (or agave, to make this vegan)
1 teaspoon soy sauce
1/8 teaspoon sesame oil
pinch of salt and black pepper
Directions:
To Make The Slaw:
Toss all ingredients together until combined.  Serve immediately, or refrigerate in a sealed container for up to 1 day.
To Make The Asian Honey Vinaigrette:
Whisk all ingredients together until combined.
All images and text ©
If you make this recipe, be sure to snap a photo and hashtag it #gimmesomeoven. I'd love to see what you cook!