How To Make An Easy Trifle
This post may contain affiliate links. Please read my disclosure policy.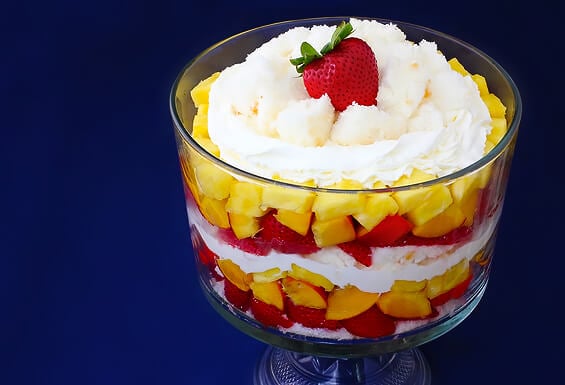 What to do with leftover cake, brownies, cookies, fruit, or candy bars?
Make a trifle!
Seriously, trifles are a baker's best-kept secret. They are easy, fast, delicious, and they a great way to use up any of your sweet leftovers. Just chop/tear/cut your main ingredient into bite-sized pieces, and then layer it in a trifle dish (or multiple smaller trifle dishes or glasses) with other complementary ingredients, and voila! Trifles are so simple, and I guarantee that your friends and family will have no idea this might be your starring dessert's second appearance. ;)
For the trifle pictured above, I layered angel food cake, fresh fruit (pineapple, peaches and strawberries) and bourbon whipped cream. Read on for more trifle tips and ingredient suggestions. And then would love to hear — what are your favorite trifle combinations?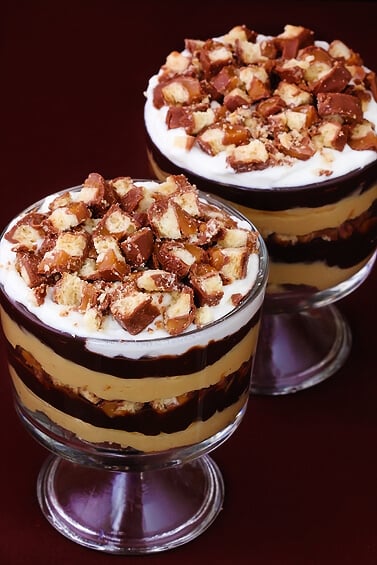 (See recipe for Twix Trifles)
[amd-zlrecipe-recipe:148]
Ali's Tip:
Try to aim for a good mix of textures as well as flavors. I generally aim to have a main ingredient (such as cake or brownies), some sort of fruit or candy to accent, and then a whipped cream and/or sauce to tie it together.