Italian Sausage and Veggie Bowls (Meal Prep)
These Italian Sausage and Veggie Bowls are roasted with Italian herbs, served with Parmesan orzo, and perfect for easy meal prep for the week ahead.  Feel free to sub in whatever seasonal veggies you have on hand!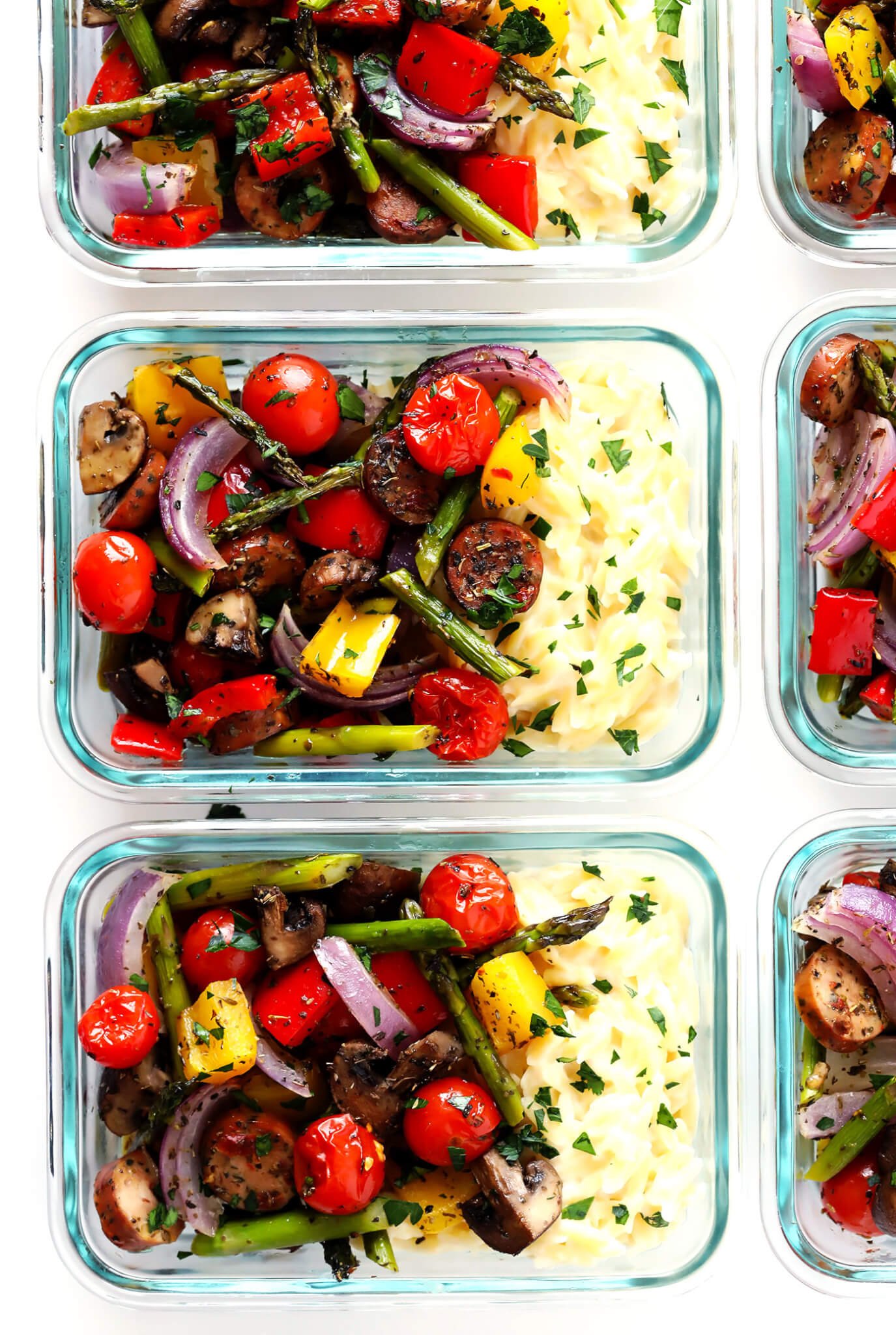 Man, I feel like I just blinked…and it was August.  😂
Summer feels like it is downright racing by this year.  And while I have spent a record amount of time at the pool and lake these past few months (which makes me all 😊😎😊 — swimming in the sunshine is my dream way to spend a summer day), I realized this week that I have not spent as much time as I'd like making the most of summer produce at home in the kitchen.  Which is too bad, because our neighborhood farmers market is exploding right now with a rainbow of gorgeous tomatoes and bell peppers and eggplant and squash and corn and peaches and berries and watermelon galore.
BUT, now that we're officially back in town for a few weeks, I've been starting to make up for lost time by loading up my shopping bag with All The Produce on market days.  And then roasting a huge batch of them each week for easy meal prep, like with these easy bowls I made last week.  I gave them a bit of an Italian twist, roasting them up with lots of herbs and olive oil and Italian (chicken) sausage.  And then dished them up with a quick batch of orzo pasta that I made with garlic and Parmesan.  And the result?!
Some seriously delicious, colorful, savory, feel-good meals.
All week long.
(This post contains affiliate links.)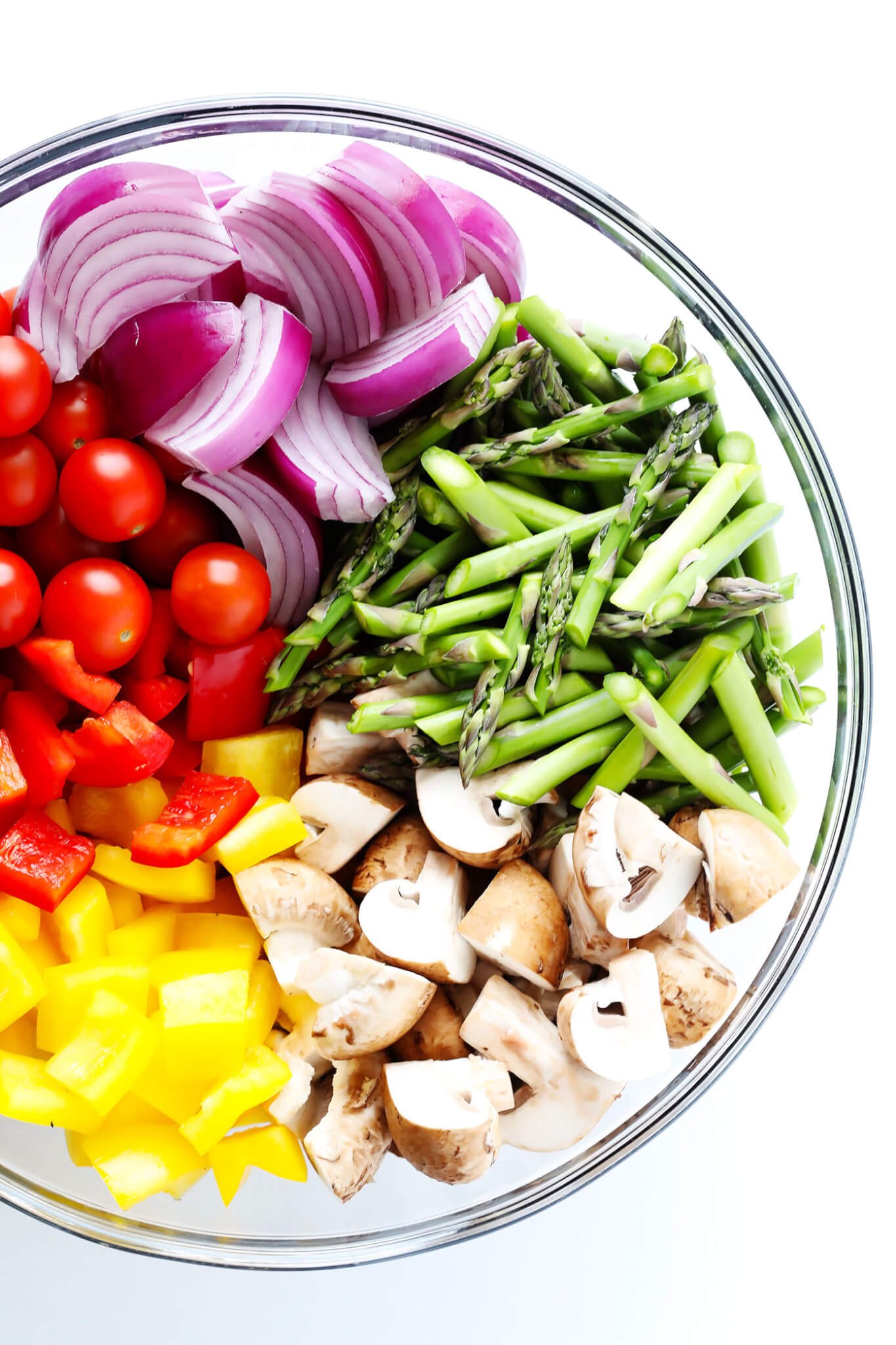 So whether you happen to be tuning into this recipe in the heat of August — or in the cold of December — the good news about this recipe is that it's easily adaptable to whatever veggies happen to be in season right now.
Last week, I went with a clean-out-the-fridge assortment of ripe cherry tomatoes, bell peppers, red onion, mushrooms, and asparagus.  But just about any roast-able veggies would work here, as long as you cut them to a size in which they will all cook in roughly the same amount of time.
To make these bowls, begin by placing a pot of water on the stove to boil while you chop all of your veggies.  Then once they're ready to go, toss the vegetables together with some olive oil, garlic powder, Italian seasoning, salt and pepper.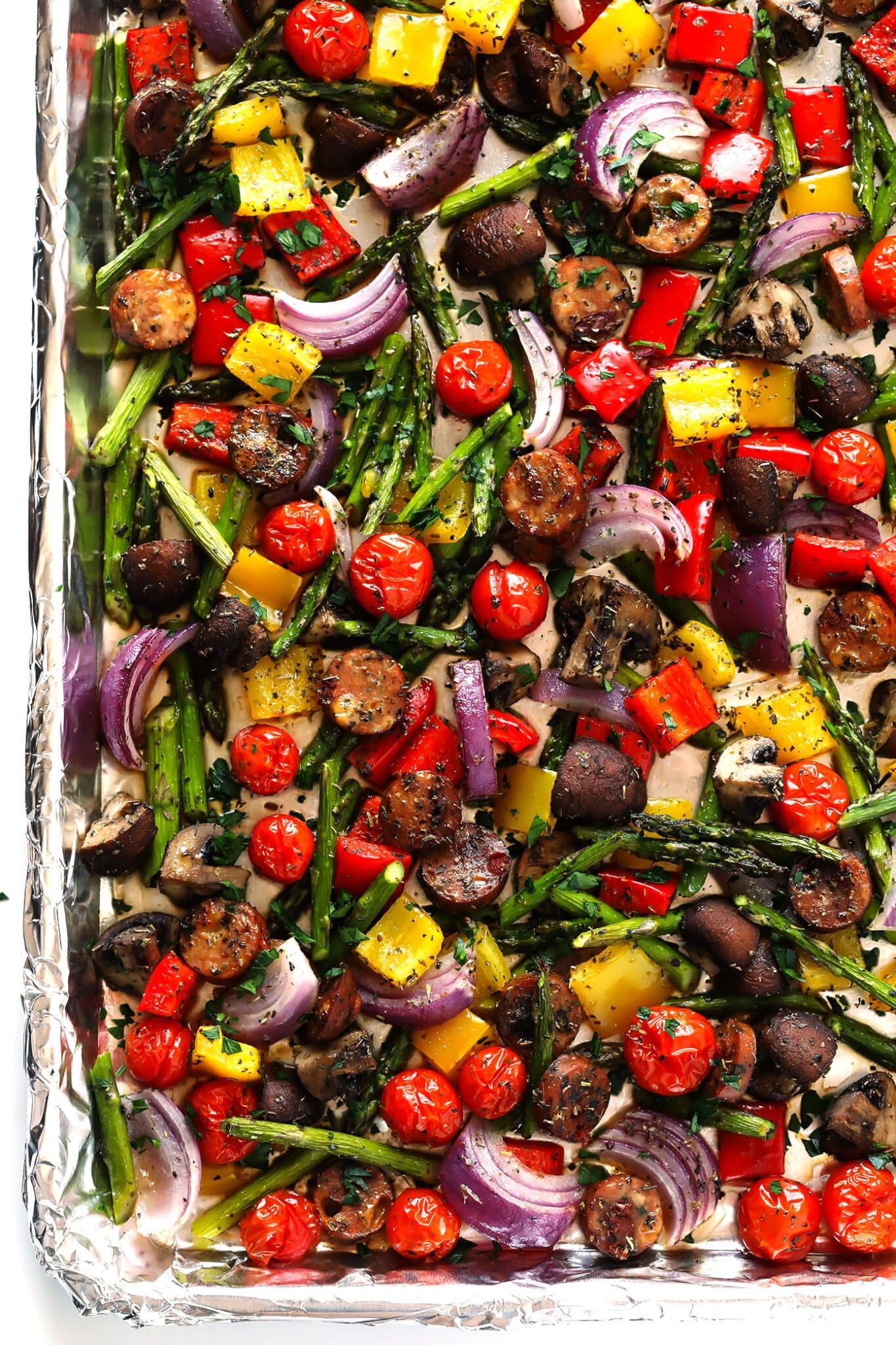 Spread them out in a single layer on a large baking sheet (or you can use two medium baking sheets), along with your choice of Italian sausage (I used chicken Italian sausage, but any kind of Italian or smoked sausage would work).  Roast until cooked.
Meanwhile, as the sausage and veggies are roasting, cook some orzo (or any small shape of pasta) until al dente, and make a simple garlic Parmesan cream sauce on the side.  Once they are both ready to go, toss them together until the pasta is evenly coated and oh-so-creamy.  Then portion it evenly into 6 small storage containers.  (<– I like these ones from at Amazon.)  Layer in the sausage and veggie mixture once it's ready to go.  Sprinkle on some extra Parmesan for good measure.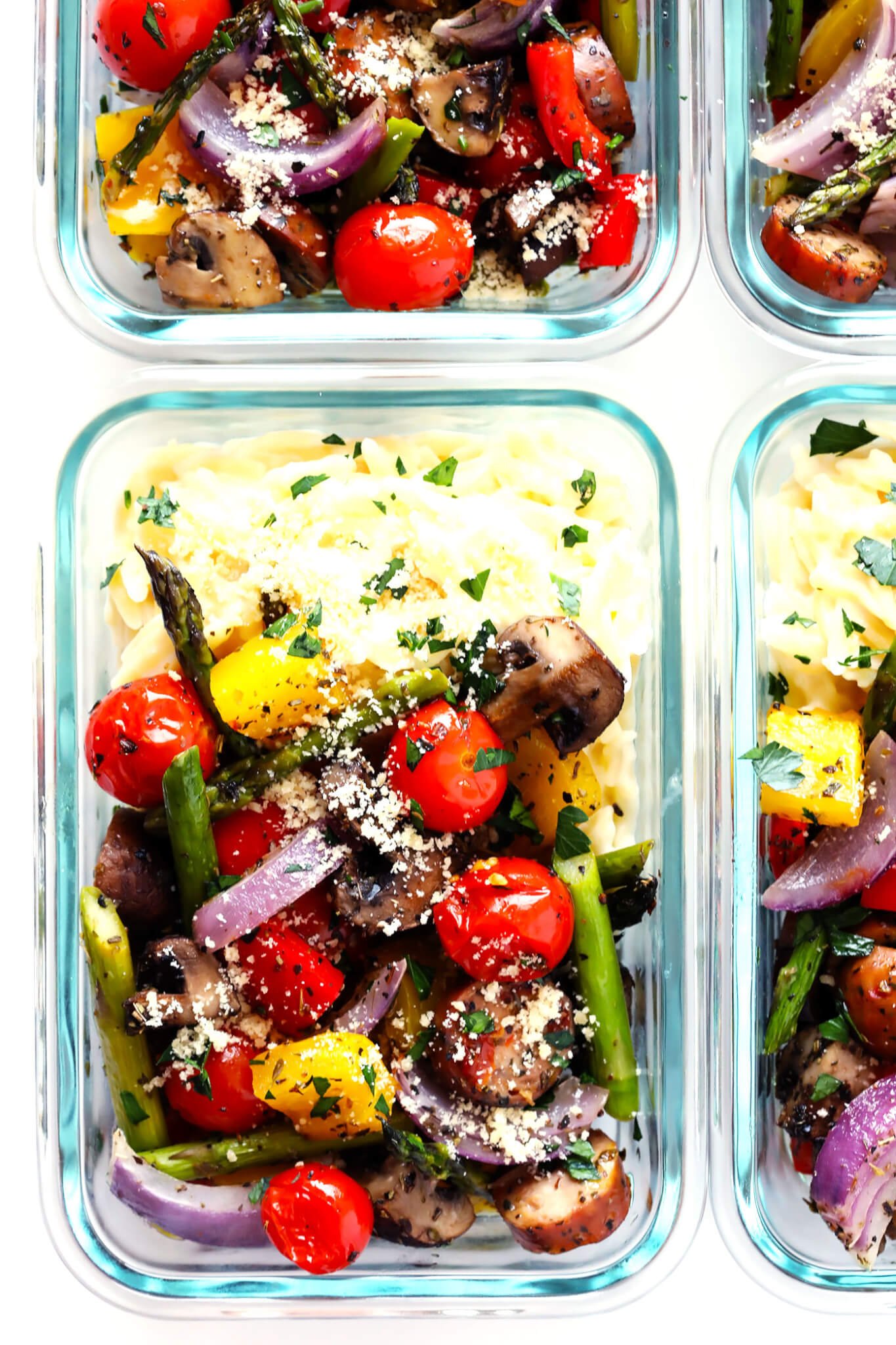 And voila!  Six delicious servings of these Italian Sausage and Veggie Bowls will be all ready to go for easy lunches or dinner all week long.
So simple, so colorful, and so delicious.
Enjoy, everyone!
Italian Sausage and Veggie Bowls
These Italian Sausage and Veggie Bowls are roasted with Italian herbs, served with Parmesan Garlic Orzo, and perfect for easy meal prep for the week ahead.  Feel free to sub in whatever seasonal veggies you have on hand!
Ingredients:
Italian Sausage and Veggie Bowl Ingredients:
8 cups chopped veggies (I used 2 cups cherry tomatoes, 1 bunch asparagus, 1 red bell pepper, 1 small red onion, 1 yellow bell pepper, 1 8-ounce carton baby bella mushrooms)
3 tablespoons olive oil
2 tablespoons Italian seasoning, homemade or store-bought
1 teaspoon garlic powder
salt and pepper
1 pound Italian sausage or smoked sausage (I used Italian chicken sausage)
1 batch Garlic Parmesan Orzo Pasta (see below)
optional toppings: grated Parmesan cheese and/or finely-chopped fresh parsley or basil
Garlic Parmesan Orzo Pasta Ingredients:
1 pound (16 ounces) uncooked orzo pasta
2 tablespoons olive oil
2 cloves garlic, minced
2 tablespoons flour
2 cups milk
1 cup grated Parmesan cheese
salt and pepper
Directions:
How To Make The Italian Sausage and Veggie Bowls:
Prepare the Garlic Parmesan Orzo (see below).
Heat oven to 400°F.  Line a large baking sheet with aluminum foil or parchment paper, or grease with cooking spray.  Set aside.
In a large mixing bowl, add the Italian sausage, chopped veggies and olive oil.  Then sprinkle evenly with the Italian seasoning and garlic powder.  Toss thoroughly until evenly combined.
Turn the mixture out onto the prepared baking sheet, and spread everything out into an even layer.  Season evenly with salt and pepper.
Bake for 20-25 minutes, removing the baking sheet and stirring once at the halfway mark, until the veggies are tender and cooked through.  Transfer the baking sheet to a wire rack and let cool for 10 minutes.
Once the sausage/veggie mixture and the orzo are ready to go, portion everything evenly into 6 small storage containers.  Sprinkle with your desired toppings.
Serve immediately, or seal and refrigerate for up to 4 days.
How To Make The Garlic Parmesan Orzo:
Cook orzo al dente in generously-salted water according to package instructions.  Drain and set aside.
Meanwhile, as the pasta is cooking, heat olive oil (or butter) in a small saucepan over medium heat.  Add the garlic and sauté for 1-2 minutes, stirring occasionally, until the garlic is fragrant.  Whisk in the flour until evenly combined, then cook the mixture for 1 more minute, stirring occasionally.
Gradually whisked in the milk until it is completely combined.  Continue cooking, stirring frequently, until the mixture reaches a very low simmer and thickens.  Remove from heat and stir in the Parmesan cheese until evenly combined.  Taste and season with salt and pepper as needed.
All images and text ©
If you make this recipe, be sure to snap a photo and hashtag it #gimmesomeoven. I'd love to see what you cook!