April in Movies
This post may contain affiliate links. Please read my disclosure policy.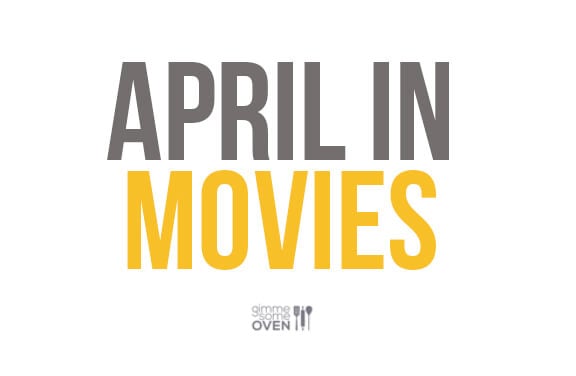 Do you love movies? Check out our new feature on Gimme Some Oven — a monthly movie roundup from our film-loving friend, Sarah. And be sure to tell us below what movies you saw and loved!
Captain America: The Winter Soldier took down all the box office competition this month. The superhero sequel made more than twice what runner-up Rio 2 brought in. The Winter Soldier directors, brothers Anthony and Joe Russo, best known for their work on the cult TV fave Community, pleased Marvel fans and blockbuster-lovers alike. The film has an 89 percent rating on Rotten Tomatoes (a site that tallies up critics' ratings).
April's next three box office winners didn't fare as well with movie reviewers. Rio 2 (45 percent) got high marks for its music and low marks for everything else. Heaven Is For Real, based on the book of the same name, split critics (49 percent) with its story of a little boy who comes back from a near-death experience with unexplainable knowledge. The Other Woman (25 percent) got panned for being generic and cliché, though it made a lot of moola its first weekend out. April's fifth place, the horror film Oculus, got decent reviews (72 percent) and continued Blumhouse Productions' tradition of small-budget, high-return flicks.
How many of these did I see? None of 'em. Why? I had a jam-packed month of work and writing, so I decided to consolidate all my film-going into one crazy-good five days: The Middle of the Map Film Fest. Kansas City's MOTM is a scrappy, affordable, well-curated fest held at my favorite theater. (MOTM also hosts a music festival and a community forum in the two weekends prior to the film extravaganza.) If you're anywhere near KC, I highly recommend buying the $30 pass and watching a bunch of movies with me next year.
Until then, let me suggest three MOTM films to shake up the blockbuster season. (I love me a good blockbuster, too, but you gotta have some variety, yes?) All three of these had me asking "WHAT did I just see?" They are highly original, make-you-go-hmmmm,  discussion-starting movies. Mind-blowing, you could say. 
Mood Indigo
Michel Gondry (Eternal Sunshine of the Spotless Mind) delivers a love story, cautionary tale, fever dream, and art project all in one with the eye-popping Mood Indigo. Based on the 1947 French novel L'Écume des Jours—Froth on the Daydream—by Boris Vian, the film also features the music of Duke Ellington, hence the title, borrowed from one of his most beloved works. Audrey Tautou (Amélie) and Romain Duris (The Beat That My Heart Skipped) star as lovers whose whimsical existence is interrupted by a strange disease.
It's a testament to Tautou and Duris that they hold their own beside Gondry's virtuosic stop-motion animation, woven seamlessly into the live action. The world Gondry creates is stuffed full of wonder and weirdness. I walked out wanting to go right back in and watch it again; there was just too much to see to process in one viewing. Fortunately, Drafthouse Films (the movie brand of the awesome theatre chain) is going to distribute the film in the U.S. The manager of the Kansas City Drafthouse theater told us that the company plans to do an Oscar campaign for the film, so you can expect it to come to a screen near you soon. If you love visually dense, surreal films, don't miss it.
The Congress
I've had a hard time explaining exactly what The Congress is. It's sort of a sci-fi satire of the film industry and celebrity worship. It's sort of an exploration of the choice between living in reality or self-delusion. It's sort of a celebration of over-the-top, hallucinogenic animation (the film is both live action and animated). It's definitely a trip that will take a loooooong post-film conversation to process with your best movie buddies.
In short, Robin Wright plays an actress—also named Robin Wright—who is offered a final contract: Be "scanned" so the studios can use her essence forever. The story has its origins in The Futurological Congress by Stanislaw Lem, which I now really want to read. Director Ari Folman (Waltz with Bashir) spins the tale into a dizzying whirlwind of images and themes that left me staggering. Good thing I like to be disoriented every now and again. The film has been making the film festival rounds since last year and will have a limited release in the U.S. this August.
Enemy
Enemy is much looser than Jake Gyllenhaal and Québécois director Denis Villeneuve's first partnership, the crime thriller Prisoners. Looser, scarier, and with 300 percent more spiders. I think I even cursed out loud in the theater at one particularly jumpy moment (sorry, everybody). With a smoggy color palette and a tense score by Danny Bensi and Saunder Jurriaans, Enemy descends quickly into deep dread. Using a non-linear collection of moments, Villeneuve tells the story of Adam (Gyllenhaal), a dreary professor who discovers he has a doppelganger, the much suaver Anthony (Gyllenhaal). The film is based on José Saramago's book, The Double, which I just added to my to-read list. (I was a big fan of Saramago's Blindness, but didn't care as much for the follow-up Seeing.)
Critics have been puzzling over the film's meanings. Some suggest it's an allegory for the loss of individuality in an oppressive political system (if you don't mind spoilers, read more here). I think it probably has something to do with trying to hide the monster within. It's definitely up for discussion. The film's mood outweighs its questions, which in turn trump its answers. Don't watch for closure, watch to feel, and you won't be disappointed. Enemy is currently making the indie theater circuit and is available to buy on Amazon Instant and iTunes.
So tell us — what movies have you seen this month?