Ali's Guide To Madrid
This post may contain affiliate links. Please read my disclosure policy.
A few highlights from our 3-day weekend in Madrid, including details on where we stayed, what we did, and what we ate.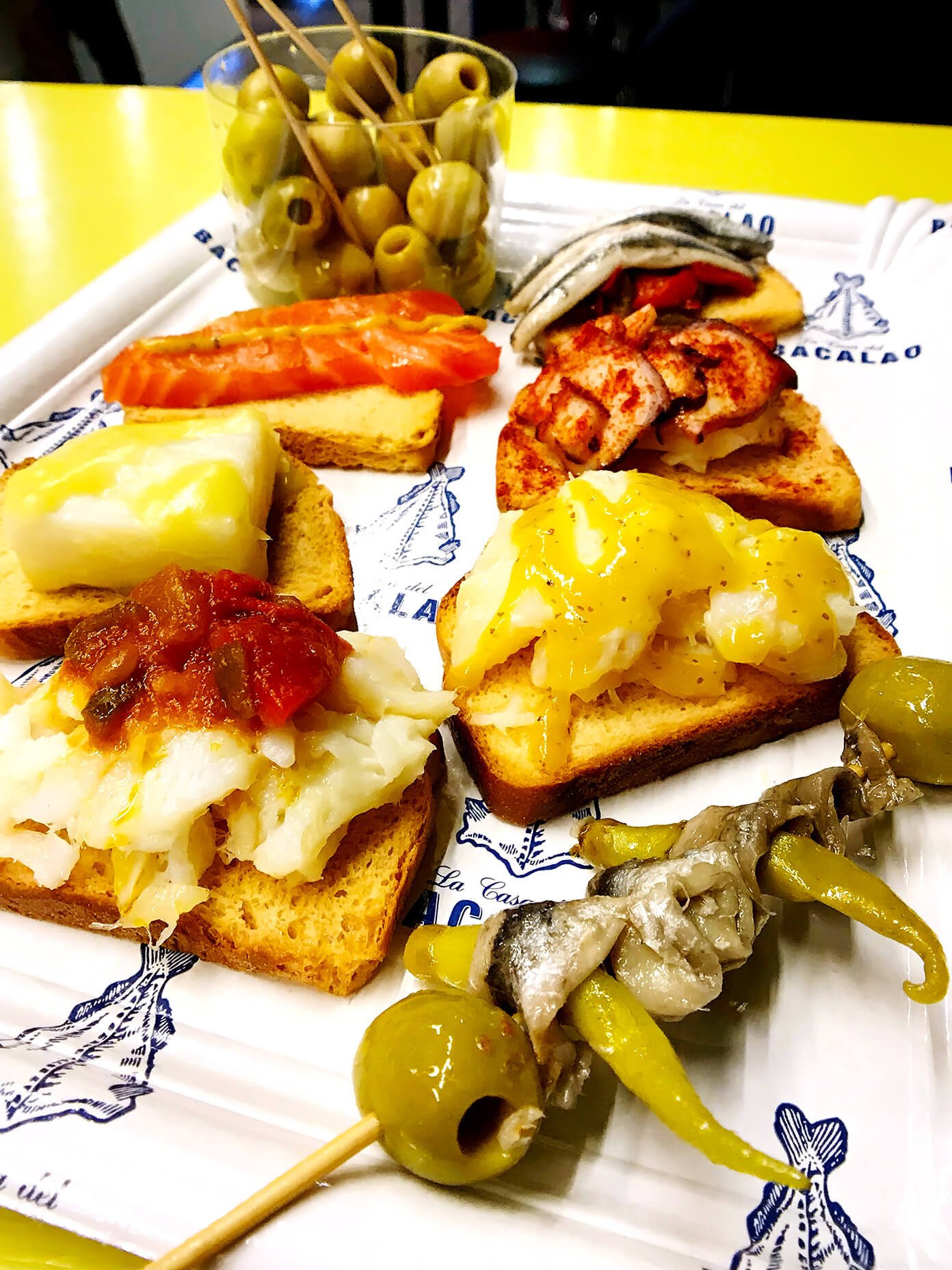 Ever since we moved to Barcelona this past October, our bucket list has been growing with new places that we hope to explore around Europe these next few years. So many places, you guys! And they're all so dang close! (Although I should note that people here consider a 3-hour trip to be "very far away", which always amuses us Midwesterners.)  ?
Now that we're finally feeling a bit settled in here (and now that we've found an awesome dog-sitter, yay!), we're excited to make the most of our time here and start traveling around as much as we can. But before we start hopping around to other countries,  Barclay and I really want to take a deep dive into Spain first, and get to know more about this fabulous — and fabulously diverse — country that we're now living in. Our list of recommendations for day and weekend trips within Spain seems to literally be growing by the day. So a few weeks ago, we hopped on a 200mph-train and officially kicked off our Spanish tour with trip into the heart of the country…
…to Madrid! ??????
And it was so fun!
Also? Fascinating. Ever since we moved to Barcelona, we've been learning more about the differences between various regions around Spain. But I think both of us were totally surprised when we arrived by how completely unique the vibe felt in Madrid, just a few short hours away from Barcelona.
I mean, there were some of the obvious differences that we expected, such as the fact that everything in Madrid was in Spanish (not split between Catalan), there were Spanish flags flying everywhere (which are rarely seen in Barcelona, especially during this heated political time), and the sprawl of the city felt vast to us (compared with densely-packed Barcelona). But I think we both underestimated how different the actual culture itself would feel too. From the architecture (much more grand), to the nightlife (more jazz, flamenco, and generally more people out late), to the fashion (much more classy and dressed up), to the food (more complimentary tapas!) — we were totally nerding out the whole time on how distinctly Madrid the whole place felt. We decided that Madrid seemed to have the older, elegant sister vibe in the country…with Barcelona being the more bohemian, beach-loving younger child. Both part of the same fam for sure, but remarkably different. We love them both!
That said, I will admit that the thing I was most excited about experiencing in Madrid was their tapas culture. We've learned since moving to Spain that Barcelona is known for eating tapas, but it's more traditional to plant yourself in one spot for the night doing so. By contrast, Madrid has more of a tapas culture, where it's traditional to hop from place to place all evening, grabbing a quick tapa/drink or so at each place. (Which is basically my dream come true…all I want in life is one bite of everything!)  So as you can see by the restaurant list below, we took full advantage our time in the city and had a fun time tapas-ing our way around town. And also somehow managed to squeeze in some sights between the food. ?
So for all of you who asked, here is the full list of our travel recommendations — where we stayed, what all we did, and where we ate. Many of those recommendations, by the way, came from your kind messages and emails and comments — thank you! If any of you have more recommendations to add, please leave them in the comments below, and we can get a master list going. Your recs are always the best!
We'll be continuing our little Spanish tour this month with little 2-day trips to Valencia and Mallorca, so stay tuned. More travel recs to come!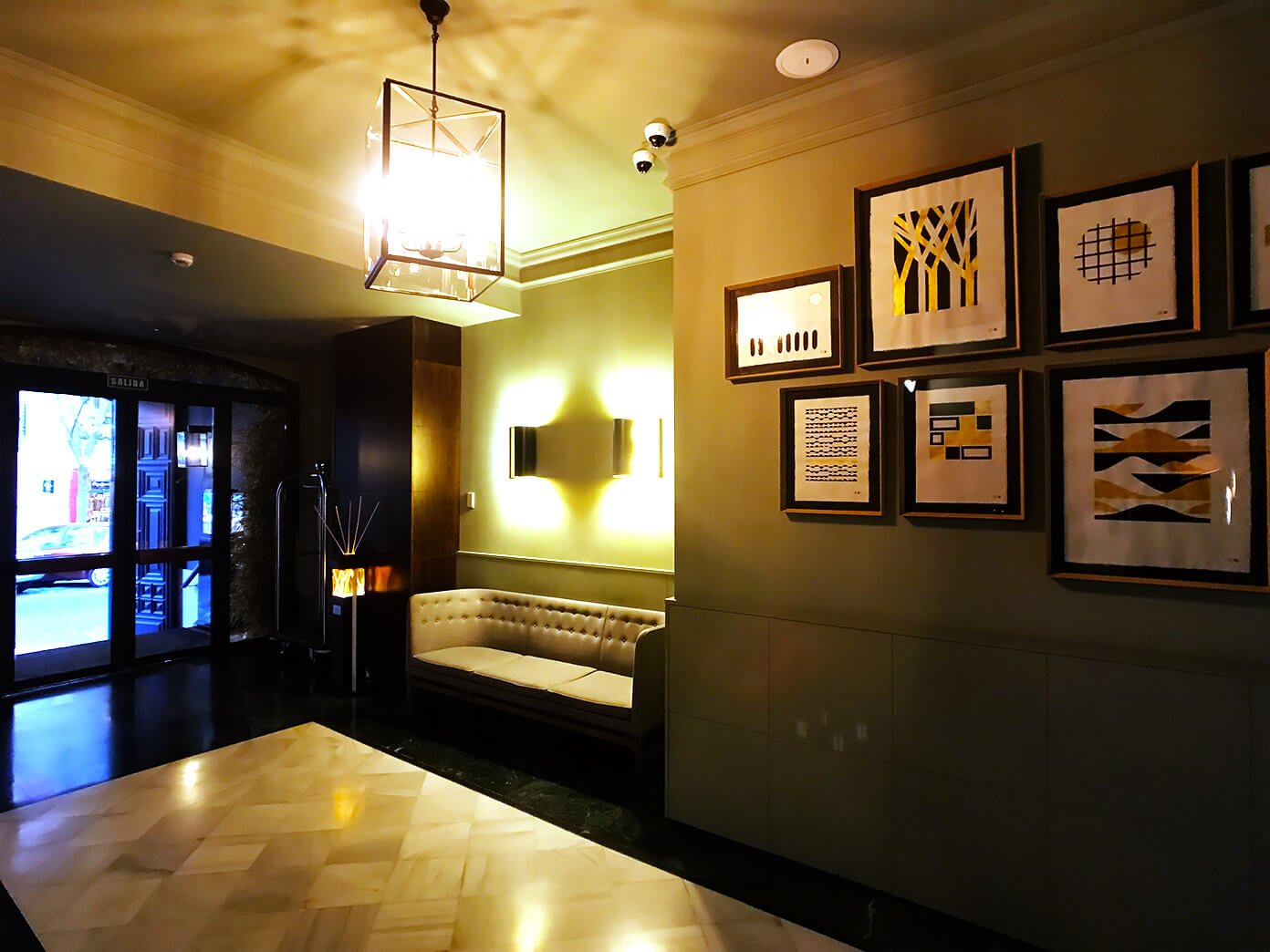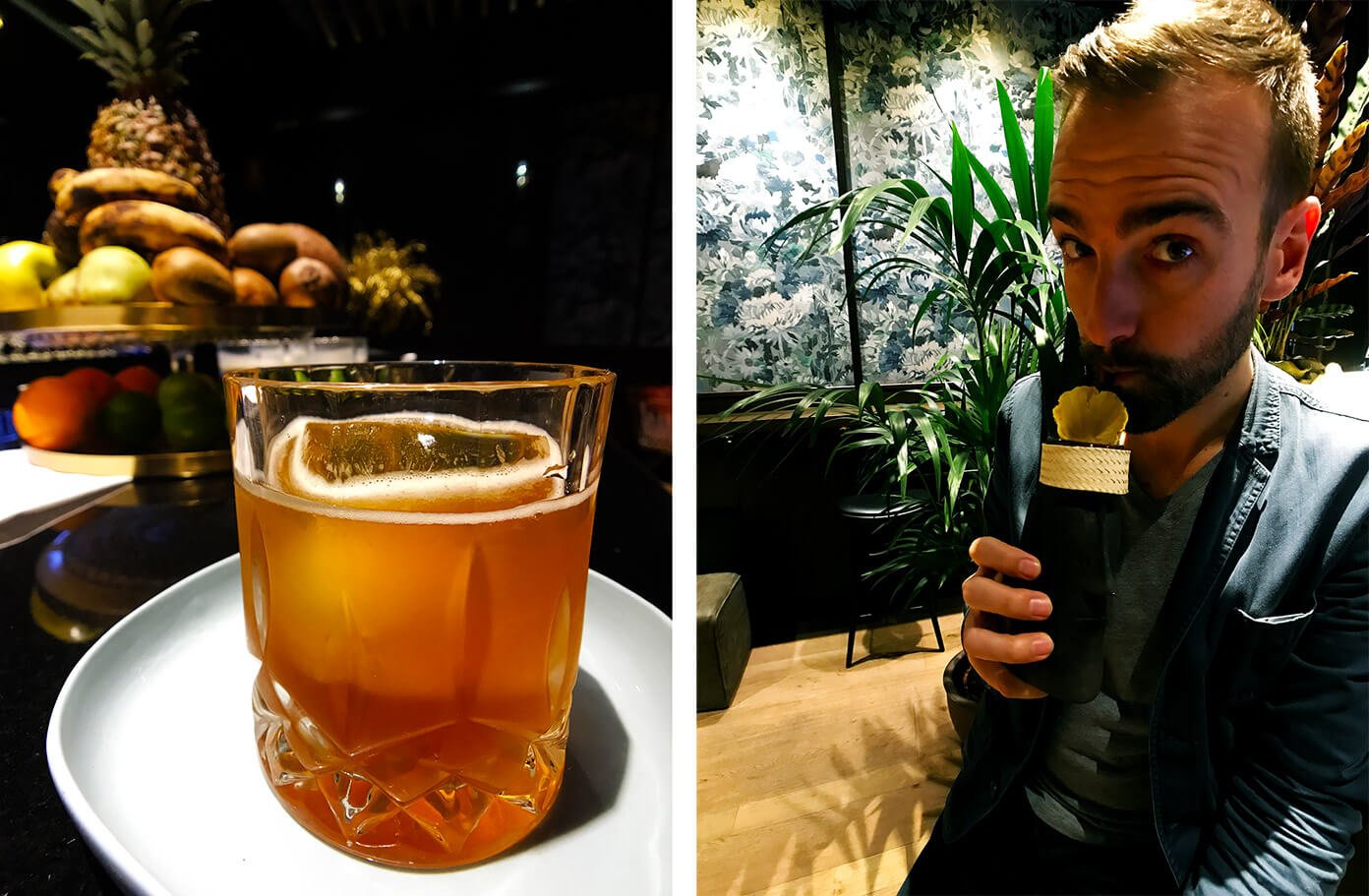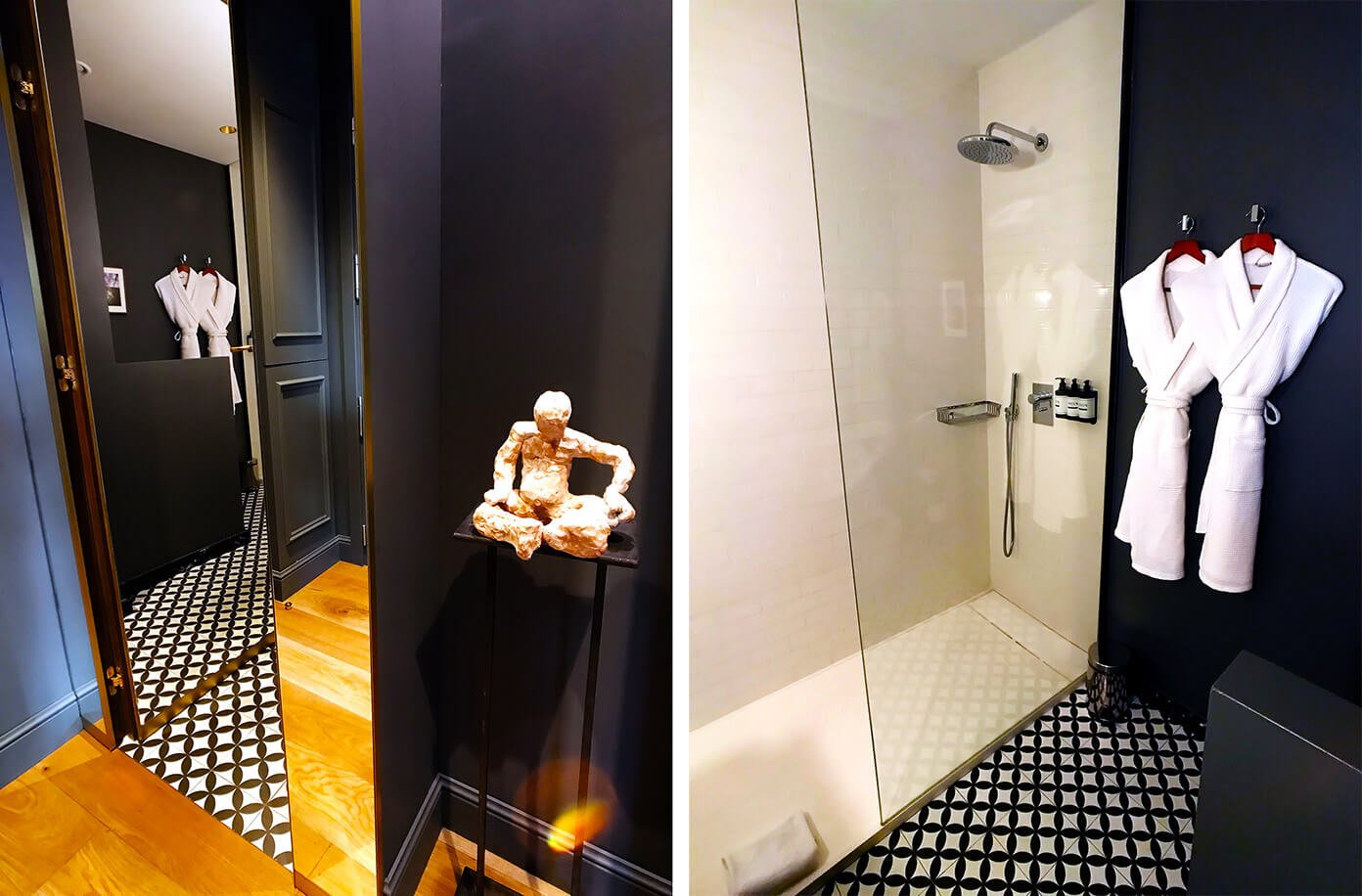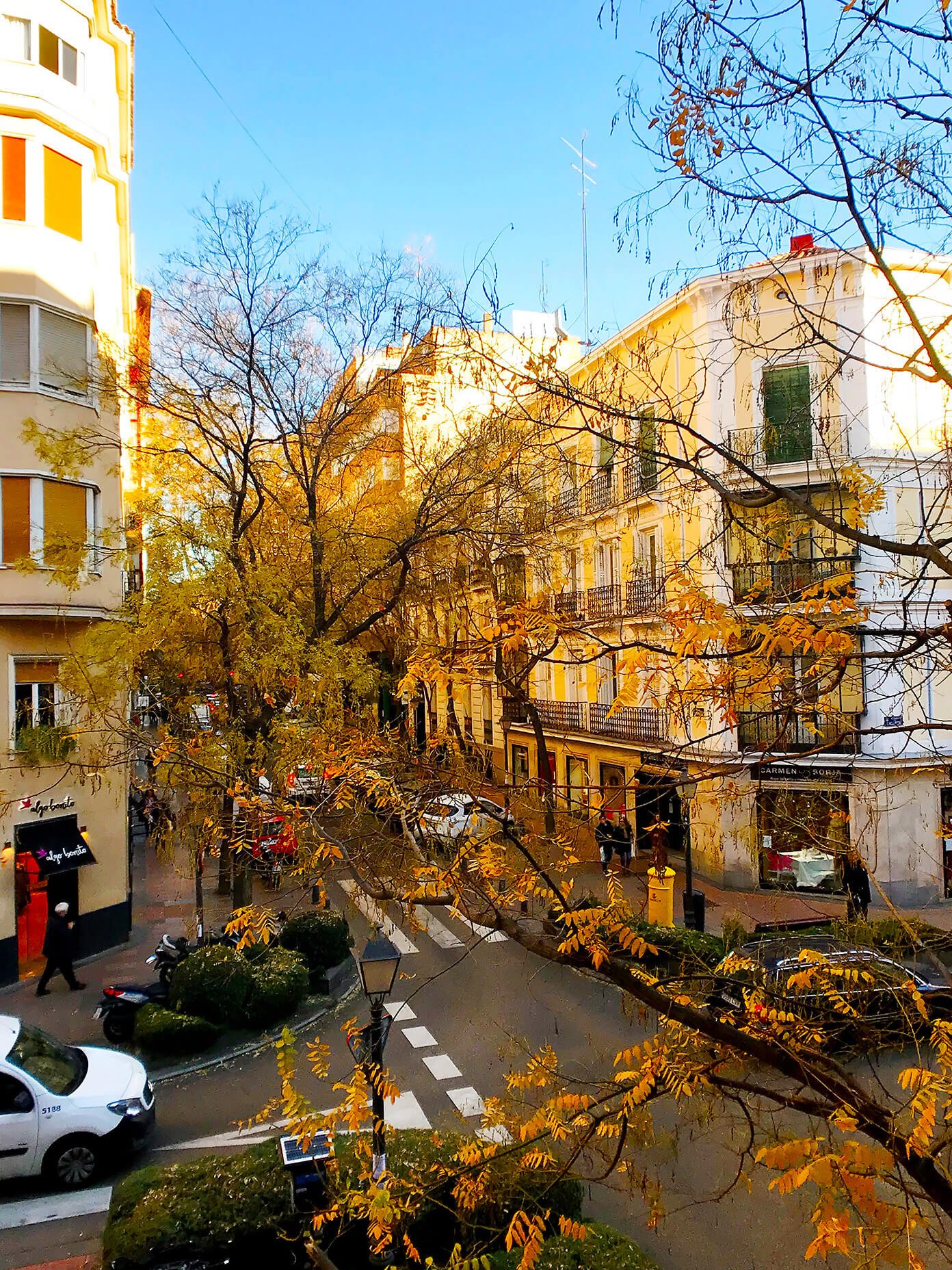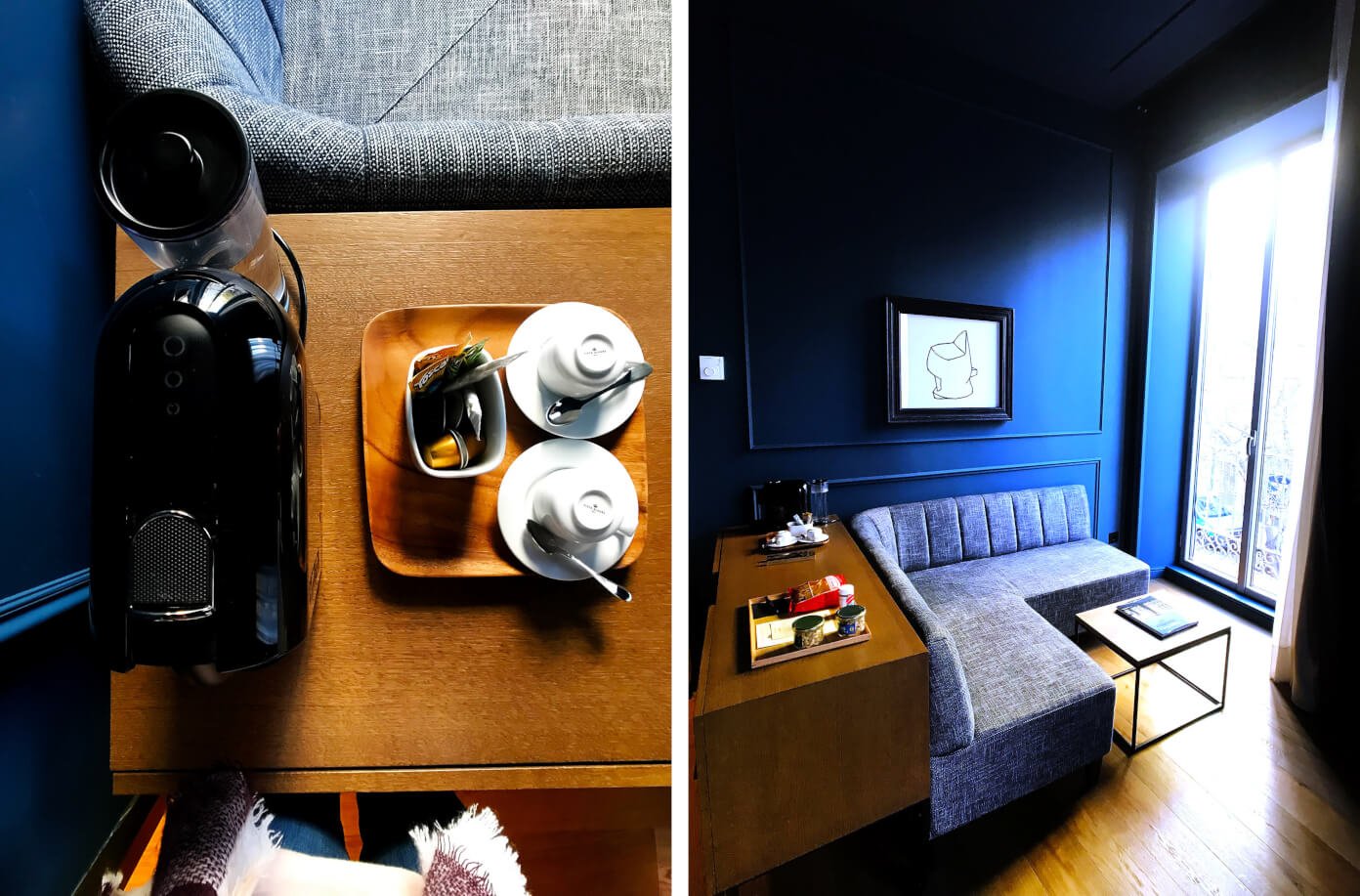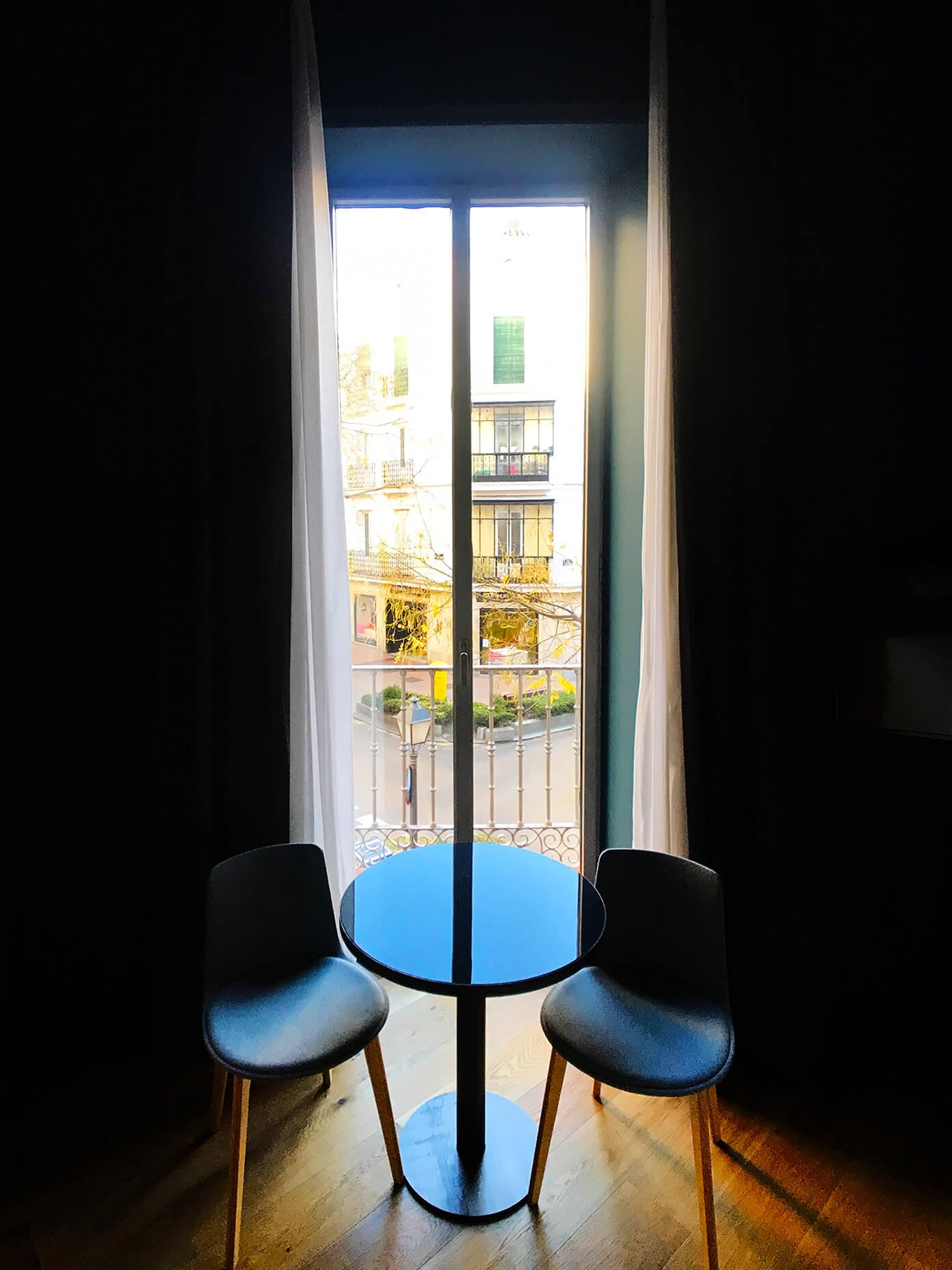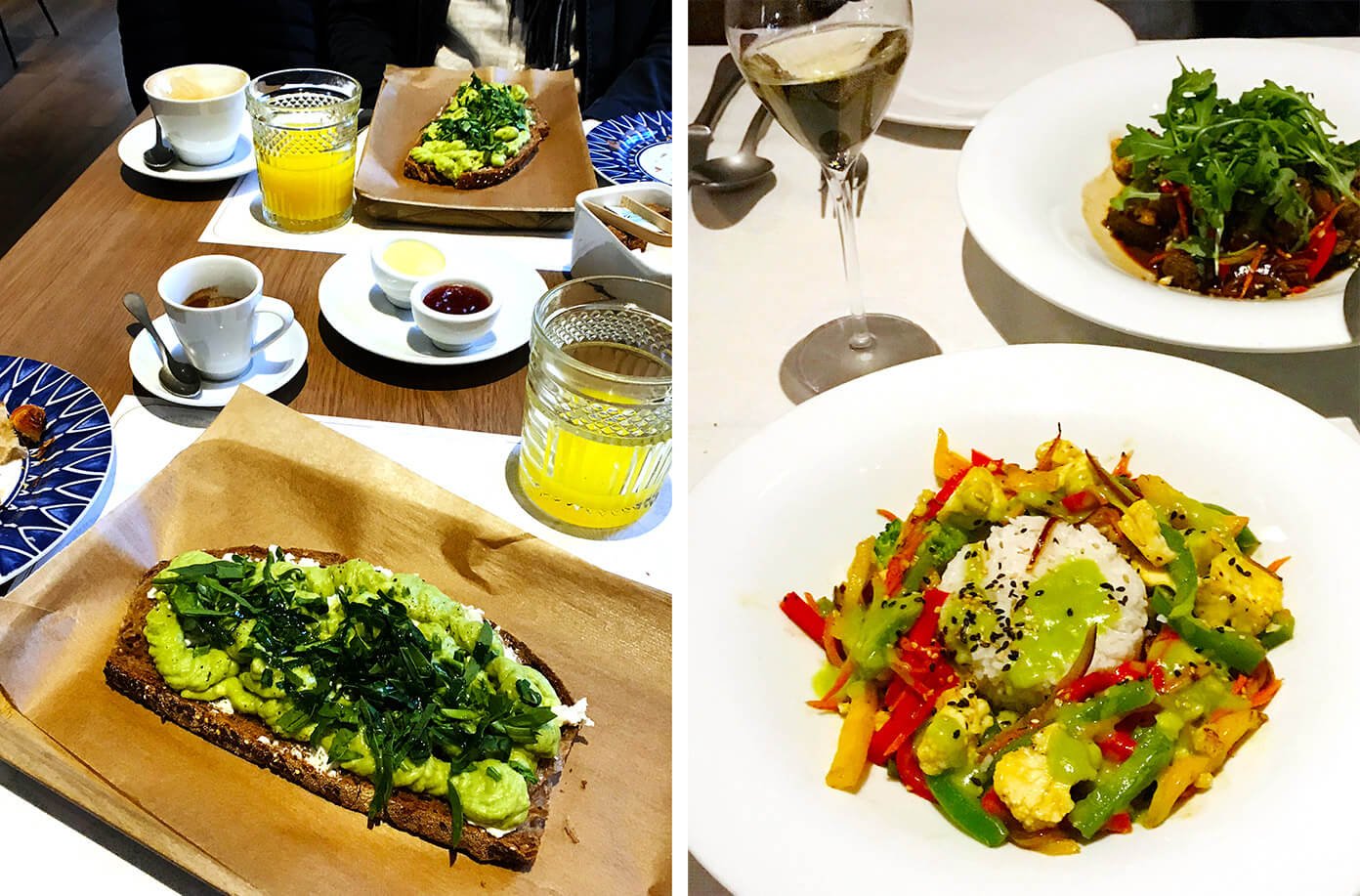 Where We Stayed
Since this trip was a little Christmas present to ourselves, we decided to take a break from our usual AirBnB-ing and find a fun hotel for our weekend in Madrid. And oh my goodness, we had the best stay at Tótem Madrid!
The hotel, located in the sophisticated Salamanca neighborhood of Madrid, was a design-lover's dream come true. (Um, right here. ? I'm always telling Barclay that in my next life, I want to be a boutique hotel or restaurant designer. Love spaces that are inspiring and hospitable and unique.)  On that note, this hotel certainly did not disappoint. From the gorgeous and minimalist entryway, to the plush and eclectic cocktail bar, to the sunny and modern restaurant, to the elegant and ultra-cozy bedrooms…every detail in this place was so thoughtfully and beautifully designed. And we loved every minute of our stay there!
Some highlights?
Our Room: Talk about a soft place to land each day. Everything about our room was designed for comfort, from the cozy blue tones, to the soft robes and slippers, to an ultra-comfortable bed, to yummy smelling bath products, to what Barclay and I decided was the best shower head ever. Also, the views from our walk-out balconies were just lovely. And the in-room espresso was legit.
Hermosos y Maltidos: We paid multiple visits to the hotel's bar and restaurant, both of which were lovely. More on each in the food section below.
The Staff: We were also so touched by how incredibly hospitable the staff was at the hotel. They made us feel so welcome!
Definitely a lovely place to call home for a few days in Madrid. We would wholeheartedly recommend it.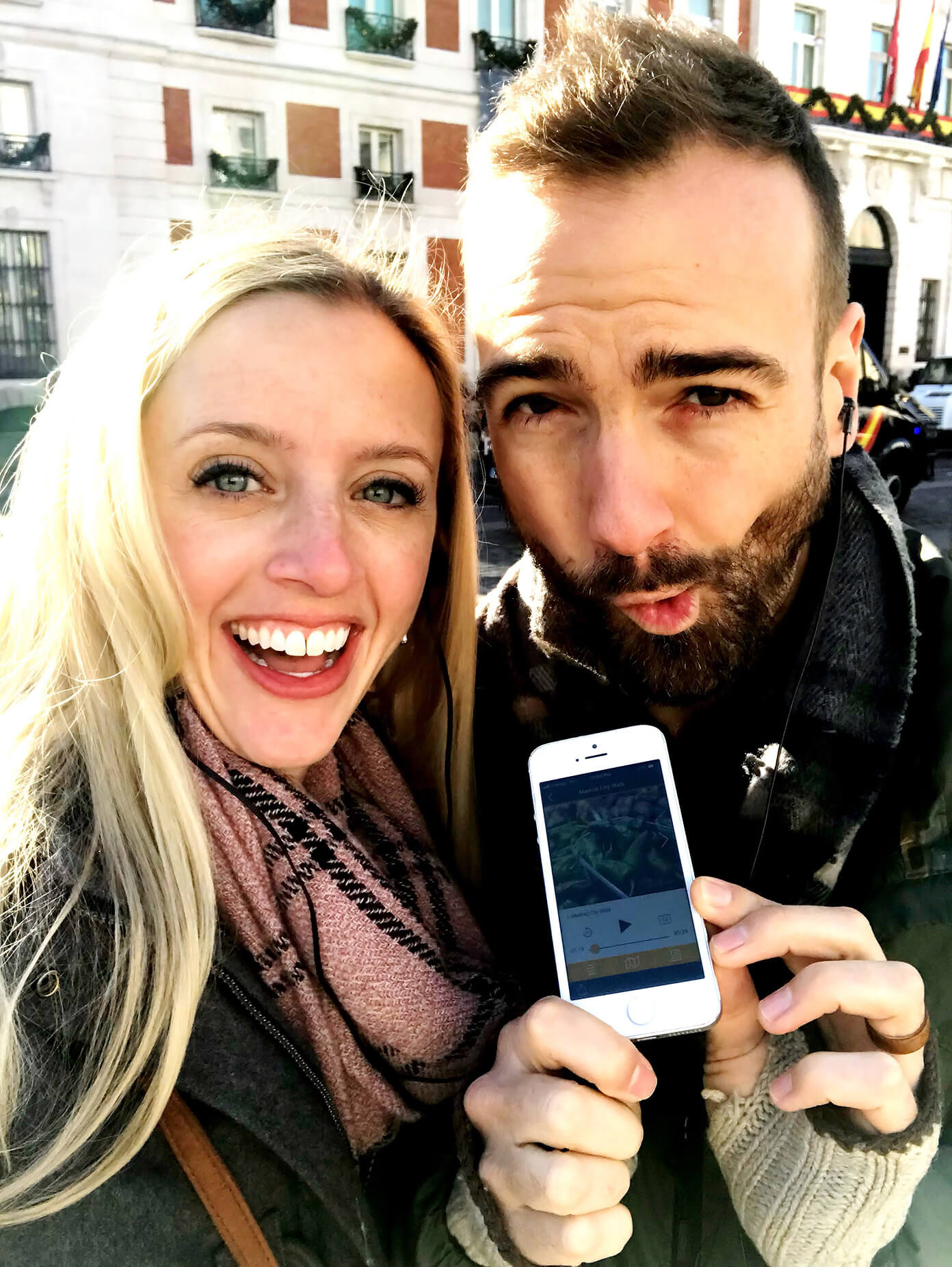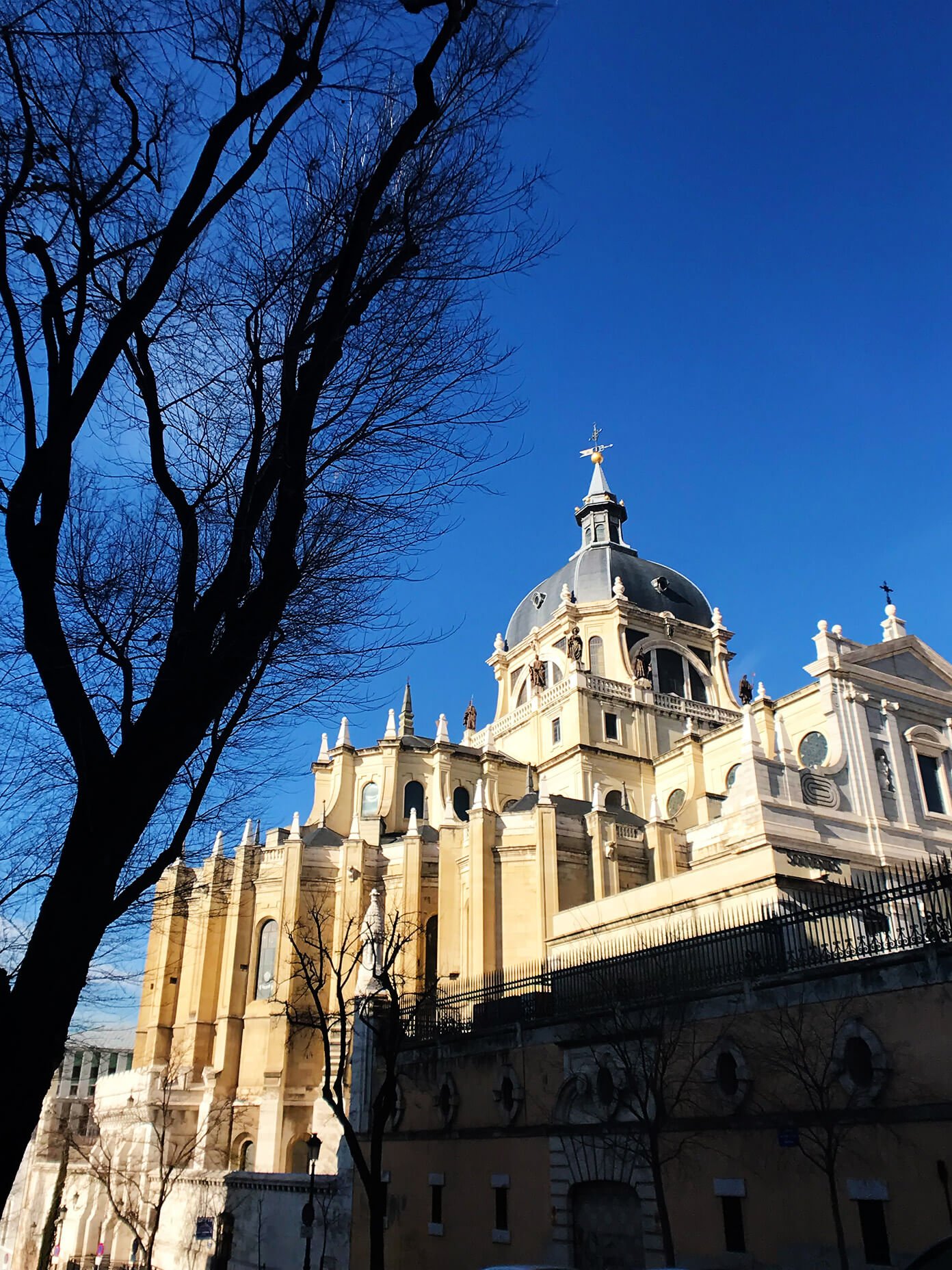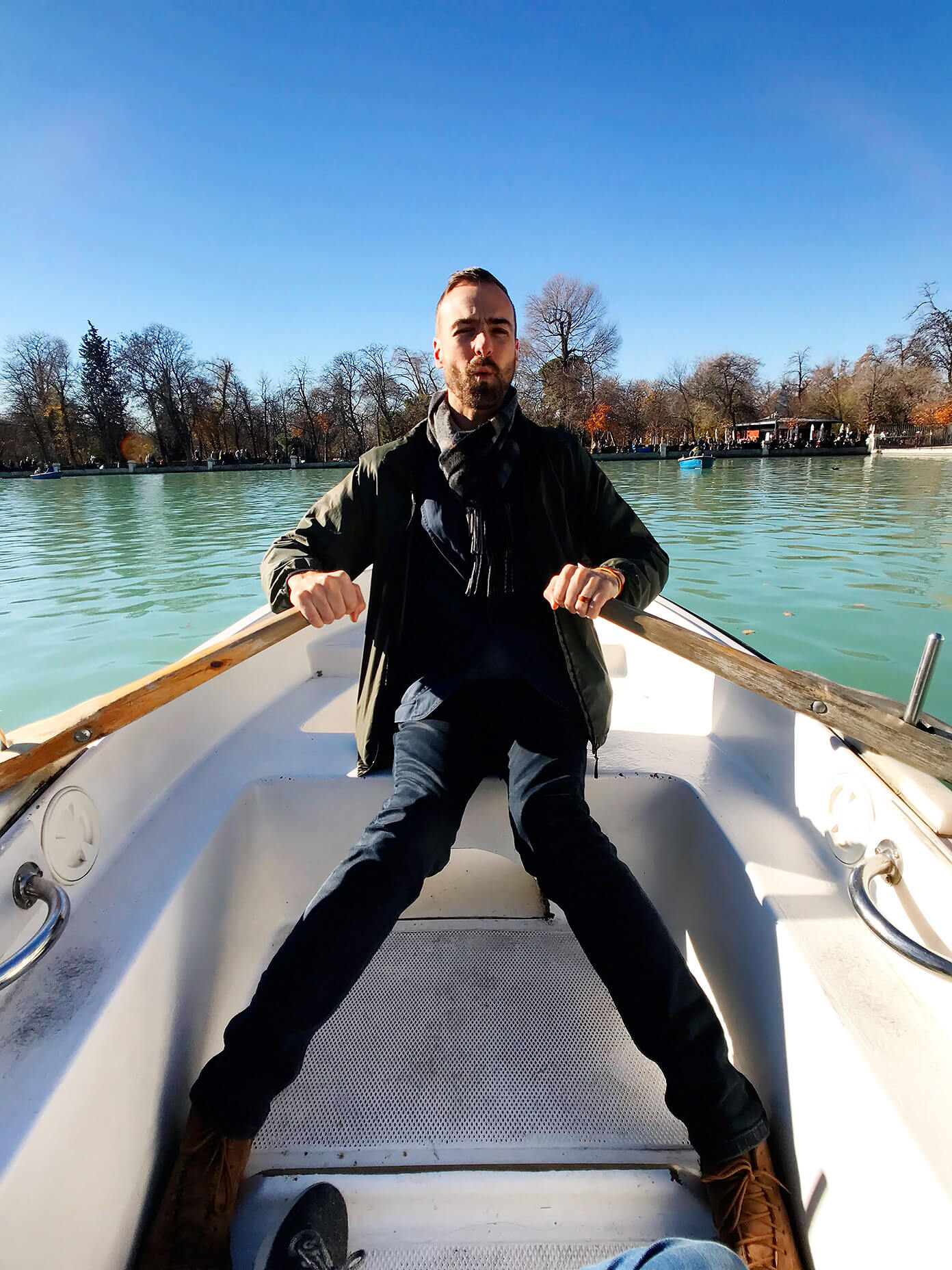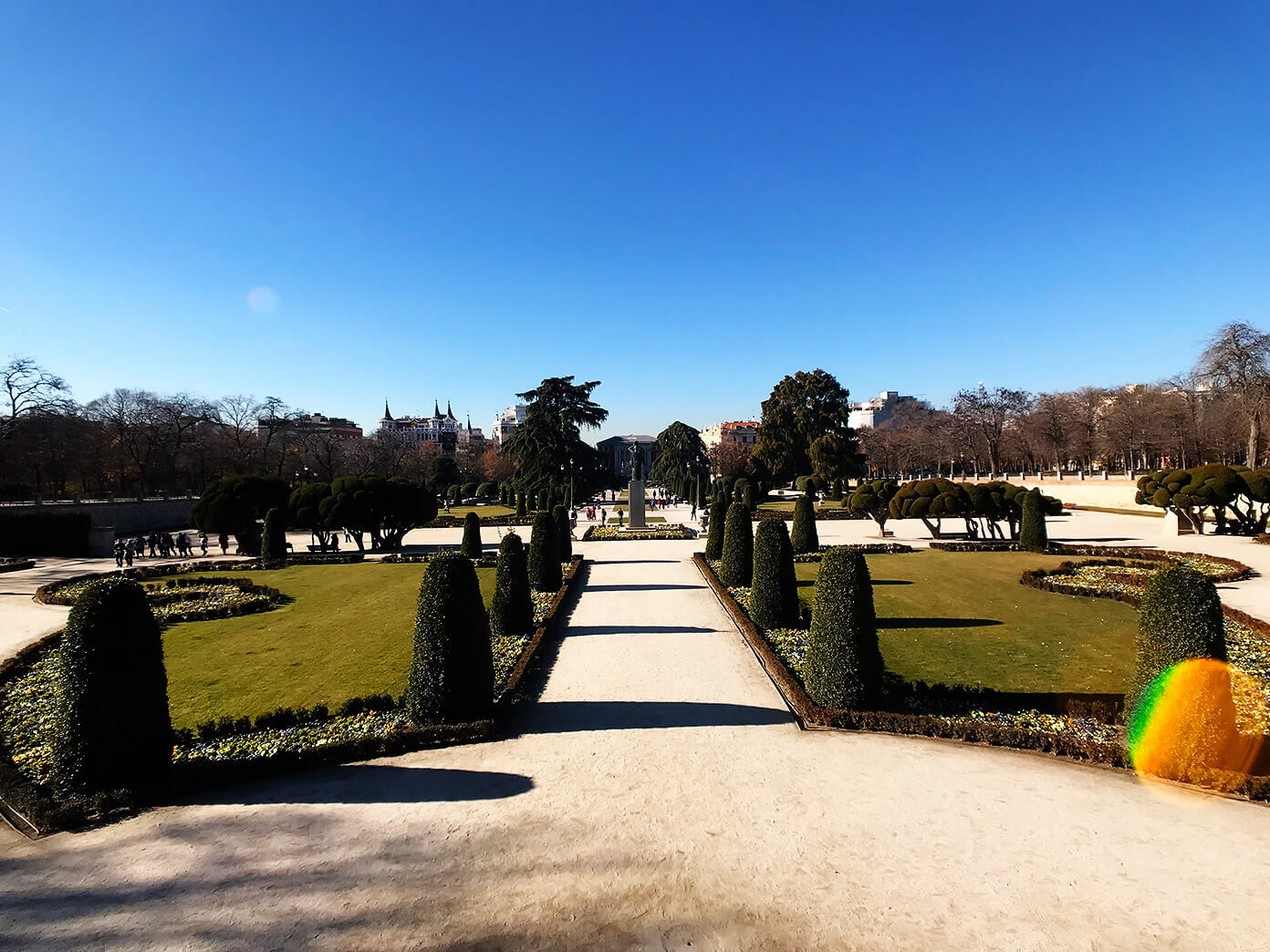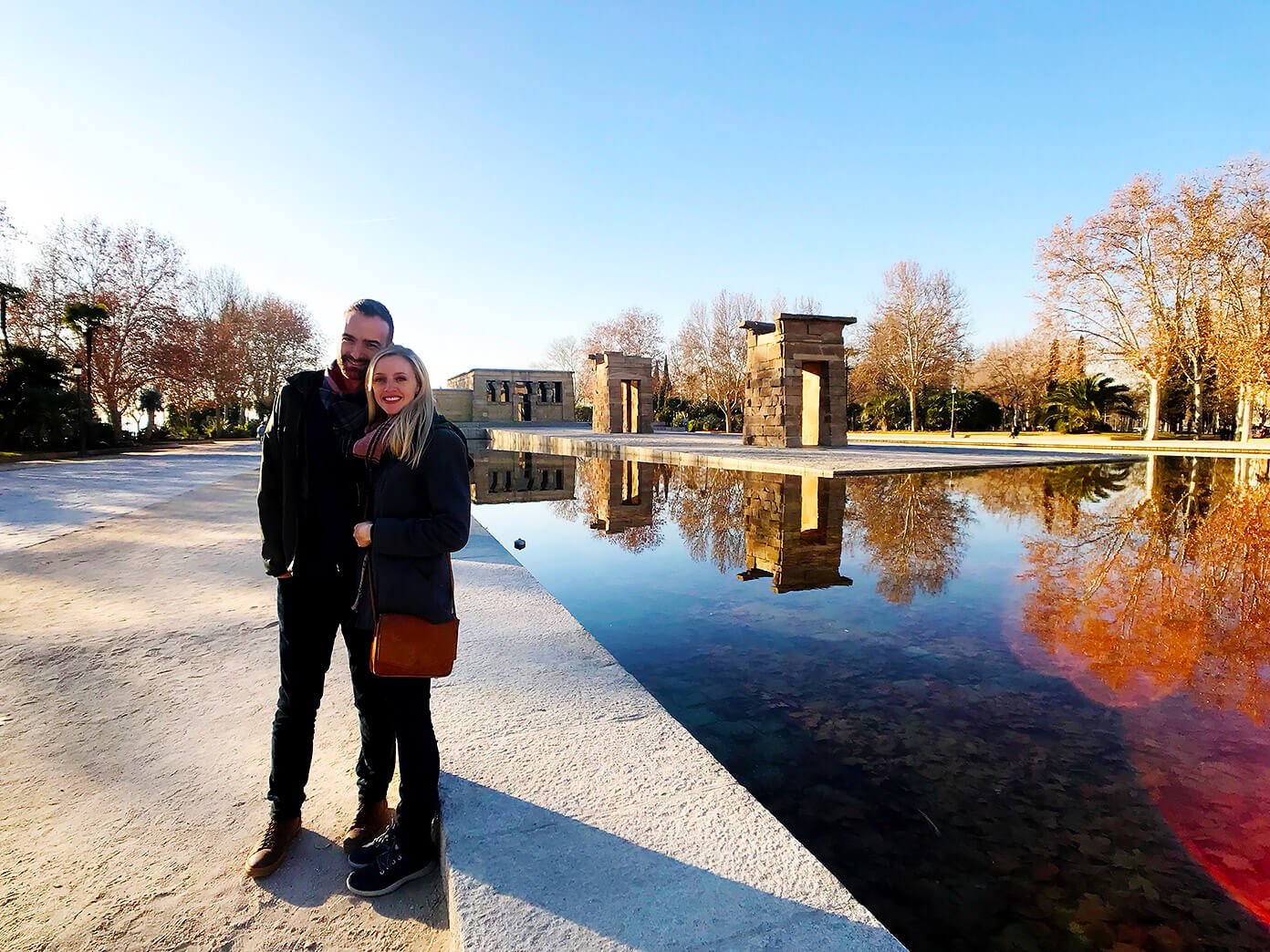 What We Did
High-Speed Train: Well first of all, if you're ever traveling from Barcelona to Madrid (or vice versa), I should mention that we took the high-speed train there…and loved it.  It's definitely a bit pricier, but the train itself was spacious and awesome, the view traveling through the country was gorgeous, and we arrived in less than 3 hours. Loved it!
(Free!) Walking Tour: Someone gave us a tip to download the Rick Steves app and try one of his audio walking tours. So we gave it a try the first morning we were in Madrid…and (mostly) enjoyed it! Pros? It was free, and clearly-directed (you can choose to listen, read a transcript, and/or follow a map while you walk), nicely paced, and covered most of the major sites in the city center in only 2 or so hours. Cons? It was clearly geared toward an American audience, with a few too many lame jokes. Still, it was a nice introduction to the city, and included a stop for chocolate and churros, so no complaints. ? The tour took us by:
Puerta del Sol
Calle de Postas
Plaza Mayor
La Torre de Oro Bar Andalou
Mercado de San Miguel
Convent of Corpus Christi
Town Hall
Calle Mayor
Almudena Cathedral
Royal Palace
Plaza de Oriente
Royal Theater
Calle de Arenal
Mercado de San Miguel & Mercado de San Antón: I've long said that local markets are my favorite way to get to know a city. And these two did not disappoint! More details below…
The Prado: You could easily spend days at The Prado. (I forget how huge it is!)  But with a short weekend trip, we opted to just spend the morning there this time, and really enjoyed it. We took ourselves on a tour of the 20 most famous works at the museum (according to their brochure), and it felt like a nice visit in a relatively short amount of time.
Retiro Park: Madrid's famous central park was just a few minutes' walk away from our hotel. So we headed over on the warmest morning of our trip, and had a lovely time walking around and exploring the sights. Once we made our way to the lake in the middle of the park, we spotted the adorable little rowboats sailing around and decided to wander over and check them out. Turns out, they were really inexpensive (just 7 euros!) for a short ride. So of course, I eagerly said, "Let's do it!" and hopped in the boat. Then Barclay climbed in behind me, and we realized that the paddles were only intended for one of the two seats…his. ? Ha, thanks for the sweet ride, babe!
Templo de Debod: Did you know there's an ancient temple from Egypt that was dismantled and rebuilt right in the heart of Madrid?! We found the story of this place completely fascinating, and it was beautiful when we stopped by in the late afternoon. We heard from friends (and I saw on Instagram) that it's also beautifully lit at night. Definitely worth a stop while you're in Madrid.
Other recommendations that we hope to visit next time…
Biblioteca Nacional, Círculo de Bellas Artes, Mercado de los Motores, plus more flamenco and jazz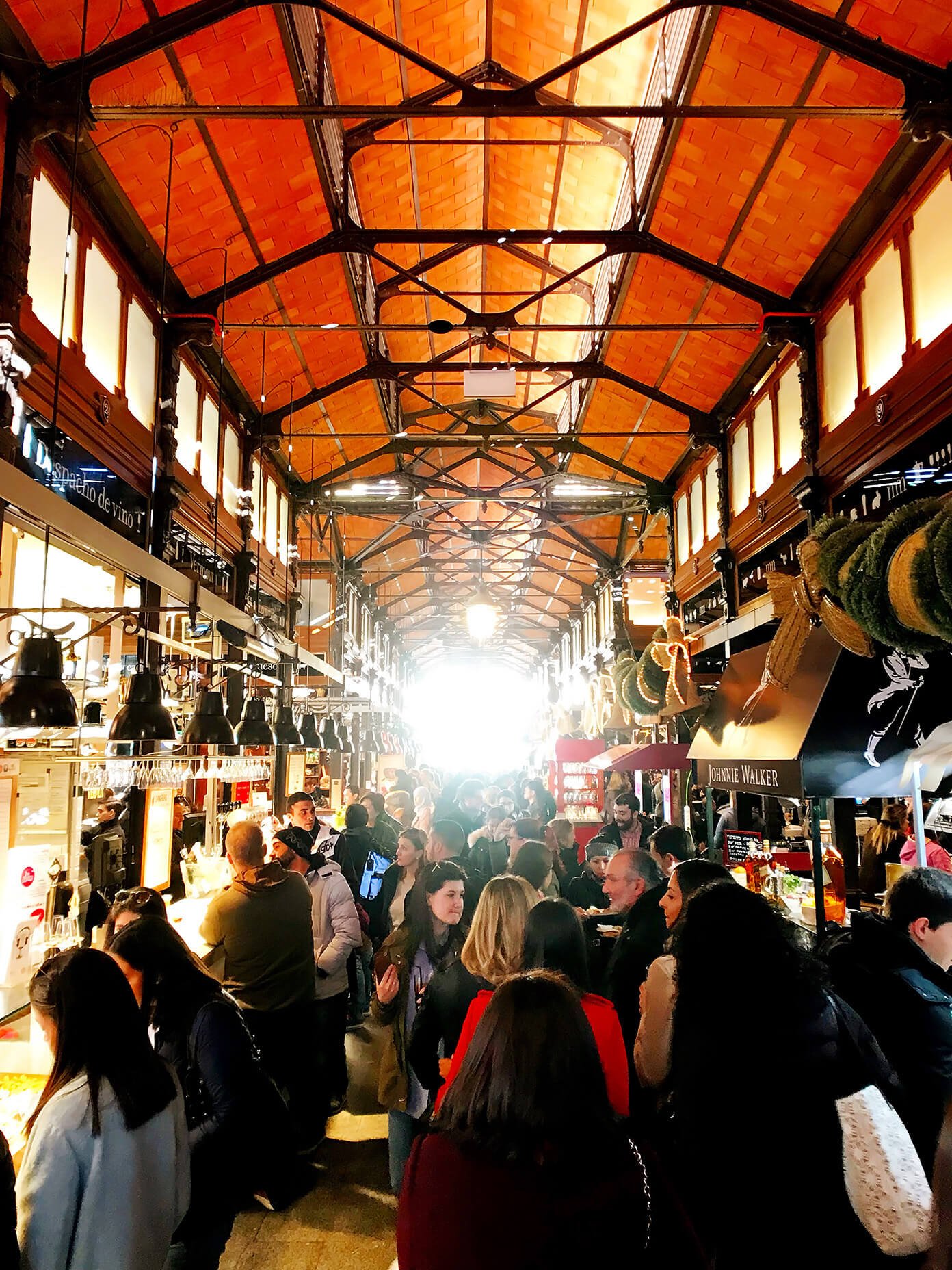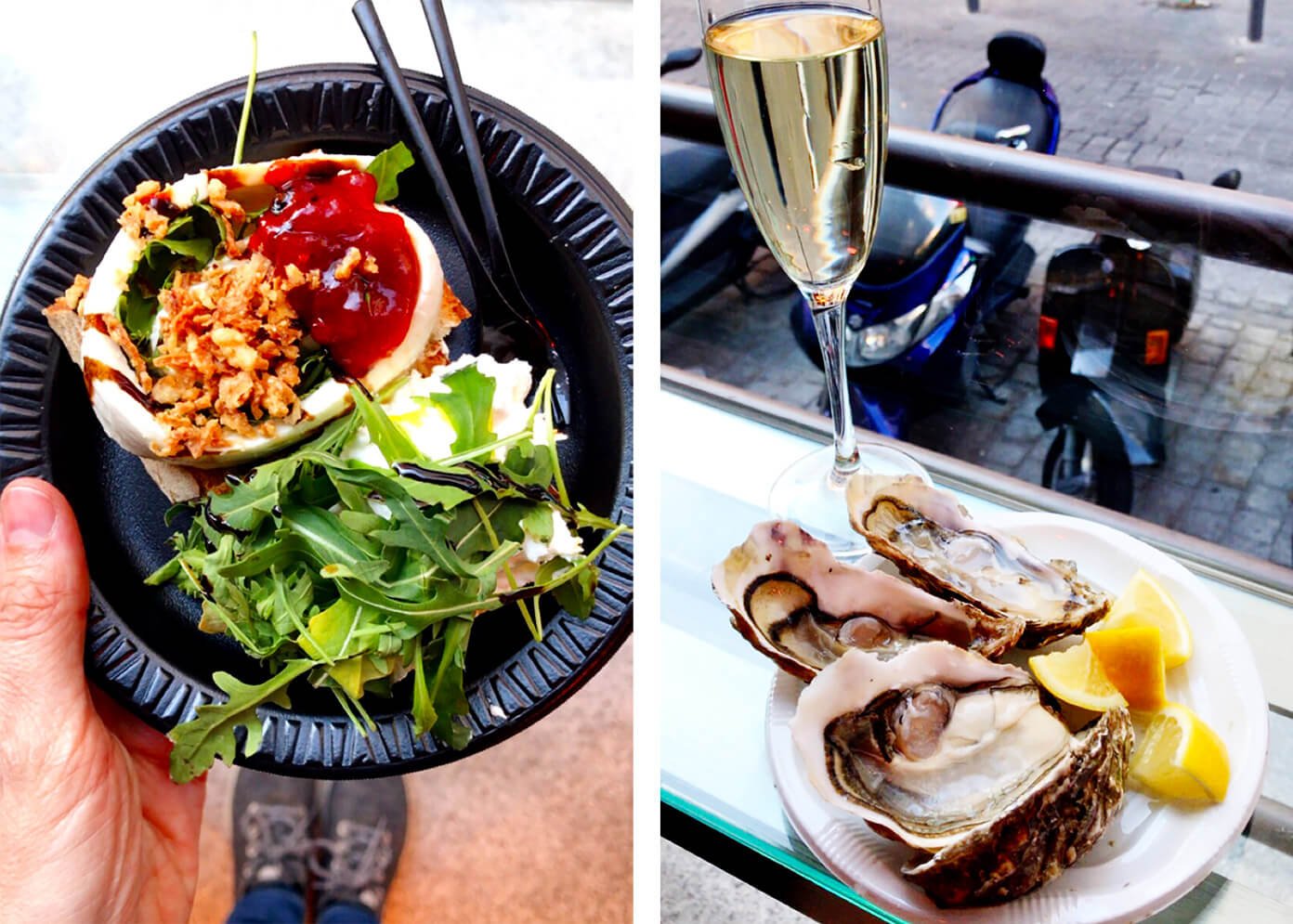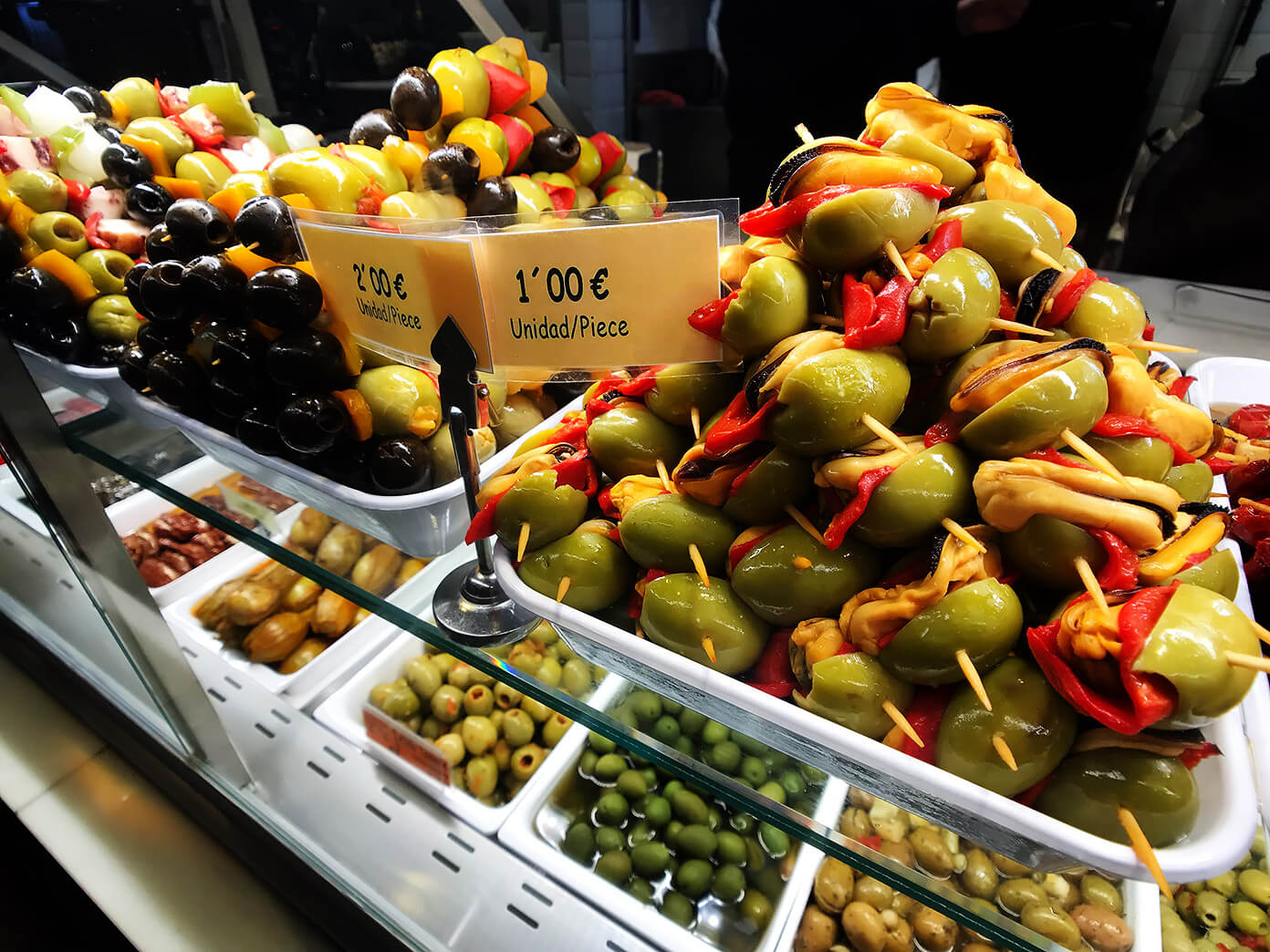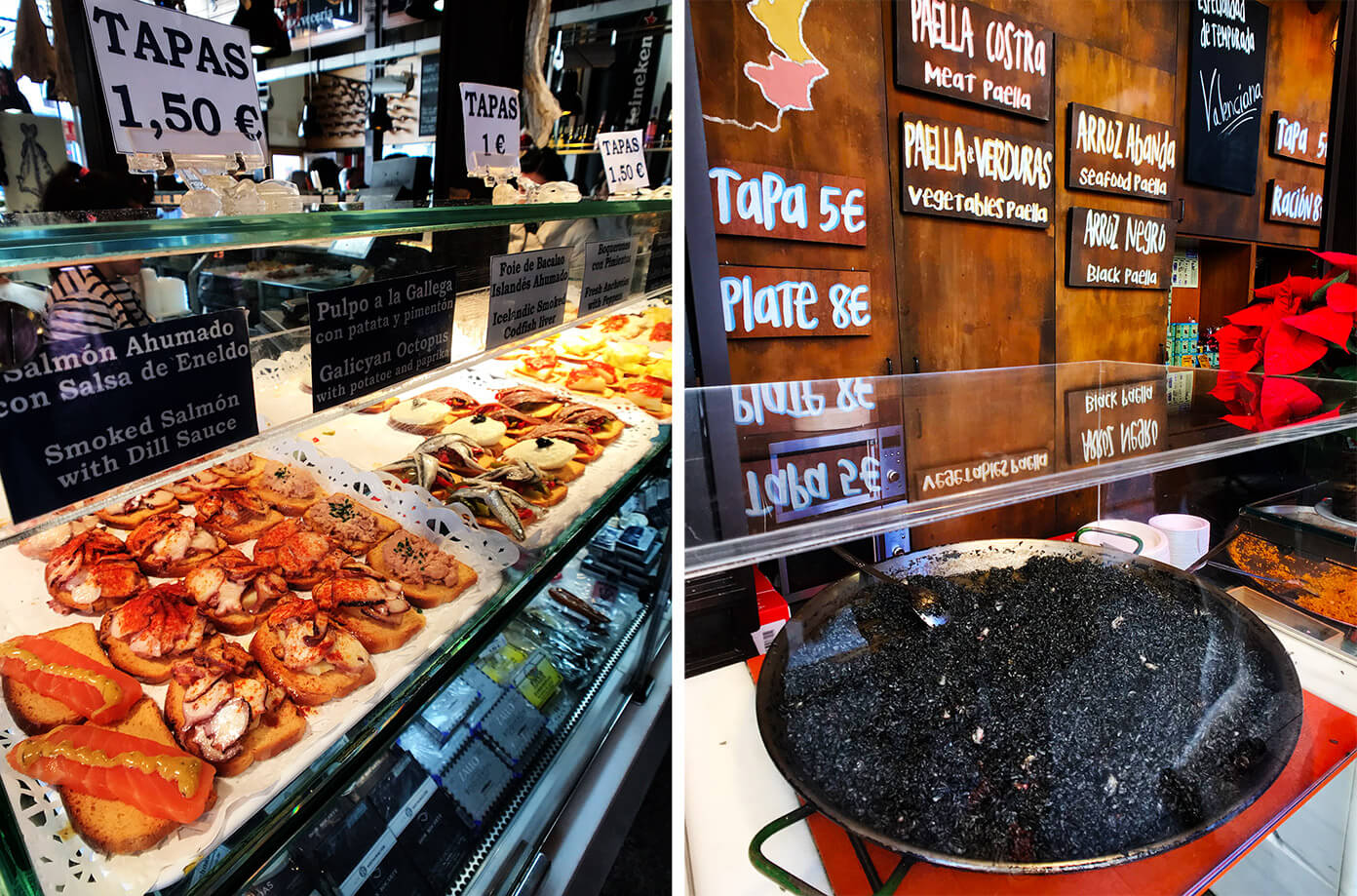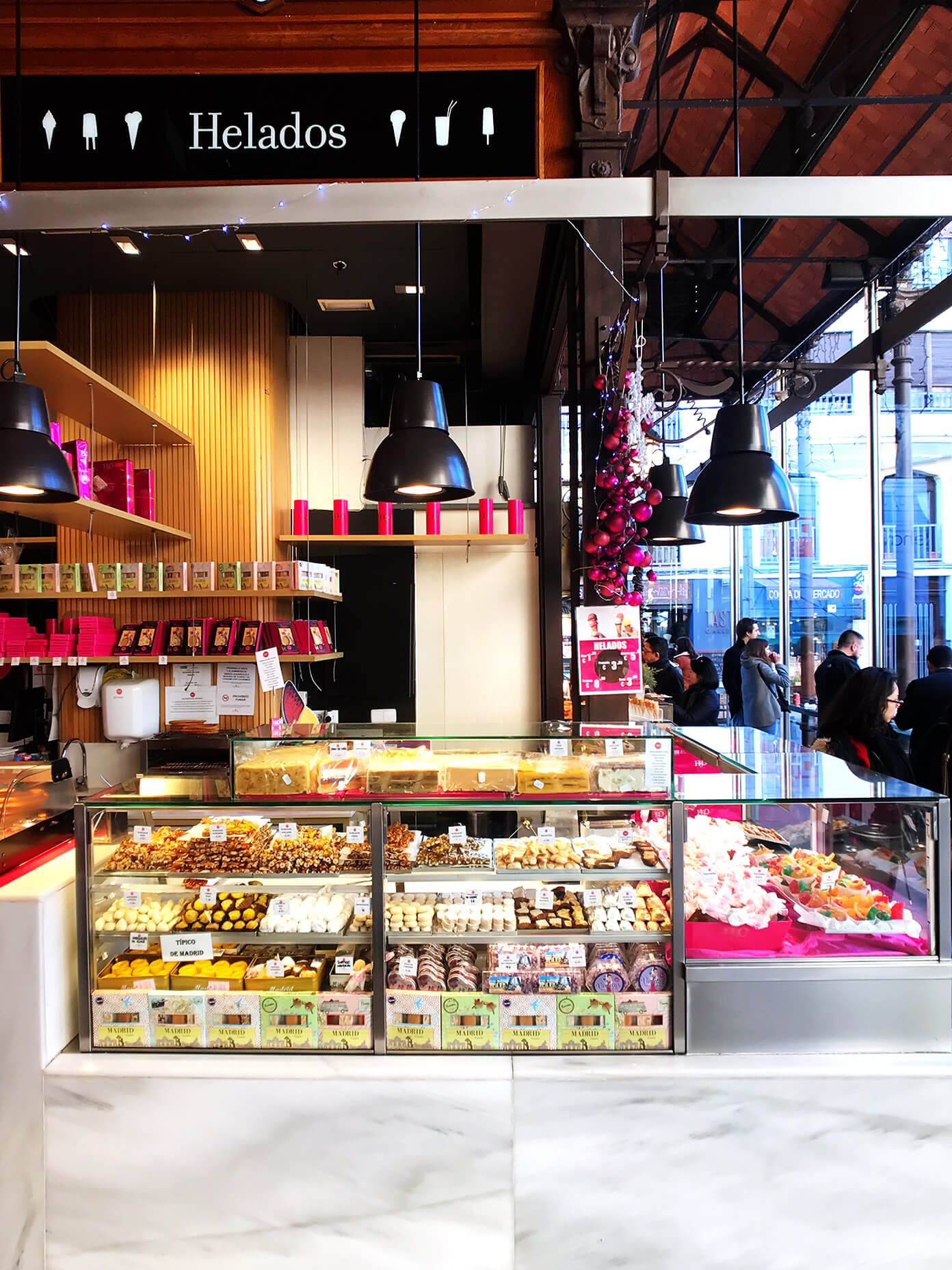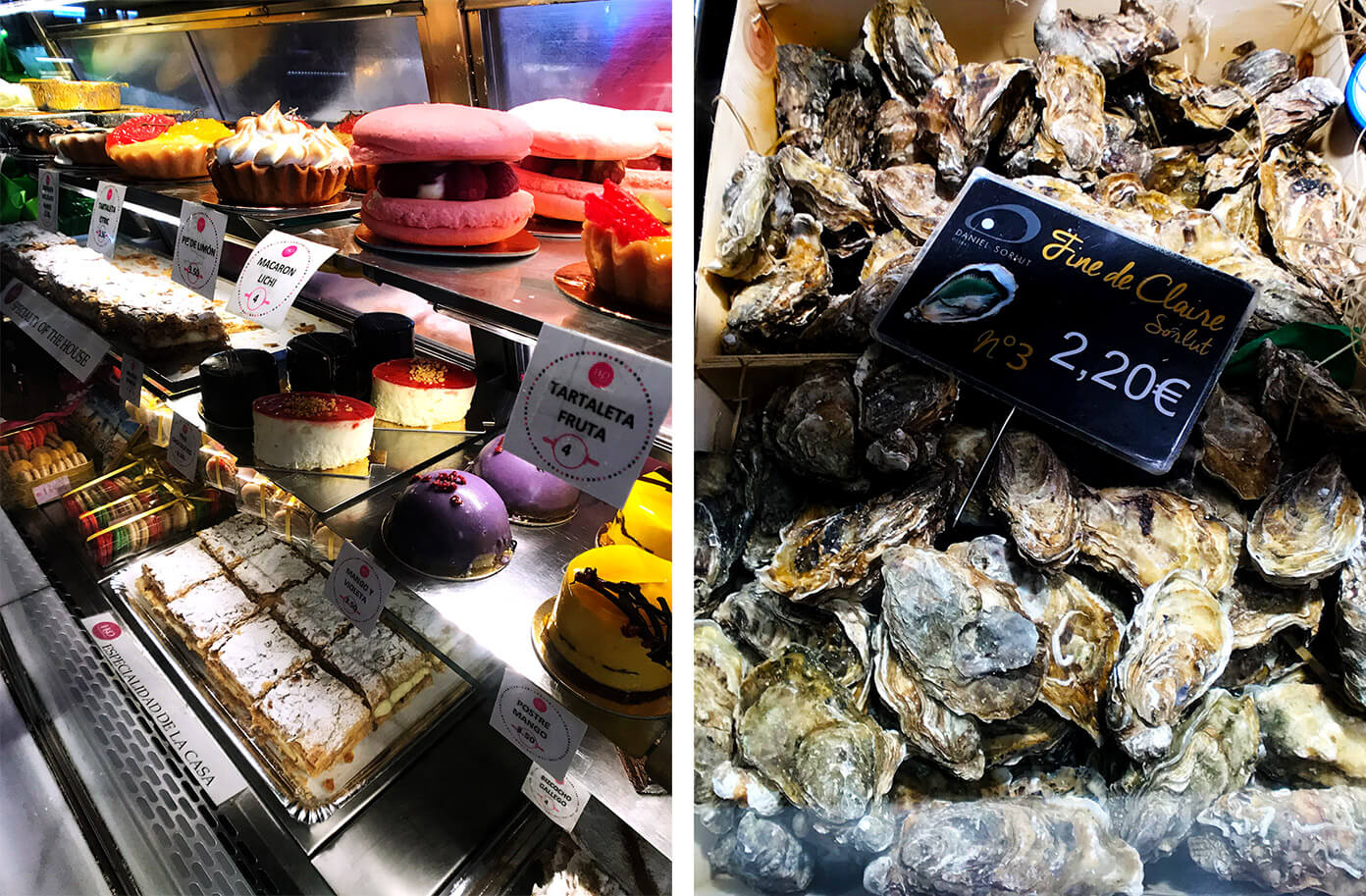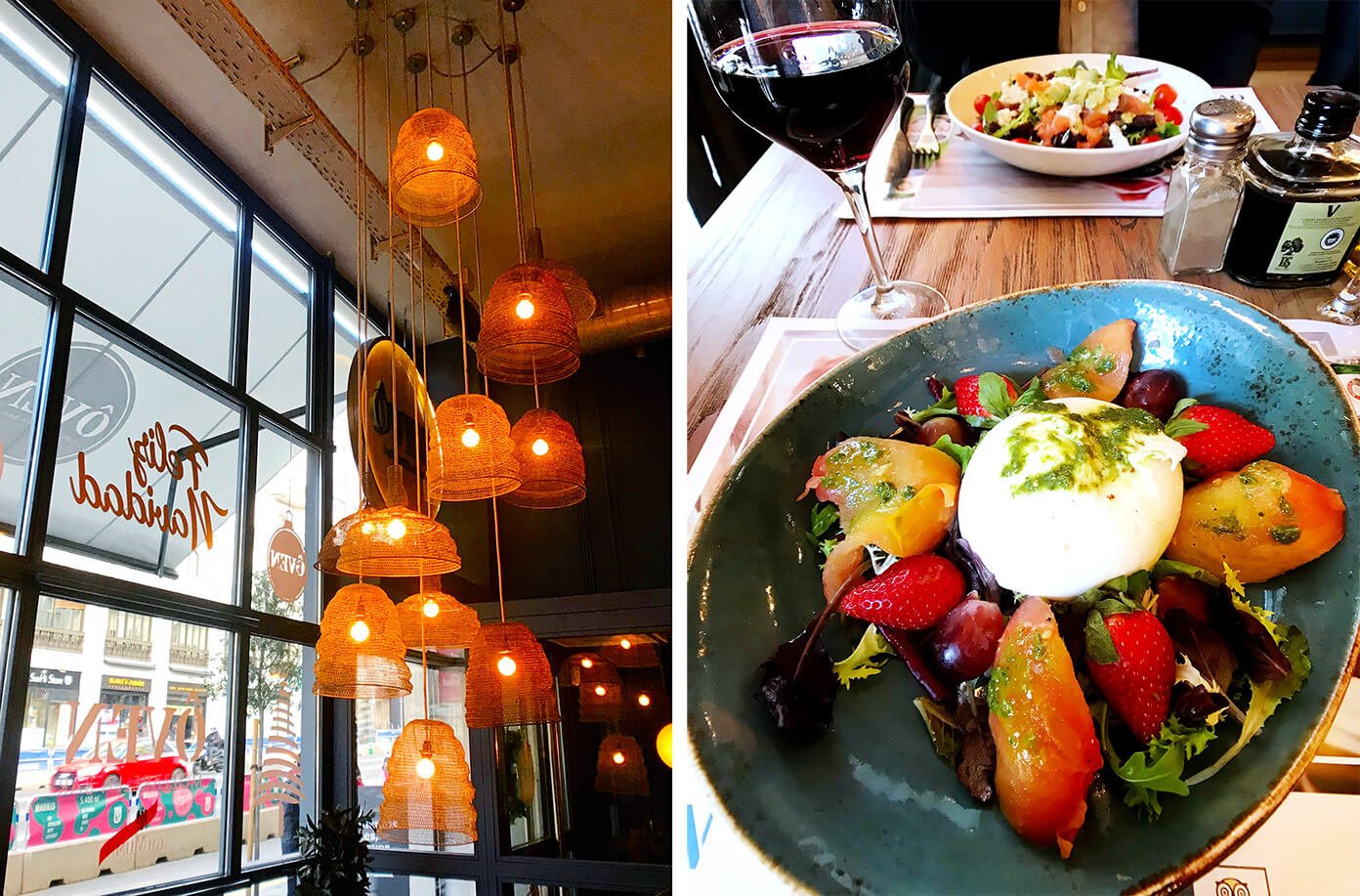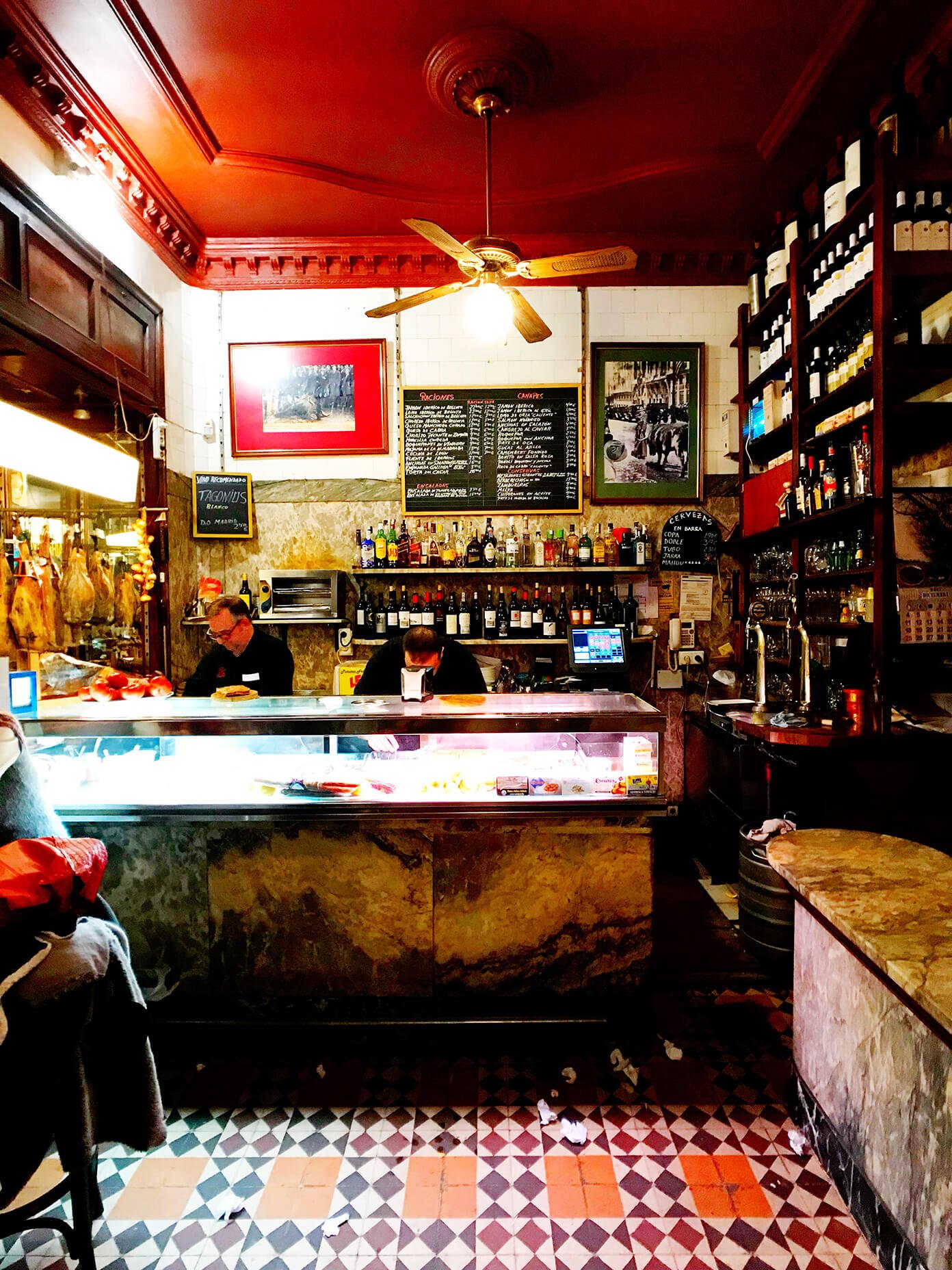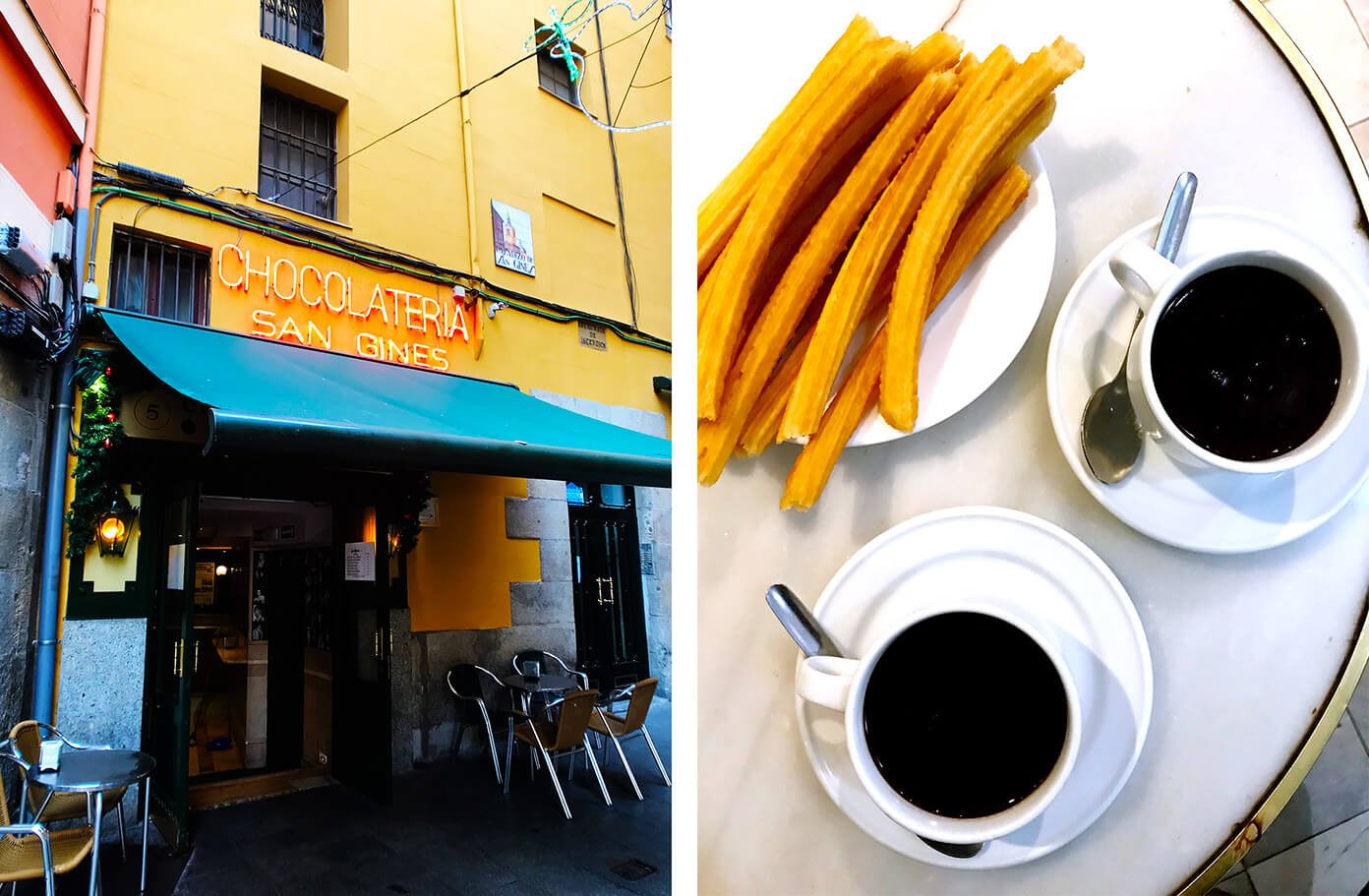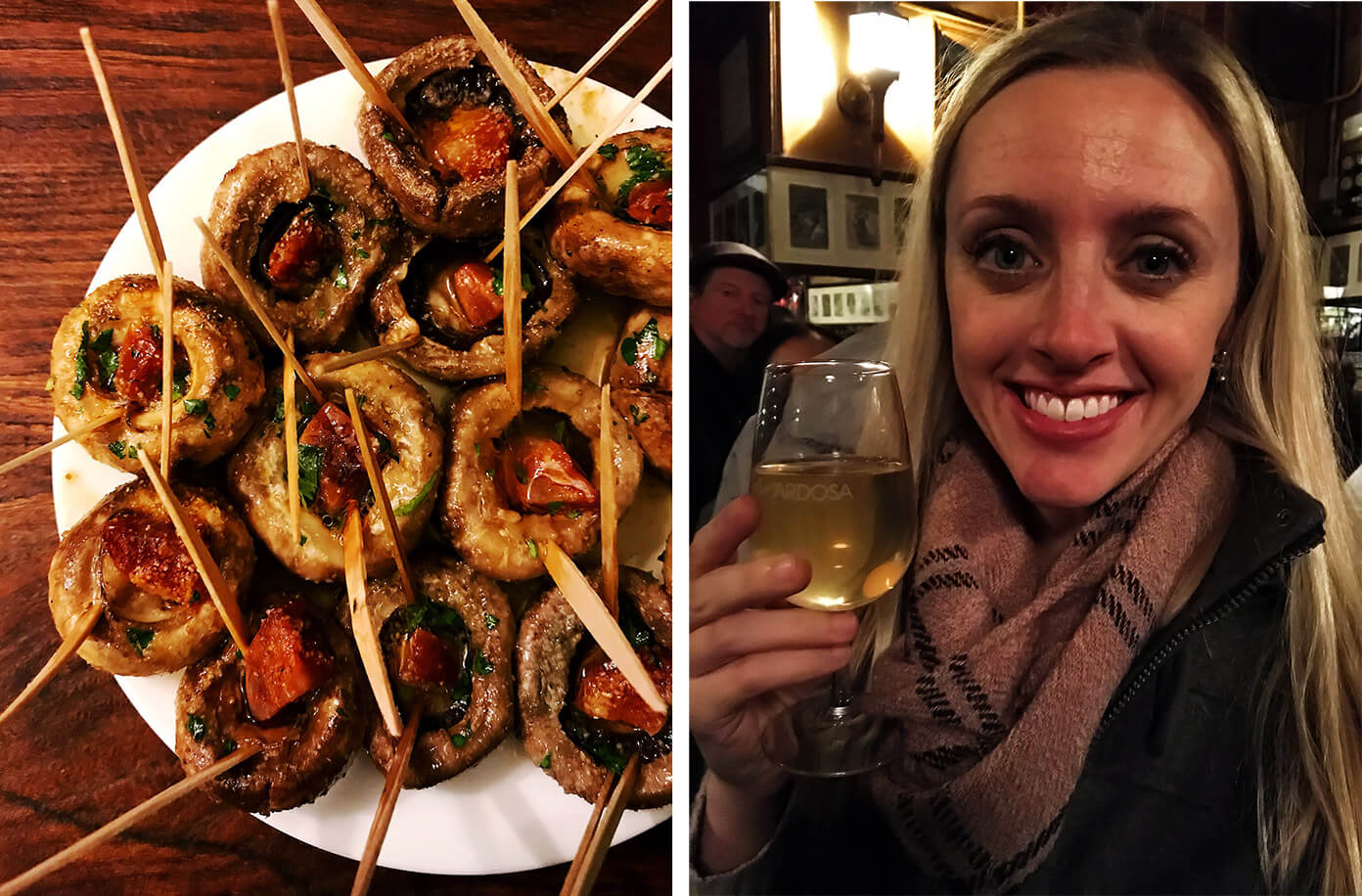 Where We Ate
As I mentioned, Madrid is a city known for its tapas culture. So if you visit, take full advantage of the scene and hop around from place to place, grabbing a bite at each!
Chocolatería San Ginés: Established in 1894, this place is a must for classic chocolate and churros if you visit Madrid. (Like, literally, dozens of you messaged and told us we had to come here. ?)  And it did not disappoint — we loved every last bite! Also, we had read multiple warnings on travel sites to be prepared for long lines and wait times, but amazingly, we walked right in and literally had our churros and chocolate in hand within minutes. We must have gotten lucky — speedy and so delicious!
We ordered their classic chocolate and churros. They were just as good as everyone promised.
Hermosos: This was our hotel's restaurant, where we had breakfast daily and also visited one evening for dinner. The design is bright and modern and classy, and we loved our breakfast there each morning! (The toasts — both the avocado toast and the jamón toasts — were our faves!)  We also really enjoyed catching the vibe of the place in the evening during dinnertime, and had the kindest servers!
We ordered various options on the breakfast menu each morning (including avocado toast, jamón toast, eggs, granola, orange juice, coffee and more). And for dinner, we ordered the poke de atún, wok de verduras, solomillo a la plancha, and cava.
La Ardosa: Established in 1892, this was another classic spot that came highly recommended for a quick drink and tapa. It's a standing-only bar (with a few tables, if you can snag them). And when we arrived at 11pm, it was jam-packed. We tried their house vermouth and sherry, which came recommended. But it was so jam-packed that we decided to skip ordering food. Really fun spot, though.
We ordered sherry and vermouth.
Las Cuevas de Sésamo: A friend who used to live in Madrid recommended this place, mentioning that it's a cute hidden gem where the locals go for a pitcher of sangria, and where you can always find an old man playing live piano in the background. Sure enough, it was exactly that. And we loved it. Even better, we were able to cross paths there with my friend, Sylvia (from Feasting At Home), who happened to be visiting Madrid at the same time, and had the loveliest time with her.
We ordered a pitcher of sangria, olives and chips.
Malditos: This was our restaurant's cocktail bar, and it ended up being our favorite bar in town by a landslide. Can't recommend stopping by enough! The decor is gorgeous and so fun, the staff is amazing (we especially loved getting to know Francisco!), and the cocktails are superb.  My favorite was the "21 Blackjack" cocktail, which has convinced me that I need to buy a smoking gun. It was served in a mini terrarium, which they dramatically lift upon serving and wood smoke comes pouring out. (You can catch a glimpse in the intro to our December update video!)  So good. Can't wait to return next time we're in Madrid!
We ordered the 21 Blackjack (twice, loved it so much!), the Tótem (house tiki cocktail, also very fun), and a sazerac.  All were fantastic, with beautiful presentation.
Mesón del Champiñon: This place also came highly recommended by you all, and claims to have "the best mushrooms in the world". But ha, the fun surprise was that the restaurant itself looked like a little mushroom cave! Ha, it was tiny and quirky and cozy. And sure enough, there were literally dozens of trays of stuffed mushrooms piled high by the entrance, just waiting to be baked. We stopped by for a quick round of tapas, which came out instantly and were all delicious. But the chorizo-stuffed mushrooms definitely stole the show. Totally recommend. (Also, we lucked out on our timing and arrived during a lull, but heads up that this place can get super busy!)
We ordered their famous mushrooms, olives, Padrón peppers, sangria and vermouth. Loved those mushrooms.
Mercado San Antón: We stopped by here our first evening in Madrid, and had such a fun time wandering around! It's a three level modern market, including a traditional grocery market on the first floor, a variety of fun tapas restaurants on the second floor, and an art gallery and restaurant on the third floor terrace (with a gorgeous view of the city!). We were there on a chilly night, so we decided to nix the restaurant outside and just wander around the second floor trying little bites at each place. And everything we tried was delicious.  Totally recommend stopping by!
We sampled a little bit of everything all around. But La Casa de Bacalao (especially their cod pinxos) was our favorite!
Mercado San Miguel: This is Madrid's most popular market, which was originally built in 1916, but then renovated and reopened in 2009. And by contrast to La Boquería here in Barcelona, this market is made of iron and completely enclosed and has a more modern vibe. Beautiful! I had been looking forward to visiting it so much that we blocked off an entire afternoon to wander around. But honestly, it was so jam-packed the day we were there that we only stayed an hour or so. Still, it was fun to see and explore, and we sampled some amazing food there.
We sampled all sorts of random things all around. Some favorites included the burrata bar, the epic olive bar, the fresh oysters, and the croquette bar.
Ôven Mozzarella Bar: We impulsively ducked into this place on our last day when we were freezing, and absolutely loved it.  After having eaten straight Spanish food for three days, we were ready for a break. And their fresh Italian food — especially, hello, the burrata — totally hit the spot. It looks like there are multiple locations around Madrid, but we ate at the Gran Via restaurant and loved it.
We ordered the Burrata Oven, Ensalada de Salmón, Rigatoni al Horno and a pesto shrimp pasta that was a special that day. All were incredibly fresh and tasty!
Restaurante Ten Con Ten: Many of you recommended this place, which happened to be just a few blocks from our hotel. So we stopped by one afternoon for a gin and tonic (their speciality)…and loved it so much that we stayed for hours and hours, just hanging out and talking at the bar and enjoying the cozy vibes and Christmas music. It was so classy and warm…we loved it! That said, we actually loved it so much that we decided to stop by on our way home our final night there around midnight, and the vibe had totally changed to a (very loud!) club scene. Ha, so just a heads up to take your pick!
We ordered gin and tonics and a glass of cava.
Stop Madrid: A few of you also recommended that we stop by here to do some Iberican ham tasting. It's apparently one of the 20 oldest tapas taverns in Madrid (established in 1929), known for their wine and ham. So we stoped by for a quick sample of their "jamon iberico de bellota", which was indeed delicious. And my vegetarian husband went to town on the olives, and complimentary bread and cheese that they brought out. Fun spot!
We ordered Jamon Iberico de Bellota and olives and wine, which were served with complimentary bread and cheese.
Other recommendations that we hope to visit next time…
Barbara Ann, El Espejo, Gran Clavel, Restaurante TriCiclo, Taberna La Dolores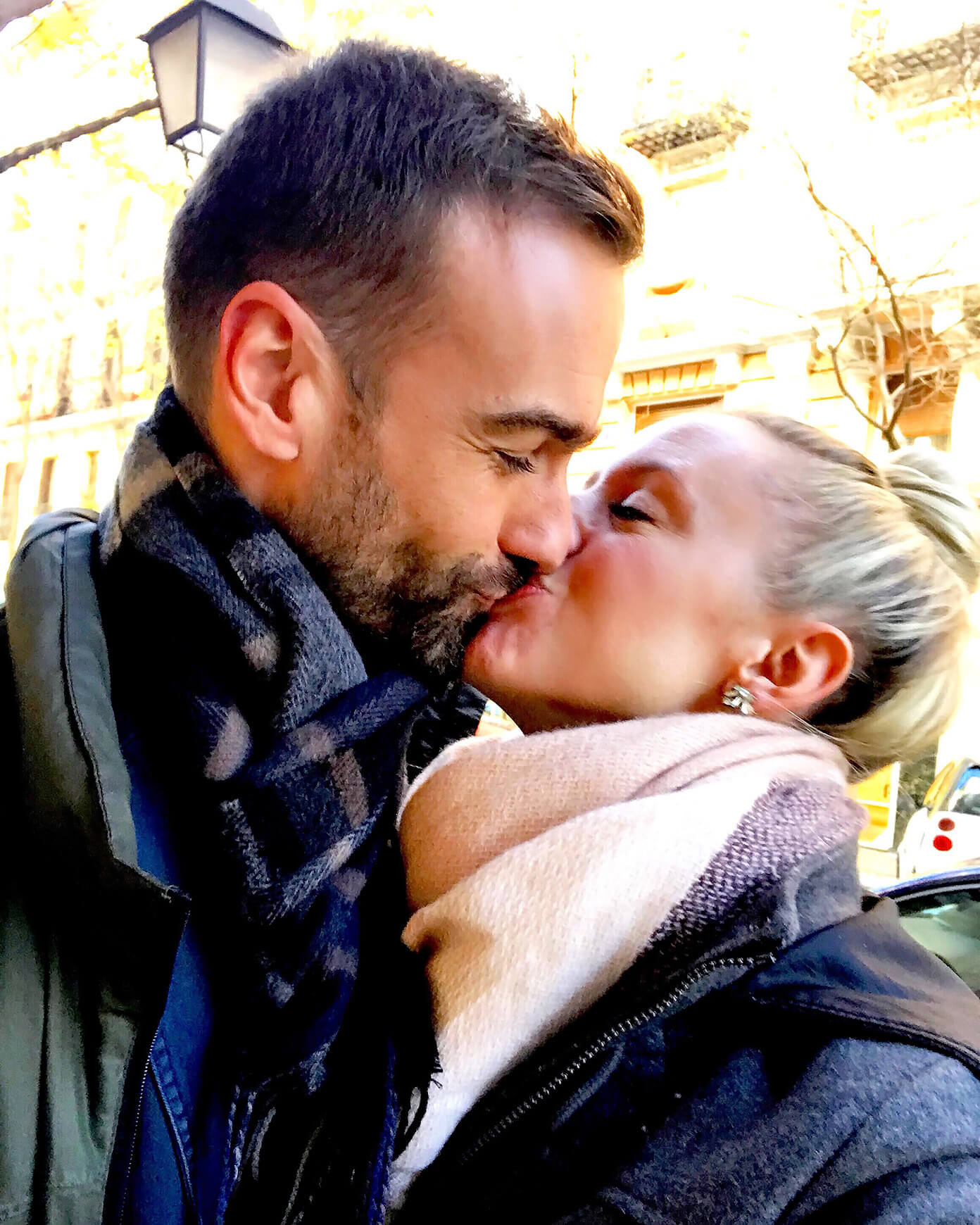 Until next time, Madrid! ?