Weekend In NYC
This post may contain affiliate links. Please read my disclosure policy.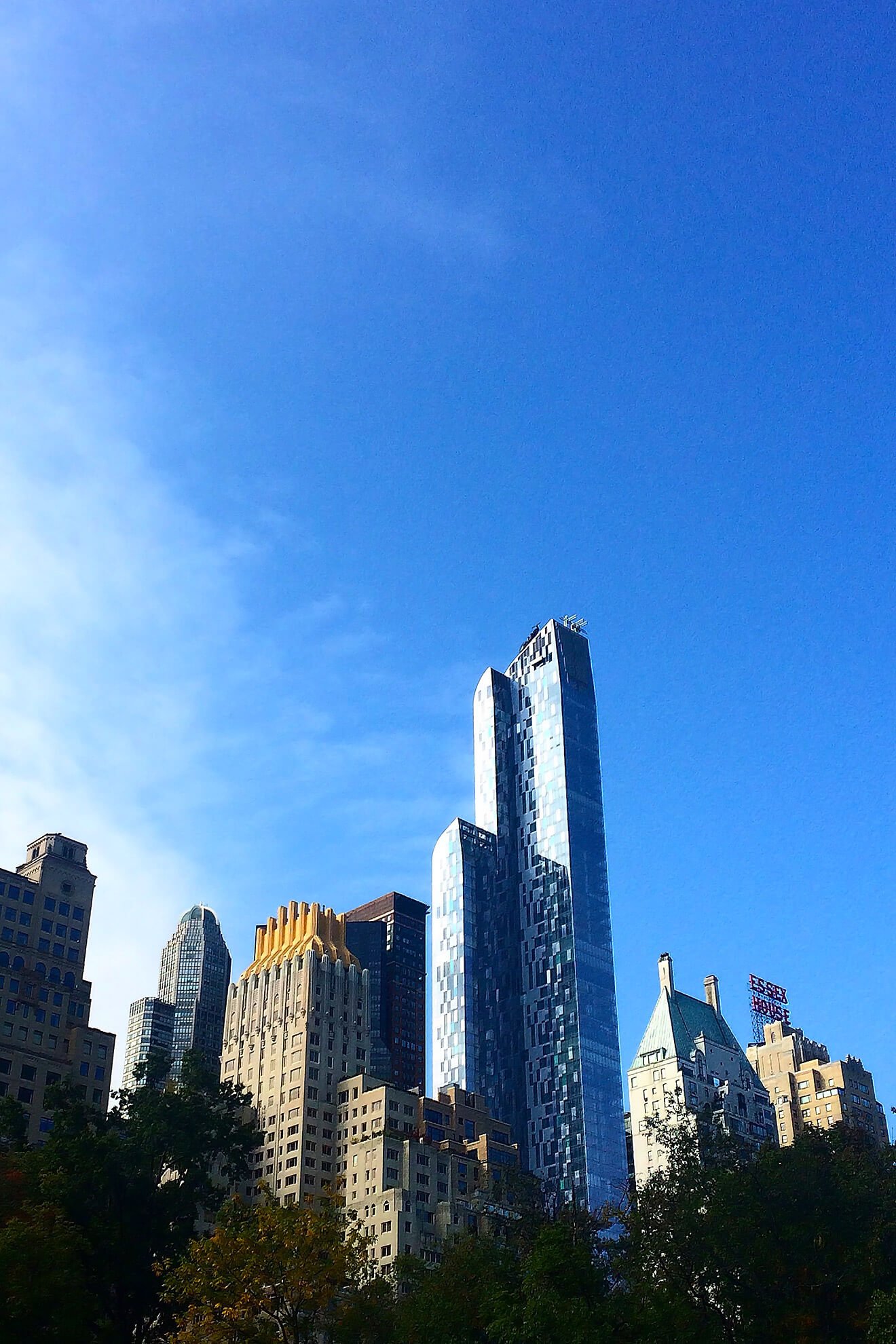 Happy Friday, guys! Life behind the scenes here has been a little crazy lately between work projects, planning this wedding, renovating a kitchen, and getting ready to move. (I know…what crazy girl decided to do all of these things at once?! ?)  BUT, I finally just got around to editing the photos from my trip to New York City and Barcelona with Barclay. And since many of you have been asking for our travel recommendations, so thought I would pop in today and share with you a few highlights from our trips, beginning with…
…our weekend in The Big ?.
Initially, we were just planning to fly straight through NYC on route to Barcelona. But at the last minute, Barclay heard that a social justice hero of his was going to be speaking in Harlem that Saturday afternoon before our Sunday evening flight, and we realized that we might as well take the opportunity to spend the entire weekend in the City while passing through. So we cleared our schedules, bumped up our tickets, booked a quick hotel, and — poof! — a second mini-vacation was born!
Barclay and I have both spent quite a bit of time in and around NYC in the past, so we decided to nix any of the major tourist destinations this trip,and just spend our time walking and eating and wandering around a few of our favorite neighborhoods. And we did! And it was so simple! And so relaxing! And so much fun.
So for anyone interested, here are some of the highlights from our weekend…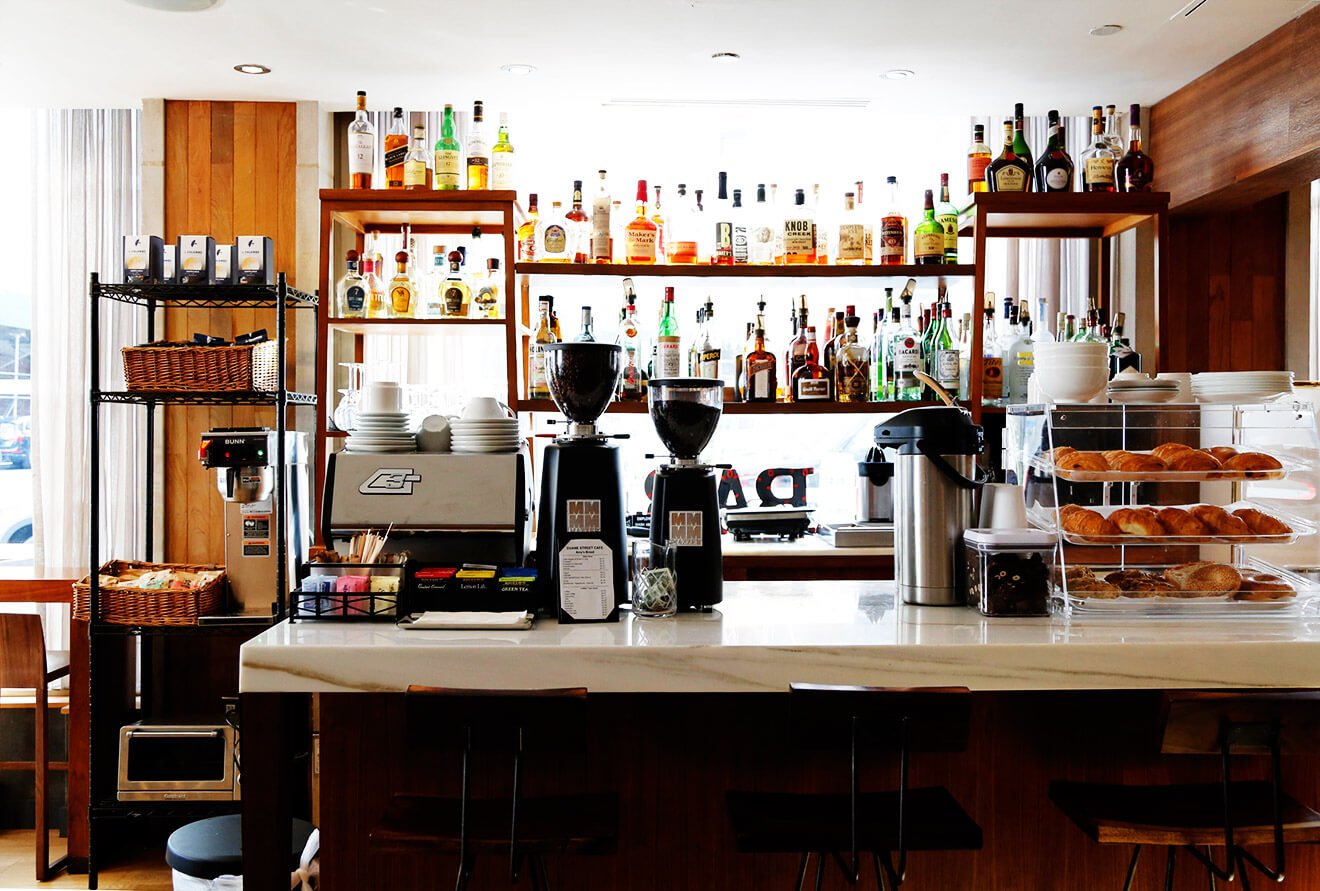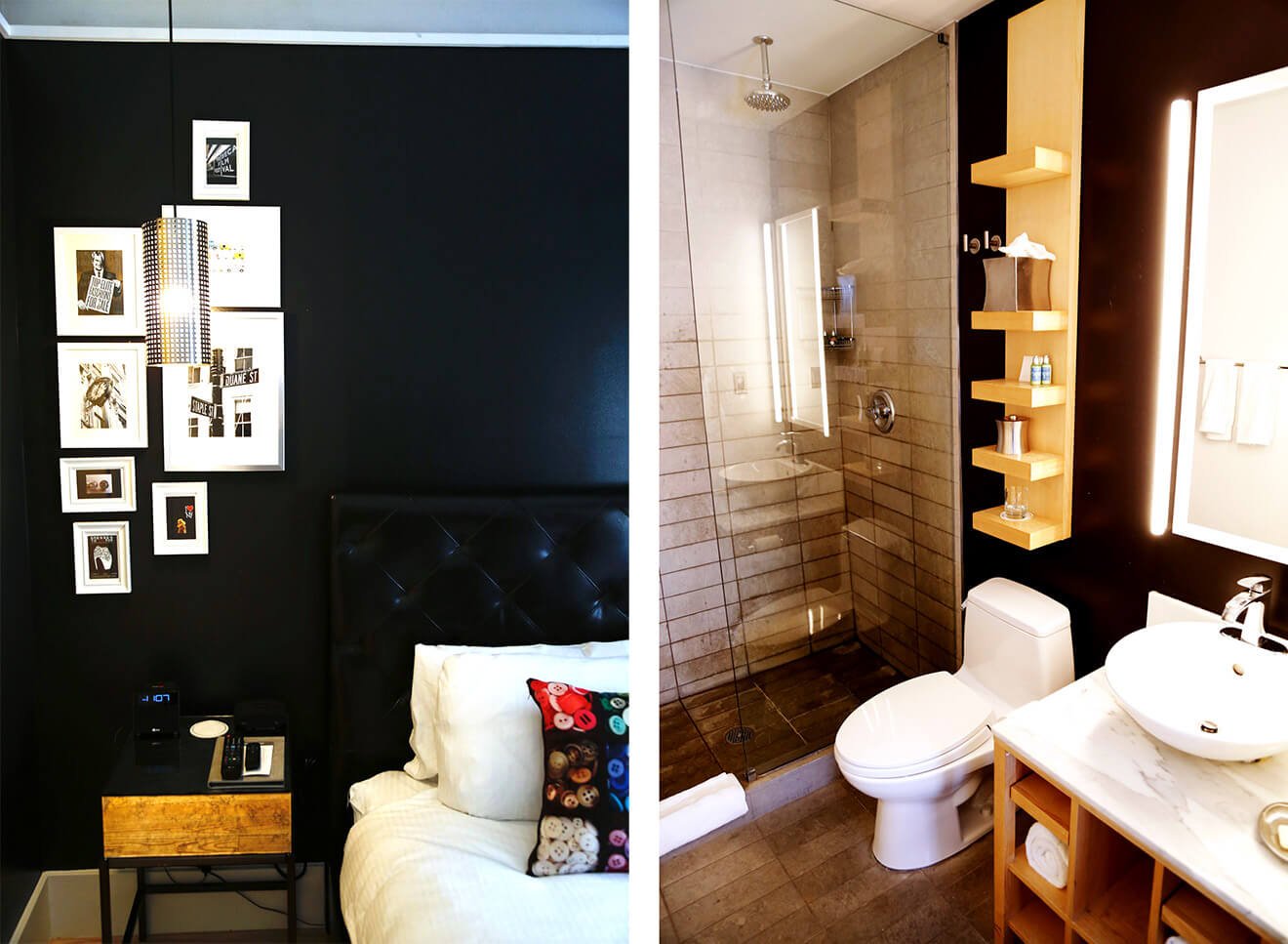 Where We Stayed
We stayed at the Duane Street Hotel in Tribeca. I admittedly spaced off booking us a hotel, and chose this place at the last minute because it was cute, it was located in a fun neighborhood, and it was much more reasonably-priced than most other hotels in the area. And it was great!
We loved the vibe of the public spaces on the main floor, especially around the newly-renovated cocktail bar and lounge in the lobby, and the attached Graffiti Earth restaurant (which we never had the chance to try, but looked fun with an awesome menu). And loved that they served some of my favorite La Colombe coffee 24/7. They also have a cute row of bicycles sitting out front that guests are welcome to borrow (complete with locks and helmets), which my bicycle-loving fiancé absolutely loved.
The guest rooms themselves were pretty small (fair for NYC). But, they had really tall ceilings with amazing tall windows overlooking NYC. And we loved the fun decor touches all around, plus the yummy bath products and super-speedy wifi.
If you're looking for a more affordable, cute place to stay in the City, I'd totally recommend it.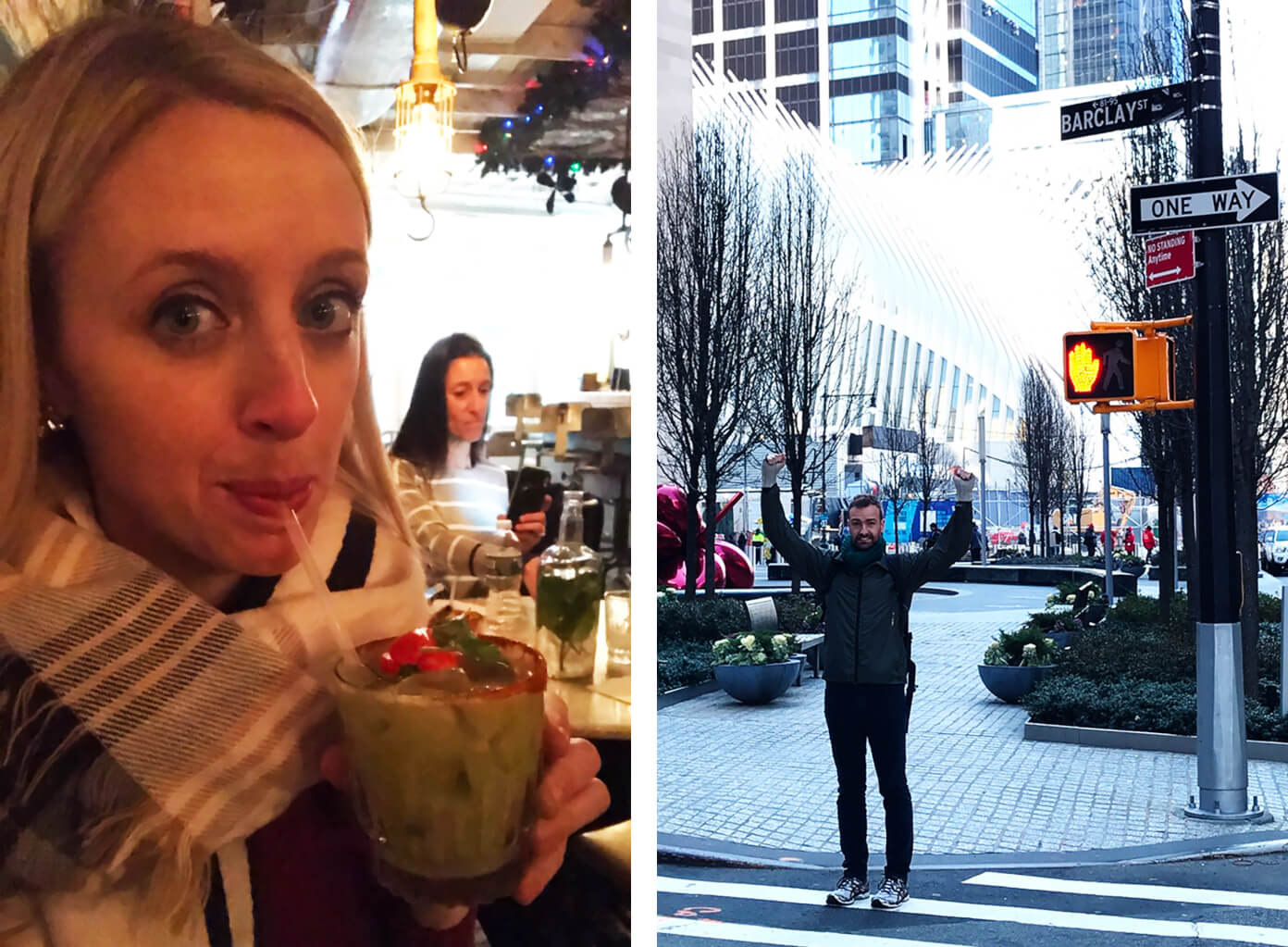 What We Did
Again, our itinerary this trip was super laid-back. Beyond catching the Thomas Merton lecture series, and spending an afternoon doing a food tour, we mostly spent our time just exploring the city on foot, walking miles and miles each day taking in the various neighborhoods (my favorite). And of course, following our noses — and Yelp — to what turned out to be a delicious array of restaurants along the way (my other favorite). But here is a short list of the places we actually visited, including what ended up being the highlight of the trip!
Chelsea Market: This was one of the few places on my bucket list for the weekend. I hadn't been to Chelsea Market in a few years, and it was pretty chilly in NYC the weekend we were there, so an enormous indoor food hall sounded like the perfect place to explore. ? Amazingly, Barclay had never been before. So I had a fun time showing him around all of the various stalls, and then we warmed up with some delicious hot ramen afterwards. If you love food, this is such a fun and inspiring and yummy place to visit!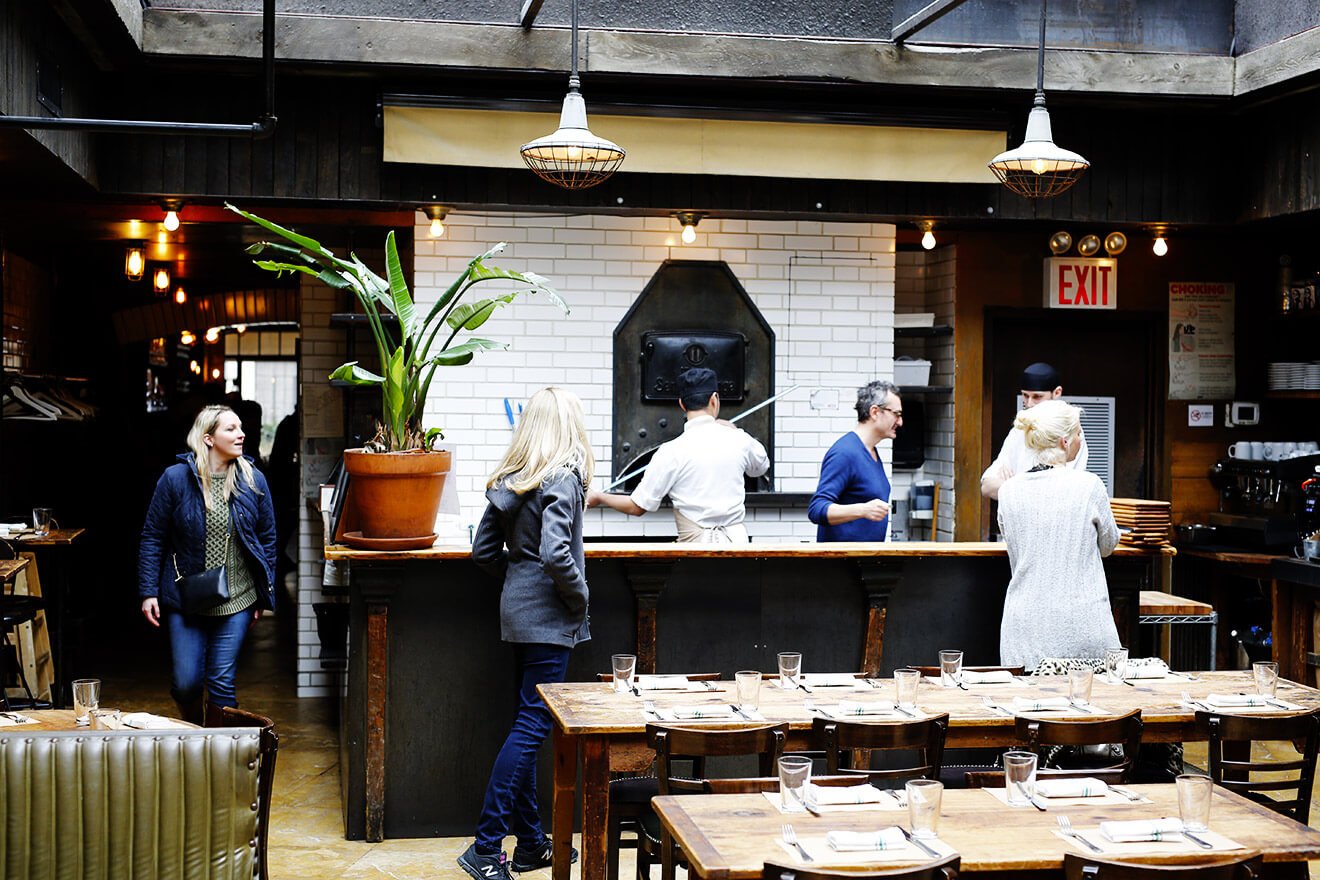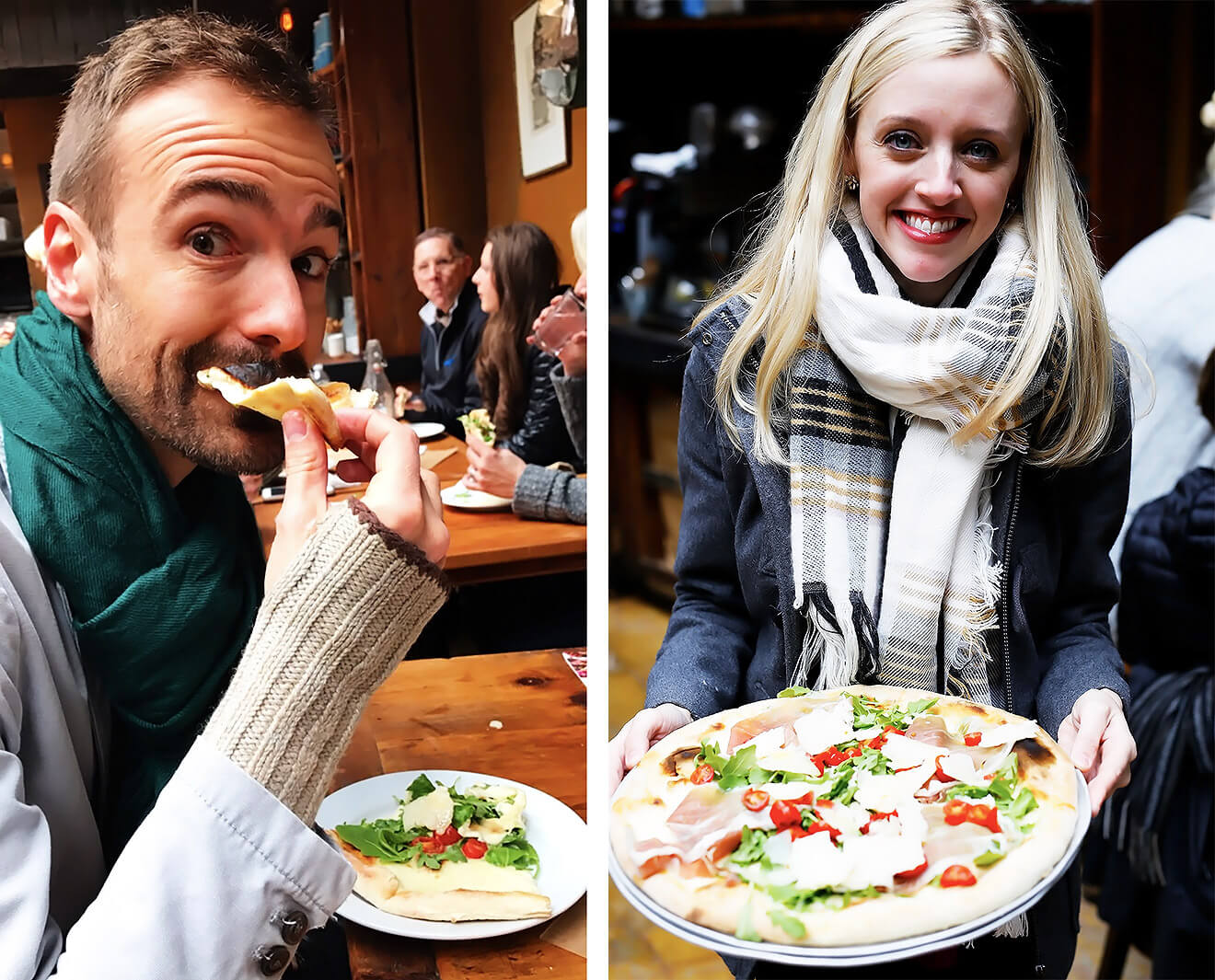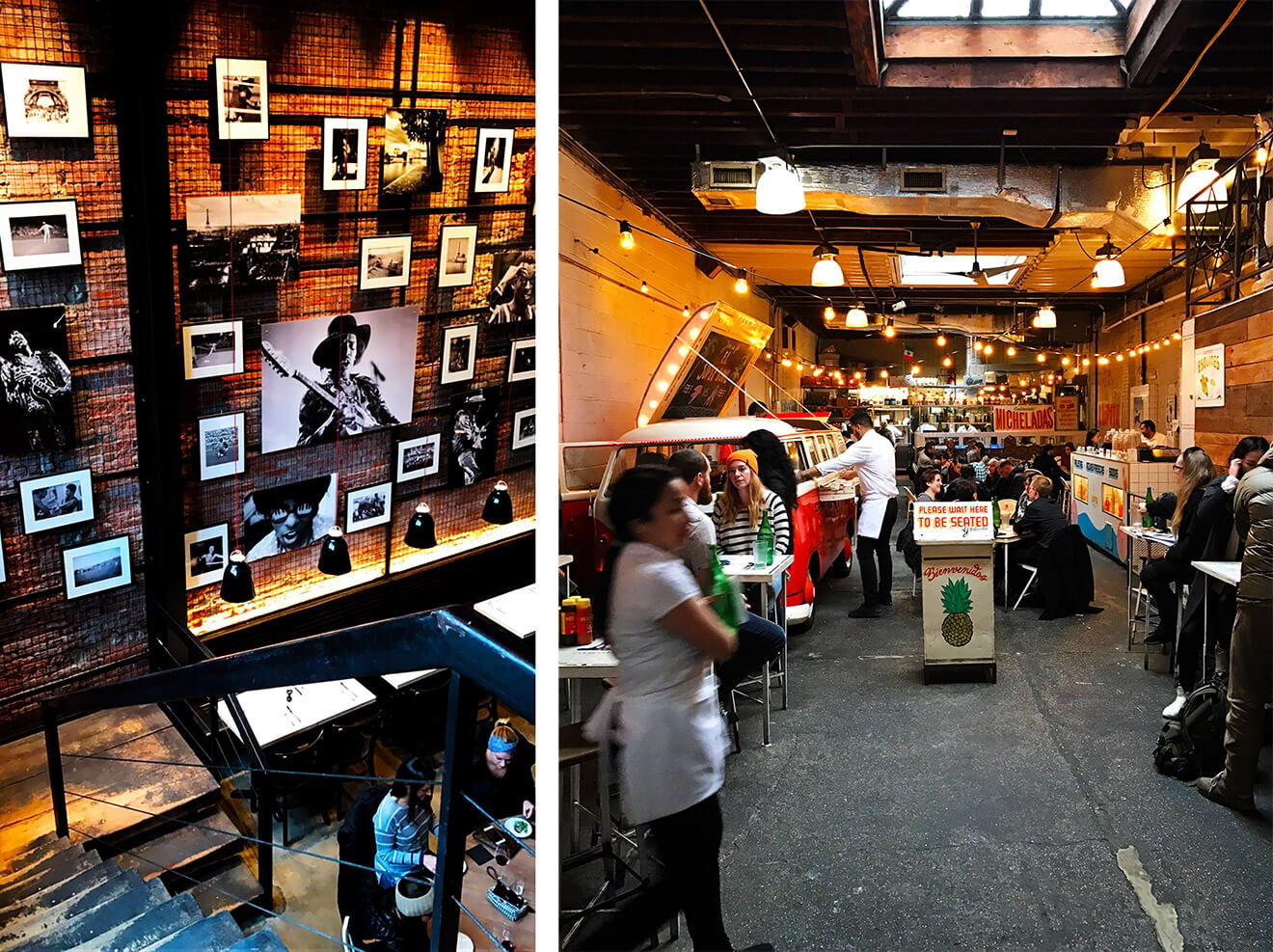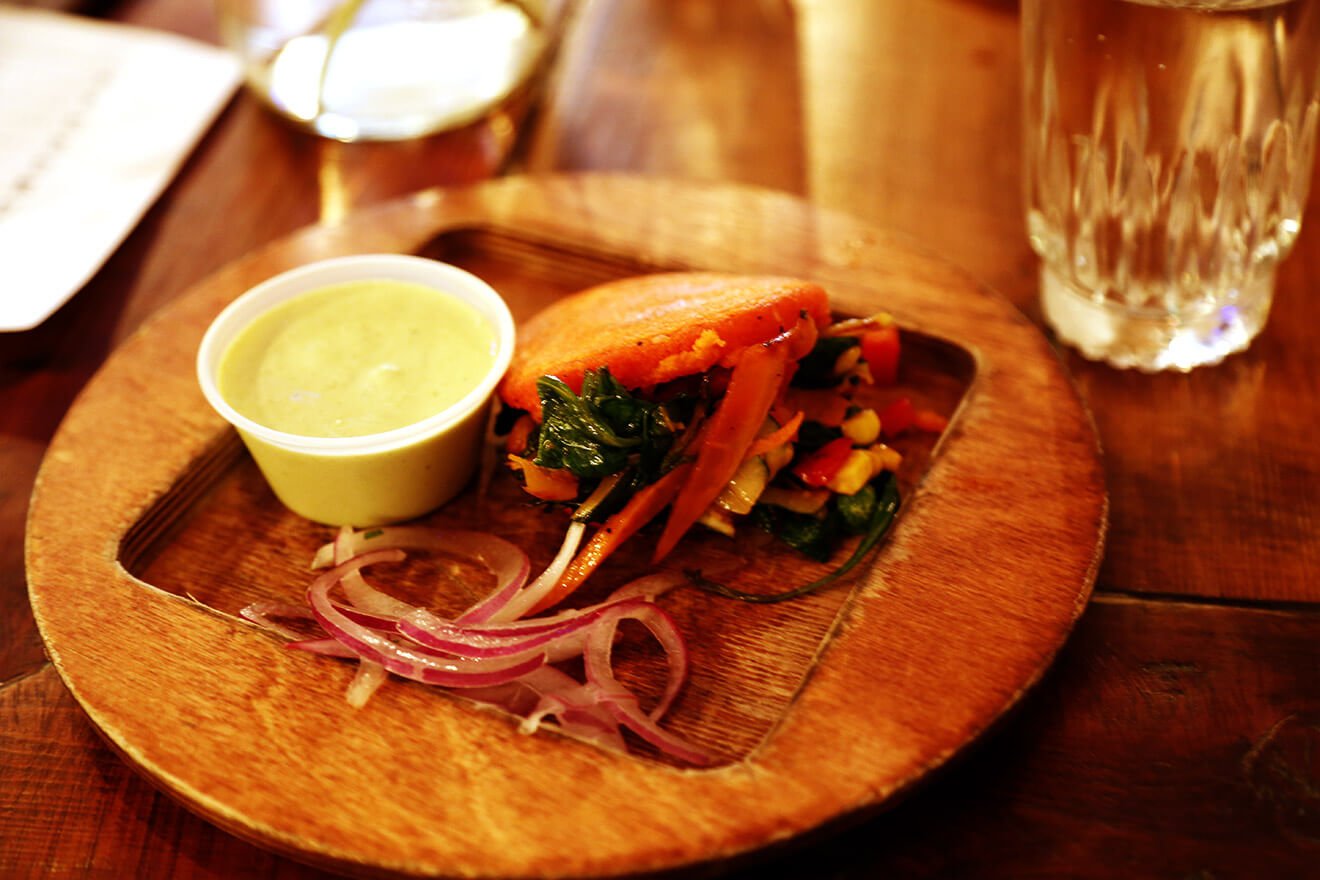 Foods Of New York Tour: The day before we left for NYC, I was telling Barclay about how much I loved doing a food tour in Greenwich Village year ago, and asked if he might be interested in booking one together. He was a little iffy about doing a tour — as I think we both are with many tours — but totally willing to go. So we scanned the list of tours available, and decided upon the Nolita/Noho Food Tour, since we both knew very little about that neighborhood. And, you guys, it was freaking awesome.  Total surprise highlight of the trip.  I mean, first off, the 3-hour tour is basically a 3-hour feast, where everyone in your small group gets to taste "samples" (which were practically like full meals each) from six local restaurants, including a fun mix of trendy new places and old classics. But we loved this tour — just like I remember loving my last one — because it's a really fun deep dive into the history of one specific neighborhood in NYC. And a great walking tour, which was much appreciated to balance out all of that food. ? Props to our amazing guide, Jeanette, who was hilarious and engaging and super-knowledgable about the area, and made the afternoon so much fun. It was the perfect afternoon to begin our time in NYC, and Barclay and I both agreed we want to book another tour the next time we're back. For anyone interested, the places we visited and the dishes we tasted on the Nolita/Noho tour included: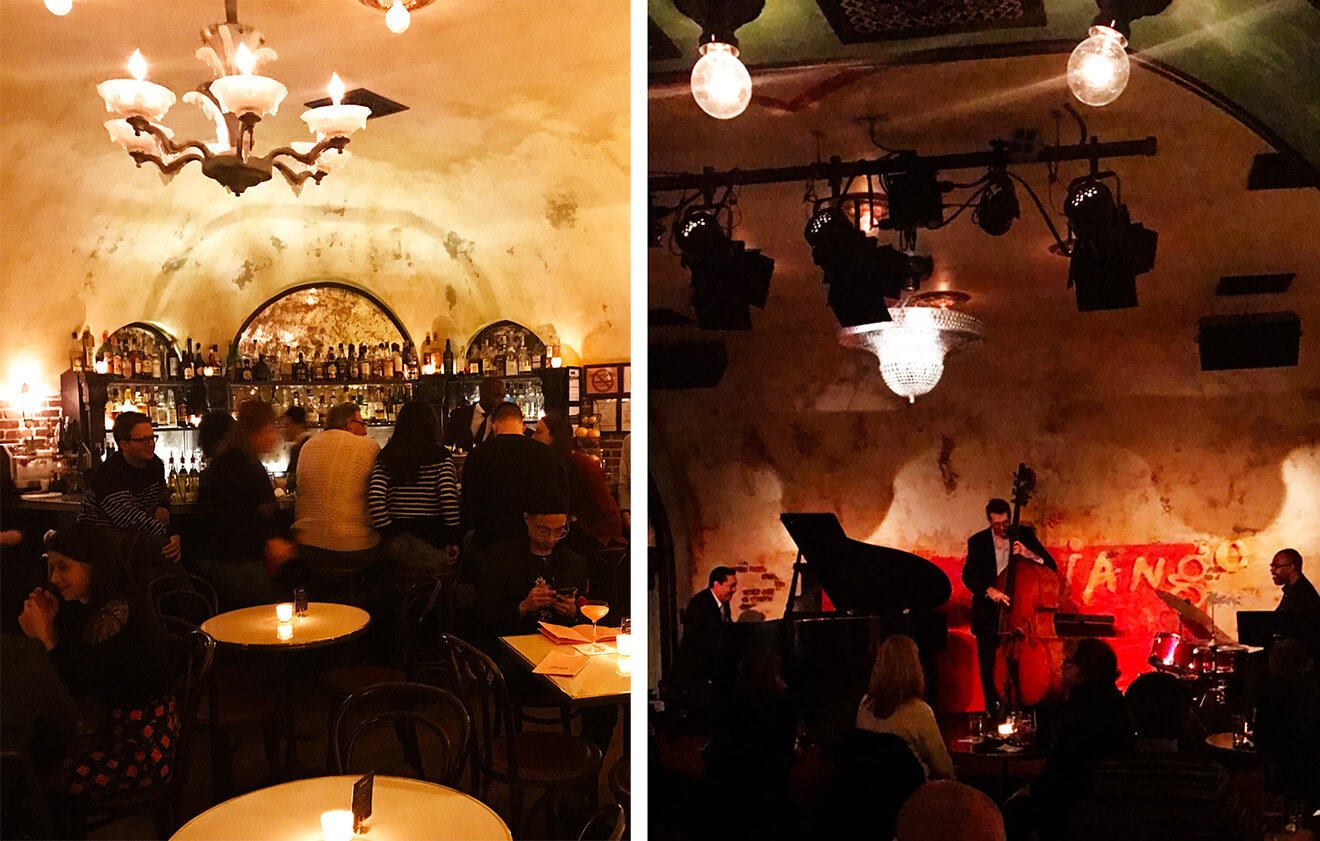 The Django: Barclay and I really wanted to see some live music while we were in NYC, and we saw that this place down the street from our hotel had great reviews. So we popped down for a drink, and stayed to listen to the first set of the evening and absolutely loved it. The vibe of this spot was so cool, the bartenders were friendly, and the live jazz was fantastic. Also — SMALL WORLD — the bass player that evening randomly ended up being one of Barclay's old friends!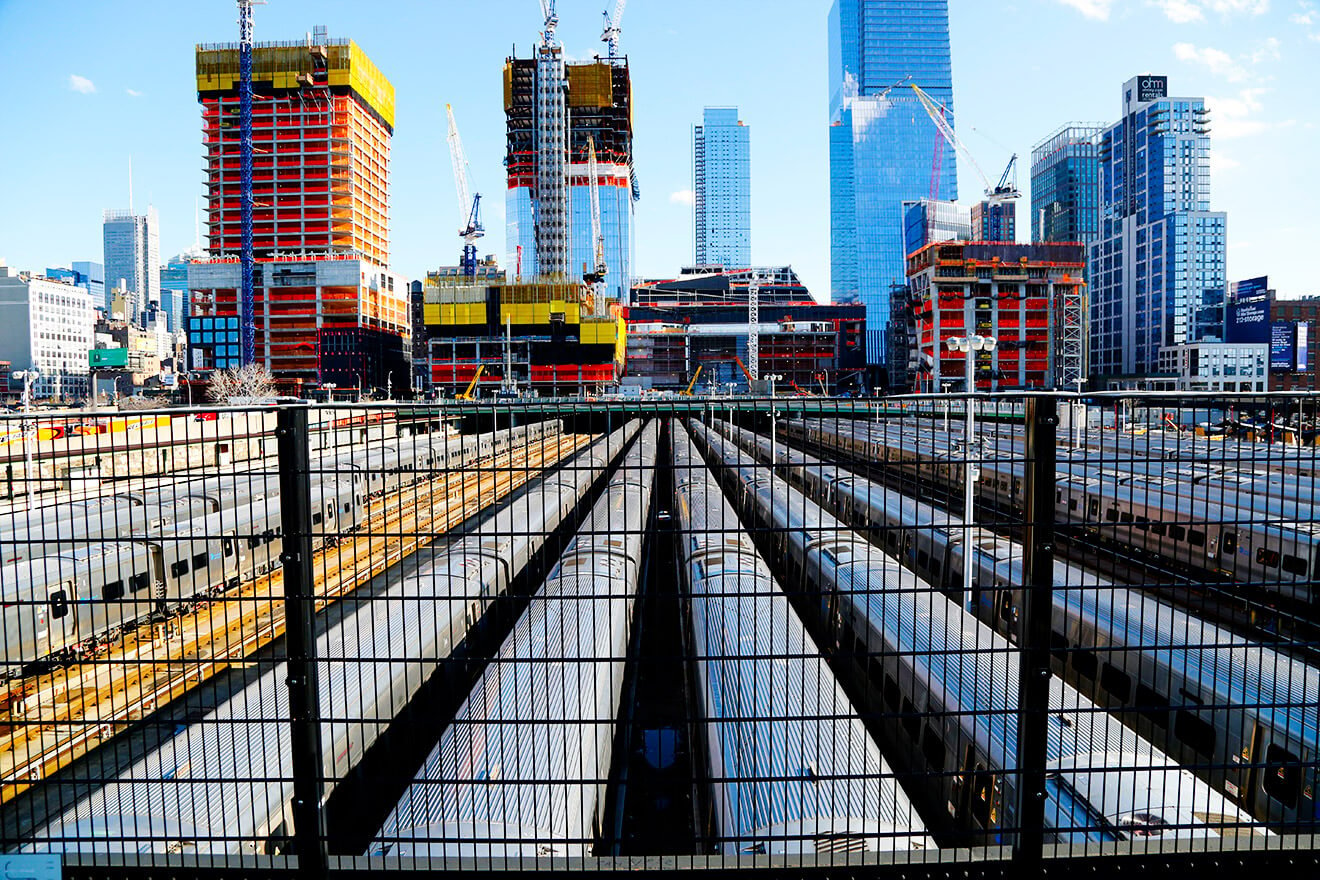 The High Line: Somehow neither of us had never walked The High Line in NYC. So before heading to Chelsea Market, we spent a lovely Sunday morning walking the entire line from beginning to end. And of course, we absolutely loved it. Loved the entire concept of the historic freight line being turned into a beautifully-designed public park and green space and walkway, loved seeing the place so alive with people out walking on a Sunday morning, loved taking in all of great views of the city, and loved walking it all hand in hand with this sweet fiancé of mine. ?
Thomas Merton's Lessons Of Peace: This was the lecture series that inspired us to come to NYC a few days early, dedicated to the teachings of Thomas Merton. Very inspiring, challenging, and thought-provoking…especially during such a politically-charged time in our nation's history.
What We Ate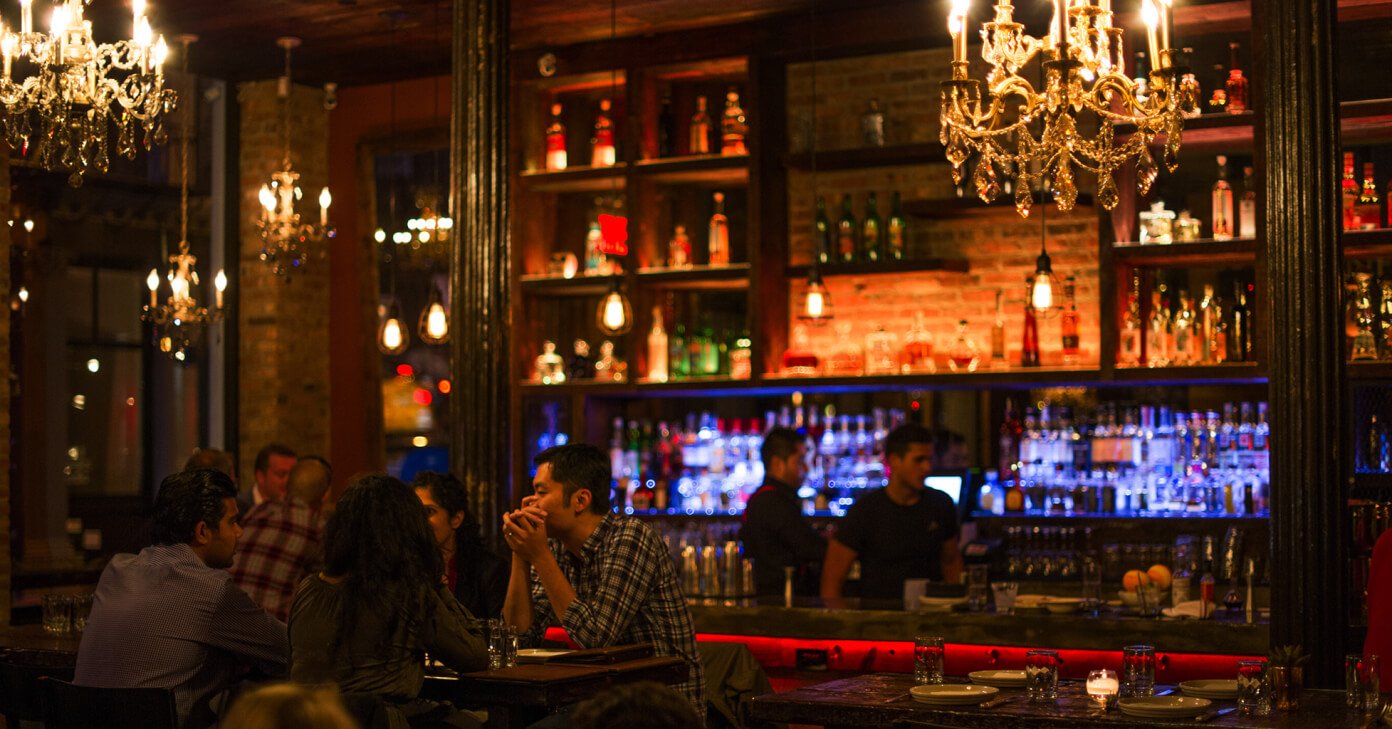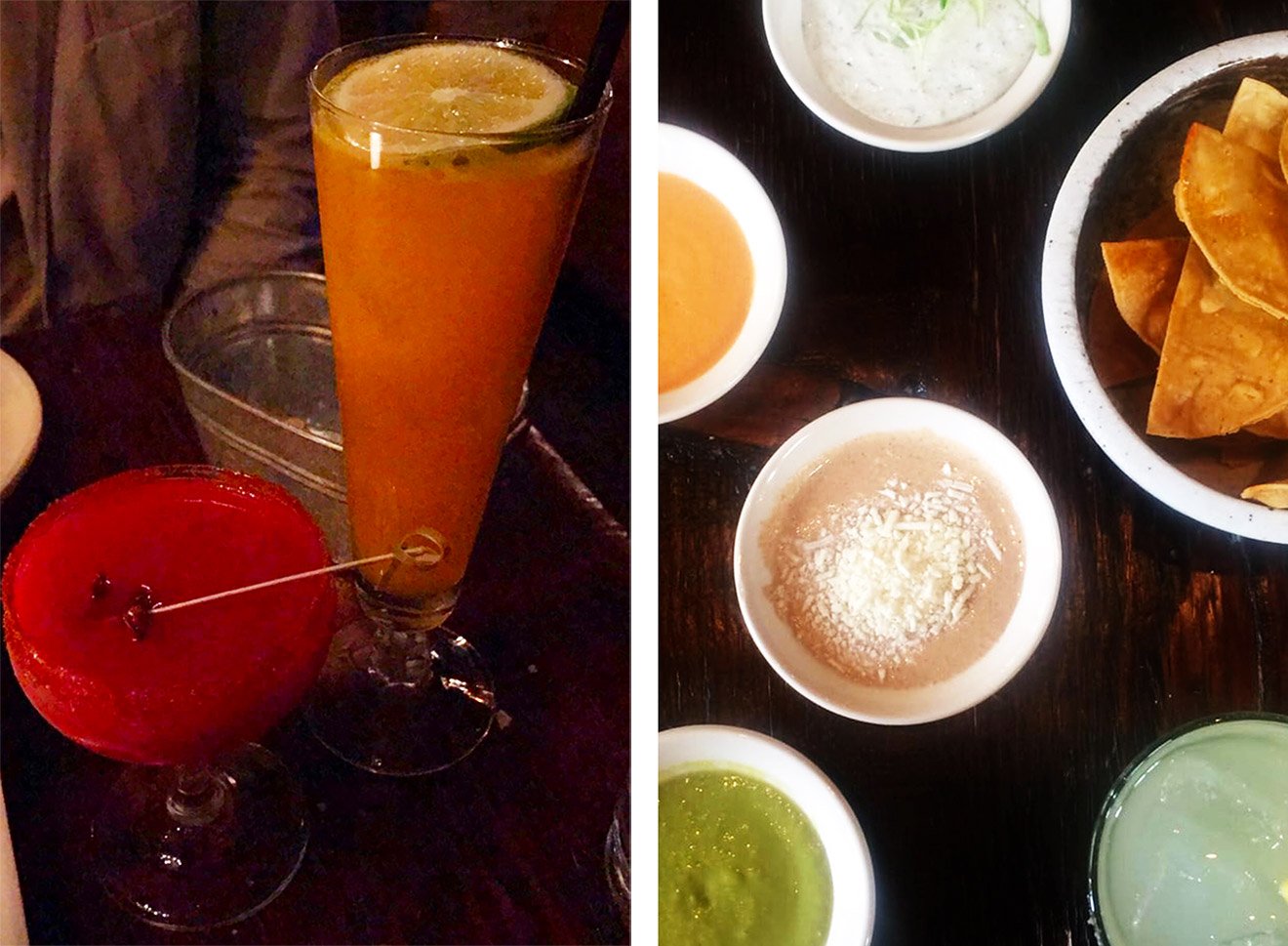 Añejo Mexican Restaurant & Tequila Bar: I randomly stumbled upon this place the last time I was in NYC on business, and remember loving the vibe of the restaurant (sparkly chandeliers + gorgeous bar + rustic decor) and the flavorful food. So since we were randomly staying nearby again, I took Barclay back to give it a try. Heads up — this place is definitely pricey for Mexican food (especially during dinner), and on top of that, the servings are pretty small. BUT, everything we had there was absolutely delicious. (Pro tip: If you go, be sure to look on Yelp to see if they're still offering their coupon for free chips and salsa!)
We ordered the Chips and Salsa Quattro (which I'd say is super overpriced at $11, but it's free with the coupon, and all four salsas — salsa verde, habanero, burnt cilantro crema, salsa arbol — are awesome), Fish Tacos, Mushroom Tacos, and then we tried two mezcal cocktails (didn't write down the names — one was made passion fruit and one with blood oranges). Everything was delicious.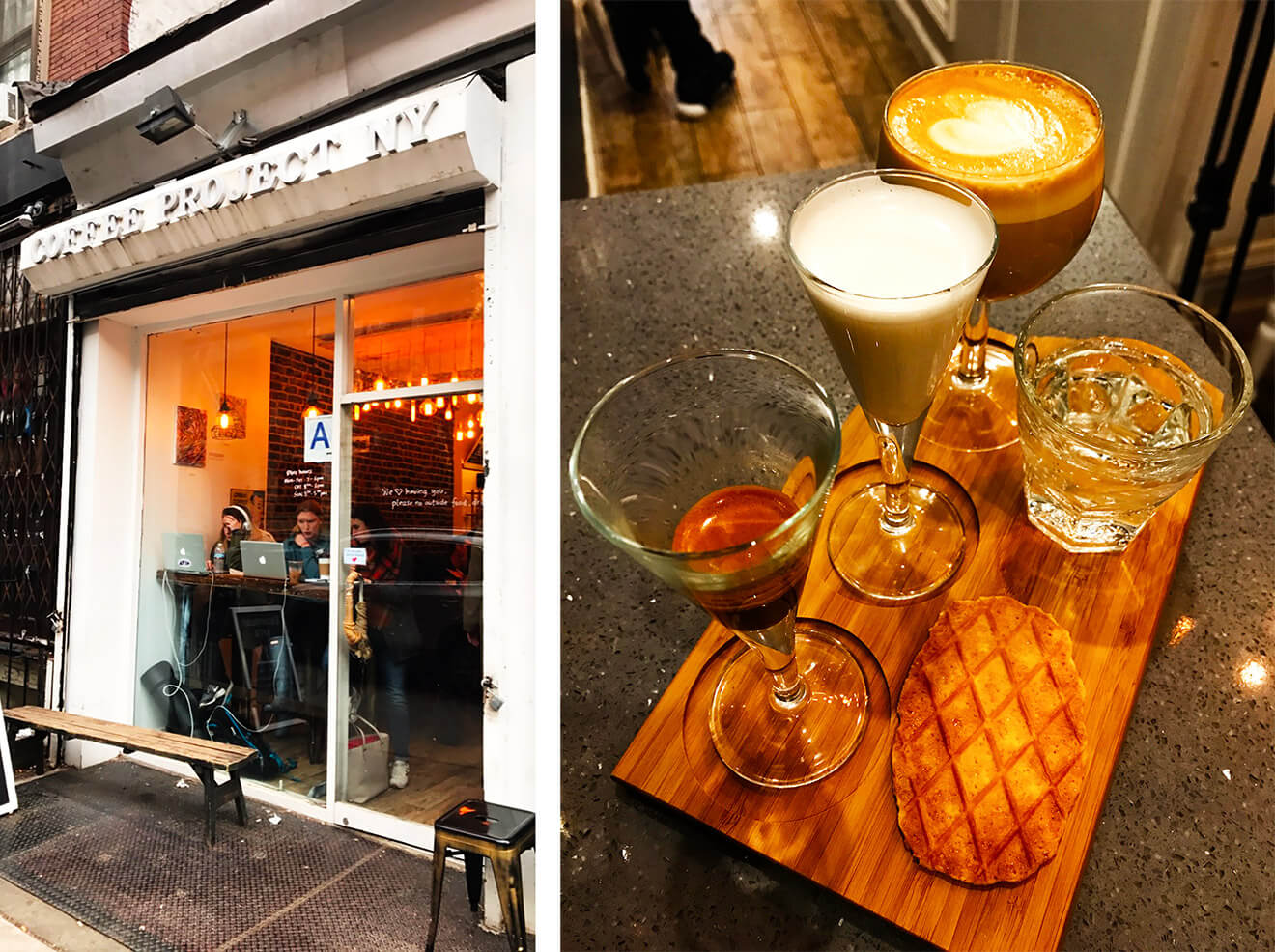 Coffee Project New York: We stopped by this place at the end of our food tour for a cup of coffee, and loved the vibe of it from the outside. Once we went in, we noticed that nearly everyone there (it was packed!) had ordered their "deconstructed coffee", so we decided to give it a try. As you can see in the pic, it was beautifully designed (and totally Instagram-worthy ?). And the baristas were incredibly friendly and knowledgable, and explained how to order the "tasting" of each ingredient so that the individual flavors of the latte were brought out, which was fun (and delicious). But at the end of the day — I'll be honest — it all just tasted like a really good latte. Fun once, but probably wouldn't go back.
We ordered the Deconstructed Latte (which comes with a beautiful latte, espresso, low-temp pasteurized milk, a cookie, and sparkling water). Be sure to have the baristas explain how to taste everything if you order it.
Joe & The Juice: We impulsively popped into this place while wandering around Manhattan, and it was great for a quick drink! Apparently they have locations worldwide, and are headquartered in Denmark.
We ordered a Macchiato and a Ginger Shot, and loved both.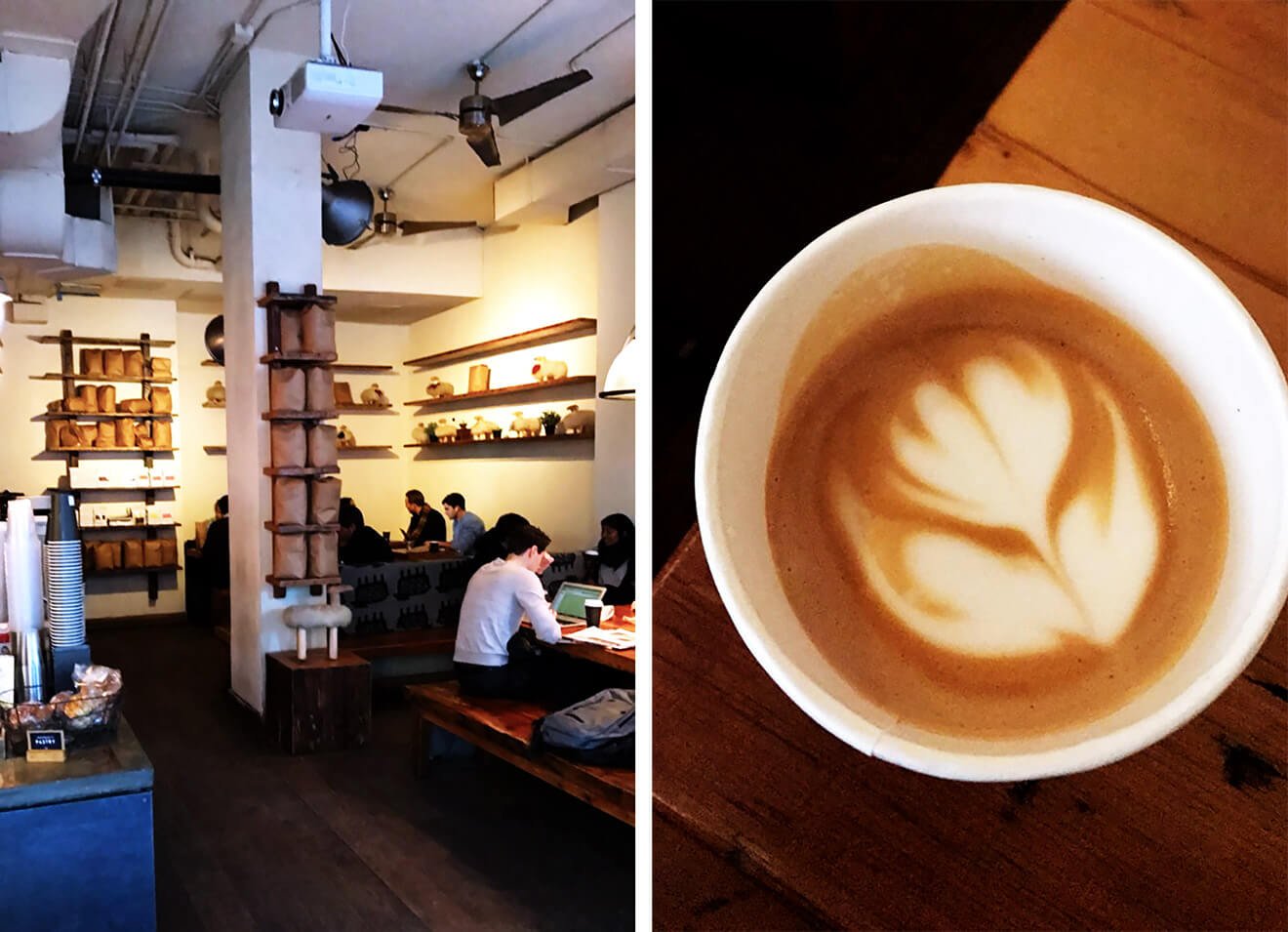 Kaffe 1668: We stopped by this place to grab coffee to go with our bagels (see below), and wished we could have stayed longer. Great vibe inside, spacious and cute place (sheep everywhere!), and awesome Scandinavian coffee.
We ordered two Macchiatos.
Kobric Coffee Co: Another impulse walk-by coffee stop that we found on our way home from Chelsea Market. The vibe was cozy and dim, and the whole place has kind of a 20's bar feel. And the coffees we had were absolutely excellent.  The rest of their drink and food menus looked awesome too. Would love to return next time we're in NYC.
We ordered two Cortados. Fantastic.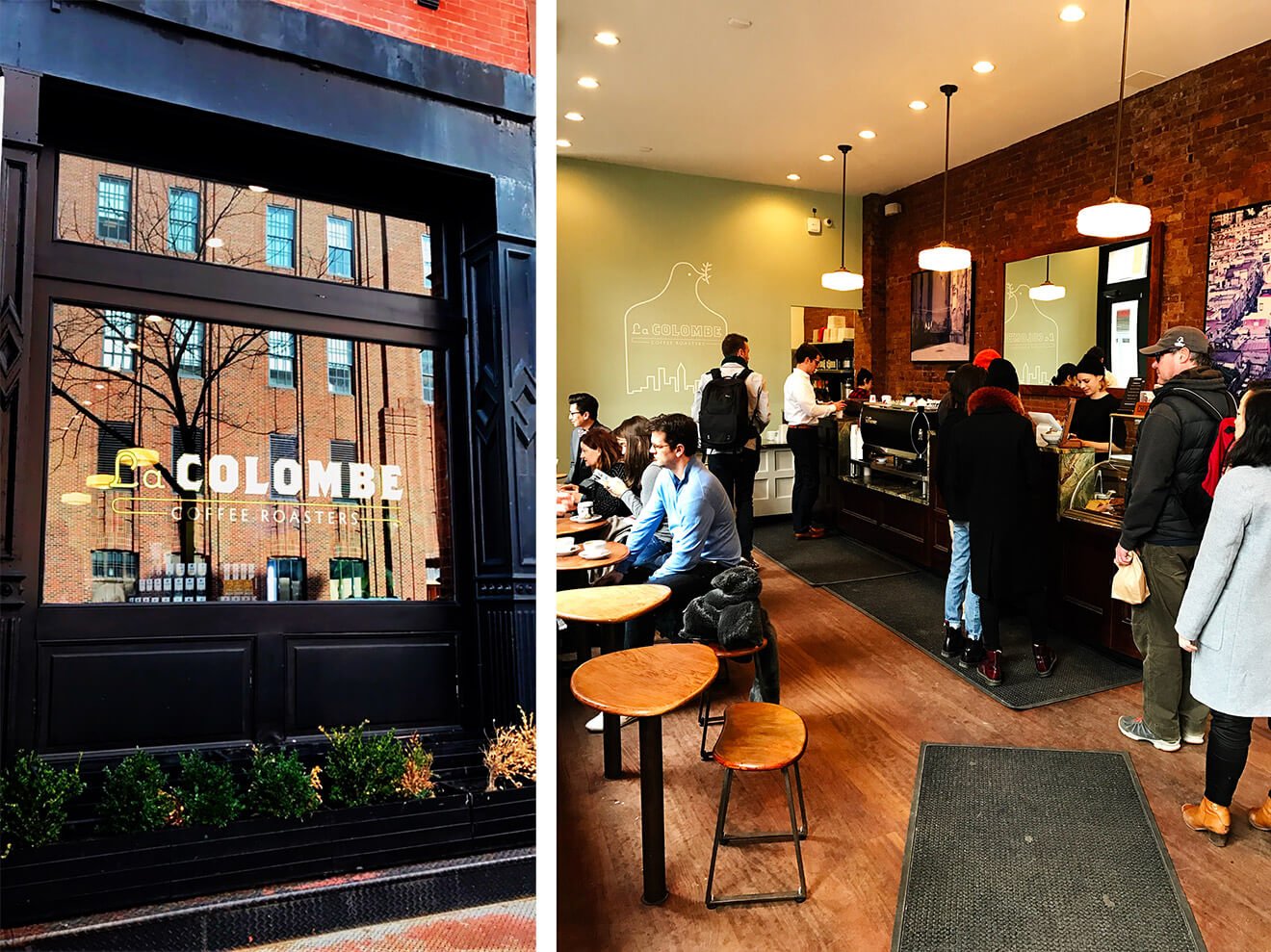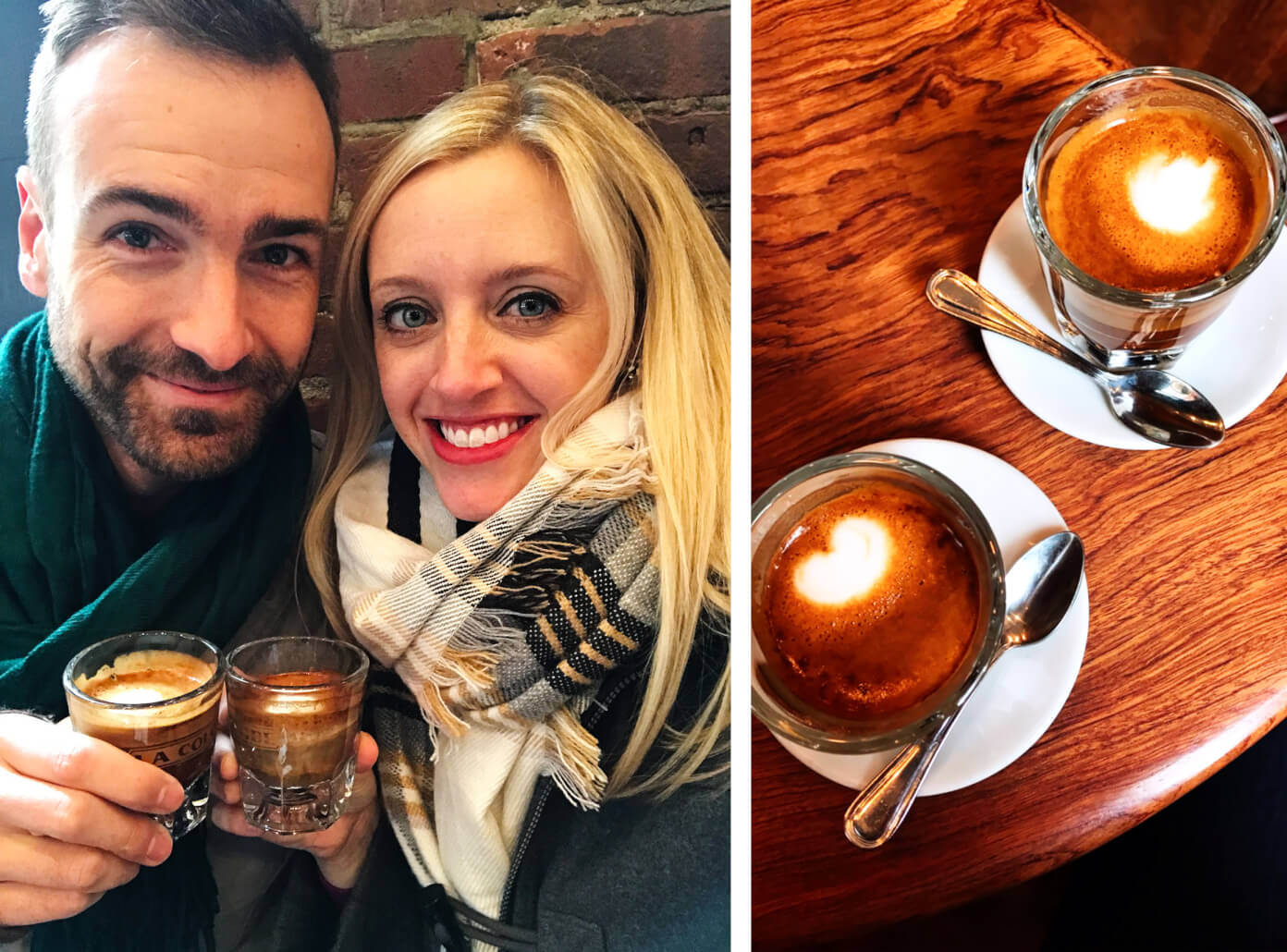 La Colombe: This was the very first coffee shop we hit up after arriving in NYC, and it's one of my all-time faves. Love, love, love their coffee.
We ordered two Macchiatos. (Are you sensing a trend?)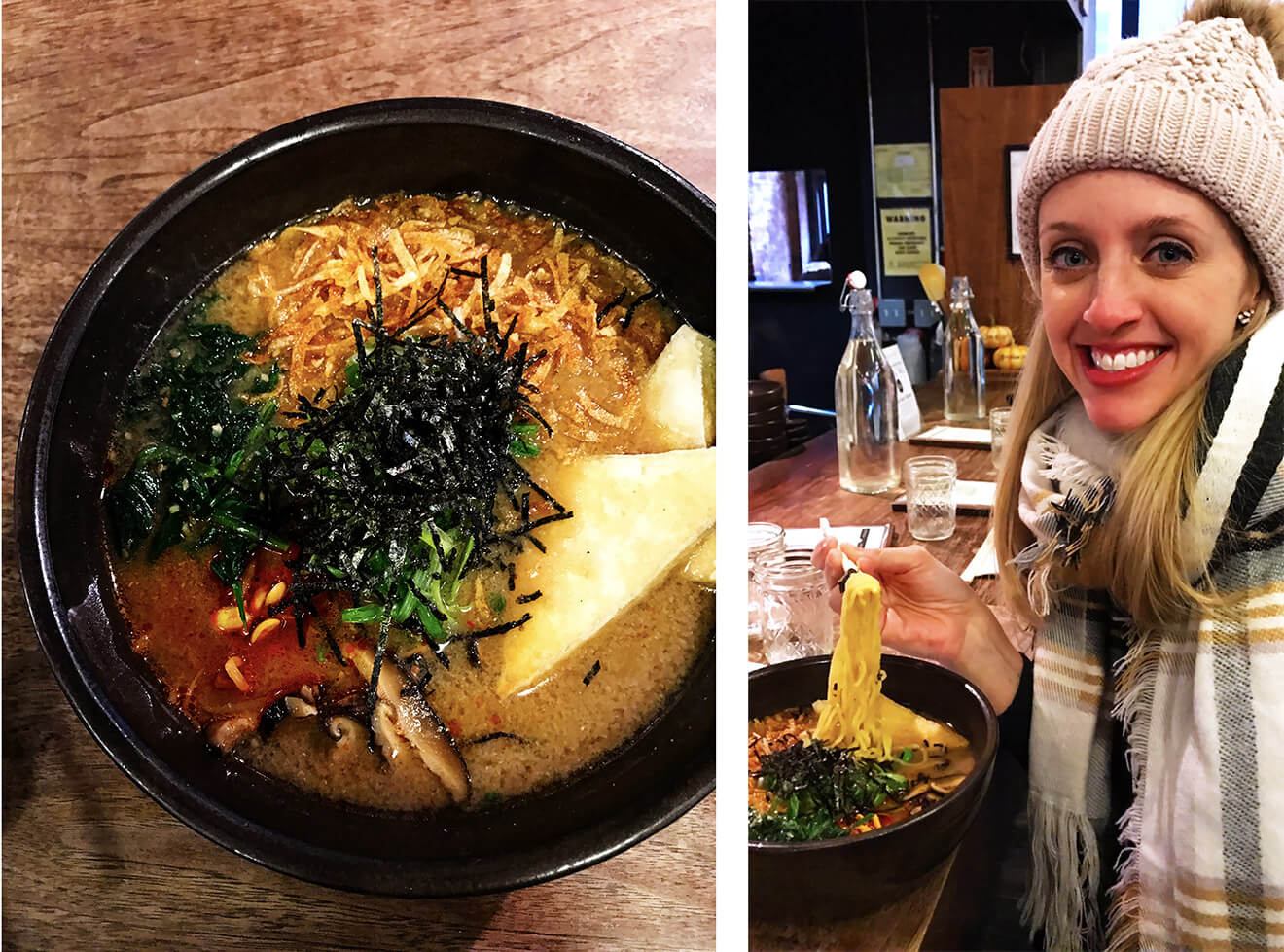 Mokbar: After freezing our tails off walking The High Line, we decided to head into Chelsea Market afterwards to find some soup to warm us up. And Mokbar's ramen did not disappoint. We both ordered the vegan miso ramen, which was totally flavorful and delicious. Then, after seeing a sign advertising that they had "the best kimchi in NYC", we ordered a little side of that a la carte as well. I haven't tried many other kimchis in New York, but this was certainly a good one. ? Would love to come back again and try their other ramens!
We ordered the Vegan Miso Ramen ("doengjanjjigae" — with Kombu shiitake doenjang broth. tofu, triple seasonal vegetables, crispy potato) and an extra order of Kimchi.
Raclette: I've gotta be honest — I found out about this restaurant by randomly scrolling across this video on Facebook a year ago, and it's been on my mind ever since. So the second we decided to spend the weekend in New York, I popped online and booked us a table. (<– Turns out it's actually easy to book a reservation the day-of, but I had no idea. ?)  The restaurant itself is a cute and cozy and dimly-lit little French cafe. And Barclay and I both ordered raclettes, which are served with a small arugula salad and baguette. And the cheese — oh, that cheese — did not disappoint. It was scraped just like in the video (well, without that swanky soundtrack), and tasted just as rich and creamy as you might imagine. And — bonus! — they actually come back about 10 minutes later for a second "scrape" as well! Ha, the first scrape actually felt like more than enough cheese for both of us. But know that they're plenty generous if you'd like more. ? I totally recommend this for a fun, unique meal if you're in NYC (or anytime you come across a restaurant that serves raclette)!
We ordered the Suisse Raclette and the Mediterranée Raclette. We both totally preferred the latter, which included some perfectly-cooked asparagus. (Oh — and another bonus — their prices were much lower than I expected. Just $18 and $20 for the raclettes we ordered.)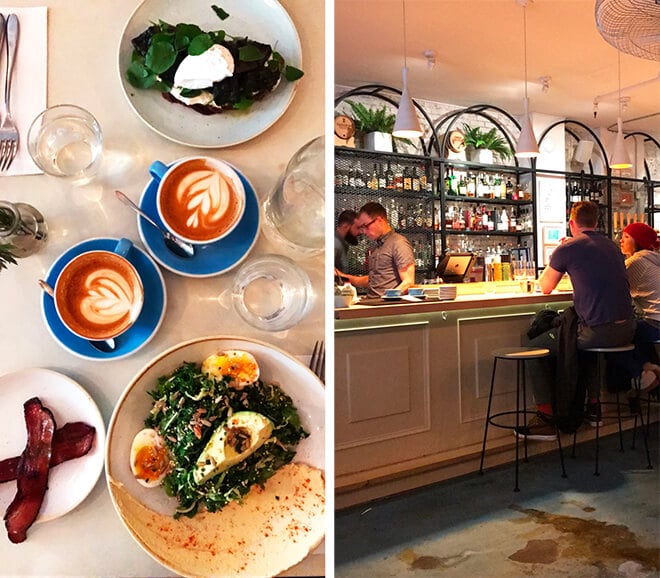 Two Hands Restaurant & Bar: I noticed that this place looked cute on Yelp, so we ventured in for Saturday morning brunch, and ended up having the best meal! The restaurant has a hip, fun, and beautiful Aussie beach vibe. And the menu features all sorts of creative and fresh and healthy meals — we had a hard time choosing what to order! But we ended up being totally thrilled with what we ate. Such a great brunch.
We ordered Flat Whites (because…Australia), the Brassicas Bowl (loved all of those flavors together), and the Mushroom Toast with Eggs. Everything was amazing, and beautifully plated.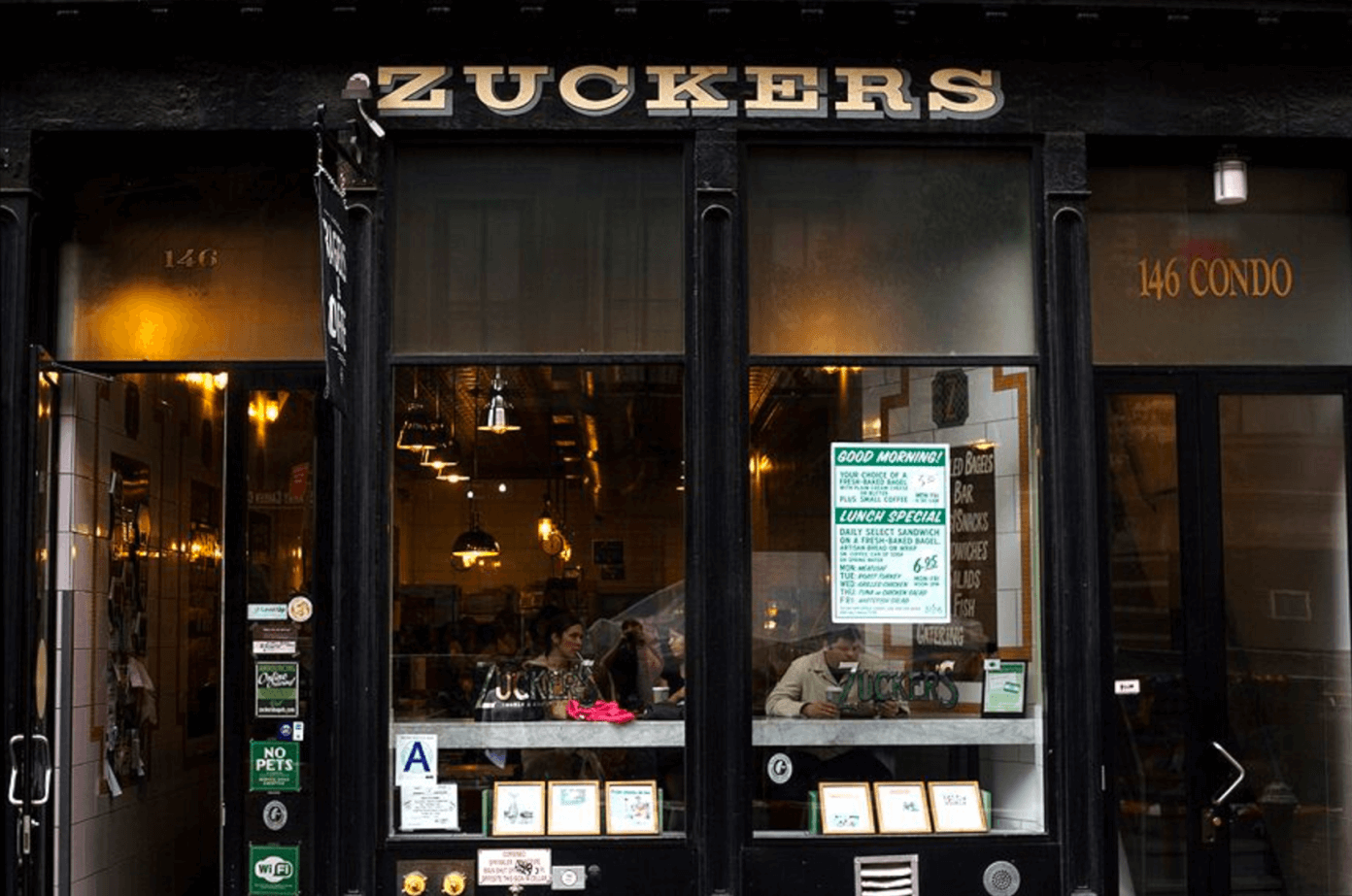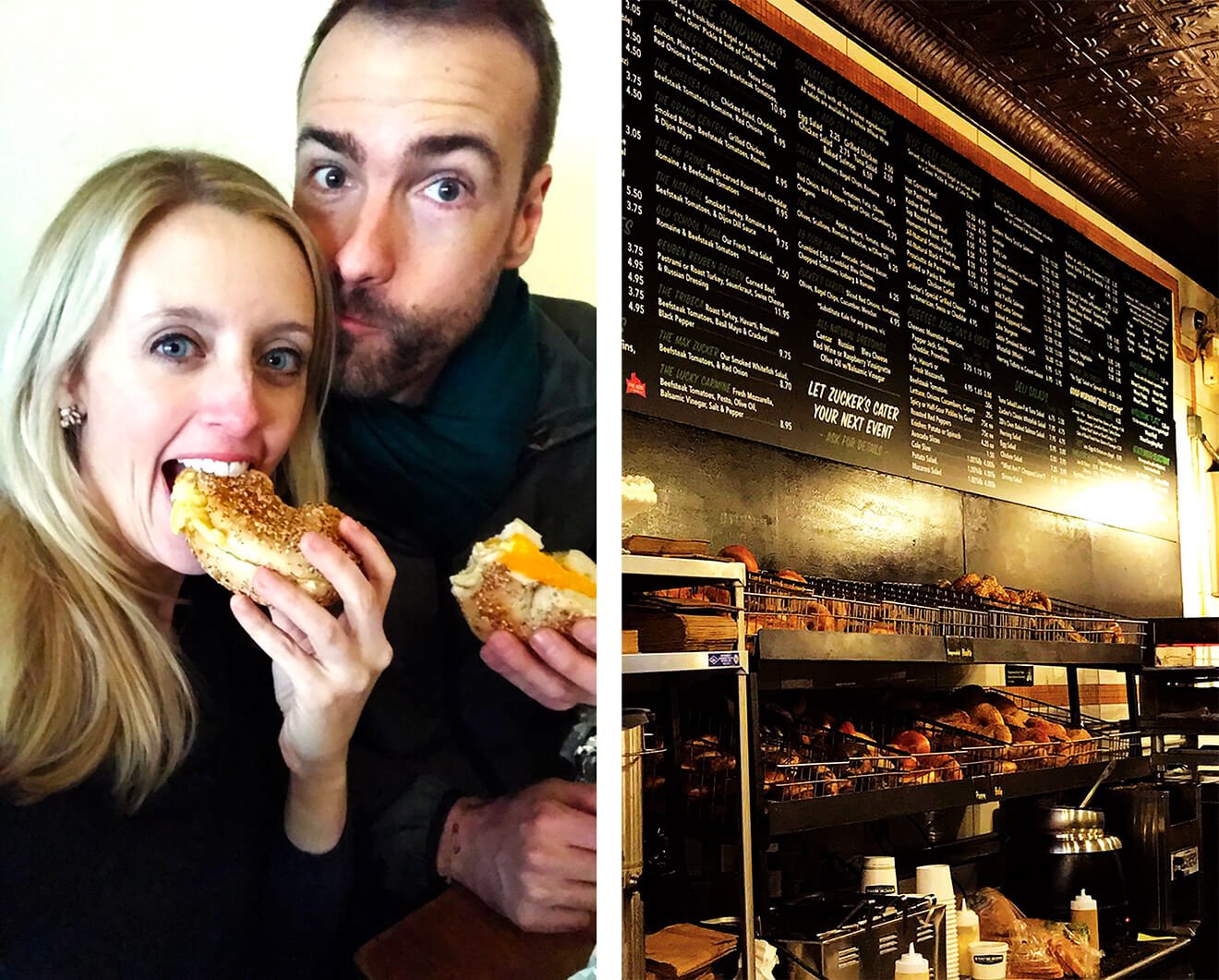 Zucker's Bagels & Smoked Fish: Finally, we couldn't leave New York without having a bagel. This place seemed to be the popular spot in our neighborhood and — after taking a bite of our bagel sandwiches — it was easy to see why. They were totally delicious! And the restaurant was a total paradise for smoked fish lovers — soooo many delicious options to choose from. Totally recommend it.
We both ordered Everything Bagels (our favorite) with "The Leo" (lox, eggs, onion) and eggs/cheddar. As Barclay says, "it was deeee-vine".
P.S. New York, we ❤️ you!