2017 Winter Favorites
This post may contain affiliate links. Please read my disclosure policy.
Hey, friends! ♡
Hope that this finds you well and warm on this wintery January day. I had family in town this weekend and am a little behind with the new recipes this month, so I thought I'd pop in today and share a few of my seasonal faves, plus a few new things happening behind-the-scenes lately at home this winter.
By now, I'm guessing that most of you have probably heard me mention that winter is usually my least favorite season of the year. (Don't. Like. To. Be. Cold!)  But, one little detail I forgot to tell you about getting engaged was that my sweet fiancé intentionally planned the proposal for December 22 — the day after the winter solstice — because he knew how much I always long for the days to start growing longer and brighter again each winter. So when he proposed, he said that he wanted me to have some extra "bright days" ahead to look forward to this winter, which was pretty darn cute and actually meant a lot. ♡ Ah, he knows me well.
Anyway, on that note, I'm happy to report that winter does feel like it's off to a particularly hopeful start this year. And between starting to plan a wedding, preparing to move out of my sweet apartment this summer, updating Barclay's house (including a kitchen remodel!) before I move in, planning an impromptu European trip, and starting to research another big dream of ours (news on that coming soon), there suddenly seems to be a lot happening this season. But, for better or worse, we've been taking our time with everything, and have just really enjoyed soaking up this new reality of being engaged, and it's all felt so good and peaceful. The details will eventually fall into place with everything, as they always do. So for now, we're just trying to enjoy the ride.
Sending all of you warm hugs today, and lots of good vibes for a cozy, restorative season ahead. And for anyone interested, here's my seasonal update with all of the favorite things I'm wearing, planning, cooking, reading, watching, etc-ing this winter!
Wearing
Honestly, my favorite winter wardrobe staples are pretty much the same as the favorites I shared with you last fall, since my body seems to think we're experiencing an arctic winter blast anytime the thermometer dips below 60°. ? I've mostlu been living in comfy sweaters/tunics and leggings 90% of the time. But here are a few new winter faves that I've added to last fall's list:
Wedding Planning
First off, I just wanted to say many thanks again to all of you for your incredibly sweet and encouraging words about our engagement. Barclay and I have both read every word you've written, and your support means so much to us. So much. ♡
Also, many thanks to those of you who have been checking in on wedding plans! To be honest, I had assumed that once we got engaged, we would spring into action and make All The Pinterest Boards and book All The Things and go try on All The Wedding Dresses and get this wedding planned.  But I've been surprised to find that I just feel so overwhelmed by the sheer goodness that I get to spend the rest of my life with this man (such a wild, amazing thought)…that the idea of spending time planning the wedding itself feels kind of secondary to the joy of just soaking up this time being engaged. It's already been such a sweet and peaceful few weeks together. So rather than jumping ahead immediately to the next season of all things wedding/marriage, we're trying to just soak up this special in-betweenness of being engaged as much as possible.
That said, though, we do still want to get married as soon as possible…as soon as it warms up outside. (Lame concern of mine — my nose turns bright red when I'm cold, and I don't want to be Rudolf-y in all of our wedding photos, so we're waiting for warmer weather! ?☀️?)  So we know that we need to get on the ball with planning this event asap. We thought for a hot minute about just doing a small family wedding or eloping to keep things simple. But our community of amazing friends and family are so incredibly important to us that we knew that we couldn't imagine this day without them. So I think we're going to — ha — basically go the exact opposite direction of eloping and have a really big wedding instead, but try and keep the details as simple as possible. It turns out that finding a venue for a large crowd is challenging in KC, but we're hoping to finalize things with a (dreamy!) venue that we love this week, probably in late May or early June. We don't have too many of the other details finalized yet, but I can say that…
…there will be nachos. ?
Anyway, I don't know how much you all like to read about wedding planning. But if you're interested, I'll pop back in here more in the next few months and share some details about what we have in the works. We're excited to plan something that feels incredibly personal and meaningful, and despite how crazy out-of-hand the wedding industry seems to be, we want to believe that we can do that simply and affordably and as-stress-free-as-possible. We feel like that has to be possible, right?! Hoping so.
Updating Barclay's House
So, the other big project that we're just starting to research is updating a few rooms in Barclay's 110-year-old house. I'm planning to move in there for the first few months after we get married, and then we are probably going to list it as a furnished rental before moving onto our next place. But before I move in (and, as Barclay likes to say, move the "world headquarters" of Gimme Some Oven moves into his tiny kitchen), we both agree that we would like to update a few things around the house.
Namely, the kitchen. It's cute, but could definitely use some updating.
Since we probably won't be living there long, we genuinely hope to make this remodel as simple and as affordable as possible. (<– Ha, two things that are easy to say and hard to do, we know.)  That said, it's a pretty small space, so there won't be room to go crazy anyway. ? We would love to make it feel a bit more brighter and more open, which we're hoping to accomplish with some white cabinets and wall paint and countertops, and maybe some open shelving. And I'm particularly excited about investing in some (affordable!) new appliances that actually work. Because his currently non-functioning oven might prove a little difficult for running a site called Gimme Some Oven. ?
Anyway, I'll report back with some before-and-afters once we get to work on it. But in the meantime, if any of you have recommendations for affordable and beautiful:
appliances (ideally stainless steel or white)
cabinets (white/modern)
countertops (white)
lighting (probably schoolhouse, to go with his 110-yr-old-bungalow)
or anything else…
…we'd love your recommendations! We're officially at Square One right now with the project, but hope to have it finished in the next 3-4 months, so it's time to get crackin'.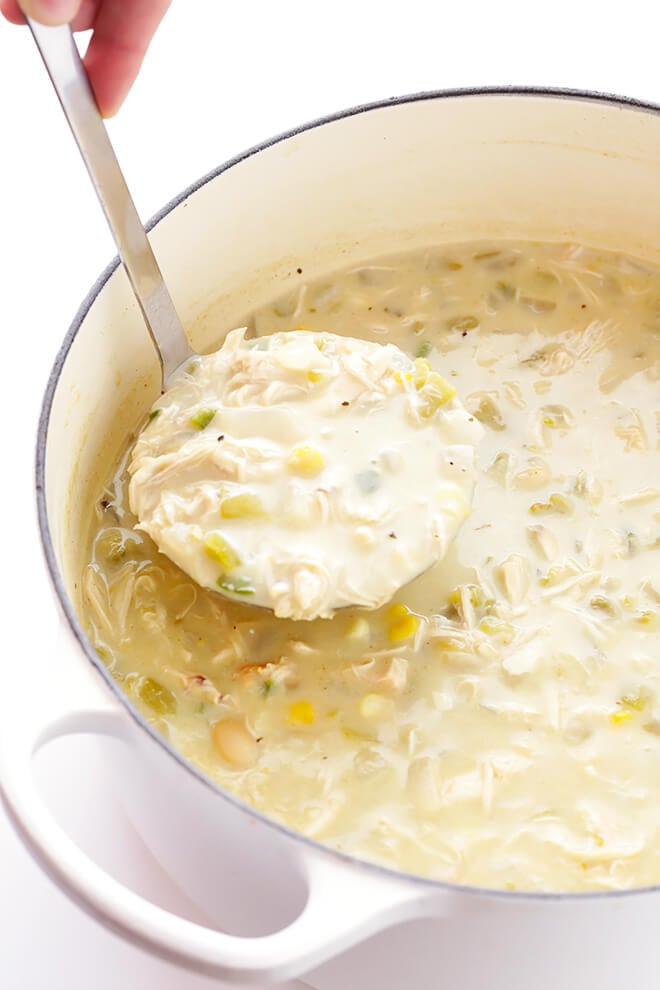 Cooking / Drinking
I'm definitely more of a warm-weather-loving girl when it comes to cooking, mostly because I love all of the fresher and lighter produce that's in season during the spring, summer, and fall. But my consolation with winter is that it is an easy excuse to make and eat All The Soups…which I literally do at least one meal a day during the winter. So many soups!  I've also been slowly experimenting with my new Instant Pot this season, and have some new pressure cooker recipes comin' atcha soon. (Lemme know if you have any requests!) Other winter favorites?
Breakfast Tacos — I've been on a major breakfast taco streak the past few months, mostly because I've realized that I almost always have eggs and tortillas and salsa on hand, and I love any excuse to start the day with Mexican food. I'll also toss in whatever other good ingredients I have on hand — usually fresh cilantro and chopped onion, some kind of beans, and maybe some leftover cooked veggies or protein that are in the fridge. Or I'll mix up my famous zesty black beans to go in them — recipe coming soon!
Detox Salad — I've been making this salad (or a version of it) at least once a week this winter, and totally love it. Especially that magical carrot-ginger dressing. I've been making triple batches and putting it on everything lately. Yum.
Field Roast — I also recently introduced Barclay to Field Roast's Italian Sausages, and was amused to see how much he absolutely loved them. He's a vegetarian for more ethical reasons, and sometimes really misses the taste of meat. So these were a happy surprise substitute for them. I cut the sausages into little rounds and make Field Roast veggie stir-frys for us often, and we both love them. (I also subbed Field Roast into a big quiche that we served our families on Christmas morning, and everyone was asking what kind of sausage I used b/c they loved it. Success!)
Smoky Cocktails — I definitely love me some peaty cocktails, so we've been experimenting with doing more mixing (instead of just sipping) scotches and mezcals this season. The Oaxacan Old Fashioned is a new favorite — recipe coming soon!
Reading / Watching
One of my main goals for 2017 is to try and spend more time reading and less time looking at screens this year. I really love tv and movies, but man, I just seem to feel better (and my mental clarity seems better) when I spend more time reading words on a page rather than staring at a screen. Barclay's not a big tv-watcher at all, so we've been having lots and lots of "reading dates" snuggled up on the couch side by side, which I totally love. ♡  Still, here are my overall faves this winter:
Nourished Planner: Oh my goodness, I'm so in love with this beautiful new planner for 2017, which happens to be designed by my talented friend Heidi from FoodieCrush. In addition to being absolutely beautiful (love the clean white-on-gold design), it is a fantastic tool for meal planning, a daily/weekly/monthly calendar, a to-do list, and a goal-setting guide all in one. If you're looking for a new planner this year, I can't recommend it enough.
Reading: The current books on my bedside table include:
Watching: Again, not watching much tv right now, but here are a few faves:

The Bachelor — I know, I know. But I couldn't resist watching Nick come back on this season! (Does anyone else also think that The Bach has taken a few cues from Unreal this season?)
This Is Us — So happy that it's back on again after that long holiday break!
The Crown — This has been my work-out show this season. I watch it on my elliptical workout days each week, and totally love it. Congrats to Claire on her Golden Globe!
The Daily Show + The West Wing — These are still Barclay's and my two shows that we watch together. Maybe someday we'll finally finish The West Wing…although we both kind of don't want it to end.
Barcelona-ing
Finally, the rest of my time lately has been spent preparing for our upcoming trip to Barcelona at the end of the month with Barclay! We found some crazy-cheap tickets to Spain at the end of January, so decided to go stay for a week and soak up the somewhat-warmer weather there this winter. I was there just three years ago, and can't wait to go back and show Barclay a few of my favorite spots. But if you have any Barcelona recommendations for places to visit, would love to hear them! Also, a few of my favorite trip-planning resources this trip have included:
Google Flights — Have you all used Google Flights yet? We've been obsessed with the service, and recommending it to all of our friends for a few months now. It's a really simple way to search for flights (minus Southwest). And if you have any flexibility, I especially recommend:

Typing in your departure city and some dates, and then clicking the "Explore Destinations" map.  Then, literally every destination in the world will show up with a price tag for those dates! So if you want to find a $200 flight, you might be surprised to find that Costa Rica (or someplace random and fun) costs the same price as a flight to L.A. during those dates. (Or, say, Barcelona. ?)  Great for adventuring!
Or, you can do the reverse, and type in your destination with no dates.  Then you can search and see what dates are the most affordable days to travel to wherever you'd like to go. Most travel sites have this feature now, but Google's is especially clean-cut.

Journy — This is my new favorite resource for trip-planning! For $15/day, a "personal travel concierge" will plan out an ultra-personalized, ultra-detailed itinerary for you in the city of your choice. (Like, it's super personalized, down to asking the exact styles of diets/pricing/vibe/neighborhood of restaurants you prefer, to how fast you tend to walk through museums, and more.)  All of your recs are then compiled into a daily itinerary with a map for getting around, which is easy to access on their app. My friend, Sarah, and I tested out the service while we were in Tokyo for two days last November, and agreed that it saved us sooooo much time on trip planning (and, um, getting lost around the city). Plus, they gave us awesome recommendations for local places off the beaten path, and made reservations for us when/wherever we wanted. Anyway, I really loved it. So Barclay and I decided to pay for Journy to plan four daily itineraries for us in Barcelona, and can't wait to see what they send back. (Update: Since I posted this, it looks like they have raised their rates to $25. Still worth it, I'd say.)
DuoLingo — I'm also back on the DuoLingo train, trying to refresh my Spanish a bit for the trip. Love this free app.
Alright, that's a peek into winter around here. Would love to hear about any of your winter faves in the comments below! ♡  
(This post contains affiliate links.)