2016 Fall Favorites
This post may contain affiliate links. Please read my disclosure policy.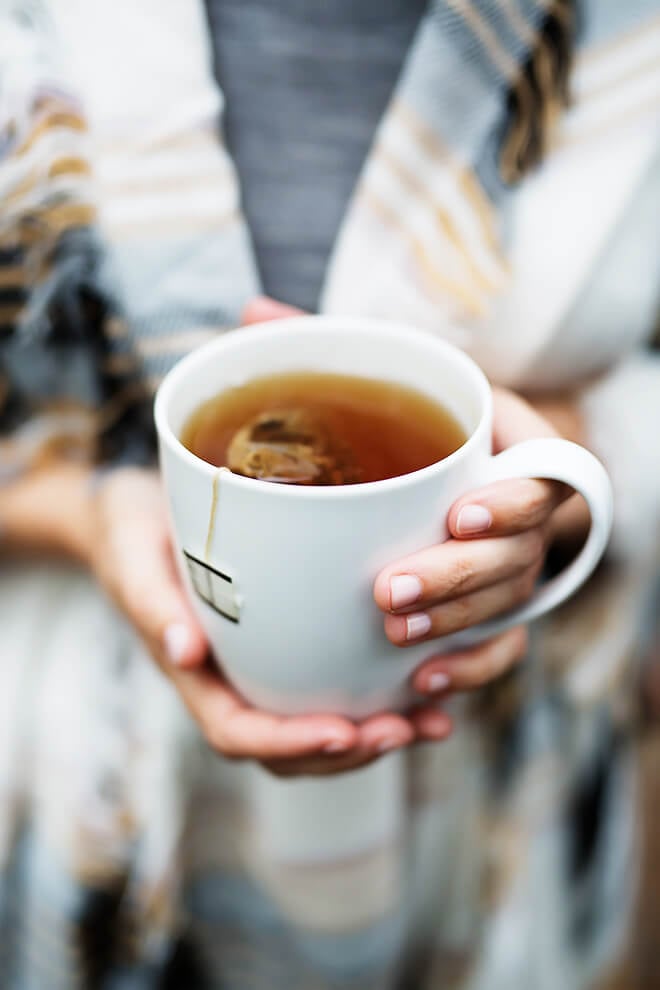 Happy Friday, friends!
I hope this finds you well, and someplace nice and cozy and warm as we head into this October weekend ahead. I've been feeling a little under the weather this week, and haven't felt much like cooking. So for something different today, I thought I would try something different and share with you a rambling post about some of my Fall favorites this year. I've been wanting to do a little seasonal series like this for awhile, and something about this week with the pretty leaves changing outside my window and new boots on my feet and my favorite cinnamon tea brewing just has me feeling all the feels about this new season.
So if you happen to be looking for some cozy clothes recommendations, or some new autumn recipes to make, or new tunes to listen to, or the perfect blanket to snuggle with on chilly autumn nights, here are a few of my Fall favorites this year. ♥
[show_boutique_widget id="458720″]
Favorite Things In My Closet
For me, fall clothing is always about comfort.  Or as my friend, Michelle, likes to say — ultimate comfort. ♥  It's no secret that I'm a summer-loving girl who's obsessed with flip flops and sundresses and tank tops galore. So if I am to be forced to pack all of those away for the winter, the compromise I make with living in the Midwest and having to pile on layers is that they must at least be super cozy and comfortable. So here are the basics in my closet for Fall. (<– Or if some items were too old, I found a look-alike link for you.)  Most days, you'll find me either in one of two things — (1) some sort of comfy shirtdress, tights and boots, or (2) a loose tunic or sweater, skinny jeans, and boots. Yes, always boots.  And I couldn't figure out how to add a link to my favorite slippers, but they happen to be booties too and I live in them basically every single second that I'm home during the cooler months. Obsessed with my boots.
Anyway, each of those images above are links, so feel free to click on them to learn more. Or if the images aren't showing up on your mobile device, here is a list of everything:
Favorite Things Around My Home
Those of you who follow the blog closely know that my home hasn't felt so "homey" the past two months, after my ceiling decided to give out during a storm and water came in, and then half of my place was in a literal bubble of construction for weeks afterwards. Oof, not fun. But thankfully everything is repaired now, and all of my furniture is back and place, and I finally have a living room to relax in again!!! Feels like home again!
So perhaps more than ever, I've really appreciated the chance to just spend some time "in" cozying up at home. This fall, I fell prey to the autum section at Target and brought home — not one, not two, but — three delicious soy candles that I've been burning nonstop. (<– And all completely recommend.)
I also traded in my light summer throws on the couch for my favorite FootSac, which is possibly the best swag I've ever received at a blogging conference, and the most comfortable blanket ever. I'm serious — it's insanely soft, it's nice and thick and heavy, it has a brilliant big pocket for your feet, and it's absolutely perfect for snuggling during the chillier months. (And fair warning that it's also a dog magnet — I swear Henry thinks it's another animal and spends his every "sleeping" moment snuggling up on it during the winter.)  Comfy blankets are a major priority to me in the fall, and I lucked out receiving this one as a gift. But if you're looking for one yourself and would like to save some dolla dolla bills, these throws from West Elm and these blankets from Target look similar.
I've also been getting back on the Barre3 train this Fall, doing my favorite online workouts from the comfort (and convenience) of my living room. And I'm extra excited because it sounds like they're finally going to be opening up an in-person studio here in Kansas City soon! I look forward to giving it a try. But I'm pretty sure that my living room workouts will forever-and-always be my favorites. :)  Barclay and I have also been taking a bunch of walks around our neighborhoods with the dogs lately, which are some of my favorite little moments that we spend together. Walking + talking is the best.
I'm also on a quest to get more organized this Fall and — per the recommendation of my friend, Tim — I'm starting to try out bullet journaling. Do any of you do this?! I've been really overwhelmed lately with work projects and email and texts and trying to stay on top of it all, so I'm all for any productivity tips you might have. Trying to prioritize slowing down again this month, which will hopefully help me start getting on top of things and stop responding to every email with "My apologies for the late reply…"
Favorite Things I'm Reading + Hearing + Watching
Oh man, this Fall is already off to a rich start in terms of the books, music, tv, podcasts, and videos that I've been soaking up lately.
As far as reading goes, I got a little distracted on Glennon Doyle Melton's new book, Love Warrior, but am finally finishing it up right now. What a brave and beautiful story to live…and book to write. Next on my list is A Man Called Ove and Ann Patchett's new book, Commonwealth — both of which I've been looking forward to. I've also been absolutely loving Jenny's new cookbook, How To Celebrate Everything. And can't wait to get my paws on Gina's new cookbook which I've been anxiously awaiting all year, Skinnytaste Fast and Slow.
As for music, I've had Bon Iver's new album on repeat ever since it was released last week. Also loving the new 3-song release from October VI, which is actually my new videographer, Laura, and her husband's new band! So fun, and so catchy. I've also fallen in love with this channel on Spotify. Can't wait for this band's new release next week. And, as someone who used to work as a worship leader for seven years but admittedly doesn't dig most Christian music, there are actually two new faith-centered albums that I'm loving lately — the latest album from Sandra McCracken (especially this song, which I find so beautiful) and this album from Andrea Marie, who's new to me. We're also wrapping up things this Fall on our new album at Jacob's Well (on which Yours Truly sings a few songs — so fun!), so I'll be sure to let you guys know when that's out.
As far as podcasts go, I've been completely obsessed with all things surrounding the election this year. So I've mostly been listening to Ezra Klein's two podcasts (The Ezra Klein Show and The Weeds) as well as the Slate Political Gabfest. Then amongst other podcasts, I've also been tuning back into my friends Jessie and Gerard's podcast about relationships called Marriage Is Funny. I'm also excited that Erin Loechner is going to be joining The Simple Show podcast as a host, and look forward to tuning into that more this fall.
I actually haven't been watching my TV this fall besides catching up each day with Trevor. And as far as movies go, Barclay and I are finally trying to wrap up our West Wing marathon. There are so many episodes and seasons to watch, and it's taking us forever to make our way through. But good grief, what a well-written show. (And also one that's still impressively relevant 15 years later.)  Neither of us want it to end!
Speaking of tv and movies, I also can't help but mention that I've been spending a lot of time this fall watching our new little videos with Gimme Some Oven! For some reason, I was so intimidated about the idea of expanding to videos on the blog, and wasn't quite sure how they would be received. But thankfully, they seem to be a hit! :)  And I am beyond thankful to be working together with my amazing new videographer, Laura, to make them happen. After doing this blog by myself for 7 years, it has been so fun to have someone to actually collaborate with again. And in addition to being wildly talented and creative and awesome with video, she is also the most warm, thoughtful, kind, and wonderful presence behind the scenes. So thankful! ♥
Favorite Things I'm Eating + Drinking
Fall is definitely a good time of year to be in the kitchen, and I'm already having a great time revisiting some of my favorite Fall recipes this season. Because, for me, Fall cooking tends to revolve around three things: soups, hearty salads, and crock pot meals.
There are zillions of soup recipes on Gimme Some Oven that you can check out. But some of my favorites that I've already made this season — and sometimes made in double-batches to freeze ahead for easy meals — include my 5-Ingredient Easy White Chicken Chili, Ham and Cabbage Soup, Slow Cooker Butternut Squash Soup, Italian Lentil Soup, and of course, I make Egg Drop Soup probably about once a week. ;)
I've also been craving hearty salads galore, like this Roasted Butternut, Kale & Cranberry Couscous Salad, Kale Caesar Salad, Green Salad with Oranges, Beets & Avocado, Zesty Lentil Salad.
And as far as slow cooking goes, oh man, let's just say my Crock Pot already has a permanent place on the counter for the season. Some favorites include my Crispy Slow Cooker Carnitas, Slow Cooker Spinach Artichoke Dip, and Slow Cooker Apple Cider. But feel free to check out all of the recipes in our slow cooker archives if you need some more inspiration for Fall. ;)
I'm also back on board the hot-tea-every-day train to stay warm this season, usually turning to my favorite Hot Cinnamon Spice tea or a nice jasmine. But if any of you have any awesome new tea recommendations, I'd love to hear them! I'm also making various kinds of red sangria when friends come over, now that all of my favorite citrus fruits are coming back in season. And guys, I got Barclay into scotch!!! Which I've decided is both good and bad — awesome to have someone to share a nice peaty drink with, but um, twice as expensive. ;)  We're on the lookout for some new ones this winter (the peatier, the better, if you ask me), so if you have any recommendations, we'd love to hear them!
Favorite Places I'm Adventuring
I'm also really happy to report that I have an awesome lineup of adventures planned for this Fall, both near and far.
In a little over a year of dating, I seem to have somehow used up pretty much all of the 3+ years of vacation time that Barclay had stored up. (Haha, whoops, but yeah!!)  So we've been brainstorming some little weekend trips that we can take that don't require days off.
We've already been trying to be more intentional about being "tourists in our own city", and spent a fun evening up in St. Joseph last month trying out our friend, Erik's, two new restaurants — Komatsu (ramen) and Ostrea (oyster bar). We also spent an awesome day last weekend out in Independence, checking out the Truman Library for the first time. (<– Soooo fascinating, and surprisingly well-designed. I recommend it!!)  I also adventured to the next neighborhood over to try out my friends, Liz and Tanner's, new coffee shop in the Westside (so cute, see above). Then in a few weekends, we're going to head just outside of town for an annual little shindig that we call HarvestFest — basically a big camping weekend with a few dozen of our closest friends. :)
I've also been on a soapbox with my friends for the past few years that we need to take more weekend trips to explore some of our nearby cities in the Midwest, like St. Louis, OKC, Des Moines, etc. So I'm happy to say that Barc and I are finally getting the ball rolling and heading to Omaha this afternoon to spend the weekend there. We're going to be staying in the historic Magnolia Hotel (can't wait!), visiting the zoo, a few museums and gardens, and — of course — eating and drinking our way all around town. I've actually heard great things about Omaha, and can't wait!
Then at the end of the month, we're going to head to D.C. for a work meeting of Barc's, and then spend a long weekend re-visiting all of our favorite museums and restaurants (from when we were there last Fall) and hitting up some new ones. We also put in a request with our state senator to tour the White House and Capitol, so I'm hoping that comes through. And (eeee!) we're going to be staying in this gorgeous new Kimpton Hotel in Georgetown. I'm obsessed with their hotels, and can't wait. I forgot to do a blog report on our D.C. trip last year, but I'll be sure to do one afterwards this year to share with you all of our favorite spots. We love D.C.!!!
Finally, I'm incredibly excited to report that I have one international trip booked for this Fall which makes me so happy — my friend, Sarah, and I are headed to South Korea to visit our good friends, Nathan and Kerry! They moved there last year, and we've been itching to go visit. So Sarah and I are going to head there for about two weeks, with a 4-day trip to Japan squeezed in the middle of the trip while Nathan and Kerry are working during the week. I've never been to Asia before and am sooooo curious and excited to experience everything. (I'm already dreaming of the sushi. :D)  So I'll definitely be reporting back on all of that too.
And of course…
Thankful to be sharing this season with so many of my favorite people, including an amazing group of friends and family, and this sweet guy. Hope that you snuggle your loved ones close this season, and that you all have a beautiful Fall season ahead!
This post includes affiliate product links, which give me a small commission for referrals, yet keep prices exactly the same for you. Thanks, everyone! :)