Migas (Tex-Mex Style)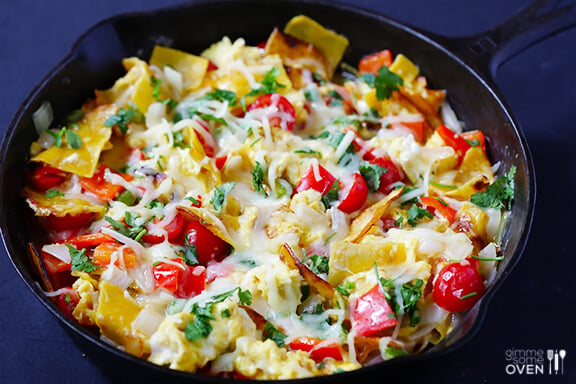 That's right.  It took me exactly 1.7 days since arriving home from Austin to make my new Tex-Mex favorite — migas!
For the girl who typically eats some form of Mexican food (ahem) multiple times a week, I have to admit that I had somehow never tried migas.  Granted, I'd heard of them.  But I never see migas on menus in my neck of the woods, and had somehow never tried making them at home.
But on Saturday morning during our conference, I had the chance to grab breakfast with some friends at Jo's in downtown Austin.  And lo and behold, I immediately spied migas on the menu.  I decided to do what you do in Austin and order a big plate.  But I have to admit that I'm often kind of "meh" about egg dishes, so was thinking that my much-needed iced coffee would be the hit of breakfast.  Not so.
People.  If you haven't, you must try migas!!!
I was shocked at how much flavor was packed into this simple egg scramble!  There were the famous fried corn tortilla strips, but the other vegetables had some kick.  And when served with some delicious refried beans and breakfast potatoes, I was pretty much in migas heaven and dove into that plate like there was no tomorrow.  Which…ended up being good, because some freaky birds had the same idea and started dive-bombing our table about halfway through the meal.  Apparently all creatures love migas.
It turns out that they are super easy to make at home as well.  Just chop up whatever ingredients you like in your salsa (or you can substitute in some fresh salsa), fry and then chop up some corn tortilla chips (or supposedly you can bake them), and then scramble everything together with some eggs and cheese.  And then of course, I had to top mine with some avocado, because I seem to think it goes in everything I eat.  And voila!  My migas were literally ready to go in less than 15 minutes.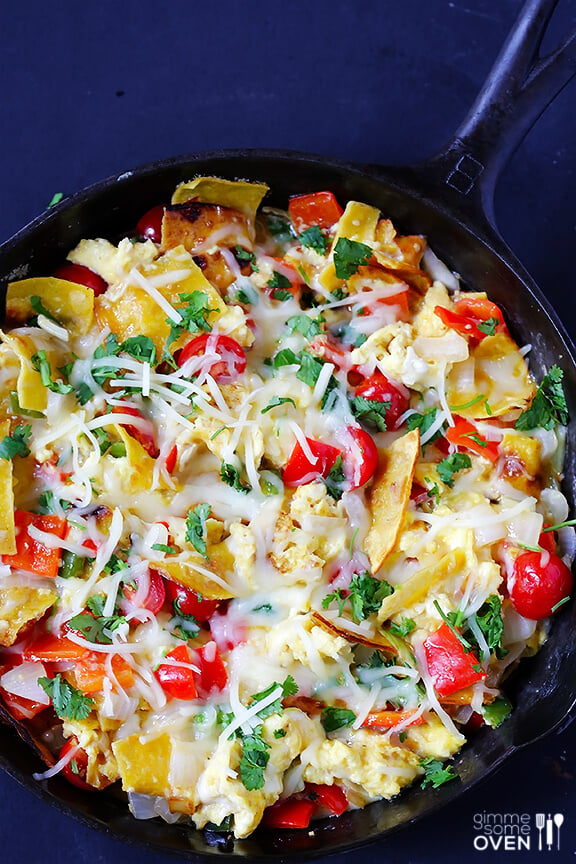 These are definitely my kind of trip "souvenir".  :)
Migas (Tex-Mex Style)
Tex-Mex styled migas are the ultimate breakfast comfort food…with a kick!
Ingredients:
1/4 cup vegetable oil
6 small corn tortillas
1 small white onion, chopped
1 red bell pepper, diced
1 jalapeno, seeded and diced (you can leave the seeds in for extra heat)
2 cloves garlic, minced
10 ounces (about 2 cups) grape or cherry tomatoes, halved
12 large eggs
1/4 cup milk
1/2 tsp. salt
3/4 cup shredded Monterrey Jack cheese, divided
for serving: extra corn tortillas, diced avocado, salsa, lime wedges, refried or black beans
Directions:
Heat oil in a large saute pan over medium-high heat. Fry the tortillas one at a time until crisp, about 30-45 seconds per side. Transfer each tortilla to a plate covered with paper towels to cool. Once the tortillas are all cooked, use a large knife to roughly cut them into about 1-inch squares. Set aside.
Drain the remaining oil from the saute pan until about 1 tablespoon remains. Return the pan to medium-high heat, and add the onion, bell pepper, and jalapeno. Saute, stirring ocassionally, for about 5 minute or until the onion is translucent. Add the garlic and tomatoes, and cook for an additional 2 minutes.
While the above vegetable mixture is cooking, whisk together the eggs, milk and salt in a large bowl until combined. Stir in 1/2 cup of cheese and chopped cilantro.
When the vegetables are ready, reduce heat to medium-low. Then add the egg mixture and stir to combine. Let the mixture cook for about 1 minute without stirring. Then add in the chopped tortilla chips, and very gently stir to combine, being sure to loosen the cooked eggs on the bottom of the pan. Sprinkle with the remaining 1/4 cup of cheese, and let the mixture cook for an additional 1 minute, stirring if needed, until the eggs are cooked.
Remove from heat and serve immediately with desired garnishes.
All images and text ©
If you make this recipe, be sure to snap a photo and hashtag it #gimmesomeoven. I'd love to see what you cook!