How To Dice An Onion
This post may contain affiliate links. Please read my disclosure policy.
Learn how to (safely) dice an onion with this quick tutorial!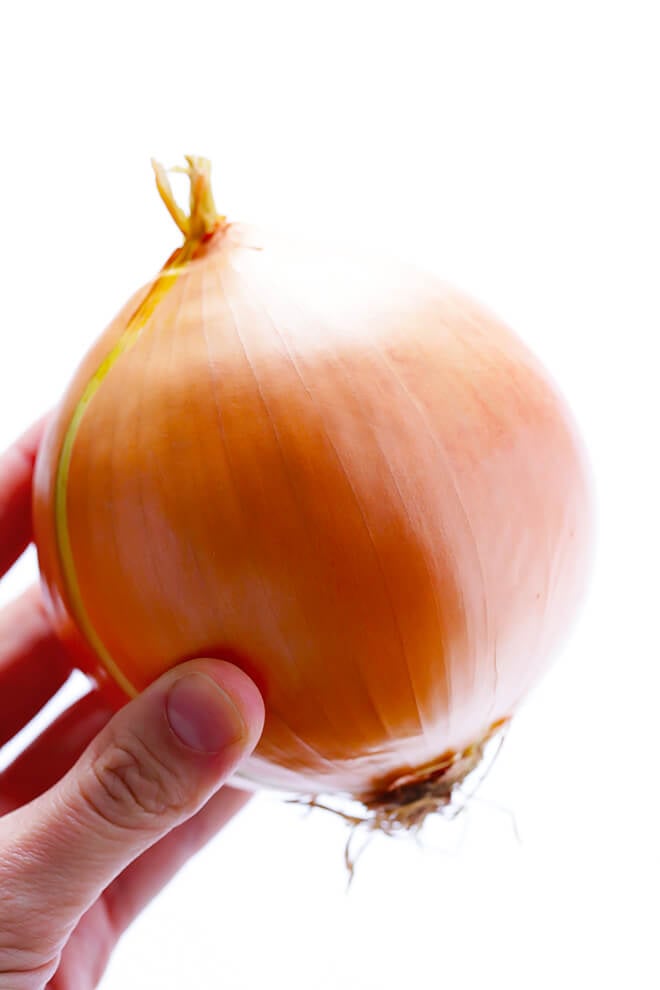 Hey guys! We're back today with a new How-To Tuesday video today that I'm pretty excited about, because I think it's one that you may actually end up using the most in your kitchen. And, because it sounds like this topic has been the cause of a few too many runs-to-grab-Band-Aids in the past, and I want to keep those precious fingers of yours nice and safe in the kitchen in the future. ?
We're talking about how to dice an onion!
Make that, how to properly and safely dice an onion.
Because there are definitely all sorts of ways that you can hack into an onion and eventually end up with a picture-perfect dice. But if you want to maintain a good grip on the onion and keep your knife from slipping and get a nice controlled dice on every single piece of that onion (even those last few tricky bits), there is a basic method that will help you successfully and safely dice an onion every time. Here it is!
How To Dice An Onion | 1-Minute Video
How to Select An Onion:
In general, you want to look for fresh onions at the market that:
have thin skin and feel firm (the firmer the better)
have even color on the outside (yellowish spots and bruises are usually bad)
do not have sprouts growing out of the end (this is an indication they're past their prime)
How To Store Onions:
Once you've picked the best onions you can find, keep them in a cool, dry place away from light. This simple technique should keep good onions at their best for at least 3-4 weeks. As always, give them one more looking-over before you use it, just to be safe.
How To Cook Onions:
Where to even begin??? Onions are at the heart of almost every savory dish – one of the many reasons I love them so much. Here are my favorite ways to enjoy this small-but-mighty ingredient:
Eat Them Raw: A few slivers of red onion give salads a nice little bite, as well as a pretty pop of color – it's an absolute go-to for salads in my book!
Sauté Them: The best everyday way to prepare onions. Essential for stir-frying, and countless sauces!
Caramelize Them: To make classics like French Onion Soup, this is a technique I use all the time. So good.
Roast Them: Not just for Thanksgiving anym0re, roasted onions make delicious sides and can bring your sauces up a notch.
Favorite Onion Recipes:
Print

How To Dice An Onion
Prep Time: 2 minutes
Total Time: 2 minutes
Yield: 1 -2 servings 1x
---
Description
Learn how to (safely) dice an onion with this quick tutorial!
---
---