Miso Soup
This traditional miso soup recipe is quick and easy to make, and made with just 6 simple ingredients.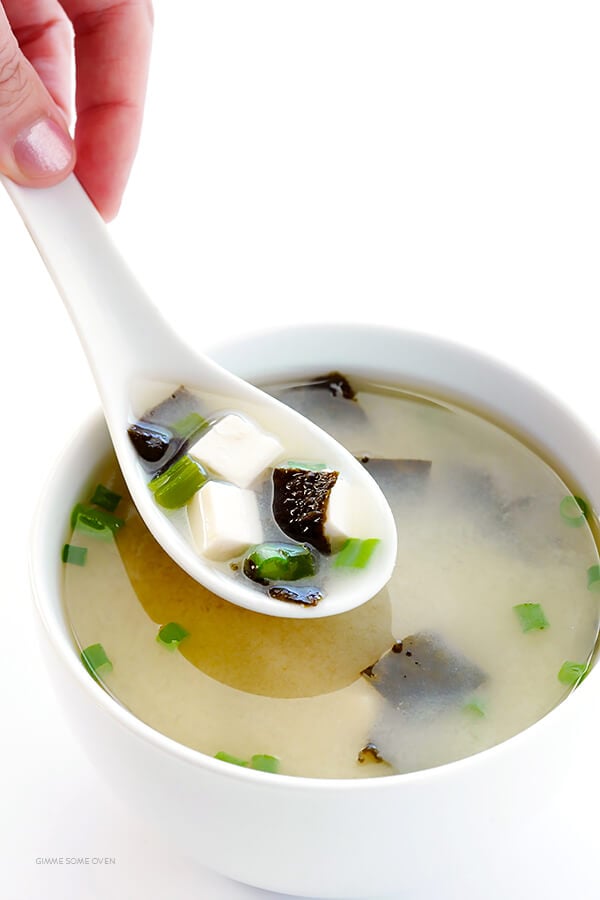 Monday nights have turned into sushi nights around here, ever since I started dating this guy.
And I am a total fan of them.
(And him.)  ;)
Because as it turns out, Barclay loves sushi just as much as I do!  And as it also turns out, Barclay loves eating ridiculous amounts of sushi just as much as I do.  Which means that we are more than happy to clear our schedules at the beginning of our weeks to hit up the Monday night $1 sushi specials at this great little place near his house.  We walk over and eat just about as much sushi as possible.  Then walk home to begin, um, working those calories off.  And then usually happily collapse on the couch and have a Monday movie night with Netflix.  It's my new favorite way to begin the week, and I love it.
The only thing we disagree on?  Ordering miso soup with sushi.  Barclay is a huge fan of all of the noodles and veggies and stuff that go in soups, whereas my idea of the perfect soup is about 90% broth.  (Love me some good broth!!!)  So of course, it probably should have come as no surprise that he said he could "take or leave" miso soup.  But for me, it's total comfort food, and an absolute must whenever I see it on the menu.
Love that warm, rich, comforting miso-y broth.  Love the light bits of tofu and scallions and nori sprinkled in.  And after eating it countless times at restaurants, I love that I can now make authentic miso soup at home!!!  And with this easy recipe, you can too.  And bonus?!  It can be ready to go with just a few classic ingredients in less than 20 minutes.
Let's make some Monday night miso!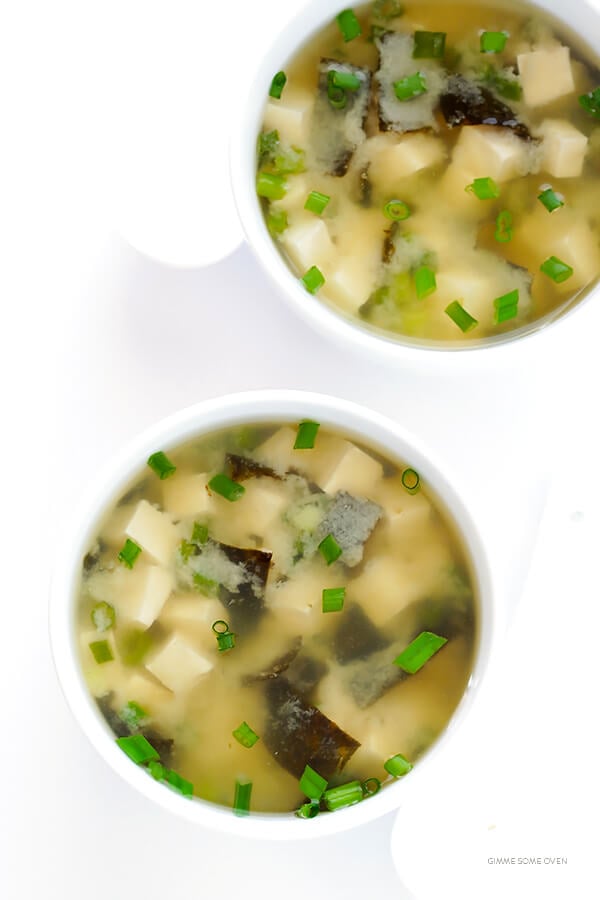 Really, after being so obsessed with my homemade egg drop soup recipe for years, it's surprising that it took me so long to try my hand at making authentic miso soup at home.  I think I googled it once upon a time and thought that the ingredients sounded too intimidating and more trouble than they were worth.  Maybe so, if you're just craving one small bowl of miso soup.  But if you're cooking for a few, or looking for more than that teeny tiny bowl they usually serve at sushi restaurants, trust me — this recipe is going to be worth it.
You're just going to need to take a little stroll through the Asian section at your local grocery store.  (Or better yet, go visit an Asian grocery store — they're my favorite!!)
The main ingredients that you're going to need include:
Miso paste: You can use just about any kind of miso for this recipe.  I prefer the traditional white miso, but many restaurants also use red miso which has a slightly stronger flavor.  If you can, I recommend using organic miso.
Tofu: Silken tofu is the best for this recipe, and you can use any variety (soft, firm, extra-firm, etc.)
Seaweed: Dried wakame is the variety traditionally used for miso soup, and it comes pre-cut and just requires being soaked in warm water for 10 minutes before using.  But I just chop up sheets of nori, which are available at most grocery stores, and are the seaweed sheets traditionally used for sushi.  They taste just as good in this recipe!
Green onions: The more the merrier in miso soup, if you ask me!  Chop up as many as you'd like, but be sure to also use the white parts at the end of the onion for more flavor.
And then, there's the broth…
Traditionally, dashi stock is the magical broth that makes miso soup taste so amazing.  But you have a few options here.
You can either make homemade dashi stock, which I love and simply made by stirring a packet of bonito flakes (dried fish flakes which are sold at most Asian grocery stores) into boiling water, then letting them soak for 5 minutes, then straining them out.  (Some stores also sell bonito flakes in handy mesh packets, which you can simply lift out after they have soaked for 5 minutes.)
Or some stores also sell instant dashi granules (kind of like bouillon), which you can simply stir into boiling water.  (Just be careful — all of the ones I saw at the store included MSG, so I steered clear.)
OR, you can also just use plain water, chicken stock, or vegetable stock for the soup.  If you do go this route, don't worry, the other ingredients will still significantly flavor the broth and make it taste like miso soup!  If you do happen to have fish sauce on hand, you can also stir a few drops in which will give it a hint of that traditional fishy flavor.
Options, options…  :)

Anyway, once you make your broth, spoon some of that warm broth into a separate bowl with the miso, and give it a good whisk until it's smooth.  (This helps the miso not clump up when it's added to the soup.)  Then add it back to the broth along with the rest of the ingredients, and give them all a good stir.  Let the soup come to a simmer so that all of those yummy flavors can meld together…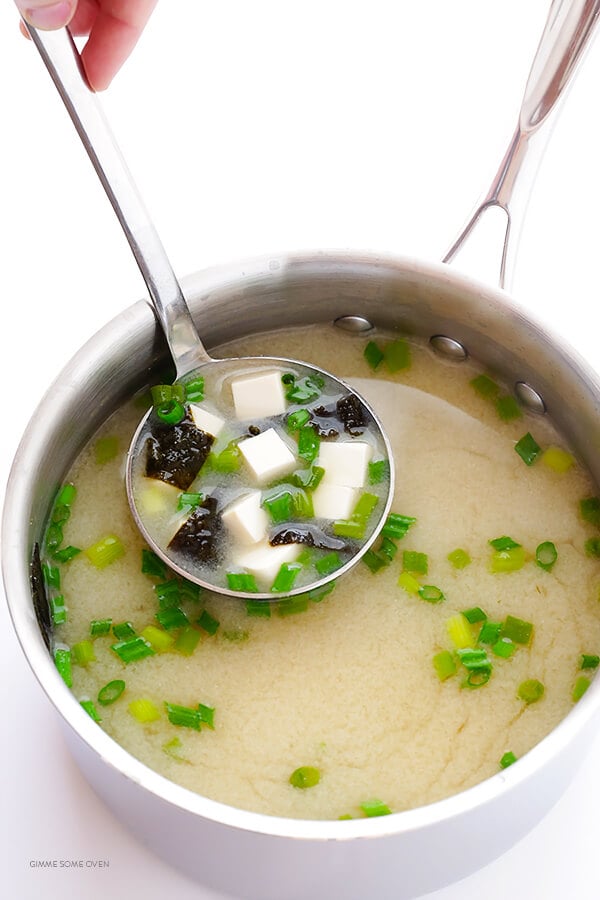 …and then voila.  In less than 20 minutes, this delicious soup will be ready to serve and enjoy.

I'll admit — I was doubtful that the homemade version could taste just as good as the stuff at restaurants.  But as it turns out, this stuff tastes just as good as any I've ever eaten out, and I'm convinced it might even be a little more delicious when made fresh.  With a little extra love.  ;)
Feel free to also add in any extra noodles or mushrooms or leafy greens or other veggies that might sound good.  Or feel free to also just enjoy it "plain", the traditional way.  However you make it, I think that you fellow miso soup lovers out there are going to love it.
Enjoy!
Miso Soup
Learn how to make traditional miso soup with this easy 6-ingredient recipe!
Ingredients:
6 cups water
1 (.5 grams or 1/4 cup) packet bonito flakes (*or see ingredient substitutions below)
1/4 cup white shiro miso (soybean paste)
6 ounces silken soft tofu, cut into 1/4-inch cubes
2 sheets nori (dried seaweed paper), cut into small pieces
3-4 green onions, thinly sliced
Directions:
First, begin by making your dashi broth. In a large saucepan, bring the water to a boil over high heat. Once it reaches a boil, reduce heat to medium-low, and then stir in the bonito flakes. Let them sit for about 3-4 minutes, or until most of the flakes sink to the bottom of the pan. Then strain out the flakes, and return the pan with the broth to the stove.
In a separate small bowl, add the miso paste along with 1/2 cup of the dashi broth. Whisk together until smooth. Then add the miso back to the saucepan with the rest of the broth.
Add the tofu, nori and green onions to the broth, and gently stir to combine. Increase the heat to medium-high, and continue cooking for about 5 minutes, or until the soup reaches a simmer. Then remove from heat and serve immediately, topped with extra green onions if desired.
*If bonito (katsuobushi) flakes are unavailable, don't fear, you have a few options. You can either:
Just use water, without any fish flavoring. (The other ingredients will still flavor the broth considerably.)
Use any other kind of homemade or store-bought fish stock.
Use chicken or vegetable stock (with a few drops of fish sauce stirred in, if you have it).
Use instant dashi granules (kind of like bouillon — but look out, many brands include MSG).
You can also use just about any variety of silken tofu (soft, firm, extra firm, etc.). And you're more than welcome to use any kind of miso paste (I prefer white, but the red has a different and slightly stronger flavor).
Traditional miso also uses a specific kind of dried seaweed called wakame, which is delicious and requires that it be soaked in hot water for at least 10 minutes before being added to the soup. But I just used nori sheets, which are easier to find in grocery stores and are traditionally used to roll sushi.
If you make this recipe, be sure to snap a photo and hashtag it #gimmesomeoven. I'd love to see what you cook!
This post contains affiliate links that I use and recommend.