Hot and Sour Soup
This restaurant-style Hot and Sour Soup recipe is the best!!  It's quick and simple to make, easy to adapt to your personal taste preferences, and so delicious!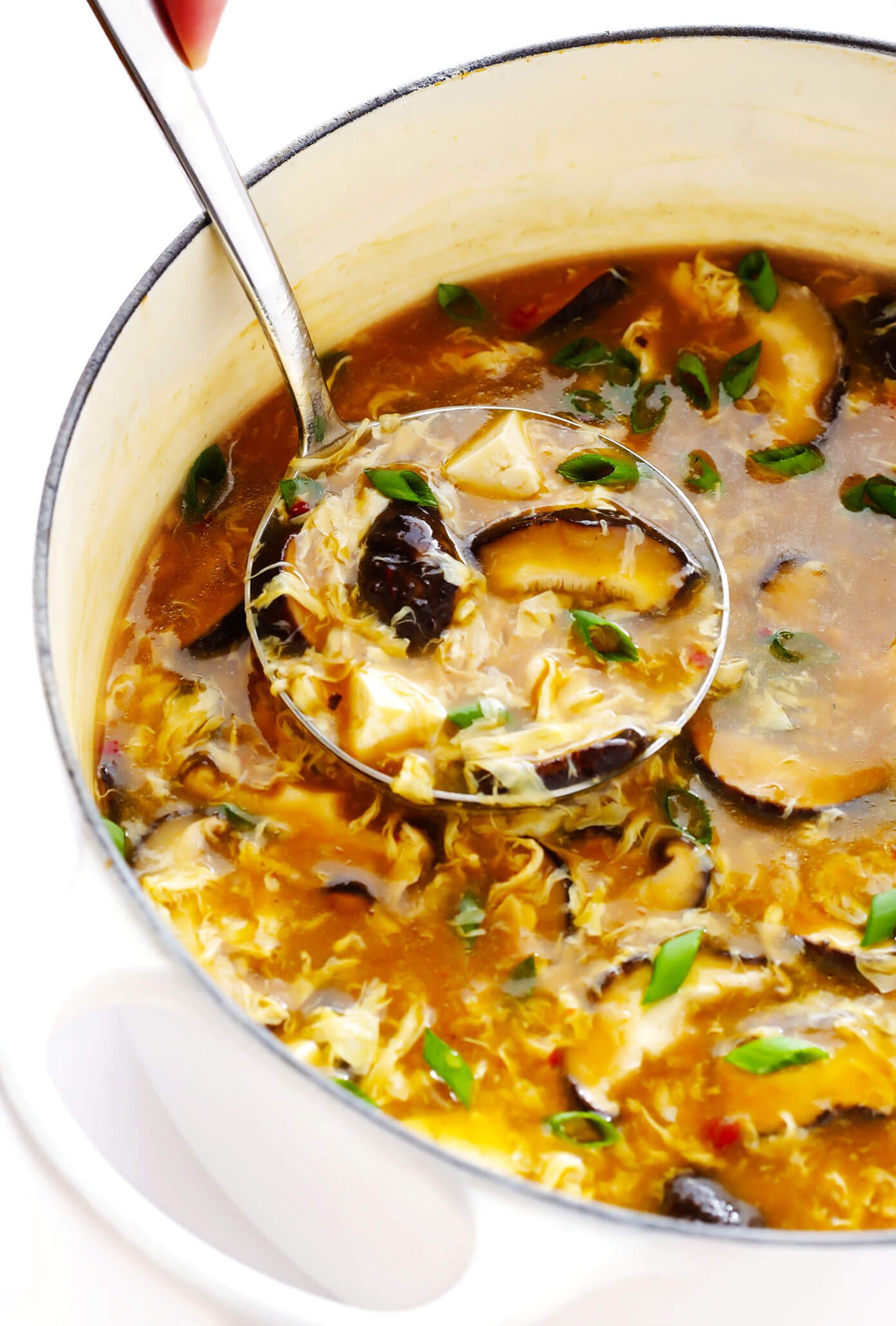 Can't stop, won't stop with the soup recipes this winter. ♡
And today's recipe is one that I've been meaning to share with you on the blog for years, after literally dozens and dozens of you have requested it.  (This usually comes up when I'm chatting about my favorite egg drop soup recipe — apparently many of you usually opt for the hot and sour soup at your favorite Chinese restaurants and have wanted to learn how to make it!)
Well, good news, friends!  Traditional hot and sour soup is actually incredibly easy to make as well.  And the bonus of making it at home is that it's also incredibly easy to customize to your taste.  Like it extra hot?  Add in more chili garlic sauce.  Like it extra sour?  Add in more rice wine vinegar.  Like it vegetarian?  Make it with tofu.  Like the meat version?  Just add in some pork.
Trust me, this is one of those restaurant recipes that will taste just as good at home.  And on chilly winter weeks like this one that we're having here in Kansas City, it's guaranteed to warm you up in the most delicious of ways.
Hot And Sour Soup Recipe | 1-Minute Video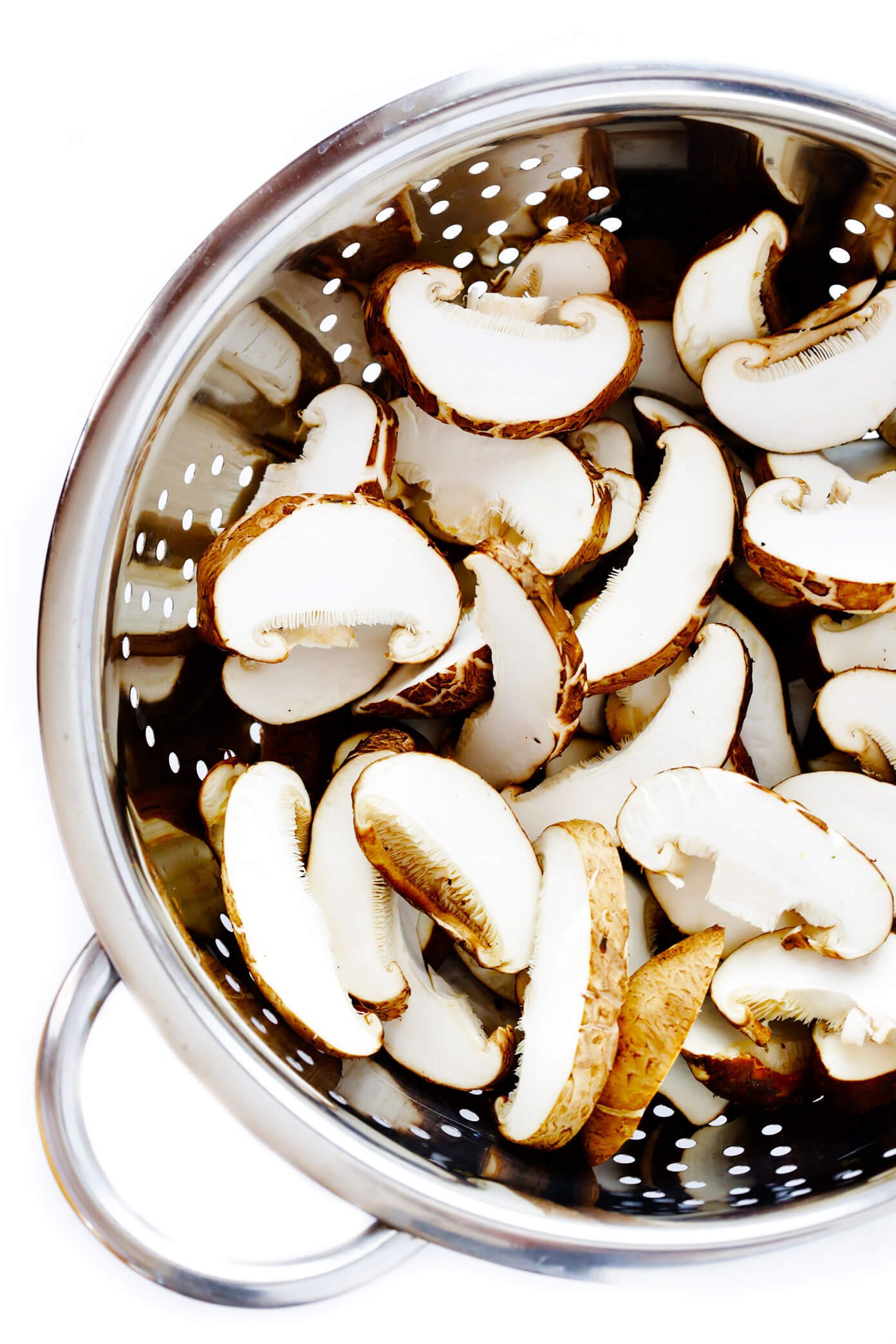 Hot and Sour Soup Ingredients:
To make this hot and sour soup recipe, you will need:
Stock: Either chicken or veggie stock will do.
Mushrooms: I highly recommend using shiitake mushrooms, but baby bella or even button mushrooms would also do.
Rice vinegar, soy sauce, chili garlic sauce, ground ginger: To flavor the broth.
Cornstarch: To thicken the broth.
Eggs: Which we will whisk, and the drizzle into the soup to make those lovely egg ribbons.
Firm tofu: Which we will cube and add to the soup.
Green onions: To stir into the soup and also sprinkle on top as a garnish.
Toasted sesame oil: An essential flavor in the soup, which we will drizzle at the very end.
Salt and pepper: Hot and sour soup is traditionally made with white pepper, which (heads up) has a different and much stronger flavor than black pepper.  I recommend adding in a pinch, and then you can always add in more later.  Or if you don't have white pepper, black pepper will also do.
Optional: The one traditional ingredient I don't typically use is bamboo shoots (not a fan).  But feel free to add some to your soup if you would like!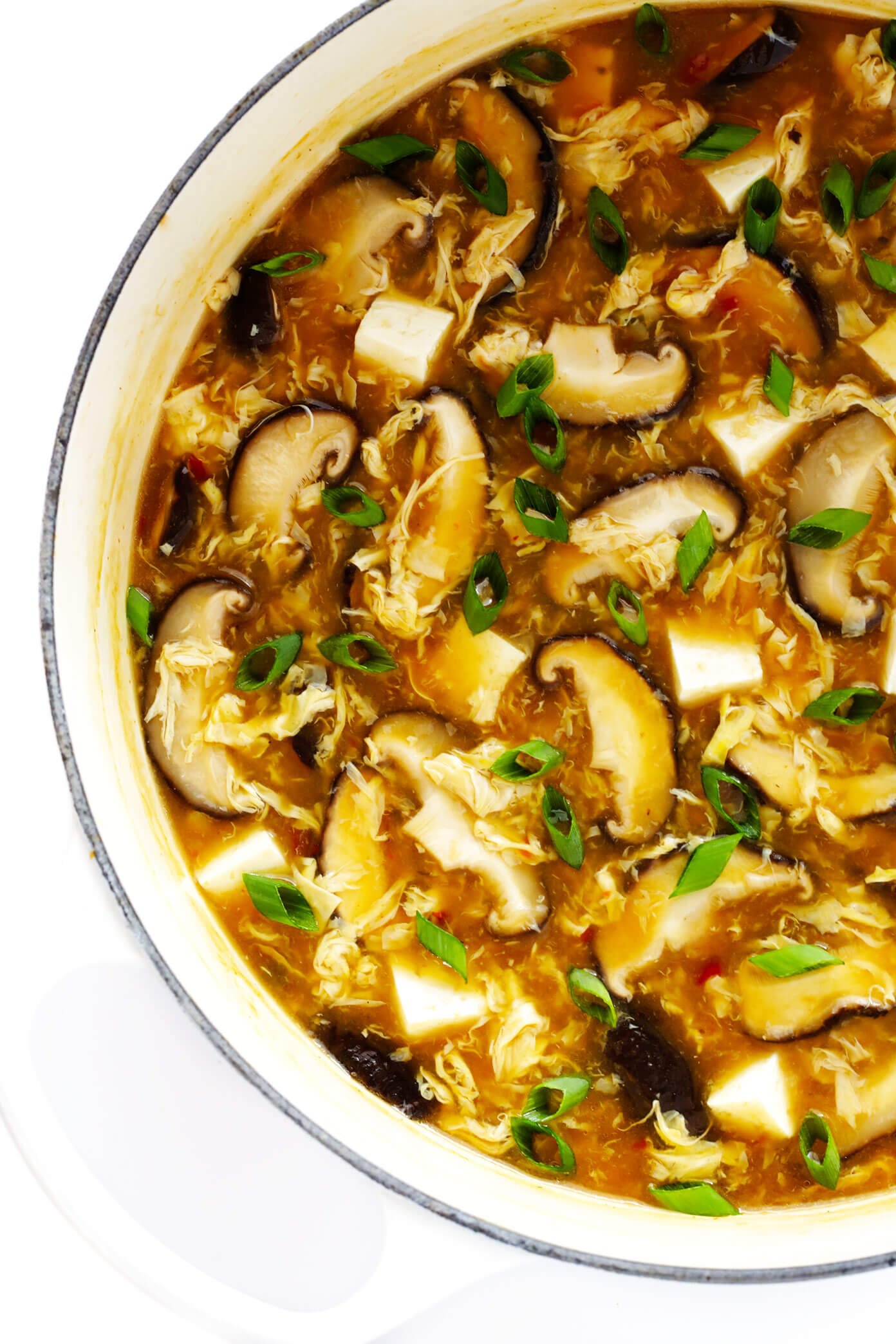 How To Make Hot and Sour Soup:
This post is currently being edited.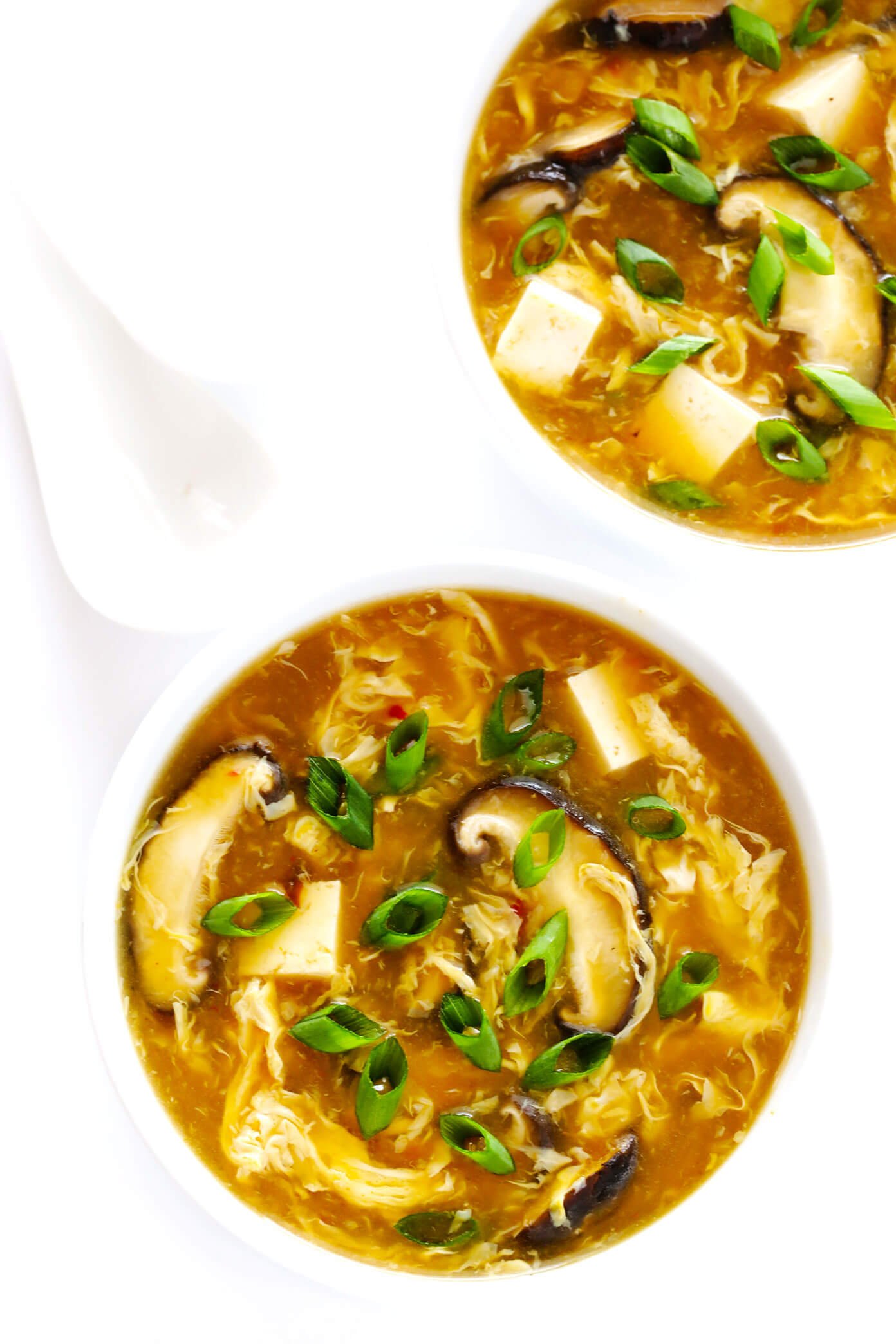 Possible Variations:
This post is currently being edited.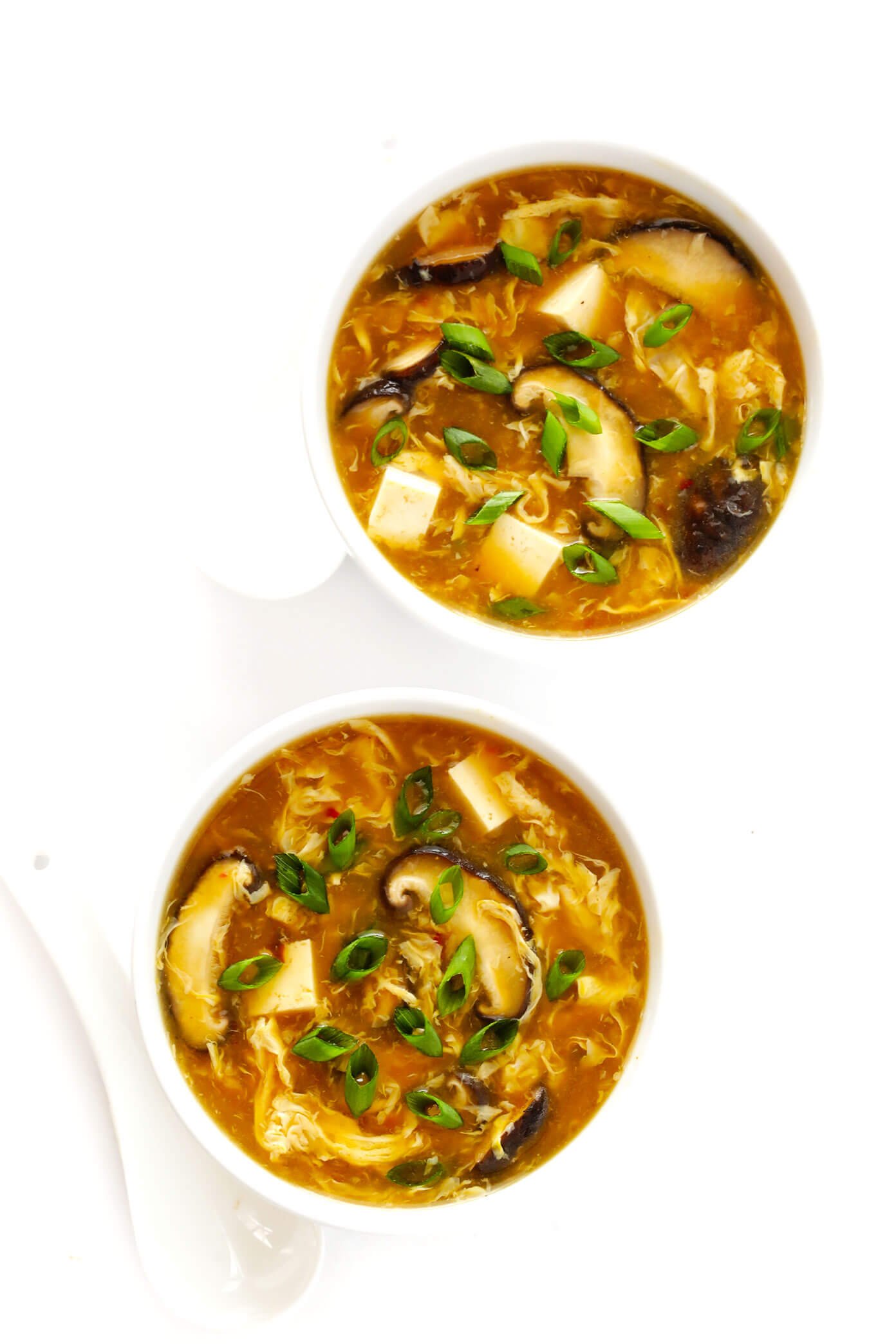 What To Serve With Hot & Sour Soup:
Here are a few of my favorite dishes that pair well with hot and sour soup:
More Favorite Soup Recipes:
If you love egg drop soup, feel free to check out these other favorite soup recipes:
Hot and Sour Soup
This classic Chinese hot and sour soup recipe is quick and easy to make, full of delicious flavor, easy to make vegetarian (with tofu!) or with pork, and it totally rivals any soup I've tried at a Chinese restaurant!
Ingredients:
8 cups chicken or vegetable stock
8 ounces shiitake mushrooms (or baby bella mushrooms), thinly-sliced with stems discarded
optional: 1 (8-ounce) can bamboo shoots, drained
1/4 cup rice vinegar, or more to taste
1/4 cup reduced-sodium soy sauce
2 teaspoons ground ginger
1 teaspoon chili garlic sauce
1/4 cup cornstarch
2 large eggs, whisked
8 ounces firm tofu*, cut into 1/2-inch cubes
4 green onions (scallions), thinly sliced
1 teaspoon toasted sesame oil
Kosher salt and black pepper (or white pepper**)
Directions:
Set aside ¼ cup of the chicken or vegetable stock for later use.
Add the remaining 7 ¾ cups chicken or vegetable stock, mushrooms, bamboo shoots (if using), rice wine vinegar, soy sauce, ginger and chili garlic sauce to a large stock pot, and stir to combine.  Heat over medium-high heat until the soup reaches a simmer.
While the soup is heating, whisk together the ¼ cup of stock (that you had set aside) and cornstarch in a small bowl until completely smooth.  Once the soup has reached a simmer, stir in the cornstarch mixture and stir for 1 minute or so until the soup has thickened.
Continue stirring the soup in a circular motion, then drizzle in the eggs in a thin stream (while still stirring the soup) to create egg ribbons.  Stir in the tofu, half of the green onions, and sesame oil.  Then season the soup with salt and black pepper (or white pepper) to taste.  If you'd like a more "sour" soup, feel free to add in another tablespoon or two of rice wine vinegar as well.  Or if you'd like a spicier soup, add in more chili garlic sauce.
Serve immediately, garnished with the extra green onions.
*Or, you're welcome to make this with pork instead of tofu.  Just add in a half pound of cooked pork — ground pork, or you can thinly-slice pork chops or pork loin — in place of the tofu.
**I actually prefer using a pinch of white pepper in this soup instead of black pepper.  But in case you've never used it, be careful — it has a much stronger and different flavor than black pepper!  So start with less, and then you can always add more.  :)
All images and text ©
If you make this recipe, be sure to snap a photo and hashtag it #gimmesomeoven. I'd love to see what you cook!
This post contains affiliate links.