"Mum" Flower Cupcakes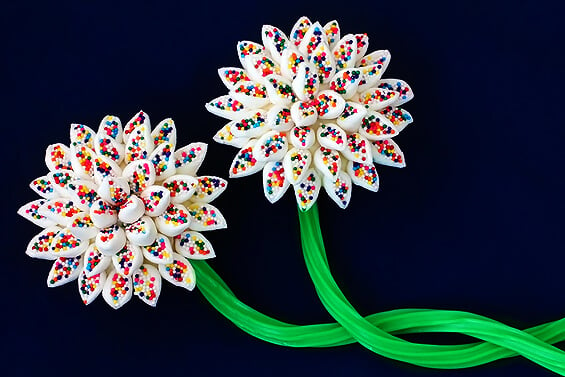 Happy May Day!  I've had this "mum" cupcake decorating technique bookmarked for months, so was excited to finally give it a try for one of my favorite flower days this year (which also happens to by my birthday eve)!  :)
I'm happy to announce that this technique requires no special icing tips.  Nor does it even require a ton of frosting.  Instead, each of these adorable little petals are made from just two ingredients: mini-marshmallows and sprinkles! Yes, it really is that simple!  Granted, these do take a little time.  But pop on your favorite tunes or Hulu, or enlist some of your young helpers to come decorate, and time (and maybe sprinkles!) will fly.  Then you'll be left with a bouquet of adorable cupcakes.
Such an adorable way to celebrate May Day, or spring, or the deliciousness of cupcakes!!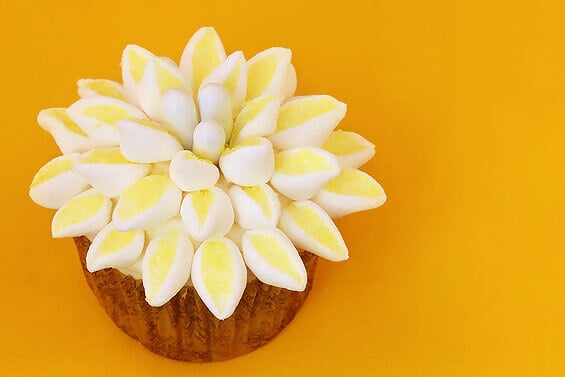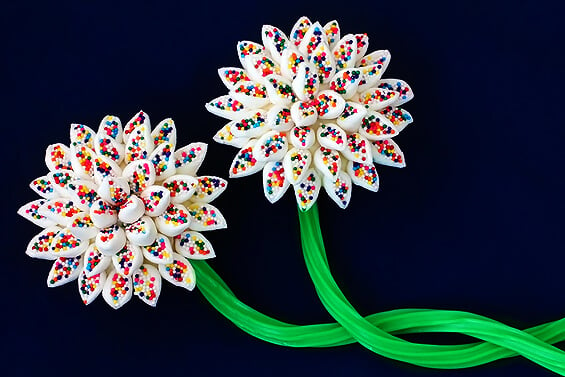 "Mum" Flower Cupcakes
An easy tutorial for making flower cupcakes out of mini-marshmallows and sprinkles. You will love this bright and cheerful "Mum" Flower Cupcakes recipe!
Ingredients:
cupcakes (I used this Vanilla Almond Cupcake recipe)
cream cheese frosting (I used this Cream Cheese Frosting recipe)
mini marshmallows
sprinkles or decorating sugar
candy for flower centers, optional (I used Good 'N' Plentys)
green licorice (I used Twizzlers)
Directions:
Begin by preparing your marshmallows. On a cutting board, use a knife to carefully cut each mini-marshmallow in half on the diagonal. Then pour your sprinkles or decorating sugar in a small bowl, and carefully press the sticky side of each halved marshmallow in the sprinkles until it is well-covered. Repeat for as many marshmallow halves as you would like (alternating colors/sprinkles if desired).
Then cover one cupcake with icing all around, and carefully place the marshmallow halves in a line around the outside of the cupcake. Repeat with a second and third row, working toward the center. Then you can either place some candies in the center to make "stamens" (I used Good 'N' Plentys), or you can just fill in the center with more marshmallow halves.
Repeat with remaining cupcakes. Then if you would like, attach pieces of green licorice to the cupcake bases to make "stems".
Decorating adapted from "What's New Cupcake,"  via iVillage
All images and text ©
If you make this recipe, be sure to snap a photo and hashtag it #gimmesomeoven. I'd love to see what you cook!
Ali's Tip:
Sometimes the halved marshmallows didn't have a ton of the sticky part exposed once they were cut.  So feel free to spread them out just a bit so that more sprinkles can stick in the center.