My 10 Favorite Small Kitchen Appliances
This post may contain affiliate links. Please read my disclosure policy.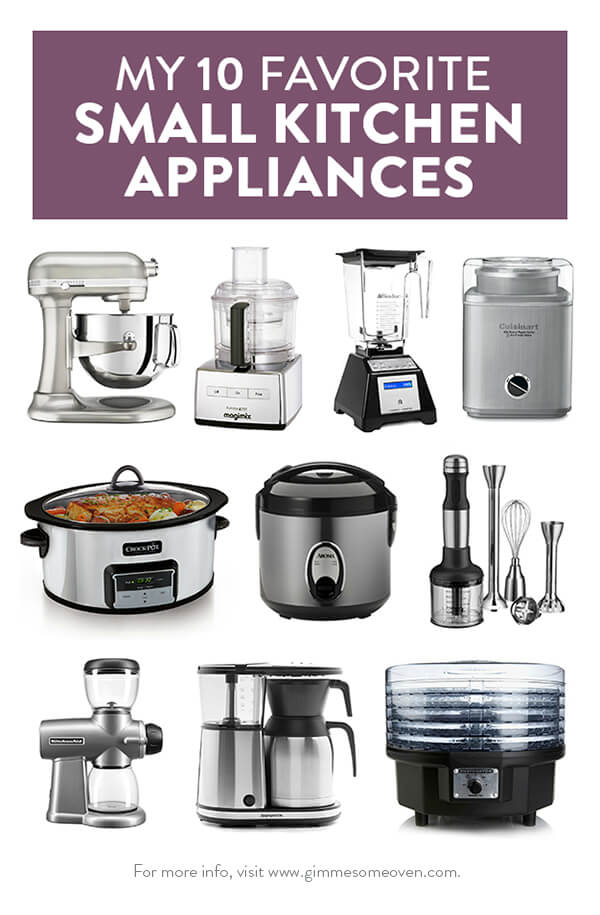 Hey friends! After my post last month on My Favorite 20 Kitchen Tools Under $20, I'm back today with another list of product recommendations that even more of you have asked about over the years. Because as we all know, these incredibly important helpers in our kitchens, they're a bigger (and sometimes riskier) investment, and it can be hard (and hella confusing) to know which models are actually the best ones to choose.
So yep, we're talking about the wonderful world of small kitchen appliances today.
As someone who has slowly built up my kitchen gear over the years, starting with garage sale purchases, then bumping up to entry-level products at Target, and then slowly saving and investing in the models and brands I really wanted, I will be the first to say that I'm a big believer in starting with the basics that you can afford. Don't feel pressured to splurge on top-of-the-line everything! The small kitchen appliances industry is getting better and more high-tech and more affordable by the day, so even entry-level products are much more reliable than they used to be. But that said, whenever you can save up and invest in a really solid model of a product that you use often (<– that's the key, only invest in what you genuinely use often), chances are that the product will last much longer and be a better use of your funds in the end. I suppose that goes with any big purchases in life, but you know, just sayin' that it goes for the kitchen world too.
That said, one of the random perks of food blogging is that I'm often getting sent small kitchen appliances to try out, and I'm always poking around in other friends' kitchens too, so I actually feel like I have a fair amount of experience now with a wide range of products. And more and more cool ones seem to keep hitting the market daily! But today, I want to share with you about the 10 products that I have actually kept and use regularly. Some of those are more top-of-the-line models, some are much more moderately-priced, but I have included alternatively priced and branded product recommendations for each item either way. (Also, just wanted to mention that all of those are affiliate links, which keep store prices exactly the same for you, but give this blog a small commission for referring you there. Win-win!)
So I hope this is helpful! And hey — if you have some small appliances at home that you absolutely love and recommend, please mention those in the comments below. I tend to always shop for appliances via reviews anyway, so the more we all can share, the better. Enjoy!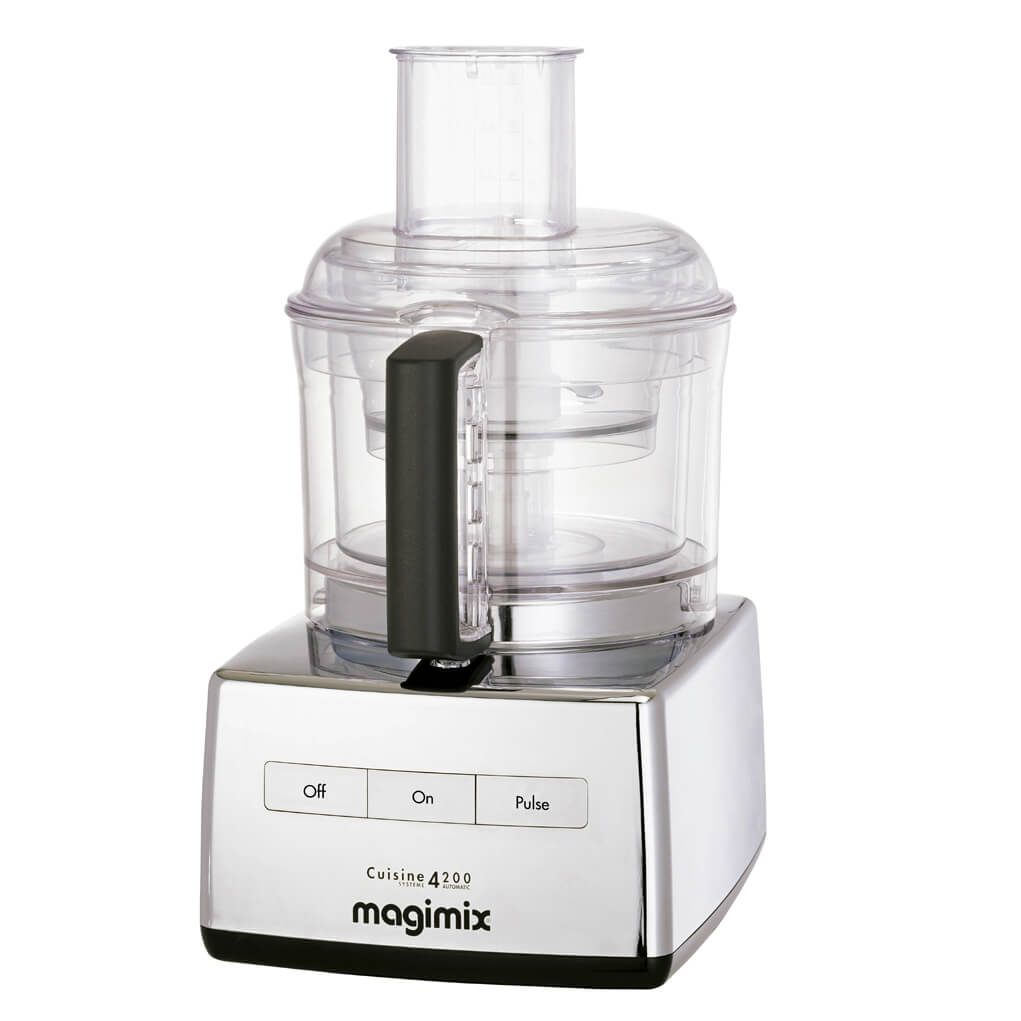 Food Processor
My Model: Magimix 14-Cup Food Processor
Why I Love It: I've owned a few food processors over the years (all of which have eventually died on me). But I have been using this Magimix constantly for the past four years, and absolutely love it. For those of you unfamiliar with the brand, Magimix was actually the original pioneer of the food processor back in France in 1971, and interestingly, the design of their models has hardly changed over time…because it totally didn't need to. These machines are freaking workhorses, and with a 30-year motor warranty, they're clearly built to last.
I love this model especially because it's quiet, the design is simple and sleek, it comes with a great selection of attachments (mini blade, main blade, egg whisk, dough blade, 2mm slicing disk, 2mm grating disk, 4mm slicing disk, 4mm grating disk, blendermix attachment), 3 sizes of bowls (main, midi and mini), and it is super powerful. I use it for everything from traditional chopping and pureeing, to making nut butters, grating blocks of cheese, making bread crumbs, mixing pie crusts, grinding meat, and more.
It's definitely the most-used small appliance in my kitchen, and if you love to cook, I really think it's worth it to invest in a good one when you can. (<– And a good-sized one. After using a tiny 4-cup food processor for years, which hardly fit most recipes, I would highly recommend starting with at least a 7- or 8-cup food processor if it's in your budget.)  And definitely choose one with a good warranty.
Alternate Recommendations: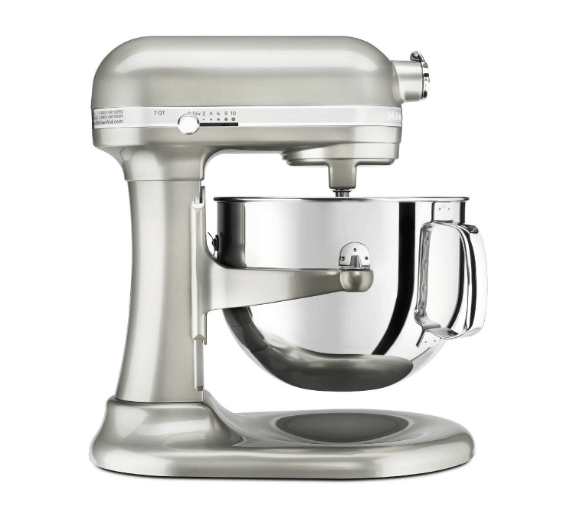 Stand Mixer
My Model: KitchenAid Professional 6-Quart Stand Mixer
Why I Love It: There's a reason why KitchenAid has had a corner on this market for so long — their stand mixers are beautiful and strong and built to last. I received my first one (a 4.5-quart tilt head stand mixer) as a housewarming present from my parents when I first graduated college, and then later upgraded to this 6-quart stand mixer a few years ago. And I use it regularly to make everything from cookie and pizza and bread dough, to stirring up energy bites, to mixing cake and brownie batters, to whipping cream (and vegan coconut cream!), and more. And even with tons of use, the motor in my stand mixer continues to perform like a champ, and the mixer itself still looks lovely on my countertop. I also love all of the color options that KitchenAid offers, and dig all of the attachments you can now purchase to go with them (see below).
That said, if you aren't much of a regular baker or don't use a mixer often, I wouldn't recommend investing in a big stand mixer. They're not cheap, and they're heavy to lift, and take up quite a bit of counter space. So if you're not going to use one regularly, I would invest elsewhere.
Alternate Recommendations: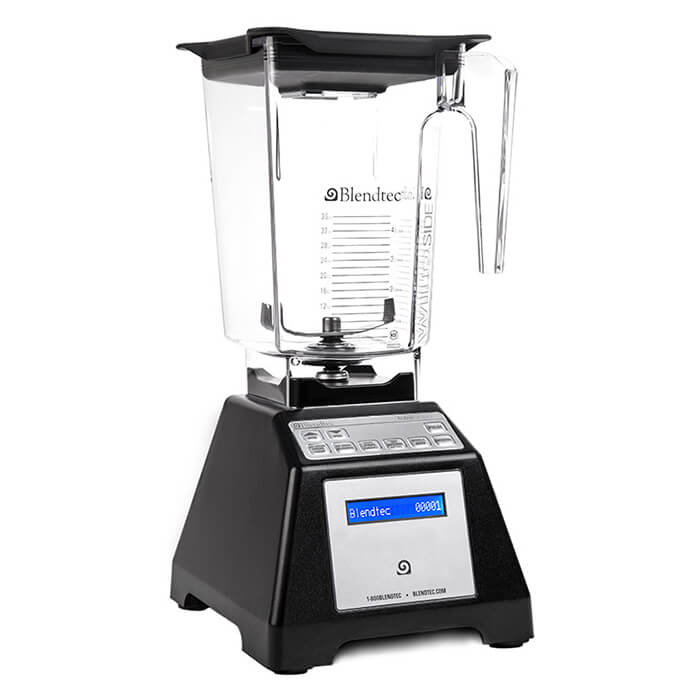 Blender
My Model: Blendtec Total Blender Classic Wild Side (no longer available, see newer options below)
Why I Love It: I also upgraded from a traditional blender to a high-powered blender a few years ago. And if you also happen to use a blender regularly, I would recommend doing the same if it's in your budget. But, if you only use a blender occasionally, I'd say the high-powered blender isn't worth it, and would encourage you to check out the recommendations below.
That said, I really do love my Blendtec. It's super-powerful and cuts through ice and big chunks of frozen fruit like nobody's business. And I really love the various mini jars that you can purchase (see below) when you're just making small batches of things. Plus, it's dishwasher-friendly and comes with a stellar warranty, just in case. I use mine regularly to make smoothies, frozen cocktails, pancake and crepe batter, salsa, pureed soups, and more. Unfortunately the blender I have is no longer made, but you can check out the current comparable model available below.
Alternate Recommendations: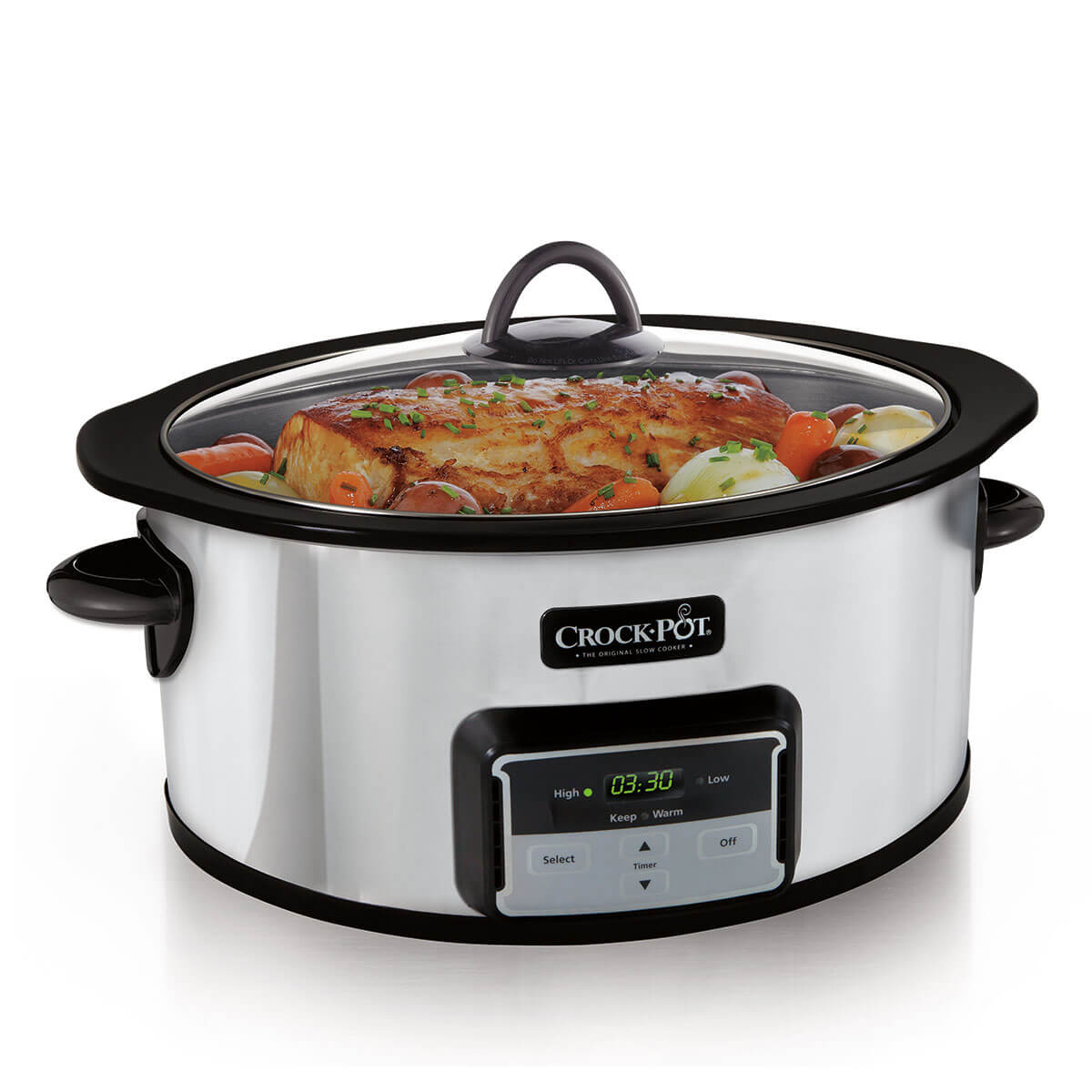 Slow Cooker
My Model: Crock Pot 6-Quart Slow Cooker with Stovetop-Safe Cooking Pot
Why I Love It: Any of you who read this blog regularly know that how much I ♥♥♥♥♥ slow cooking. (Just check out our slow cooker recipe archives to see why!)  I also happen to be obsessed with testing out new slow cookers whenever brands offer me the chance, so I've weirdly had lots of slow cookers come through my kitchen. That said, only two slow cookers remain in my kitchen now that I absolutely love — this super basic 3-Quart Crock Pot that gets the job done for smaller recipes (and costs only $20), and this model (shown above) that I use probably 90% of the time. It offers some simple digital programming so that you can set it and forget about it. But the feature I love most is that the cooking pot can be removed and used on the stove before or after slow-cooking with it. So if you need to sear some meat, or saute some onions or garlic, or reduce some juices after they have been slow cooking into a gravy, this slow cooker literally turns just about any recipe into a genuine one-pot meal. And of course, I also love that the cooking pot is dishwasher-safe. Definitely my favorite slow cooker I've owned to date! (Although I'm sure I'll keep trying new ones… ;))
Alternate Recommendations: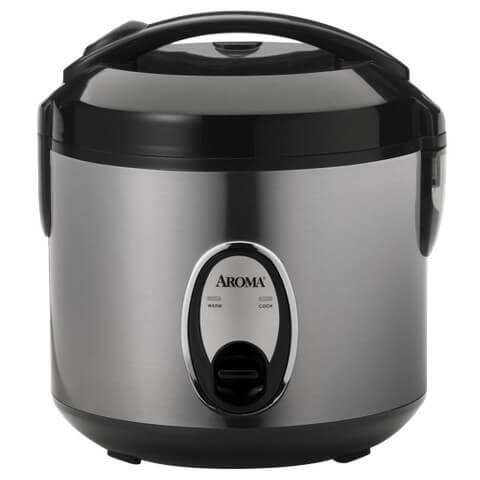 Rice Cooker
My Model: Aroma Cool Rice Cooker
Why I Love It: I used to swear that a rice cooker was an unnecessary small appliance that I didn't want taking up space in my kitchen. But now — guys — I seriously love this thing so much. I randomly bought my Aroma small cooker at Target or something one day, so I haven't tested out any other brands, but it has been a game changer when it comes to preparing rice and quinoa. Any rice cooker owner will tell you why — it simply cooks rice perfectly. Every single time. With hardly a minute of prep time. So you don't have to babysit the stove, and keep stirring, and checking to see if it's done. It just nails it. Definitely worth the shelf space I have cleared for it.
Alternate Recommendations: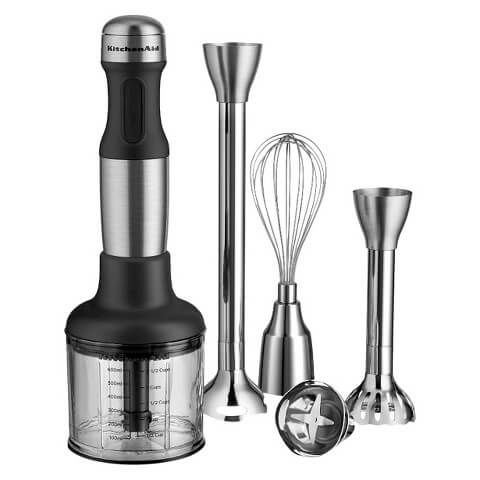 Hand Blender
My Model: KitchenAid 5-Speed Immersion Hand Blender
Why I Love It: I'd say that a hand blender set really isn't necessary unless you would use it a lot, and have the storage/budget space to own one. But if you happen to be in the habit of making homemade whipped cream (<– my #1 use for it!), pureed soups, milkshakes, mayo, refried beans, or nearly anything you would make in a traditional blender, then the hand blender (or some call it a stick blender) might be your new best friend.
I love mine because it's compact and light and easy to store and grab. It's also considerably cheaper than a traditional blender, if you're looking for ways to save. It's easy to clean up, since all of its small parts are all dishwasher-friendly. But I mostly just love being able to grab it to puree a batch of soup so that I don't have to transfer everything to a big blender, or whip up a batch of whipped cream in 30 seconds, or make a single-serving milkshake. Different brands come with different attachments, so find the one that fits your needs best!
Alternate Recommendations: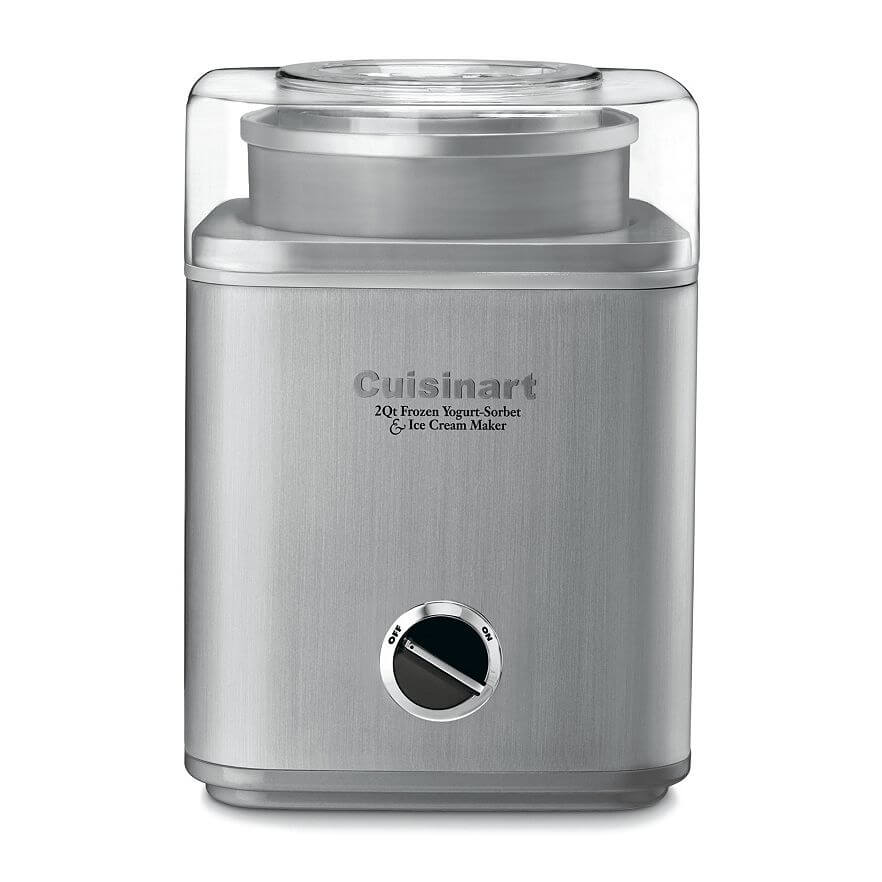 Ice Cream Maker
My Model: Cuisinart Pure Indulgence Ice Cream Maker
Why I Love It: Ok, who else grew up with having to add salt and ice and crank those old-fashioned ice cream makers by hand? (I did, I did!)  Well, then I'm guessing you share my sweet gratitude for these fancy, new-fangled, modern-day contraptions that do it all for us. ;)  So brilliant! I've owned two ice cream makers, both Cuisinarts, and have loved them both. The one pictured above is my current model, and it does its job perfectly every time, and I totally recommend it. But if you love making ice cream and don't want to purchase a separate stand-alone appliance, KitchenAid also has an ice cream attachment that also works well. (Pro tip: If you do make lots of ice cream, I recommend purchasing an extra bowl so that you can have one frozen and ready to go at all times.)
Alternate Recommendations: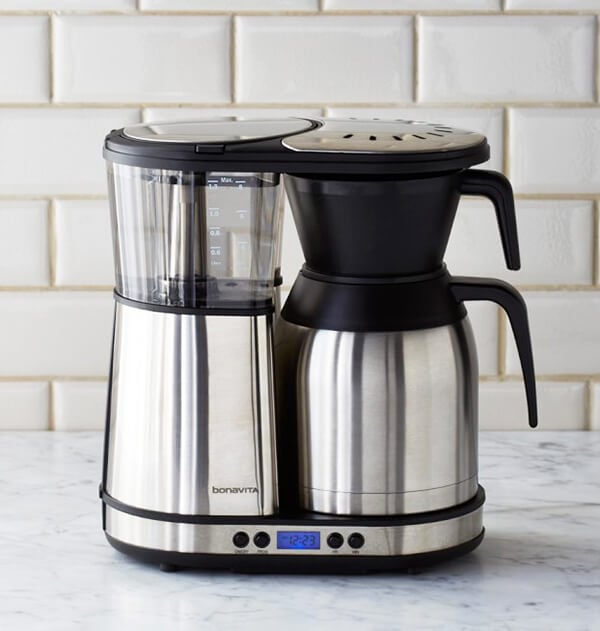 Coffee Maker
My Model: Bonavita 8-Cup Coffee Maker with Thermal Carafe
Why I Love It: This one goes out to all of you coffee aficionados out there. If you're down with French press, pour-over, cold brew, or any other handmade methods out there, I'm right there with you many mornings. Carry on. But for any of you who might be looking for an automated coffee machine that (I would argue) actually tastes as good as French press, pour-over, Aeropress, or most other handmade methods out there, then we need to talk about Bonavita. I first heard about this brand from the owners of our neighborhood coffee shop, who were amazed at the quality of its coffee. Then I continued to hear about it from coffee-lover after coffee-lover after coffee-lover, and was a little skeptical about all of the hype, but finally tried it out myself.
Guys, it's awesome.
And their newest model even has a programmable auto-start timer, which I've been waiting for for years. (And there's also a glass carafe that's now available too – pretty!)
This coffee maker is definitely an investment, and it doesn't grind the beans for you. BUT, if you're looking to press a button and have perfectly-brewed coffee ready by the time you wake up, this is the machine for you. And of course, if you add up the cost of this compared to purchasing daily coffee from the neighborhood shop, it's definitely worth the investment.
Alternate Recommendations: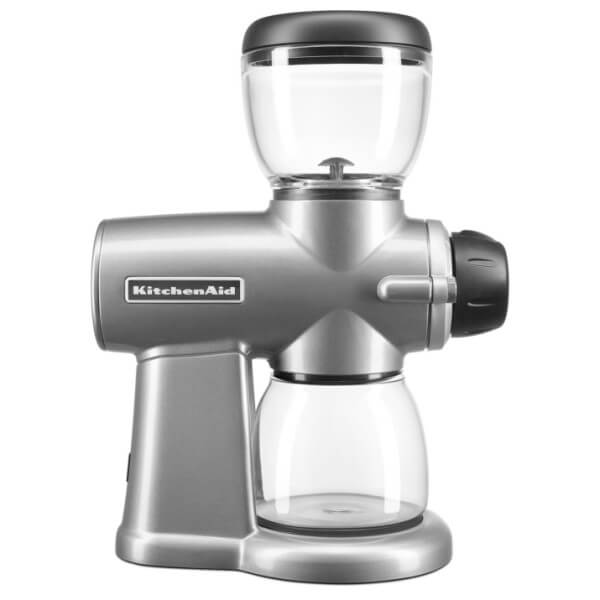 Coffee Grinder
My Model: KitchenAid Burr Coffee Grinder
Why I Love It: Speaking of coffee, I am also a huge believer in freshly-ground beans. (And ethically-purchased good beans, but that's another story for another day.)
Having already burned out two coffee grinders in my life, I'd say it's definitely worth it to invest in one with a good motor (or at least, a good warranty). I was a big fan of this inexpensive burr grinder that I picked up at Target years ago, and still use occasionally and totally recommend. But then KitchenAid sent me this fancy burr grinder to test out for a project, and I've been happily using it ever since. It is insanely sturdy and strong, and I feel like it's motor is probably going to last for decades. (Although I'm sure I'll accidentally break that thin glass jar before then, eek.)
Still, I would definitely say go with something in your price range when it comes to grinders. And if you make different styles of coffee, I highly recommend a burr grinder with adjustable grind settings.
Alternate Recommendations: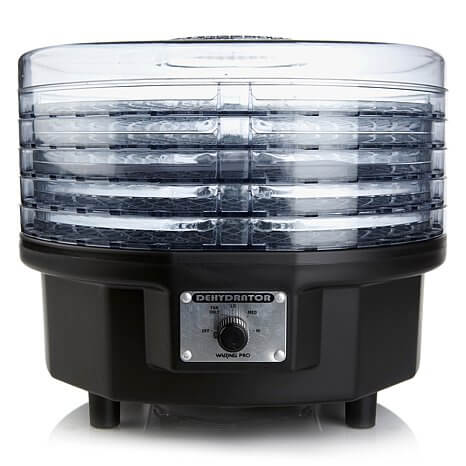 Food Dehydrator
My Model: Cuisinart Professional Food Dehydrator
Why I Love It: Finally, this.  While most 16-yr-olds back in my high school days were asking for Doc Martens and N*Sync albums and Nokia phone covers for Christmas, I was begging Santa for…you guessed it…a dehydrator. Homemade peppery beef jerky is one of my favorite foods on the planet, and I wanted to learn how to make it for myself. So before I even learned how to cook, I learned how to use a dehyrator…and have been using one ever since. My original one bit the dust recently, so after a little bit of research, I invested in this model. And it has proven to be a good one. It's pretty quiet, has nice and even air flow, it's fairly easy to clean, and it makes wayyyyy-better-than-storebought beef jerky like a pro. (Recipe coming to the blog soon — I don't know why I've never shared mine!)
If you're not into dehydrating foods, then this one probably isn't for you. But for all of my fellow beef jerky, dried fruit, zucchini chips, fruit leathers, potpourri, raw food, and homemade yogurt lovers, this dehydrator is one I'd totally recommend. Plus, it's moderately priced and the perfect size, if you ask me.
Alternate Recommendations:
Alright, your turn! What favorite small kitchen appliances would you recommend?
(This post may contain affiliate links which won't change your price but will share some commission.)