My 20 Favorite Kitchen Tools Under $20
This post may contain affiliate links. Please read my disclosure policy.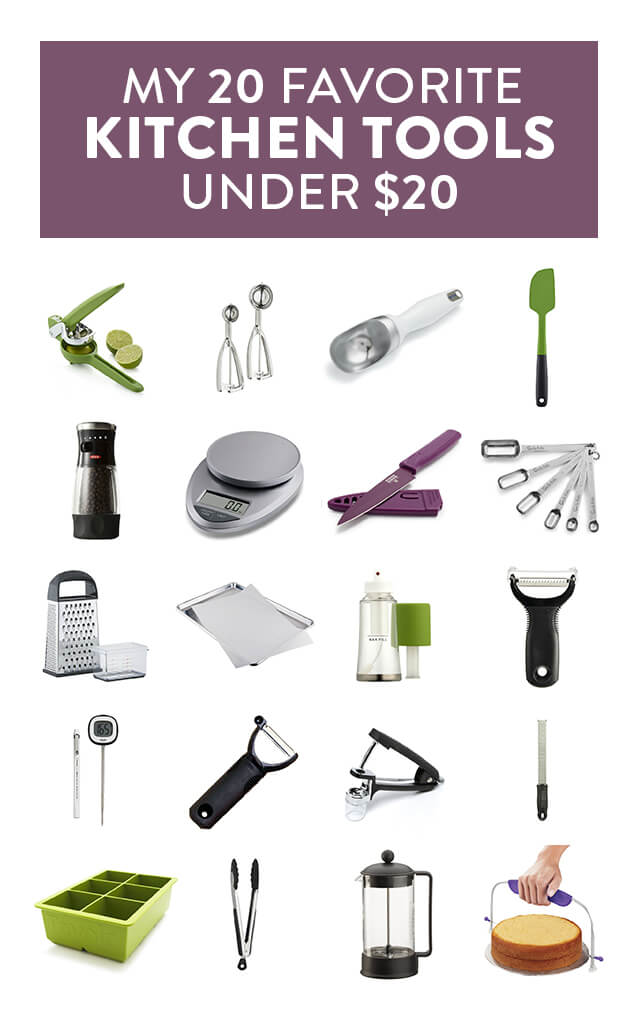 Hi friends! ♥
Today I thought I'd take a break from sharing a recipe, and instead, share with you a little behind-the-scenes tour of the favorite kitchen tools and gadgets I use to make my recipes.
I regularly receive emails from readers asking for product recommendations, which is why I opened up our shop this year with links to just about everything in my kitchen. But lately, I seem to be hearing from more of you who are creating wedding registries, or shopping to stock your kitchen for the first time, and are wondering what items are actually useful and worth the investment. If you've been down the kitchen tools and gadgets aisle at the store anytime recently, there's no doubt that the options out there nowadays are overwhelming (and mostly unnecessary, if you ask me). But there are a few new tools that have surprised me over the past few years, and also some instances where I've learned it's better to splurge, and others where it's totally cool to save.
So if any of you are interested, here are 20 of my current favs with explanations for why I love them!
Update: Also be sure to check out My 10 Favorite Small Kitchen Appliances post too, if you're interested!
Chef'n Fresh Force Lime Juicer — My food blogging friend, Kathryne, insisted that I had to upgrade my flimsy metal lime juicer last year. And I am thankful every time I use this one that I did. It is a bit of a splurge, for sure, but it is so strong and will squeeze out every last drop of lime juice like a pro. Worth every penny. That said, if you also use a lot of lemons, I'd probably recommend buying the lemon juicer instead (because it will juice both lemons and limes). But for under $20, I can't recommend this one enough. (Especially for any of you as obsessed with homemade margaritas as I am. I know you're out there…)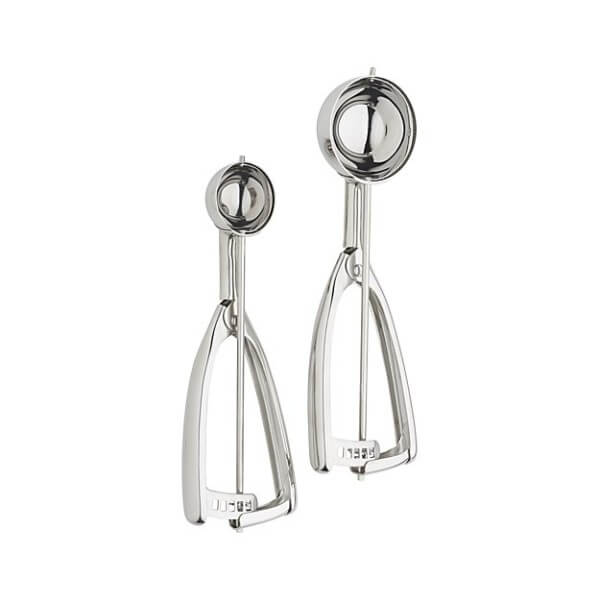 Large & Small Scoops — These used to be known as ice cream scoops and melon-ballers. But cooks nowadays know that you can use these scoops for so much more. I regularly use them to perfectly fill cupcake/muffin cups with batter (both regular-sized and mini). I also use them to scoop out evenly-sized no bake energy bites or whiskey chocolate truffles or meatballs. But I also use them for their modern namesake — cookies galore. Definitely great multipurpose kitchen tools, and I recommend having one of each size.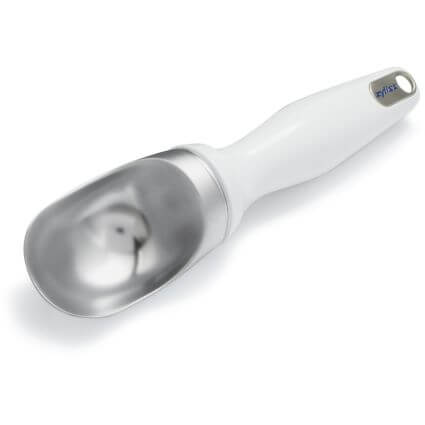 Zyliss Ice Cream Scoop — This is another one that I think is worth a slight splurge. This brand of ice cream scoop works like a charm, even on really hard ice cream. And the design of it feels comfortable in your hand along the way. Bonus? It's also dishwasher safe.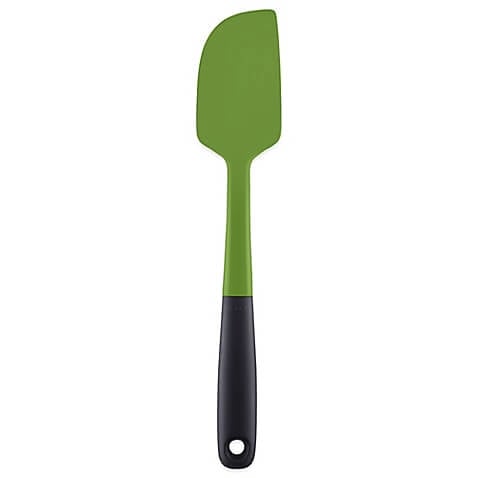 OXO Good Grips Silicone Spatulas (various sizes) — I've owned many a rubber/silicone spatula over the years, but this line of spatulas from OXO is by far my favorite, and I own at least one in every size. Mostly, I just love them because the top won't fall off of the handle!!! They're also easy to hold with the black grip, and the bright colors make them easy to spot in my drawer. As opposed to wooden-handled spatulas, they're also dishwasher-safe.
OXO Softworks Pepper Grinder — Last year, I asked a bunch of food bloggers to give recommendations on their favorite pepper grinders that produced a super-coarse and super-fine grind. I was expecting all sorts of expensive brands. But the #1 favorite? This $17 grinder from OXO. It may not be the prettiest, but I use it every single day and am always impressed by its performance. If you love pepper as much as I do, I totally recommend it!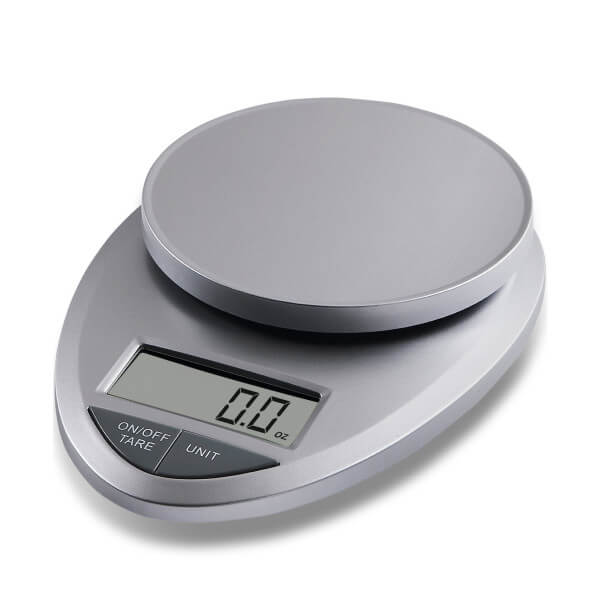 EatSmart Precision Pro Digital Kitchen Scale — I'm always amazed at how often I use a kitchen scale, but I think that part of that is truly due to the fact that this one is so lightweight and small and easy to grab! There are fancier and more expensive ones on the market, but I've been using this $19 scale for about 5 years, and absolutely love it. Whether it's measuring out the weight of my coffee beans, or the right amount of pasta (from my giant Costco-sized portions), or the perfect amount of flour for a recipe, I'm regularly thankful that I have this little scale nearby.
Kuhn Rikon Paring Knives — I'll be the first to admit that I learned the value of splurging on good knives a few years ago. But when it comes to paring knives, these inexpensive and colorful knives from Kuhn Rikon can't be beat. They cut and peel and chop impressively well, they each come with a matching sheath for safe storage (also good for packing in a lunchbox if needed), and you can pop them in the dishwasher and they'll still come out nice and sharp! I keep a few on hand for different purposes and love them.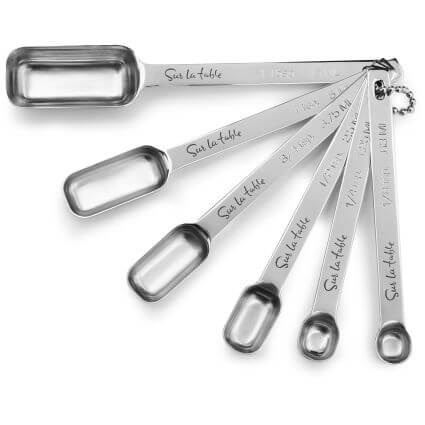 SurLaTable Measuring Spoons — If you happen to be in the market for new measuring spoons, I've grown partial to this set from Sur La Table. They're pretty and made from stainless steel, so you can pop them in the dishwasher without worrying. But more than anything, I just love them because they're nice and skinny and long, which means they'll actually fit into your spice jars! Brilliant.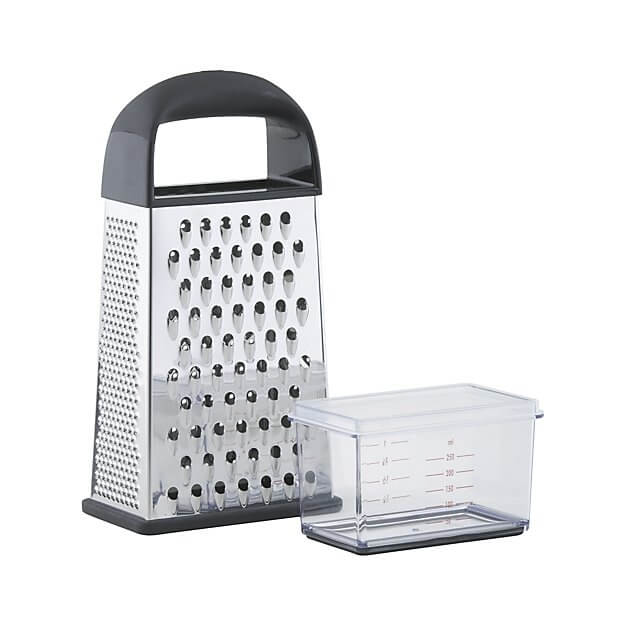 OXO Softworks Box Grater — I used an old vintage box grater for years, and then finally switched to this one (after the handle on the other one fell off, ha!), and I'm so glad I did. It may seem insignificant, but having a comfortable handle when you're grating a bunch of cheese or veggies really does make a big difference. And having a nice little container to catch the food? Also helpful! Both are dishwasher-safe, too.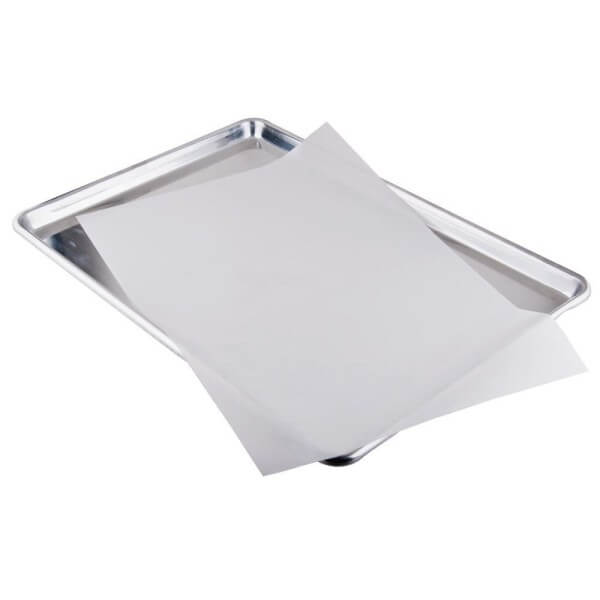 Pre-Cut Parchment Baking Sheet Liners — I don't know if this one counts as a kitchen "tool", but I had to include these pre-cut parchment liners on here. After years and years of ripping jagged parchment off the rolls, my friend, Heidi, introduced me to the brilliance of parchment sheets that are pre-cut to fit into a basic baking sheet. And I've never looked back since. They are so, so, so convenient. And when purchased from this shop on Amazon, I think they're even cheaper than the rolls.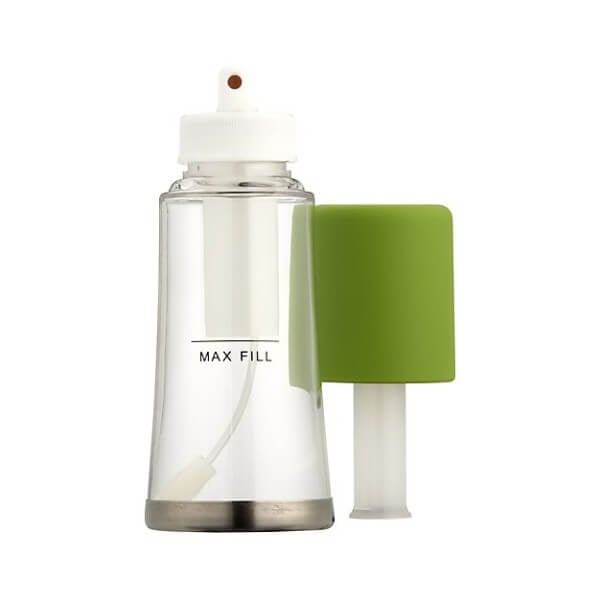 Oil Mister — There are many different brands of oil misters out on the market now, and the three that I've tried all work equally well, so go with whatever you find first. I just recommend that every cook have one! Oil misters are super easy to use (just fill with your desired oil, pump them to build up pressure, and then spray on your food), and they are great at helping eliminate unnecessary excess oil in recipes. I use mine to spray pans before cooking, mist veggies and proteins before roasting, and sometimes even fill it with a (non-chunky) salad dressing to evenly-mist my salad. Definitely a helpful and environmentally friendly (aerosol-free!) tool to keep on hand.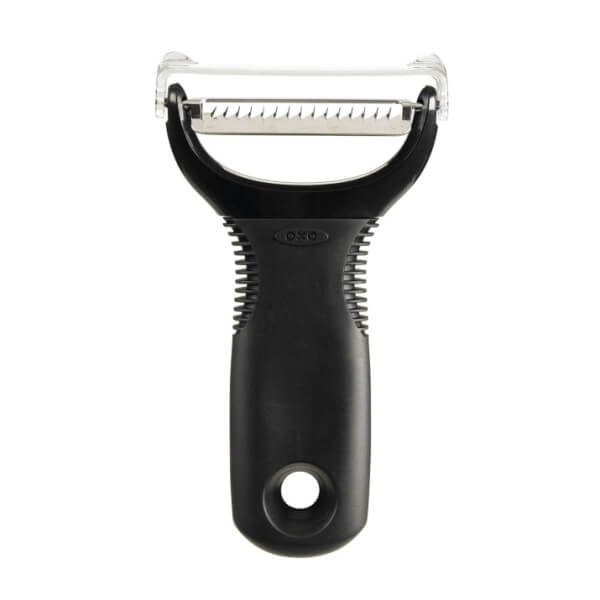 OXO Julienne Peeler — If you're looking for a quick and easy tool to shred veggies, this little guy is for you. I use mine regularly to shredded carrots for salads, turn zucchini into zoodles, and shred potatoes for hashbrowns. Definitely a cheaper alternative to spiralizer (although I love mine too), and this brand is nice and sharp.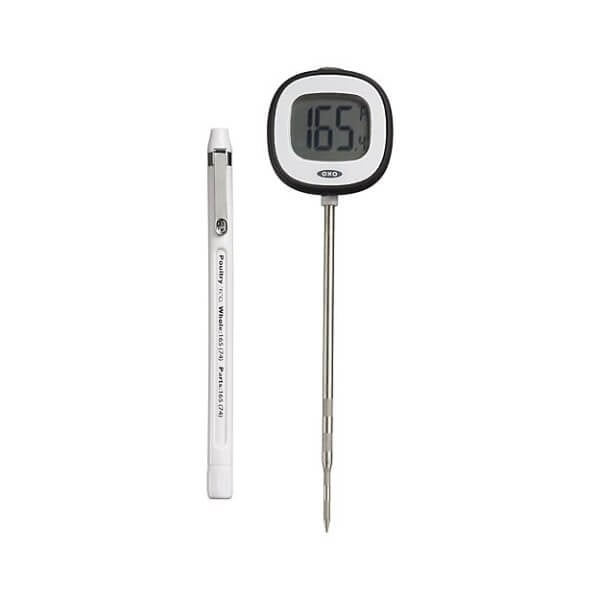 OXO Digital Instant-Read Thermometer — I don't do too much cooking that requires a cooking thermometer. But when I do, I'm super thankful to have this instant-read one on hand. It's super quick and easy to use, nice and small, and it's more affordable than many others out on the market.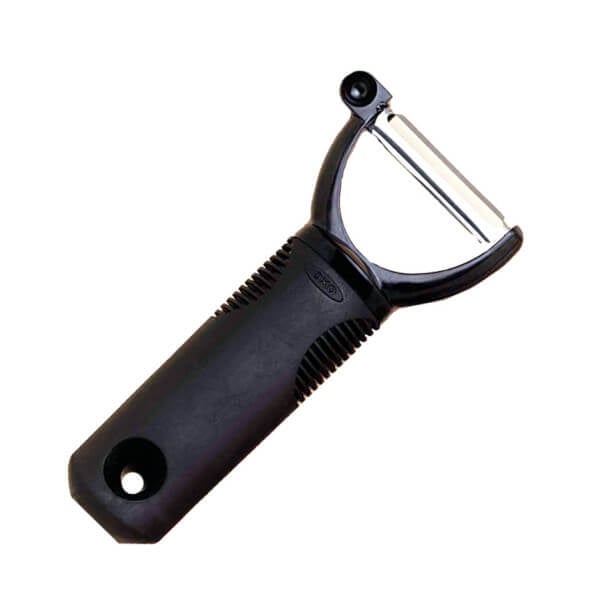 OXO Horizontal Peeler — I tend to use this Y (horizontal) peeler much more than my vertical peeler. It easily skins just about any kind of produce, and also does a great job at making vegetable "ribbons". Definitely a good kitchen basic, and I love the OXO one because it's easy to hold and it's nice and sharp.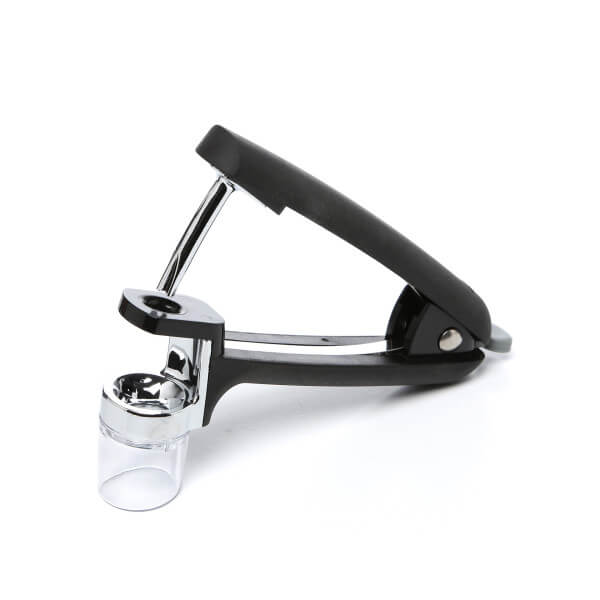 OXO Cherry & Olive Pitter — I usually have a policy of not wanting to accumulate kitchen gadgets that only serve one purpose. But if you happen to like fresh cherries (or olives), this pitter really is worth every penny. It pits like a pro — super efficiently and pretty darn accurately — and makes cherry season all the more delicious. :)
Microplane Grater / Zester — Definitely one of my all-time favorite kitchen tools. I'm pretty sure my mom gave me mine for Christmas when I graduated from college, and I still have it and love it and use it constantly. It's perfect for all of your citrus zesting needs, and I also use mine regularly to grate everything from nutmeg to Parmesan to garlic to ginger to chocolate and beyond. A "must" for every new cook, and Microplane is the best!
Jumbo Silicone Ice Tray — Also not entirely sure this one counts as a kitchen "tool", but I had to include it. If you like making cocktails — or really, any drink that you don't want diluted with quickly-melting ice — then these jumbo ice trays are essential. The make big ol' blocks of ice that serve the double purpose of looking lovely in your drink, and also cooling it down without immediately watering it down. And the silicone makes it easy to pop them out of the tray in a flash. I own silicone ice molds in a few different sizes, and enjoy using them regularly. They make ice so much fun!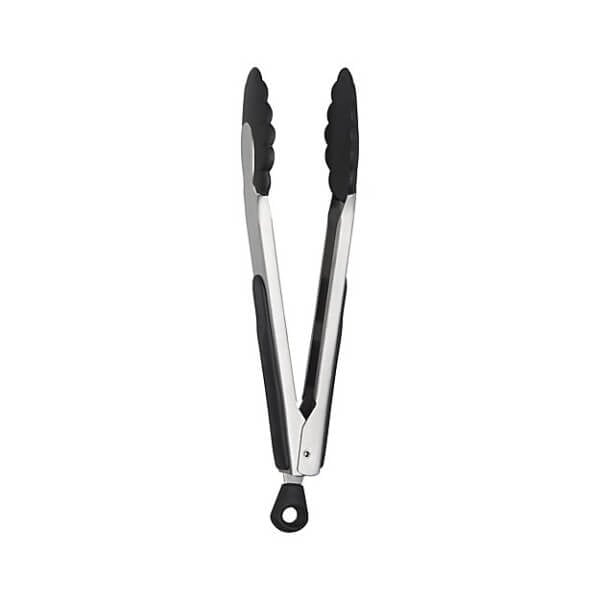 OXO Stainless & Nylon Tongs — Every cook needs a good pair (or two) of tongs, and these ones are (by far) my favorite. The nylon grip prevents them from getting too hot to handle, and the clamp lets you lock them for more compact storage. They come in this regular size and a longer size, and I own and regularly use them both.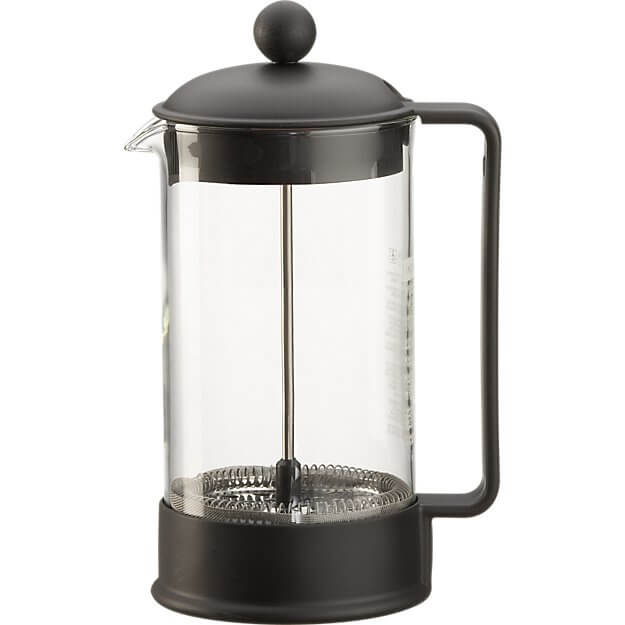 Bodum French Press — Ahhh, my beloved French press. I've owned a couple of these over the years, and this plastic/glass version from Bodum seems to have outlasted the others by a mile. It's well made, it's dishwasher-safe, and it makes delicious French press coffee like a pro. Many different sizes are available, but this one is the best deal for under $20.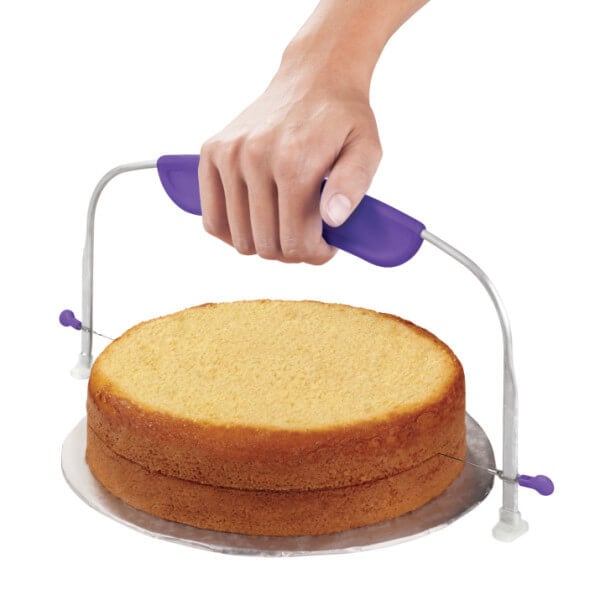 Wilton Cake Leveler — Ok, if you don't bake layer cakes, disregard this one. But if you do, this cake leveler probably wins my award for the Seems-Totally-Unnecessary-But-Is-Actually-A-Lifesaver item on this list. It's $10, and you can easily store it somewhere with your baking stuff. And then once the time comes to level out a cake (these strips can help too, but won't get it perfect), whip out the cake leveler, adjust it to your desired height, and then — boom — its tiny serrated blade will level out the cake so that it's perfectly flat on top and ready for frosting, stacking, you name it. You can try to do the same with a serrated knife, but I'm tellin' ya, this leveler is easier and is accurate for me every time.
Alrighty, so those are my favorites. Do you have any of your favorite kitchen tools to add to the list?
---
 (This post may contain affiliate links which won't change your price but will share some commission.)