Nutella Cinnamon Rolls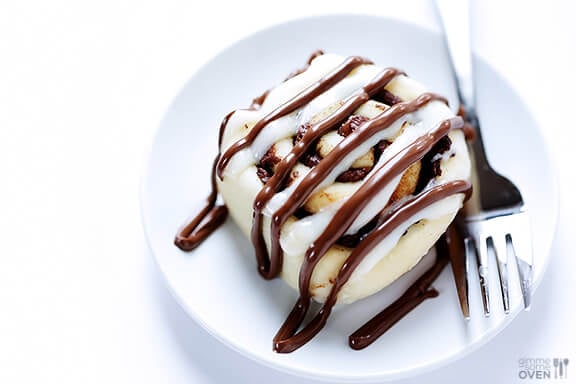 I seem to be on a cinnamon "roll" lately.
This weekend marked the third (yes, third) time that I've made these Nutella cinnamon rolls in a month.  And then I made a batch of my 1-hour cinnamon rolls yesterday when my sister and brother-in-law made an impromptu breakfast stop driving through Kansas City, which turned into a little Wichita friends reunion.  And then I am planning to make another new version of them for Christmas this year.  So many cinnamon rolls!!!
Do you hear anyone complaining, though?  ;)
Without fail, these Nutella cinnamon rolls have been receiving rave reviews lately, so it's high time I finally get them posted to the blog!  This final batch I actually made to photograph this weekend, right as our winter storm was rolling in.  I took some warm rolls over to the guys at my coffee shop next door to taste test, and after picking up one to try in less than 2 seconds, one of the guys immediately declared his love for me.  Too bad he's, like, 20.  But hey, maybe I've discovered the secret to men's hearts with these…?
Still, I also happen to agree that this recipe is pretty lovable.  And you can whip it up in just 1 hour, although they taste like you've been working on them all day.  Read on for the how to!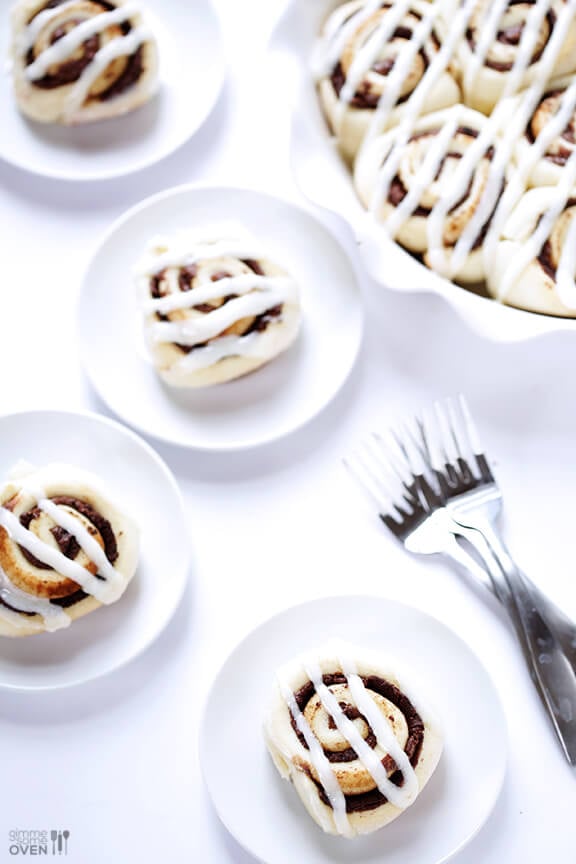 Like the Caramel Apple Cinnamon Rolls recipe on the blog, these Nutella Cinnamon Rolls are another variation of my favorite 1-Hour Cinnamon Rolls recipe.  It is still my favorite base recipe, even compared to those that take hours or overnight!  And it's super easy too.  So here's the Nutella version how to: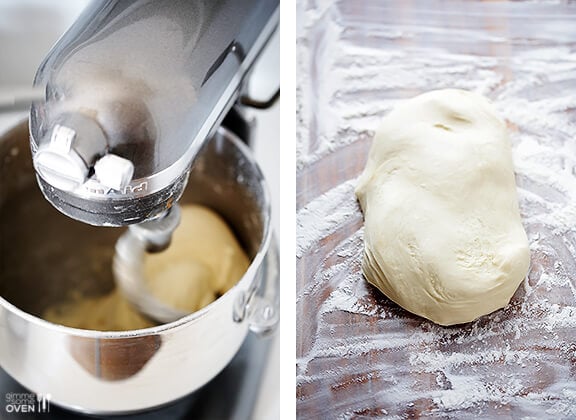 We begin by making the basic yeast roll recipe.  If you have a stand mixer, it will literally do all of the mixing work for you.  But if not, see the note below for a simple version kneading by hand.  Let the dough rise for a few minutes after kneading.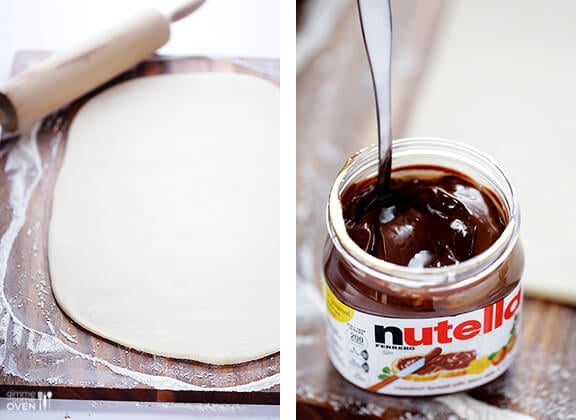 Then once the dough is ready, roll it out on a surface to where it is roughly 9 x 14″.  (If you want more Nutella and cinnamon inside, extend that to a square 14 x 14″.
Then get that jar of Nutella ready to slather on.  I found it was easier to spread when the Nutella was just slightly warmed, so feel free to pop it in the microwave for a few seconds to warm it up.  (Although be sure to get all of that gold metal packaging off the top first unless you want sparks to fly!)  ;)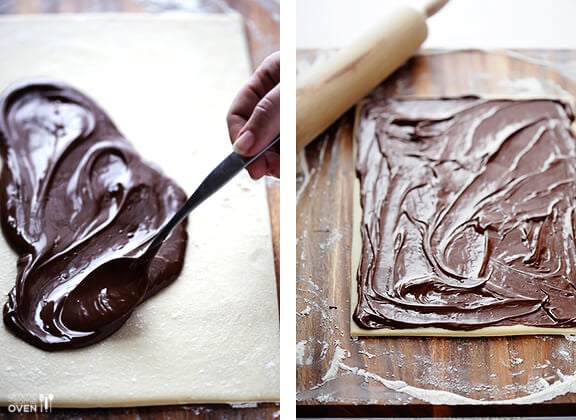 Hellooooo, Nutella.  :)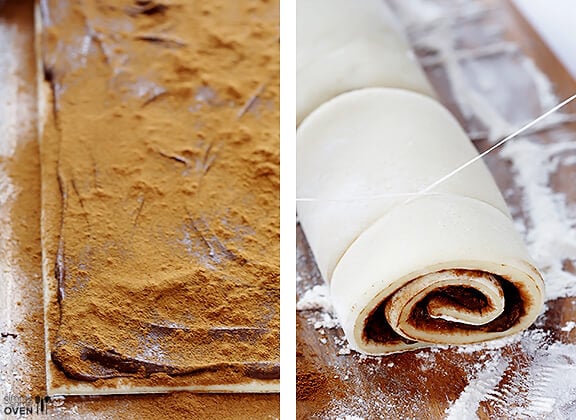 Once you've spread out the Nutella, sprinkle lots of cinnamon on top.  I made one version with cinnamon and sugar, but felt that the extra sugar was unnecessary.  The Nutella is sweet enough for me!
Then roll up the dough nice and tightly.  (Although that photo is a bad example from an earlier batch, I usually roll a little tighter!)  Then use dental floss to cut the rolls so that they are not squished with a knife.  Thanks to my friend, Beth, for hand modeling with the floss.  ;)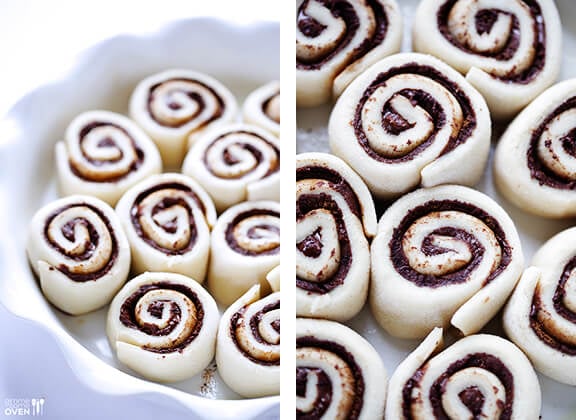 Lay them in a greased pie plate or 9 x 13″ baking dish.  Then cover and let them rise a bit more, and then bake them up to cinnamony, Nutella-y perfection.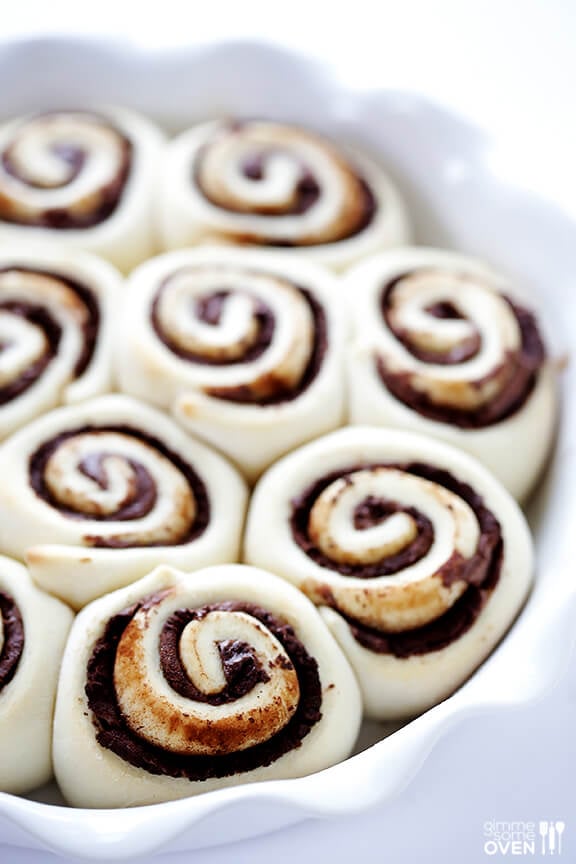 I mean, just look at 'em.  I would happily dive in right here.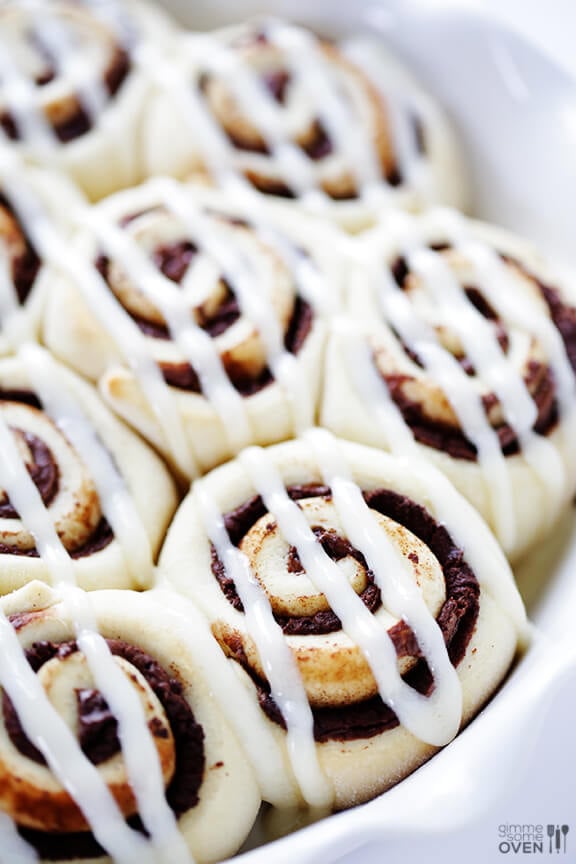 But oh wait — let's cover them with frosting first.  I'm a little partial to cream cheese frosting, but I also included a standard frosting recipe for those of you who like that.  To each, his/her frosting own.  :)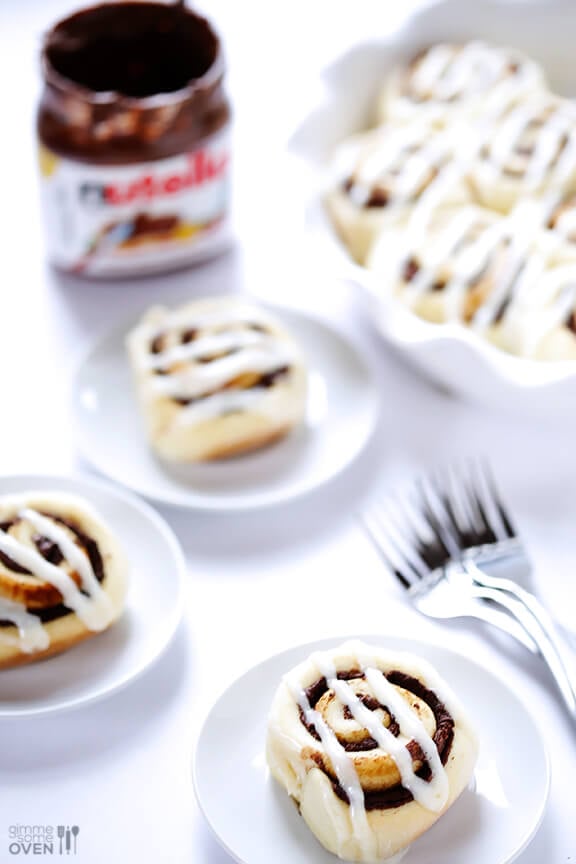 At this point you can either eat them as is…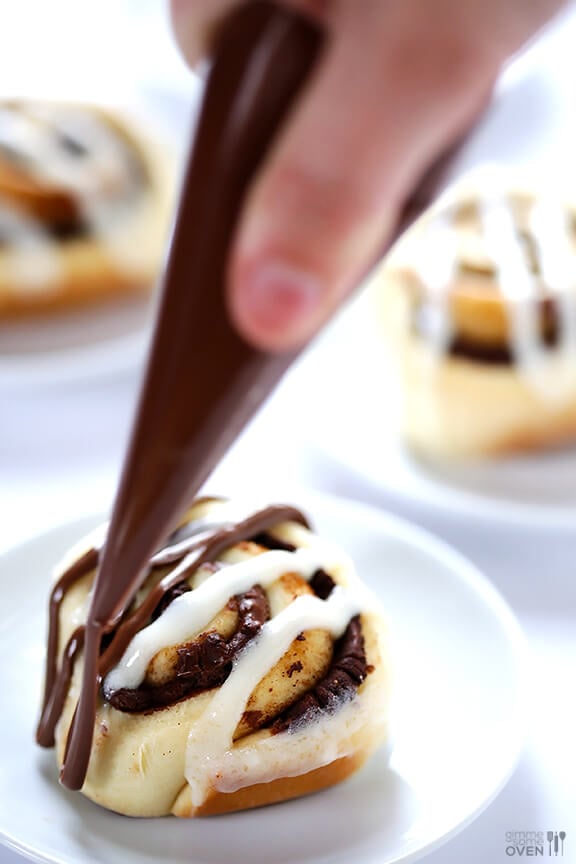 …or drizzle them with some extra Nutella.  Or extra frosting.  Or as I did, both.
Then grab a fork, and dive in.  And get ready for your friends and family to profess their love for you.  ;)
Enjoy, friends!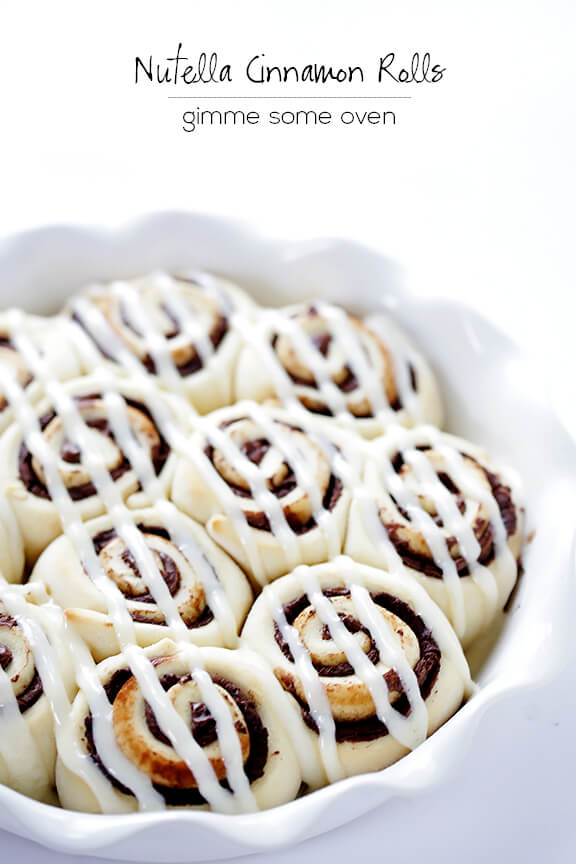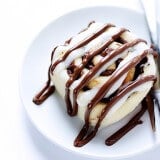 Nutella Cinnamon Rolls
This Nutella cinnamon rolls recipe comes together in just 1 hour, and is full of that delicious chocolate hazelnut flavor we all love!
Ingredients:
Dough Ingredients:
1 cup milk (I used 2%)
1/4 cup butter
3 1/2 cups all-purpose flour, divided
1/4 cup granulated sugar
1/2 tsp. salt
1 envelope instant or 'rapid rise' yeast (approx. 2 1/4 tsp)
1 egg
Cinnamon-Nutella Filing Ingredients:
2/3 cup Nutella
2 Tbsp. ground cinnamon
Cream Cheese Icing Ingredients (*see option for standard non-cream-cheese icing below):
1/2 cup butter, softened
1/4 cup cream cheese, softened
1 1/2 cups powdered sugar
1-2 Tbsp. milk (if needed)
(Optional Nutella Drizzle)
Directions:
To Make The Dough & Filling:
Combine milk and butter in a microwave-safe bowl. Heat on high for 1 minute, then remove and stir. Continue heating in 20 second intervals, pausing after each to stir, until the butter is melted and the milk is warm to the touch but not hot. If needed, let the milk mixture sit for a few minutes until it is warm but not hot.
In a separate bowl, whisk together 3 cups flour (not all of the flour), sugar and salt until combined.
In the bowl of a stand mixer (*see note below for an alternative method of making this by hand*) fitted with the dough hook attachment, add yeast and lukewarm milk mixture and stir by hand to combine. Add the flour mixture and egg, and beat on medium-low speed until combined. If the dough is sticking to the sides of the bowl, add the remaining flour, 1/4 cup at a time, until the dough begins to form a ball and pulls away from the sides of the bowl. Continue beating for 5 minutes on medium-low speed. Remove the dough hook and cover the dough with a damp towel and let rest for 10 minutes.
When the dough is ready, turn it out onto a floured work surface. Then use a floured rolling pin to roll the dough out into a large rectangle, about 14 x 9 inches in size. (If you want all edges to be even, you can use a pizza slicer to cut the dough into a perfect rectangle.) Use a knife or spoon to spread the Nutella evenly over the top of the surface, leaving a 1/4-inch border at the bottom of the 14-inch edge (so that the Nutella doesn't ooze out). Sprinkle the cinnamon evenly on top of the Nutella. (If it's too thick, pop the Nutella in the microwave for a few seconds to make it easier to spread.)
Beginning at the top 14-inch edge (the edge with the Nutella spread clear to the border), tightly roll up the dough. Then give the final seam a little pinch so that it seals. Use a piece of dental floss*** to "cut" off the two ends of the roll (an inch on each end – discard that dough) so that they are even. Then cut the remaining dough into 11 or 12 equal pieces. (11 rolls seem to fit in a pie plate, while 12 rolls fit in a rectangular pan.)
Place each of the cut cinnamon rolls into a greased pie plate or 9 x 13-inch baking dish. Then cover again with a damp towel, and leave the dish in a warm place to rise for 25 minutes. (I typically turn on my oven to 200 degrees, then turn it off and place the dish in the oven with the door cracked open. It's a great option if you don't have a vent or a warm window nearby.)
While the dough is rising, make the icing (instructions below).
When the rolls have risen, uncover the dish. Then place on the center rack of the oven and bake at 350 degrees F for 15-20 minutes, or until the rolls are golden and cooked through. Remove and let cool on a wire rack for at least 5 minutes. Drizzle with your desired icing and Nutella and serve.
To Make The Cream Cheese Icing:
Either in the bowl of an electric stand mixer, or a mixing bowl, whisk softened butter and cream cheese together until combined. Then whisk in powdered sugar until combined. If the icing is too thick, add a tablespoon or two of milk to thin.
To Make The Optional Nutella Drizzle:
Warm Nutella in the microwave for a few seconds to help make it more spreadable, if desired. Then use either a piping bag to pipe it onto the cinnamon rolls, or use a fork to drizzle it on.
*Optional Standard Icing Substitution (Without Cream Cheese):
Ingredients:
1/4 cup butter, melted
1 tsp. vanilla
1 1/2 C powdered sugar
1-2 Tbsp. milk
Directions:
Whisk together butter, vanilla and powdered sugar until combined. If the icing is too thick, add a tablespoon or two of milk to thin. If the icing is too thin, add a tablespoon or two of powdered sugar to thicken.
**If you do not have an electric stand mixer with a dough attachment, you can simply stir the ingredients together, and then knead by hand for 5-7 minutes.
***To cut dough with dental floss, simply break off a piece of floss about 12 inches long. Then very carefully slide the middle of the floss under the dough to the place where you want to "cut". Then pull the ends of the floss up and cross over the top of the dough. Then give a quick tug to literally cut all the way through the dough. This is the best method for not squishing your dough while cutting it — although the standard knife method still works too.
All images and text ©
If you make this recipe, be sure to snap a photo and hashtag it #gimmesomeoven. I'd love to see what you cook!
Be sure to also check out these cinnamon roll recipes: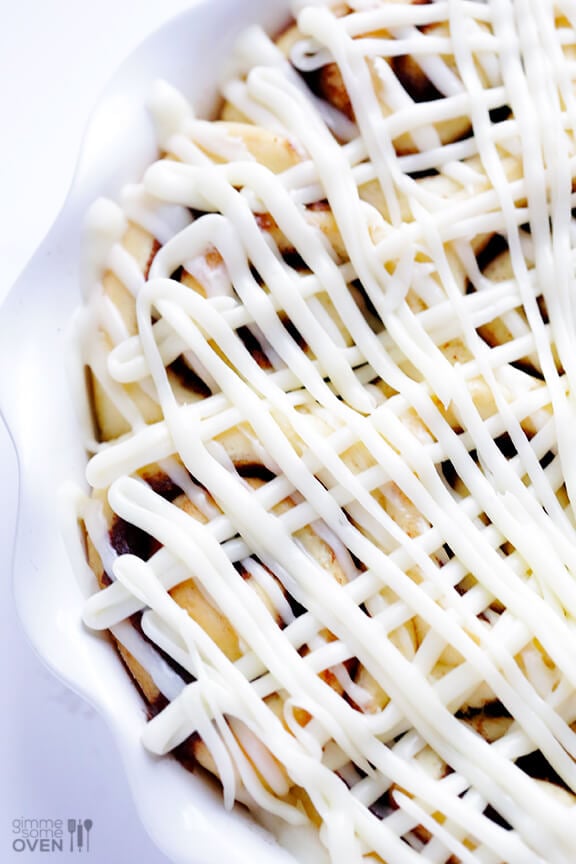 1-Hour Cinnamon Rolls