Oreo Ice Cream Truffles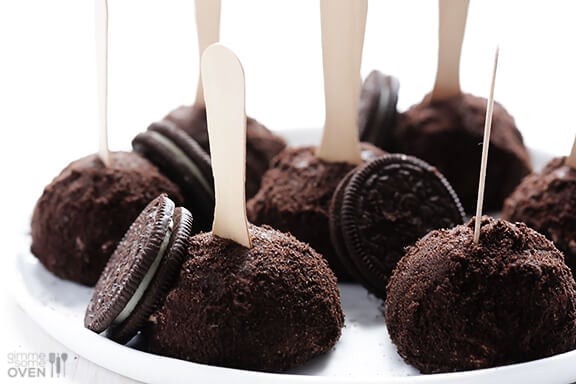 You scream, I scream, we all scream for…
Ice Cream Truffles!!!
Actually, make those Oreo Ice Cream Truffles.
That's right.  After receiving my third shipment of delicious Haagen-Dazs gelato this week, I decided it was time to think outside of the "spoon" and see what other ice cream recipe I could create.
My first thought, of course, was to turn the gelato into an ice cream pie, but that's already been done a zillion time.  I then thought of making mini ice cream trifles, but to be honest I find washing those adorable glass jars a total pain.
And then it hit me.  What about ice cream truffles???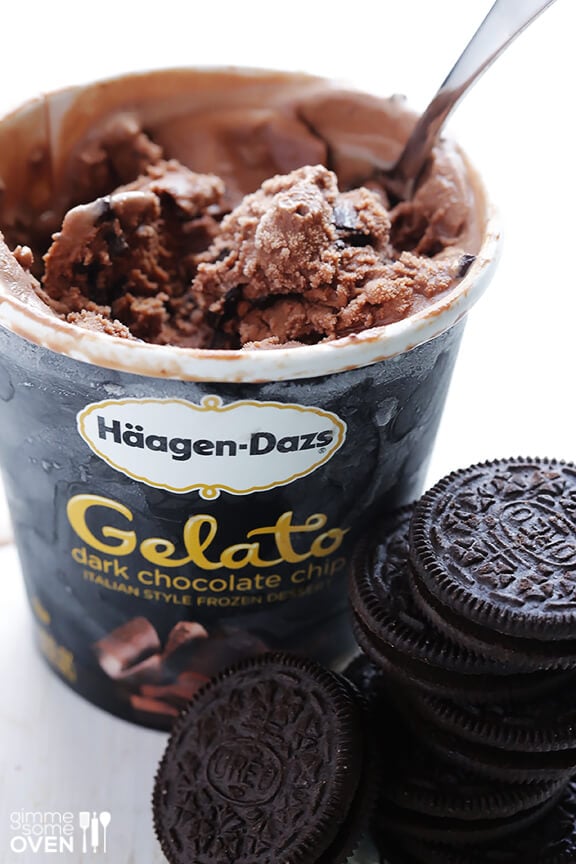 In my head, the idea seemed brilliant.  I would just coat some scoops of ice cream in Oreo cookie crumbs, poke them with a cocktail fork, and voila — they would be a perfect way to serve ice cream without having to clean a million dishes, with a bonus of automatic portion control!
The end goal turned out as planned.  But as you might have guessed, the process took just a bit of tweaking.
I will spare you the recipe "development" process.  But let's just say that I learned that anytime your warm paws touch the ice cream, it's definitely melts-ville USA.  So be sure that anything that touches the truffles is chilled — a chilled baking sheet for storing, a chilled spoon for scooping, and a chilled plate for serving.  And then the ice cream definitely needs at least a half hour or so to re-freeze after scooping before you roll the scoops in the Oreos.  But if you follow those steps, these ice cream truffles will be a breeze!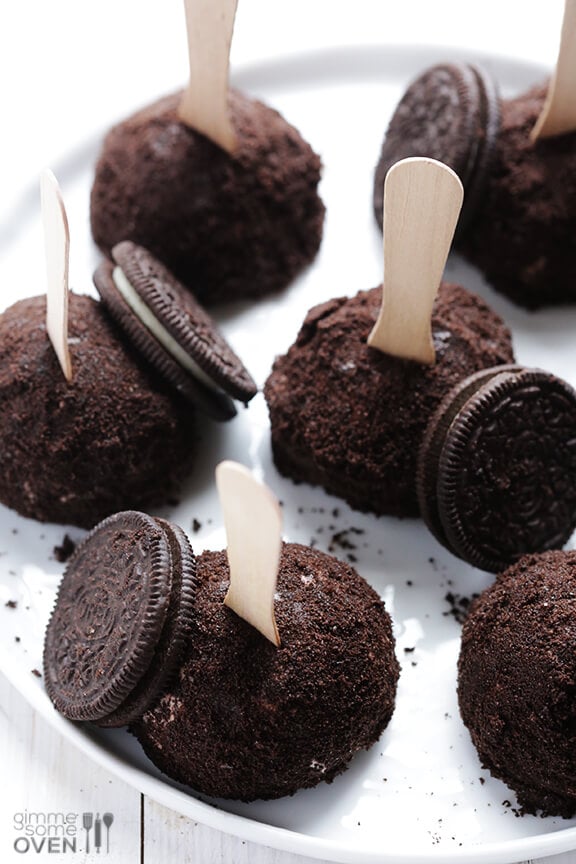 And oh my goodness, they are SO fun!
You can of course customize them however you'd like.  You can roll them in nuts, or candy, or sprinkles, or whatever floats your boat.  And just about any sort of ice cream, gelato, frozen yogurt or sorbet should work.  My friends even pointed out that with dairy-free ice cream, these Oreo Ice Cream Truffles would be vegan!!!
For my last shipment of ice cream from Haagen-Dazs for their Moments For Me campaign, I had recently received a few pints of their Dark Chocolate Chip Gelato.  And I must say, when paired with the Oreos, these treats were double-chocolate trouble.  But so good!!!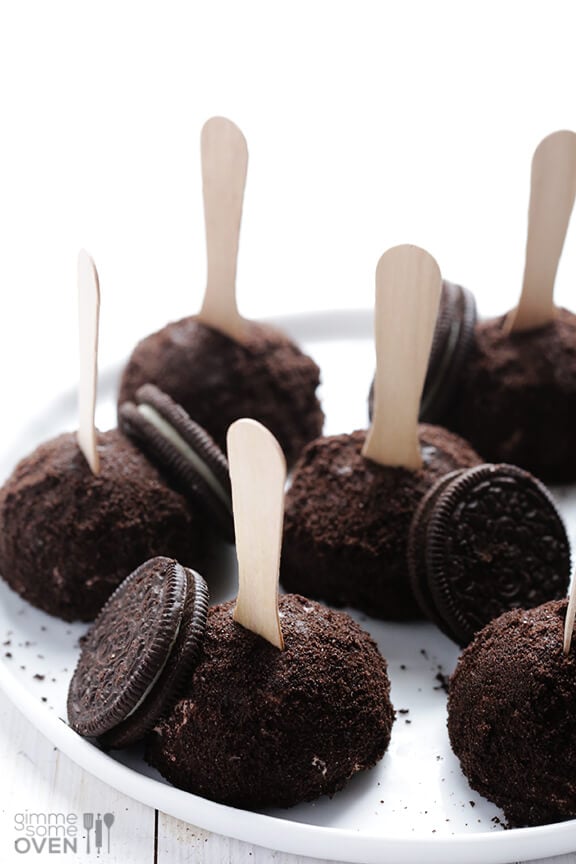 Speaking of Haagen-Dazs, this month officially marks the end of my time collaborating with them on the Moments For Me campaign.  For those of you just tuning in, I was approached my Haagen-Dazs this past spring to see if I would want to be the food ambassador for their new campaign focusing on celebrating sweet moments in life.  Especially — hence the name of the campaign — moments (#hdmoment) just for me, when I could set aside time to do things I enjoy but might not always carve out time to do.
So for the past three months, I have received surprise "Moments For Me" boxes in the mail.  And then each box was also accompanied with a smoking dry-ice-filled box of Haagen-Dazs gelato delivered straight to my doorstep.  And as my Instagram followers would tell you, I quickly learned that Haagen-Dazs mail days are the best!!!
Haagen-Dazs was especially thoughtful, and took time to research and send surprises that were especially tailored to the things I love in life — namely, friends, food, and FUN!  From many beautiful bottles of wine and accessories, to my favorite kinds of giftcards (Sur La Table, Pryde's and Ann Taylor Loft), to cute kitchen accessories, herb planting kits, and more, their thoughtful gifts had a way of completely making my day.
But the highlight of each box was definitely the "experience" gift that they sent.  The first month, it was a gift certificate to attend a local farm-to-market cooking class with a friend.  The second month, it was the opportunity to interview a local chocolatier and tour his chocolate factory.  And then this month, they sent the ultimate gift that I never tend to buy for myself but was a-ma-zing — a day at the spa.
Like I said, thoughtful.  Or perhaps better spelled — thought-FULL.

The experience has definitely been a reminder of the importance of creating time in life for good moments that will turn into good memories.  And while many of those can be experienced on my own as a chance to relax or recharge, most of my favorites always seem to involve moments that are shared with friends.  So a big thank you to Haagen-Dazs for helping make this season all the more special through Moments For Me.  It makes me love their ice cream and gelato all the more, knowing the heart of the great company behind the deliciousness.
Would love to invite any of you to join in the celebration too.  Just hashtag #hdmoment on Twitter, Instagram, Facebook or Google+ anytime you have a moment worth sharing.  And of course, I'm pretty sure that an awesome way to begin would be to make these ice cream truffles.  They are a delicious moment just waiting to happen.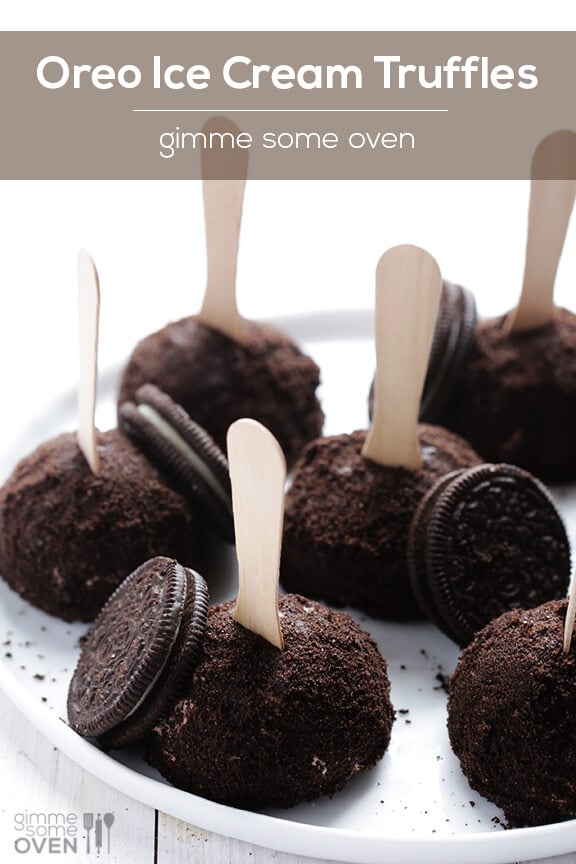 Disclaimer: this post contains affiliate links.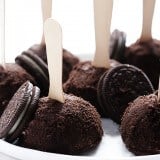 Oreo Ice Cream Truffles
Oreo-coated ice cream truffles are a fun way to enjoy this sweet treat.
Ingredients:
ice cream (I used Haagen-Dazs Dark Chocolate Chip Gelato)
finely ground Oreos
(optional) popsicle sticks
Directions:
Place a large baking sheet in the freezer for 10 minutes to chill.
Using an ice cream scoop (I used a large scoop), add scoops of ice cream to the chilled baking sheet and immediately return to the freezer. Let scoops chill in the freezer until frozen again, at least 20 minutes.
Place ground Oreos in a bowl. Then one at a time, use a metal spatula to quickly remove a scoop of ice cream from the freezer and transfer to the bowl of ground Oreos. Roll it around until all sides are coated. Return to the chilled baking sheet, and place a popsicle stick in the middle of the truffle. Repeat with remaining ice cream balls until all are coated.
Serve on a chilled plate and enjoy immediately.
All images and text ©
If you make this recipe, be sure to snap a photo and hashtag it #gimmesomeoven. I'd love to see what you cook!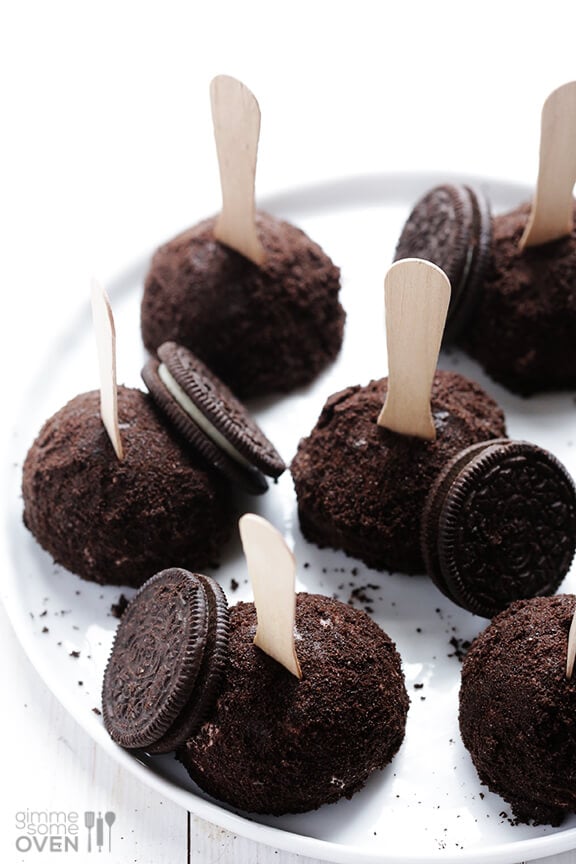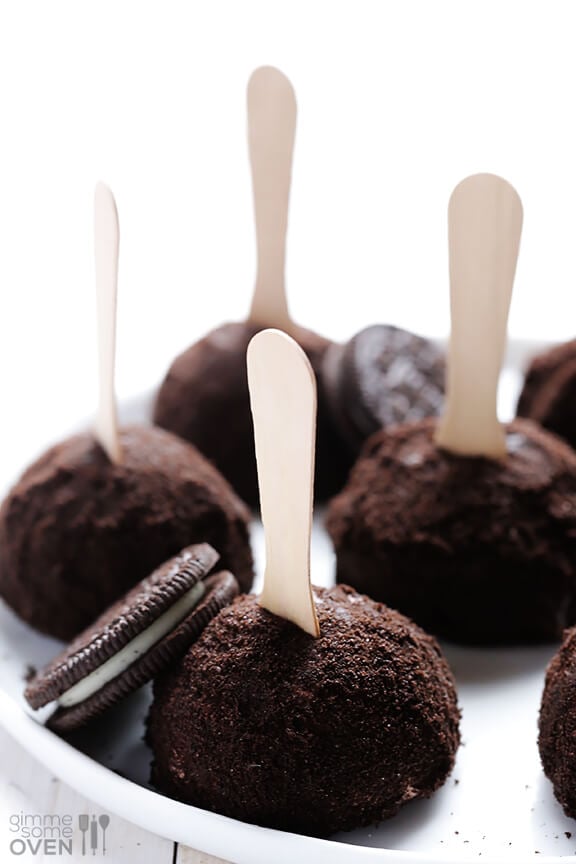 Disclaimer: For three months, I have been partnering with Haagen-Dazs on their Moments For Me campaign.  I have not been compensated, but received gifts to help cultivate special moments in my days.  All opinions are 100% my own, as always.  This post also contains affiliate links.