Pasta with Artichokes, Tomatoes and Feta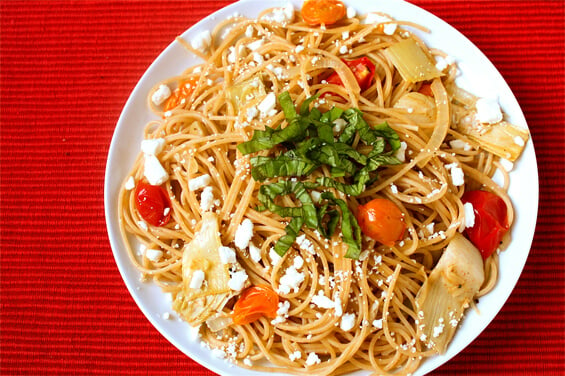 My cherry tomato plants are the rockstars of my garden this year.
It's true.  They were my first plants to produce a harvest, and (even despite not being watered quite as much as they would have liked) continued to produce a few zillion tomatoes all summer long.  But the best part is that they're not done!  Apparently they missed the memo that we're moving into fall, and are still producing like crazy.  So cheers to my little overachieving plant!
In my continued efforts to put all of those little gems to use, decided to cook up a simple pasta dish to get some carbs tonight before I went on a l-o-n-g evening walk with a friend.  Had a jar of artichoke hearts that needed to be used, so combined them with some feta, fresh basil, and a garlicky white wine sauce.  And the result?  Quite delightful!  Very nice and light and summer-y (or so I'm still pretending).
The original recipe that I based this on also included kalamata olives (to give it a more Mediterranean flare), which I'm sure would be quite nice if you're an olive person.  (As of yet, I am not.  Trying…but still not a fan.)  Feel free to also add or sub in whatever other fresh veggies you have on hand.  Or if it's winter and you don't have good, fresh tomatoes onhand, you could always add a can of diced tomatoes to the sauce.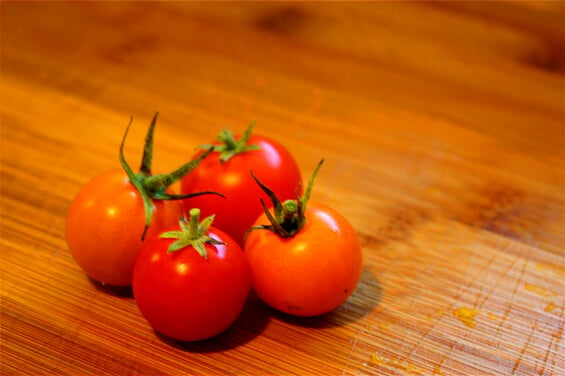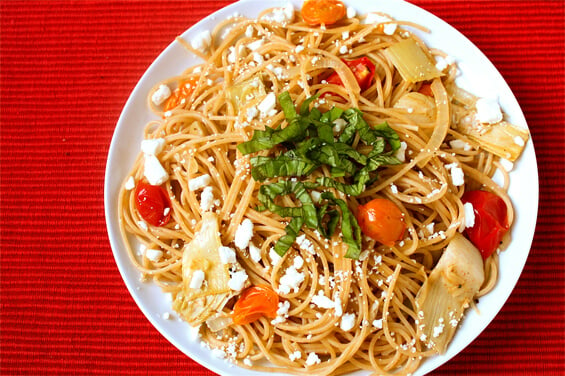 Pasta with Artichokes, Tomatoes and Feta
This Pasta is so satisfying and perfect for a summer dinner!
Ingredients:
Coarse salt and ground pepper
12 ounces whole-wheat spaghetti
2 Tbsp. extra-virgin olive oil
1/2 medium onion , thinly sliced, lengthwise
4 garlic cloves, minced or thinly sliced crosswise
1/2 cup dry white wine
1 (13.75 oz) can artichoke hearts, drained, rinsed, and quartered lengthwise
1 pint cherry or grape tomatoes , halved lengthwise
1/3 cup crumbled feta or grated Parmesan cheese, plus more serving
1/2 cup fresh basil leaves, julienned or torn
Directions:
In a large pot of generously-salted boiling water, cook pasta until al dente according to package directions. Drain, reserving 1 cup of pasta water. Return pasta to pot.
Meanwhile, in a large skillet, heat 1 tablespoon oil over medium-high. Add onion and garlic, season with salt and pepper, cook, stirring occasionally until browned, 3 to 4 minutes. Add wine and cook until evaporated, about minutes.
Stir in artichokes and cook until starting to brown, 2 to 3 minutes. Add olives and half of the tomatoes; cook until tomatoes start to break down, 1 to 2 minutes. Add pasta to skillet. Stir in remaining tomatoes and 1 tablespoon oil. Thin with reserved pasta water if necessary to coat the spaghetti. Transfer to plates and garnish generously with cheese and basil.
If you had extra time on your hands, I imagine this would taste fantastic if you roasted the tomatoes and artichokes.  Just note that artichokes will take considerably less time than the tomatoes, and only need to be roasted until they begin to brown.  Then just add them to the garlic and white wine sauce, and voila!
If you make this recipe, be sure to snap a photo and hashtag it #gimmesomeoven. I'd love to see what you cook!