Pepperoni Italian Chopped Salad
This post may contain affiliate links. Please read my disclosure policy.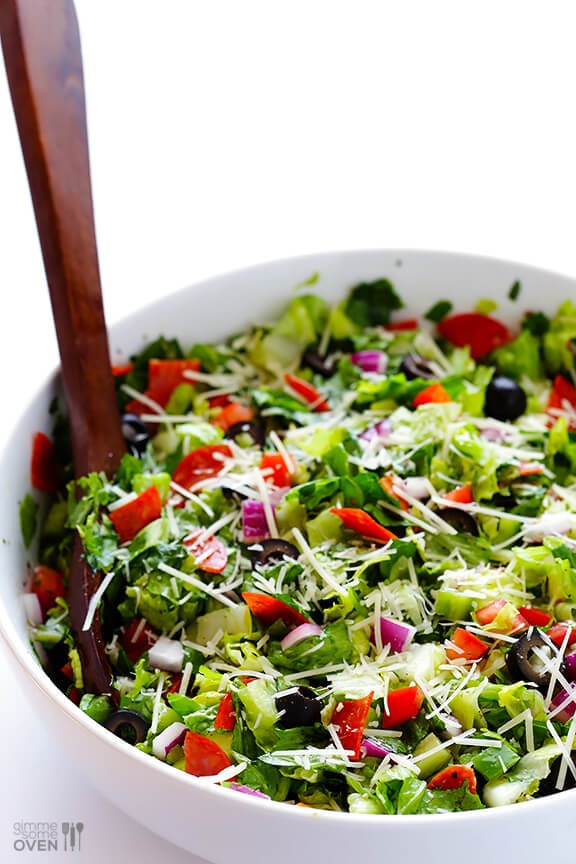 Are you good at using up the ingredients in your refrigerator?
I tend to keep a pretty good eye on the party happening in my fridge, and try to use up as many ingredients as I can before they go bad. But there are a few ingredients I never seem to get through. For example, celery. I buy bags of celery all the time to make soups and such, and give myself a little pep talk about how I'm going to be a Super Celery Snacker and make extra homemade broth and make Ants On A Log until those stalks are used up. And then two weeks later, it's the bad kind of "soupy" happening in my fridge. #CeleryFail.
Or milk. I'm not a dairy milk drinker, but instead buy almond milk for about 90% of my milk needs. But every now and then when a recipe requires dairy milk, I'll pick up a carton and stare long and hard at the expiration date for a minute to try and drill it into my brain. Inevitably, my mom will be visiting a few weeks later though and pick up my milk for a recipe and notice that it is, oh, just three weeks past its expiration date. And to make matters worse, when she goes to pour it out, it has — shall we say — passed its "milky" stage. #GotExpiredMilk.
But I will admit that there is one ingredient I have figured out how to conquer as a single person: pepperoni. I will admit that, at age 31, I still very much like liberal amounts of pepperoni on my pizza. And I treat myself to little mini pizzas probably at least once or twice a month. But I'm convinced that those bags of pepperonis are designed for families of 4. Because even with a few loaded pepperoni pizzas in a season, I still hardly make a dent in that bag! Yes, freezing it is one solution. But I have come up with another that is equally delicious: pepperoni salad.
Specifically, this Pepperoni Italian Chopped Salad.
It's #pepperonitastic.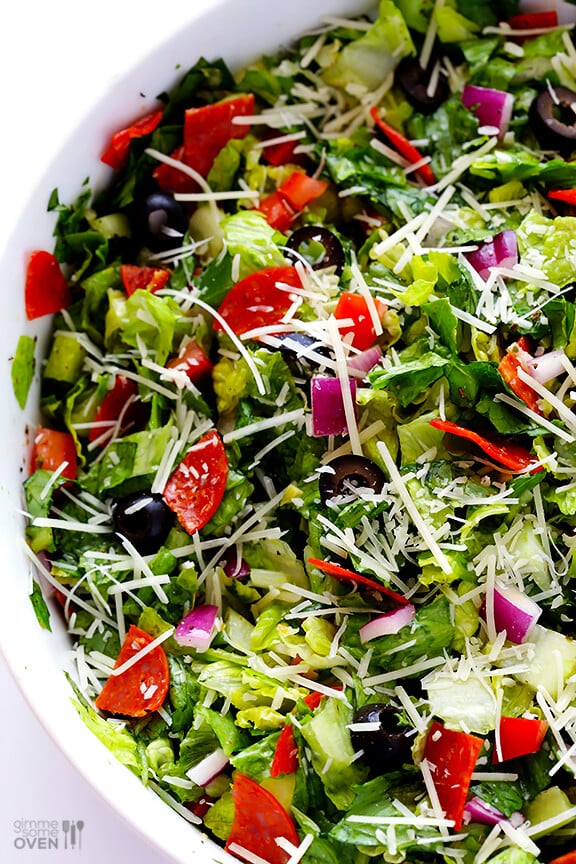 I don't know why it took me nearly a decade of cooking to have the lightbulb click on with adding pepperoni to my salads. But now that it has, you'd better believe that this is one of my new favorite side salads. And on more than one occasion, I've enjoyed it as my entire meal.
I love this salad!!!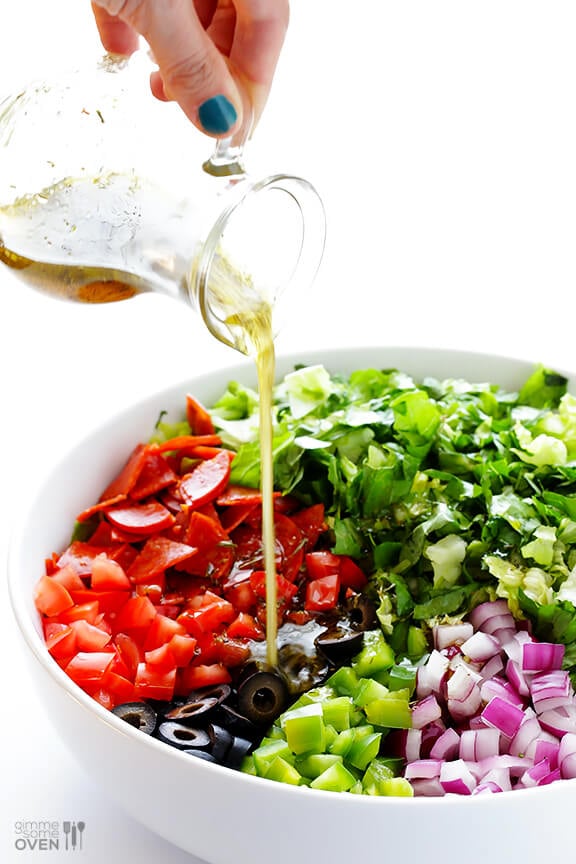 I will admit that the ingredients behind it aren't rocket science. I basically took all of my favorite pizza ingredients — pepperoni, tomatoes (in place of sauce), green pepper (which I love on pizza), red onion, and lots and lots of Romaine. And then I topped it with a simple Italian vinaigrette.
Oh, and for my little sister, I added in some black olives. I'm still not a big fan, but I hear that most of the world is crazy about them. You can decide whether or not to "olive".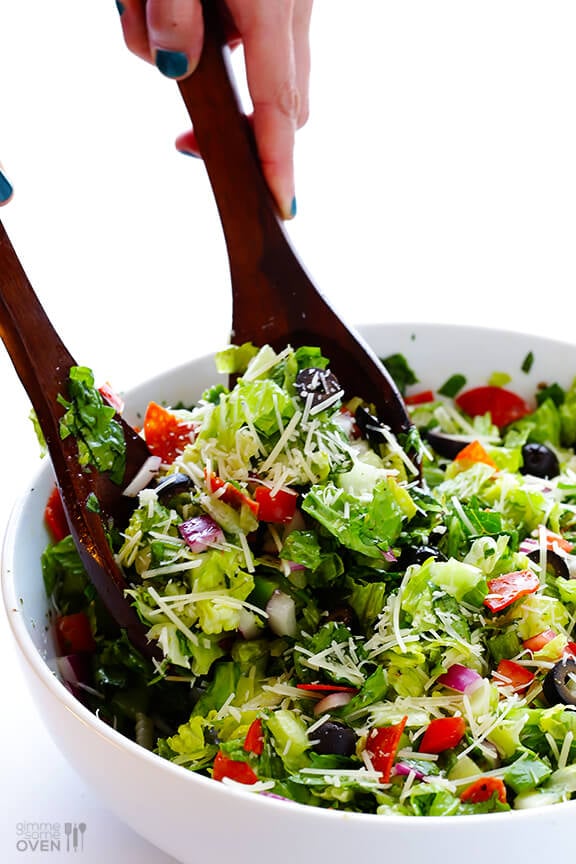 Instead of mozzarella cheese, I like to get a little extra flavor for my calories and add on a bunch of shredded Parmesan.
And behold your beautiful, fresh, colorful masterpiece! The colorful part in thanks, mostly, to our dear pepperoni. Look at how they brighten up that Italian salad!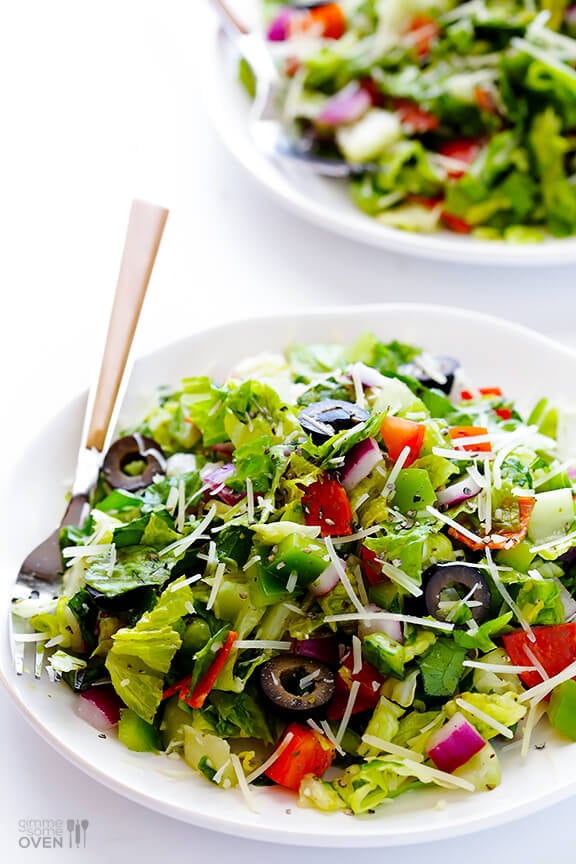 It's perfect as a side dish with paired with my favorite Skinny Fettuccine Alfredo, or this Olive Garden-inspired Zuppa Toscana soup, or this Chicken Parmesan Baked Ziti. Or it also happens to pair fabulous with a good old fashioned pizza night.
I'm sharing the recipe for this Pepperoni Italian Chopped Salad today over on the ALDI blog, who happen to also make some pretty fabulous pizzas that you can take home to bake yourself. (Be sure to look for new pizzas in the Special Buys section too. They have some really good ones right now!)
So go grab that bag of pepperonis and put them to use. Go on! :)
Again, you can find the recipe for this salad here, as this is a sponsored post in partnership with ALDI. It's no secret on the blog that I have long been a devoted ALDI fan, and all opinions are my own as always. Thank you, though, for supporting them and the other brands which help make this site possible.