Piña Colada Cupcakes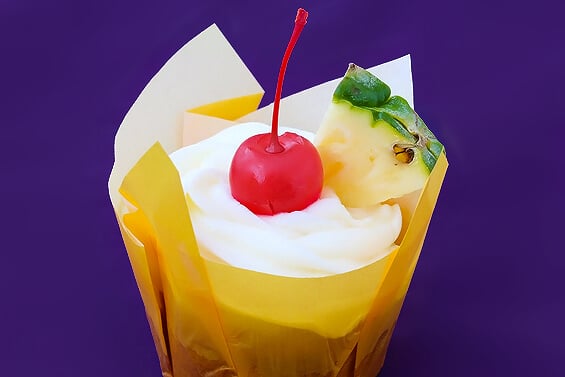 Happy National Rum Day!
Before I even found out that such a "holiday" existed, my friends commented that I have been on a bit of a rum-baking kick this month.  It's true.  After making my favorite rum cake, and an improvised version of pineapple foster (improvised with some pineapple tidbits onhand one night), I recently decided to turn one of my favorite frozen drinks into a cupcake.
Yes, I admit….I am a big fan of piña coladas.  Living in the Midwest, there aren't too many times when this yummy tropical drink is offered on a night out.  But on a Caribbean cruise with my sister this summer, I was reminded how much I adore the classic pineapple-coconut combination.  Soooo delicious!  So upon my return, I decided to turn it into a cupcake!
This recipe is pretty straight-forward.  It is a basic pineapple, rum, and coconut cake recipe, topped with a delicious coconut cream cheese frosting.  And then of course, topped with a classic maraschino cherry and a pineapple wedge.  Delicious, rich, and so fun!  Definitely my kind of way to celebrate National Rum Day.  :)
Enjoy!!!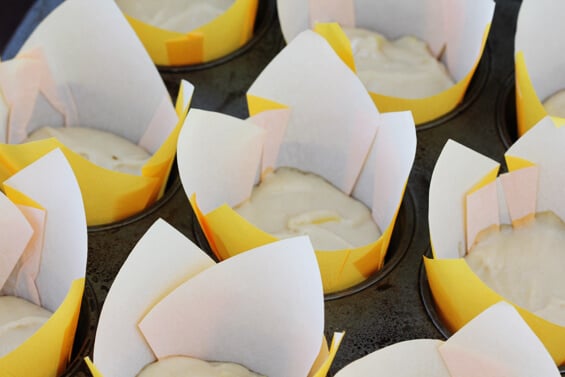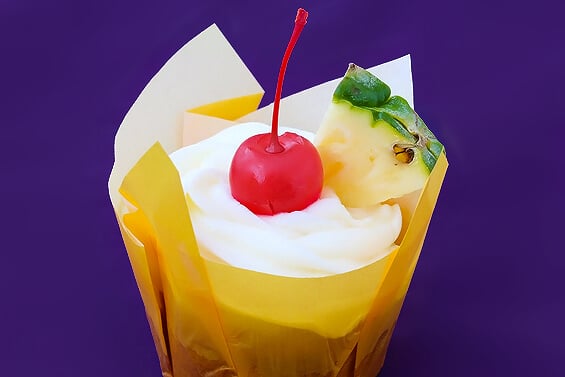 Piña Colada Cupcakes
You will love this coconut-y and delicious Piña Colada Cupcakes recipe. These bright and cheerful tropical-flavored sweets can be enjoyed on any occasion!
Ingredients:
!Pina Colada Cupcake Ingredients:
!
2 cups all-purpose flour
1 teaspoon baking powder
3/4 teaspoon baking soda
1/2 teaspoon salt
1 stick (8 Tbsp.) unsalted butter, softened
1/4 cup light brown sugar
1 Tbsp. dark rum
2 large eggs, at room temperature
1 cup cream of coconut (**not coconut milk – see note below**)
3/4 cup finely chopped fresh pineapple (or pineapple from a can, strained, juice reserved)
!
!Coconut Cream Cheese Frosting Ingredients:
!
2 (8-ounce) packages cream cheese, room temperature
1/4 cup (half a stick) unsalted butter, room temperature
3-4 cups powdered sugar (add to achieve your desired thickness)
1/2 cup cream of coconut
1 teaspoon vanilla extract
!
!Optional Toppings:
!
maraschino cherries
pineapple wedges
grated coconut
Directions:
To Make Pina Colada Cupcakes:
Preheat oven to 350°F. Prepare two cupcake pans with 24 liners.
Whisk together flour, baking powder, baking soda, and salt in a medium bowl. In a large mixing bowl, beat butter and brown sugar with an electric mixer at medium speed until pale and fluffy. Add eggs, one at a time, then add rum and cream of coconut and mix until combined. Add dry ingredients, half at a time, mixing and scraping down bowl between additions. Mix only until flour is just incorporated. Using a rubber spatula, gently fold in bits of pineapple.
Use a large cookie scoop to fill cupcake pans with batter until each is 2/3 full. Bake until golden and a wooden pick inserted in center of cake comes out clean, 35 to 40 minutes. Remove and cool for 20-30 minutes. For extra flavor, while the cupcakes are still hot, you can brush them with rum and/or pineapple juice.
Once the cake has cooled, pipe (or spread) coconut cream cheese frosting onto each cupcake. Then top with a maraschino cherry, pineapple wedge, and/or shredded coconut if desired.
To Make Coconut Cream Cheese Frosting Ingredients:
In a mixing bowl, beat cream cheese and butter on medium-high speed until smooth. Add in powdered sugar, then cream of coconut and vanilla. Chill until firm enough to pipe or spread, about 30 minutes. Mix in extra powdered sugar if needed for thickness.
Cupcake recipe slightly adapted from Smitten Kitchen.
All images and text ©
If you make this recipe, be sure to snap a photo and hashtag it #gimmesomeoven. I'd love to see what you cook!
Ali's Tip:
Cream of coconut will give the cupcakes and frosting a richer coconut flavor.  But if you can only find coconut milk in your stores, just substitute it into the cake recipe and then add an extra 3/4 cup granulated sugar.
Source: Cupcake recipe slightly adapted from Smitten Kitchen.