Pumpkin Beer Bread
Let's do a little math story problem today.
SuperCoolBlogReader loves pumpkin bread (A).
And SuperCoolBlogReader also loves beer bread (B).
So as a result, what will SuperCoolBlogReader also love (A+B)?
(       Fill in the blank       )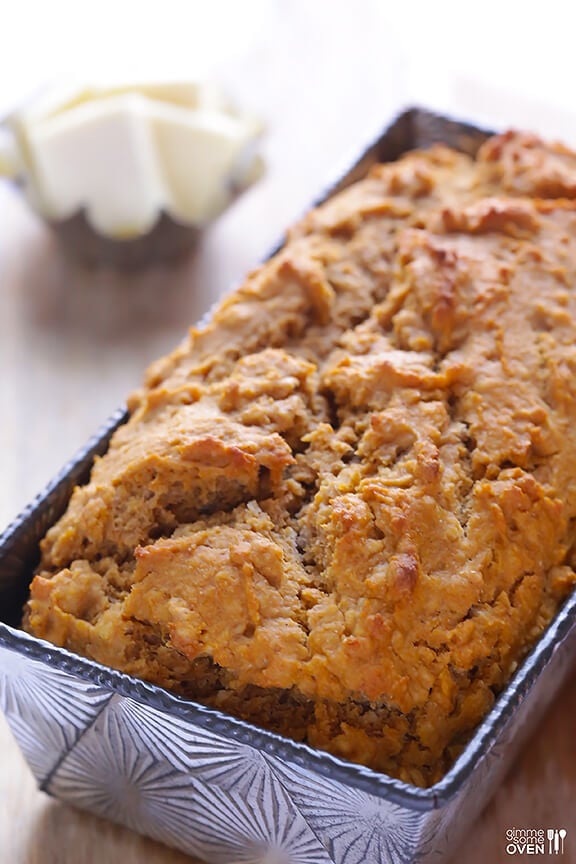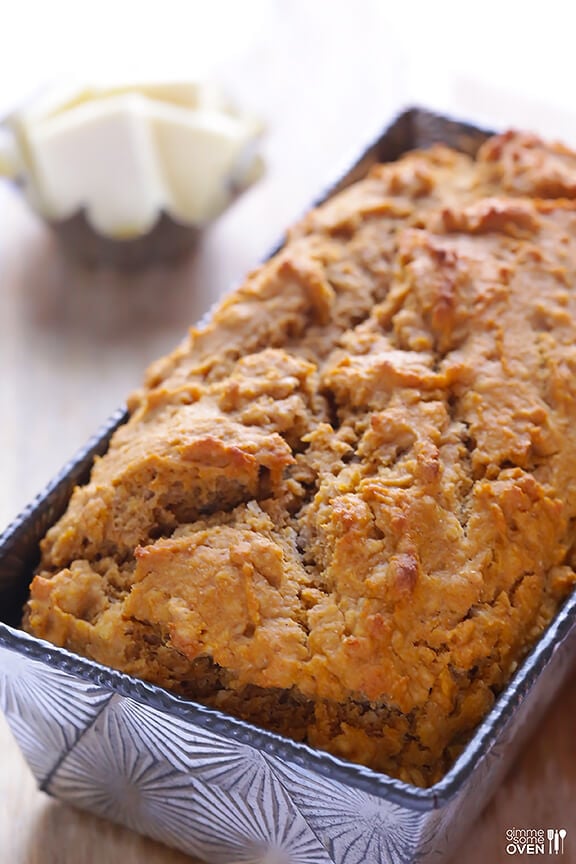 Oh yes.  I'm pretty sure that all of you SuperCoolBlogReaders everywhere are going to love this Pumpkin Beer Bread!  I mean, it's a mathematical fact.  ;)
As a SuperCoolBlogReader (ok, and writer) myself, I have long been a total fan of both beer bread and pumpkin bread.  And judging by the pageviews on this site, apparently you all are too!  The honey beer bread recipe that I posted 4 years ago on the site (as a total newbie blogger) is still one of the most popular recipes on Gimme Some Oven.  And all of our pumpkin recipes are going bonkers right now (in a wonderful, pumpkin-licious way).
So for a seasonal twist, it seemed like a no-brainer to add in some pumpkin puree and pumpkin pie spices and pumpkin ale to one of my favorite breads and turn it into a Pumpkin Beer Bread.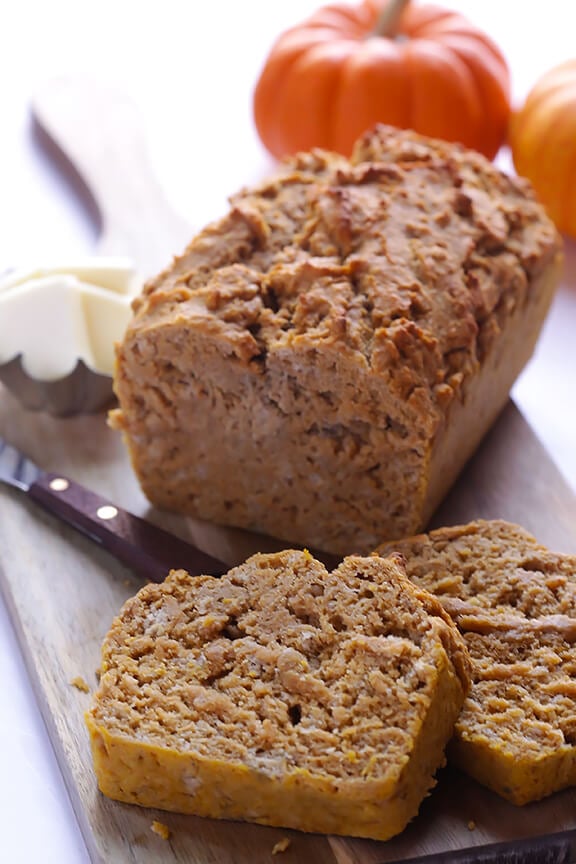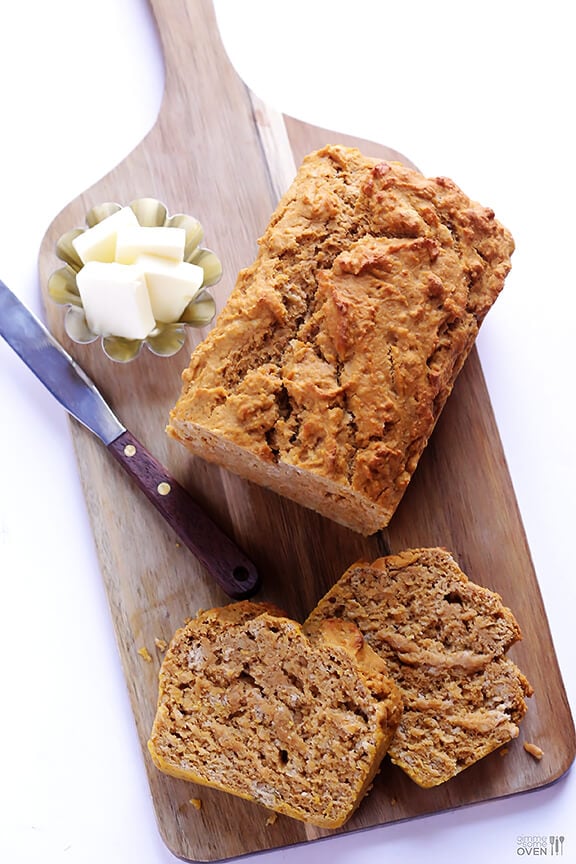 Truly, this pumpkin beer bread recipe highlights the best parts of both pumpkin bread and beer bread.  The bread was nice and tangy from the yeast, and perfectly buttery and chewy — like beer bread.  But then the bread also had a nice subtle hint of pumpkin, with a few little spices, which I loved.
To be clear, though, this bread definitely errs much more on the yeasty "beer bread" side than the sweet pumpkin bread side.  It's the perfect bread to be served with an autumn dinner, or with some nice sweet butter.
I'm pretty sure that you — yes you, SuperCoolBlogReader — are going to love it.  Enjoy!!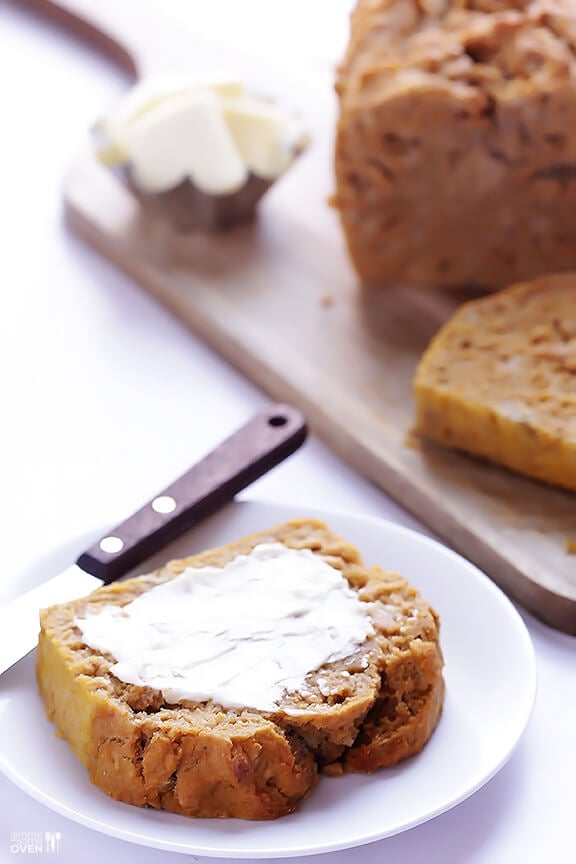 Pumpkin Beer Bread
Add some pumpkin to your beer bread for a tasty seasonal twist!
Ingredients:
3 cups flour (I used half all-purpose, and half whole-wheat flour)
1 Tbsp. baking powder
2 tsp. pumpkin pie spice, store-bought or homemade
1 tsp. salt
3 Tbsp. honey
1 cup pumpkin puree
1 12-ounce bottle of beer (I recommend trying a pumpkin ale)
Directions:
Preheat oven to 375 degrees. Grease a 9×5-inch bread pan with cooking spray, or line with parchment paper.
Stir flour, baking powder, salt, pumpkin pie spice, honey and pumpkin puree together in a large mixing bowl until combined. Slowly add in the beer, and stir until combined and smooth.
Bake for 50-60 minutes, or until a toothpick inserted in the middle of the bread comes out clean. Let bread rest for at least 5 minutes before slicing.
All images and text ©
If you make this recipe, be sure to snap a photo and hashtag it #gimmesomeoven. I'd love to see what you cook!