Pumpkin Spice Granola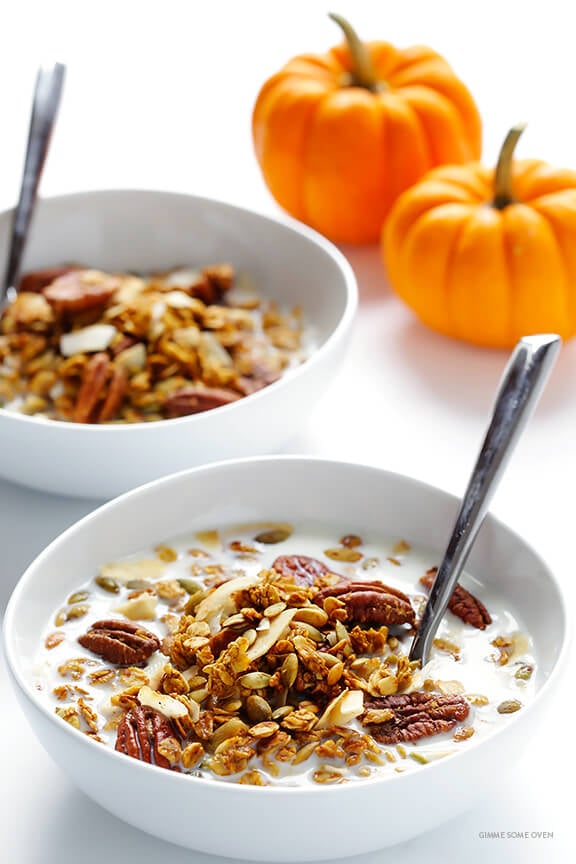 We're two days away from the official first day of fall.  But it seems as though the season for all things "pumpkin spice" is already in full swing, especially when it comes to the world's largest coffee shop chain.  Good grief, they seem to be spending a fortune advertising their newly-rebranded "Real PSL".
Which — I'll admit — is earning a bit of a "real eyeroll" from Yours Truly.
First off, I (along with so many of you) have been making "real" pumpkin spice lattes for years and years now.  I'm glad they are finally joining the real-pumpkin-puree party, but maybe a little late, eh?  Second, this is probably just me being stubborn, but a slick new marketing campaign is not going to convince me to use the acronym when I order.  I already have to rack my brain to remember the chain's non-intuitive vocabulary when ordering a drink size, and just would like to order a medium pumpkin latte, thankyouverymuch.  Third, sorry, but I'm not waiting on pins and needles until the coffee shop's official pumpkin spice release date arrives.  In my little kitchen, with great props to the joys of modern canning, every day can be pumpkin spice day!  Because if you ask me, there are far too many great pumpkin recipes out there to just limit their season to a month or two.  :)
Still, I love cozying up with some tasty pumpkin spice recipes in the fall just as much as anyone else.  So today I'm adding one new tasty treat to our pumpkin recipe collection on the blog.  It's incredibly easy to make.  It's made with (yes) real pumpkin and lots of pumpkin pie spice.  It's perfect for breakfast, snacking, or even to sprinkle on top of some ice cream for dessert.  And it is absolutely delightful.  :)
It's my "Real PSG"!  (Jussssst kidding.)
Pumpkin Spice Granola!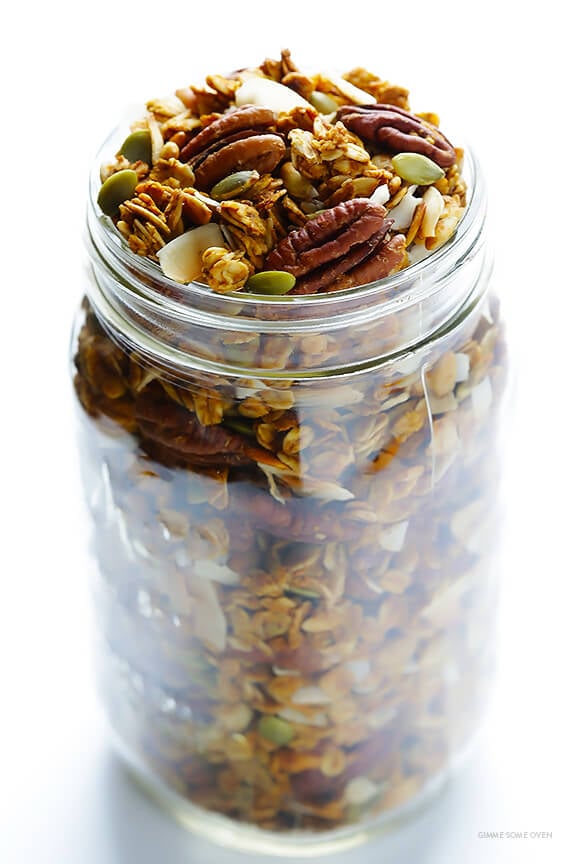 Actually, if there were ever a food that was begging to be made with pumpkin and pumpkin pie spices, I think granola would have to be it.  Those delicious warming flavors in pumpkin pie spice already include many that I use in my maple-sweetened standard granola recipe.  But then when you add in some crispy pepitas, some good-for-you pumpkin puree, and (well, some not-as-good-for-you) sweet chocolate chips if you'd like, a pumpkin spice granola turns into the perfect seasonal treat.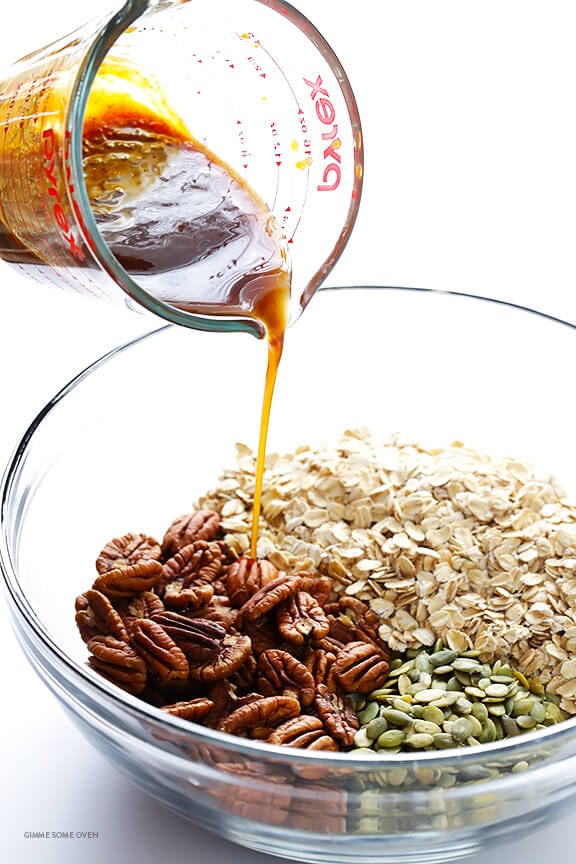 To make it, begin by whipping up a maple-sweetened pumpkin sauce with a few simple ingredients.  Pour it over some oats and whatever nuts sound good to you.  (I used a mixture of pepitas and pecans, but almonds and/or walnuts would also taste great with this recipe.)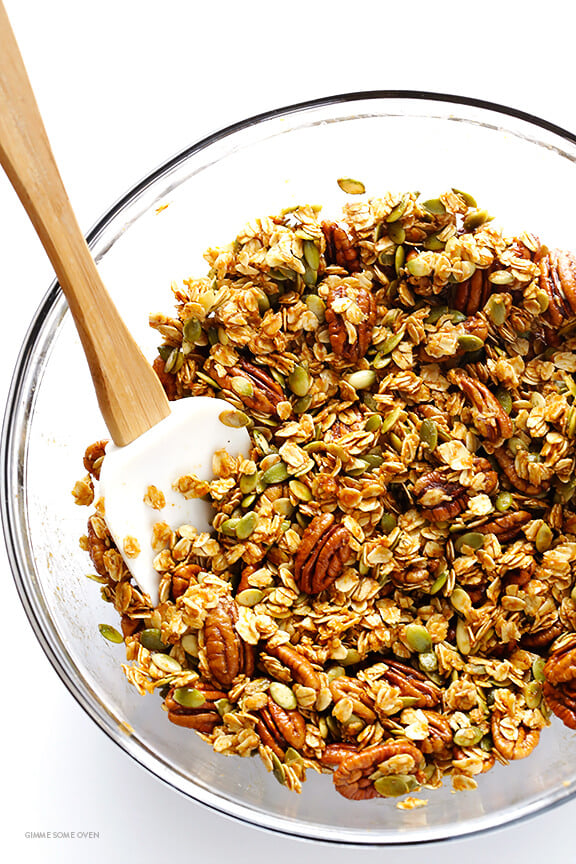 Stir it all up, and then spread it out in an even layer on a baking sheet.  Then pop it in the oven for about 15 minutes.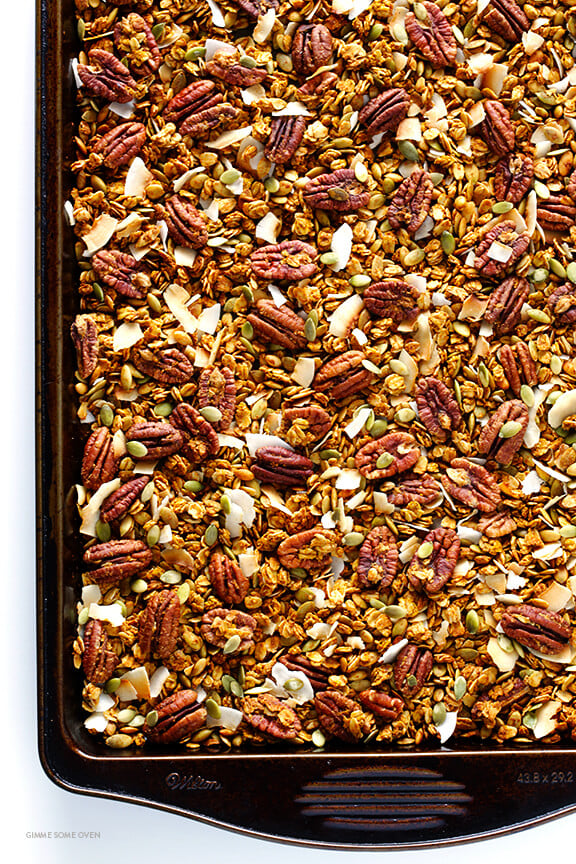 Then remove it and stir in some coconut if you'd like.  I like to add my coconut in halfway through baking so that it doesn't get too toasted, but coconut is optional with this recipe.
Pop it back in the oven for another 10-15 minutes until it's nice and toasty and golden, then pull it out and let the granola cool to room temperature.  It will crisp up quite a bit more as it cools.  If you'd like a treat, feel free to stir in some white or dark chocolate chips in with your granola.  But I actually just like mine plain.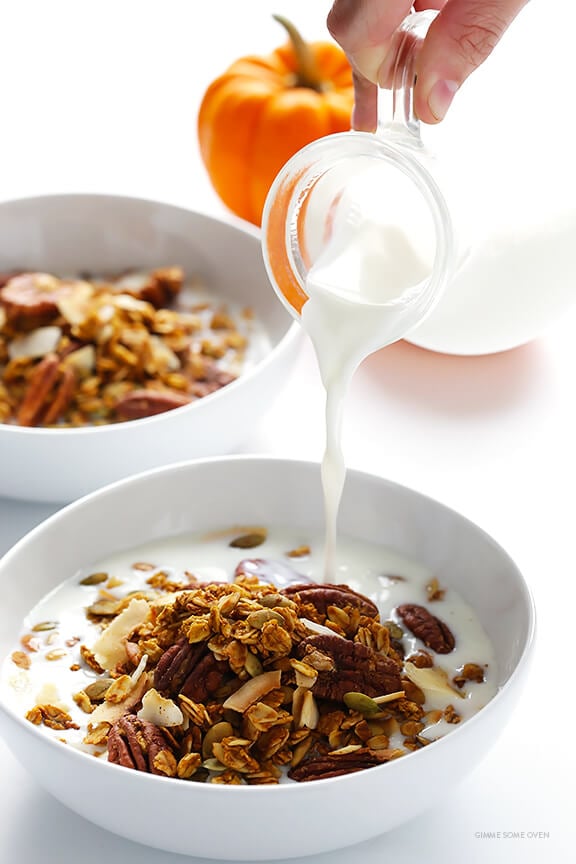 Then serve it up with some milk or yogurt (or again, I highly recommend the ice cream option for dessert)…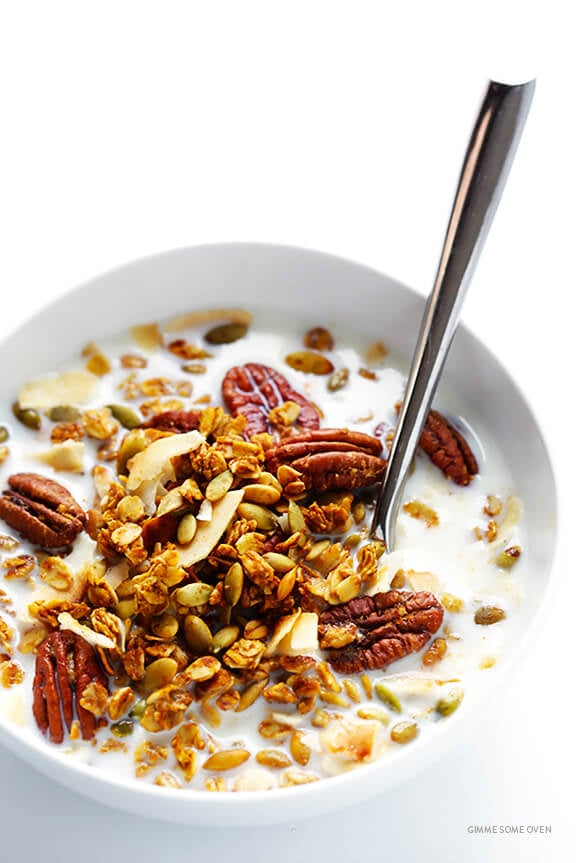 …and enjoy it any day of the year that pumpkin sounds good to you.  ;)
Hope that you love this one as much as I do!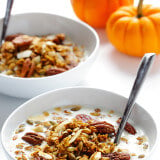 Pumpkin Spice Granola
This Pumpkin Spice Granola recipe is maple-sweetened, made with real pumpkin puree, and it is absolutely delicious!
Ingredients:
2 cups old-fashioned oats (use certified gluten-free oats if making this GF)
1 cup raw pecan halves
1 cup raw pepitas (pumpkin seeds)
1/4 cup maple syrup
1/4 cup melted coconut oil
1/4 cup pumpkin puree
1 1/2 teaspoons pumpkin pie spice, store-bought or homemade
1/4 teaspoon vanilla extract
1/2 teaspoon salt
(optional) 1/2 cup shredded or shaved coconut
(optional) 1/2 cup white or semisweet chocolate chips
Directions:
Heat oven to 350°F.  Spray a large baking sheet with cooking spray, or line it with parchment paper.  Set aside.
Combine the oats, pepitas and pecans in a large mixing bowl.  In a separate bowl, whisk together the maple syrup, melted coconut oil, pumpkin puree, pumpkin pie spice, vanilla extract, and salt together until smooth.  Pour the maple syrup mixture over the oats mixture, and toss until everything is evenly mixed.
Spread the granola mixture out evenly on a greased or parchment-lined baking sheet and bake for 15 minutes.  Remove from the oven and add in the coconut (if using) and give everything a good stir.  Return the granola to the oven and cook for an additional 10-15 minutes, or until the mixture is golden.  Remove and let the granola cool until it reaches room temperature.  Stir in the chocolate chips (if using).
Serve immediately, or store in a sealed container for up to 2 weeks.
All images and text ©
If you make this recipe, be sure to snap a photo and hashtag it #gimmesomeoven. I'd love to see what you cook!