Rainbow Chard Banana Smoothie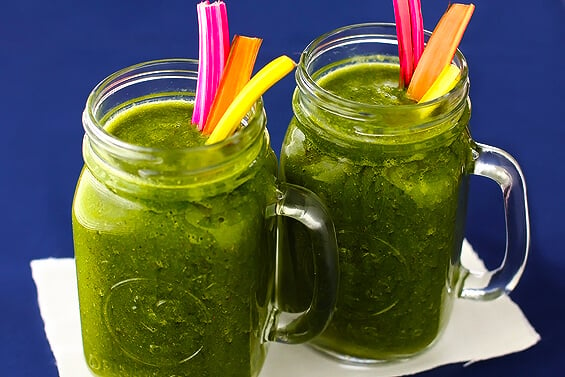 Sommmme…wherrrrrrrre…ooooover the rainnnnbowww……
This.amazingly-delicious-rainbow-chard-smoothie-dream that you dared to dream….really will come truuuuuuue……..
Ha, ok being from Kansas, I probably should not willingly offer up a "Wizard of Oz" reference.  (For all of you folks from other states who proudly pull a "you're not in Kansas anymore" line out of your pocket when we're traveling…trust me.  We've heard it.  A thousand times.)
But I actually love Judy Garland.  And (real) rainbows.  And now…rainbow chard smoothies!
I couldn't resist those gorgeous colorful bunches at our farmer's market this weekend.  So decided to turn them into a simple, delicious green smoothie with my rockin' new Blendtec.  I had some ripe bananas and orange juice on hand, so that was my combination of the week.  But for all of you who love green smoothies, would totally encourage you to mix it up and throw some chard into the mix next time!  It's a little more potent than spinach, but great in smoothies and so good for you!
What are some of your favorite green smoothie combinations lately?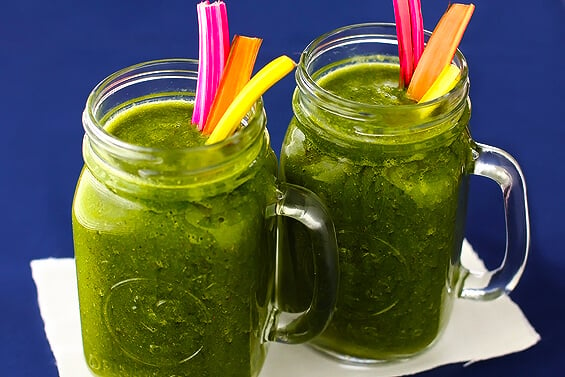 Rainbow Chard Pineapple Smoothie
You'll love this simple, delicious, and colorful rainbow chard banana smoothie recipe. It's colorful, healthy, and ready to go in less than 5 minutes!
Ingredients:
3 cups loosely-packed rainbow chard leaves (stems removed)
2 bananas, frozen
1/2 cup orange or pineapple juice
1 Tbsp. ground flax seed
1 cup ice
Directions:
Pulse all ingredients together in a blender until blended.  Serve immediately or freeze.
Ali's Tip:
You can also blend the stems into this smoothie, but they will add some bitterness.
All images and text ©
If you make this recipe, be sure to snap a photo and hashtag it #gimmesomeoven. I'd love to see what you cook!