Rose Cake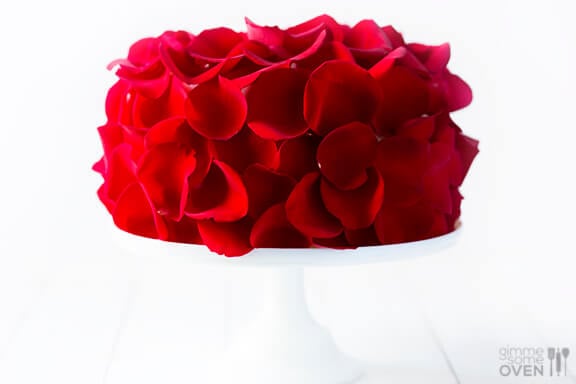 Friends, I made you a rose cake!
And yes, those are real roses.
And yes, they are edible!
I know, it was news to me too.  I have been hearing everyone rave about the edible flowers trend right now, so decided to do some investigating.  And it turns out that so many of my favorite flowers can be enjoyed in a vase on the table as well as your dinner plate — roses included!  Apparently the more vibrant the rose petals — such as deep red or pink varieties — the stronger the flavor.  Whereas the lighter or white roses are a little more mild.
So I decided to go red and experiment with a rose cake recipe.  I began with a classic 3-level white cake, accented with a hint of rose water (see notes below for where to buy).  Then I (gasp!) chopped up a single red rose and incorporated it into a yummy vanilla rose buttercream.  And then for the grand finale, I layered some beautiful red rose petals along the outside.  And the photos hardly do it justice.  This cake was beautiful.
Still, I have to admit I was a little nervous about taste-testing a cake with all of these "edible" flowers.  So I invited a bunch of friends over to join me.  To my surprise, everyone loved it!!!  Granted, we all are very familiar with the smell of roses, so maybe it shouldn't have been such a surprise that we enjoyed tasting them too.   But I think what was so fun was the entire experience of admiring and eating such a lovely cake.  Every single layer — from the moist white cake, to the mild hints of rose in the buttercream, to the decorative roses on the cake — made for great conversation.  So fun to try together!
I'm sure there will be all sorts of questions about this rose cake recipe, from what kind of roses to buy, to where you find rose water, to whether to coat the rose petals, etc.  So I've included a brief Q&A below, but also encourage you to do your own research on edible flowers if you're interested, since I'm no expert.  But this was definitely a really fun one!  So if you love roses and are feeling brave, I completely recommend giving it a try.  (And if you do, you must send me a picture!)  :)
Happy rose-cake-making!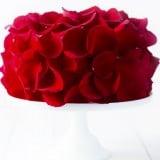 Rose Cake
Fresh roses make this cake all the more beautiful inside and out!
Ingredients:
Rose Cake Ingredients:
3 1/3 cups cake flour (13.5 ounces), plus more for dusting the pans
1.5 cups milk, room temperature
9 large egg whites, room temperature
1.5. almond extract
1.5 tsp. vanilla extract, store-bought or homemade
1.5 tsp. rose water  (or you can substitute more almond extract)
2 2/3 cups granulated sugar (18 ounces)
3 Tbsp. baking powder
1.5 tsp. salt
18 Tbsp. unsalted butter (2 sticks + 2 Tbsp), softened
8-10 roses, petals removed and rinsed
Rose Buttercream Ingredients:
1.5 cups (3 sticks) unsalted butter, softened
2 lbs. powdered sugar
3 tsp. rose water
2 tsp. vanilla extract, store-bought or homemade
the petals from one rose, finely chopped
1/4 cup milk (or water)
Directions:
To Make The Rose Cakes:
Heat oven to 350 degrees. Grease three 8-inch round cake pans with nonstick
cooking spray, then line the bottoms with parchment or waxed paper rounds. Spray the paper rounds, and then dust the entire inside of the pans lightly with flour, tapping to remove excess.
In a medium bowl, whisk together milk, egg whites, and extracts into 2-cup glass measure until blended. Set aside.
In the bowl of an electric mixer, mix together cake flour, sugar, baking powder, and salt in bowl of at medium-low speed until combined. Add butter, and continue mixing until incorporated and the mixture looks like moist crumbs. Add the milk mixture to crumbs and beat at medium speed for 2 minutes, stopping midway to scrape down the sides of the bowl.
Divide batter evenly between three prepared cake pans. (If you want to be really precise, you can weigh each cake pan to be sure that the batter is even.) Use a rubber spatula or spoon to spread the batter on top so that each pan is even. Arrange pans at least 3 inches from the oven walls and 3 inches apart. Bake for 26-30 minutes, or until a toothpick inserted in the center comes out clean.
Remove cake and let cool on a wire rack until they reach room temperature. Then frost with rose buttercream, and top with fresh rose petals.
To Make The Rose Buttercream:
In the bowl of a stand mixer, beat butter on medium-high speed until smooth. Add powdered sugar, rose water, vanilla, chopped rose petals, and milk. Beat on medium-low speed for 30 seconds to incorporate. Then increase speed to medium-high and beat for 1 minute or until smooth. To thin, add 2 tablespoons of milk at a time until the frosting reaches your desired consistency. To thicken, add milk.
If you make this recipe, be sure to snap a photo and hashtag it #gimmesomeoven. I'd love to see what you cook!
Rose Cake Q&A:
Where can I buy rose water?
Rose water is commonly available at Middle Eastern and Mediterranean grocery stores, or at specialty grocery stores, at Whole Foods, or online.  You can also check with your regular grocery store, but our two largest chains in Kansas City did not carry it.
Should I buy organic roses?
It is highly recommended.  As always, the less chemicals/pesticides in any of our food, the better.
How do you wash the roses?
I popped mine in a salad spinner, but you could also rinse them however you see fit.
Which petals on the roses did you use?
I preferred the medium-sized petals that came from the middle of the roses.  The petals on the outside seemed enormous and were often a little more flimsy.  And the ones in the very center were perhaps too small and curled.  But you can use whichever petals you like.  It's amazing how many petals are on a single rose!!
What if I don't want to eat plain rose petals?
You can also sugar-coat them.  Just brush them with a (whisked) egg white, then sprinkle with granulated sugar, and let them sit until the egg is dry.
Can I use dried rose petals?
Certainly!  They just won't look quite the same, and all of the above thoughts on washing/organic/etc hold true.  So I would dry them yourself or purchase them from a vendor who you trust and know has not coated them with chemicals.
How many rose petals can I eat?
One source that I read recommended taking it easy on edible flowers if this is your first time consuming them.  My friends and I did not experience any digestive issues, but still, anytime you eat something new it's wise to be careful.
What if I just TOTALLY don't want to eat rose petals?
No problemo.  The buttercream tastes great with just the rose water, and you could always pick the outside petals off and not eat them.  But I'd totally encourage you to at least give them a little taste test.  ;)
Help!  My rose petals won't stick!
If you wait too long to attach the petals, the buttercream will dry a bit on the outside.  But hakuna matata — just place a dab of extra buttercream on the back of the rose petal, and use it like glue to poke the petal in place.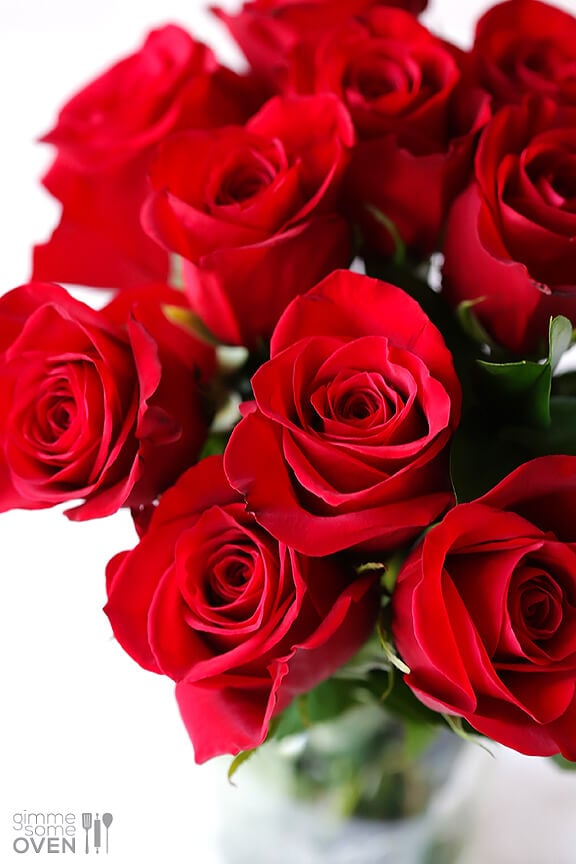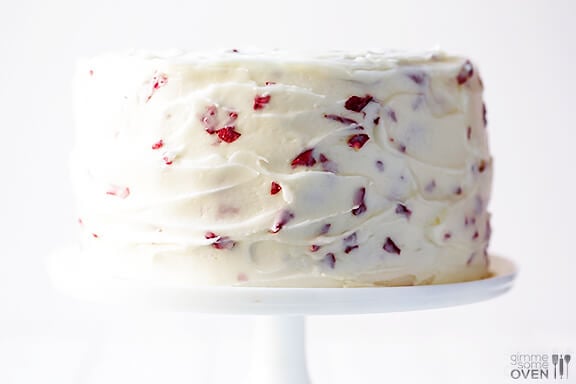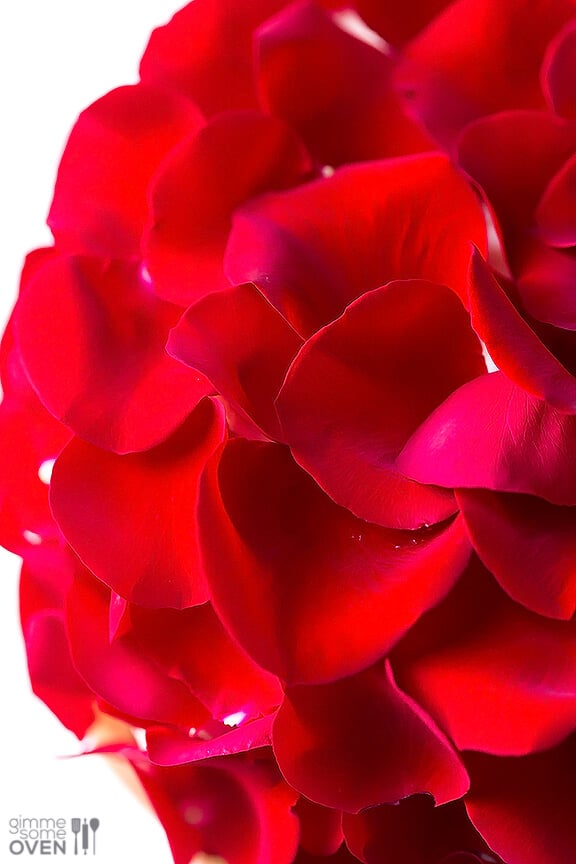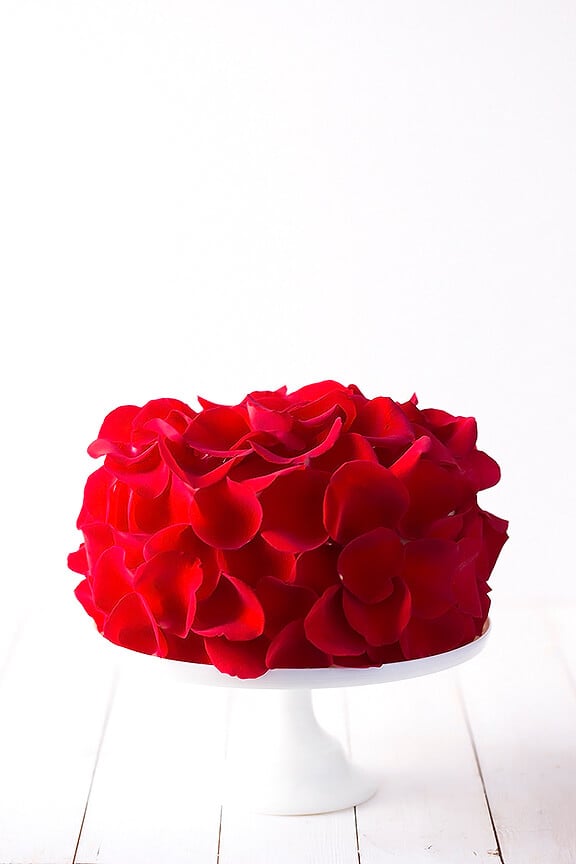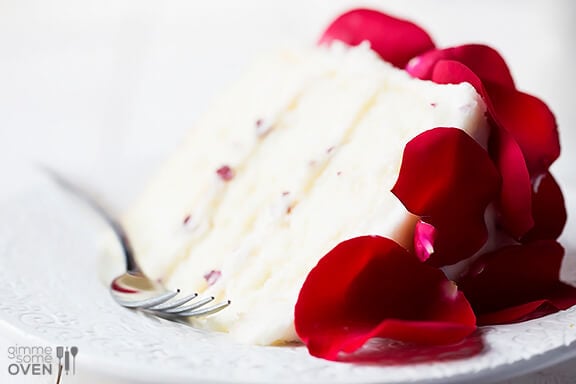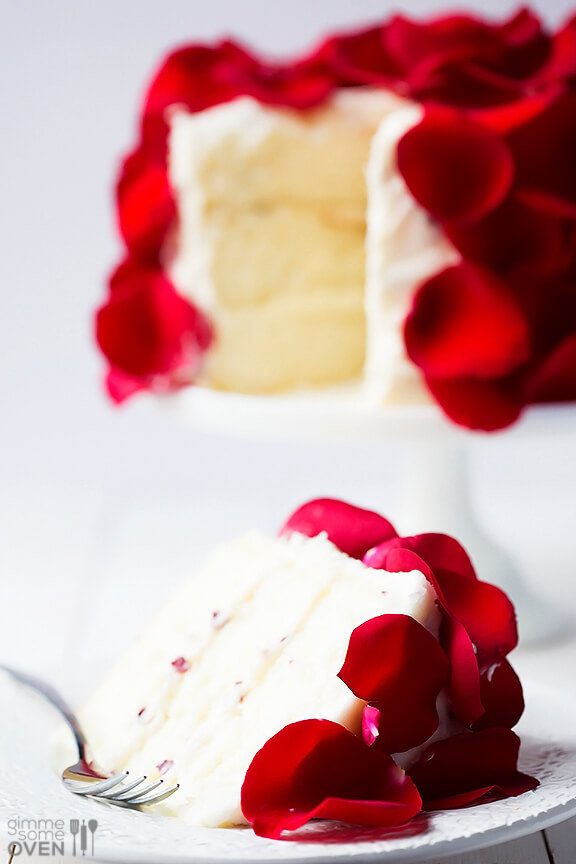 Disclaimer: This post contains affiliate links.  I also am not an expert in edible flowers, so you consume them at your own risk.  However, my friends and I loved this recipe and I completely recommend it!