Sparkling Cranberry Orange Sangria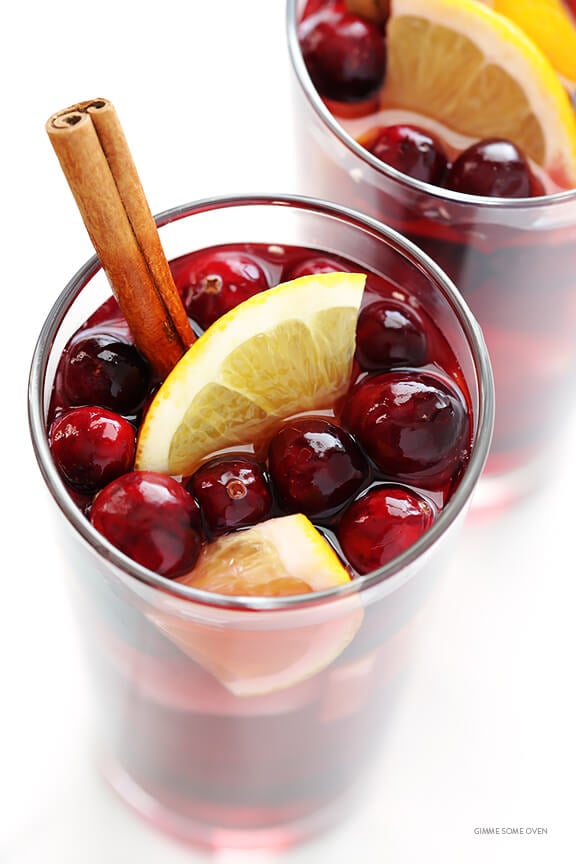 'Tis the season for friends.
And giving.
And, of course, Friendsgiving!
Somehow I lucked out this year and have had the chance to celebrate a record — not one, not two, but — three Friendsgiving celebrations this month.  And I must say, I absolutely love that this little holiday has become such a "thing".  Because any time that good friends want to gather around the table to share a good meal together, you can count me in.  :)
My first Friendsgiving invite of the year was to a gathering at my friend, Tobe's, gorgeous house.  We had been talking earlier this fall about bringing together some old and new friends from Hallmark (where I worked as a food stylist once upon a time) for a weekday meal to begin the month, and I'm so glad we actually made it happen.  Because time with this uber-creative, thoughtful, and friendly crowd always has a way of making my day.  And I love all of the meaningful little touches that they add — from a DIY grocery store flower arrangement, to cute gratitude placecards, to creating a beautiful tabletop — to make celebrations feel extra-special.
Since I was knee-deep in testing out new recipes for Thanksgiving at the time, I volunteered to cook the meal for the day.  And of course, I couldn't resist making a festive little drink to share as well.  Enter…this Sparkling Cranberry Orange Sangria!
Before we get to the sangria, though, I have to share with you a few pics that my friend, Jane Kortright, snapped at the party.  And actually, before the party as well.
While I was busy cooking up a storm in the kitchen, the ever-talented Tobe was busy beside me arranging some DIY floral centerpieces using grocery store flowers and — do you see what I see? — fresh kale and artichokes!!  Oh my goodness, so pretty, and so perfect for all of you foodies out there.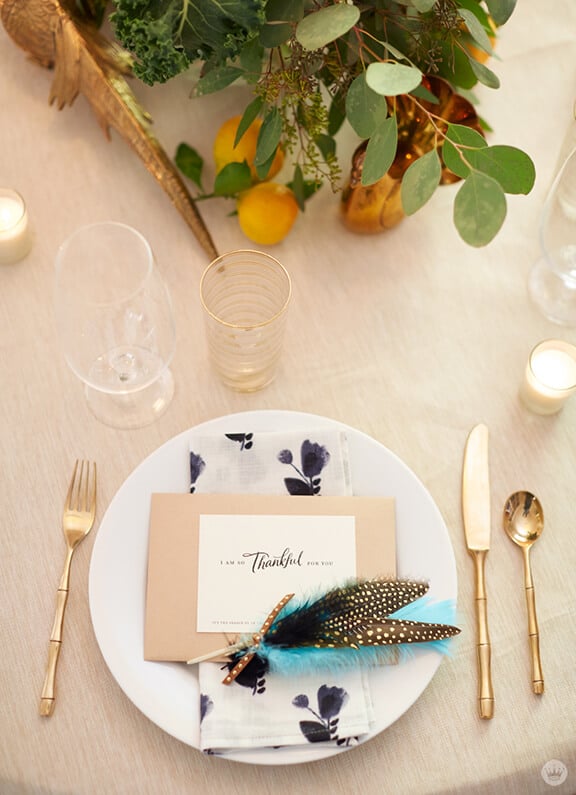 Tobe also used some cute DIY painted feathers to decorate these homemade "Thankful" place cards, which I absolutely loved.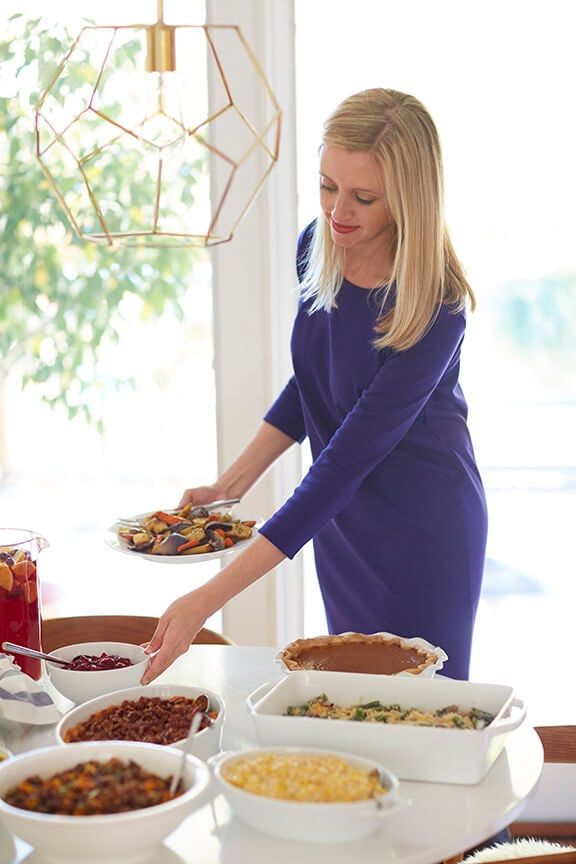 And then I was in charge of the foooood (glorious foooood).  ;)
Since there were quite a few vegetarians in the group, I decided to nix the turkey (which I generally feel "meh" about anyway) and go with a theme I had always wanted to try — a "sides-only" Thanksgiving dinner.  It was a hit!
I made my Butternut Squash Quinoa "Stuffing", Hummus Mashed Potatoes, Sweet Potato Casserole, Slow Cooker Creamed Corn, Slow Cooker Cranberry Sauce, and Bourbon Pumpkin Pie recipes, along with some roasted veggies and dinner rolls.  And even without the turkey, I think it's safe to say that no one went hungry…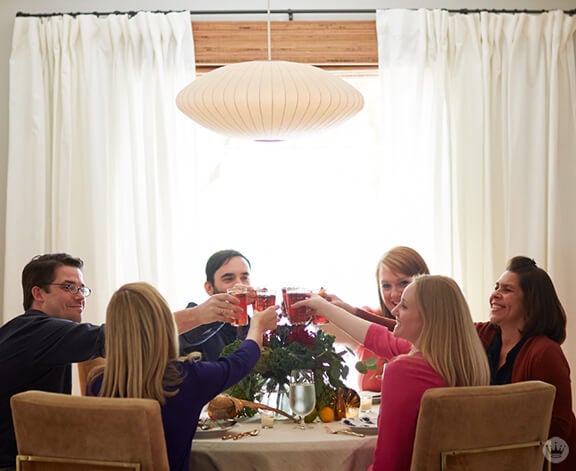 …or thirsty.  ;)
So let's talk about sangria…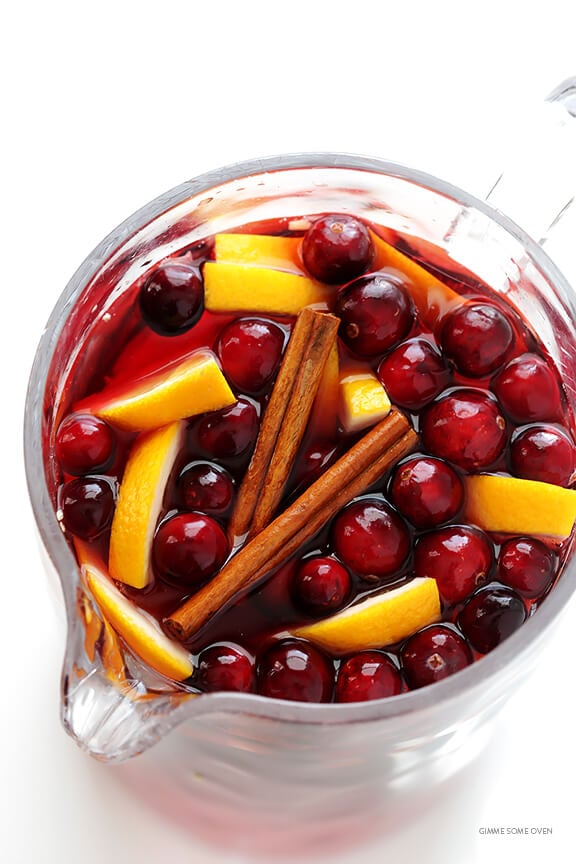 I've long said that sangria is my favorite cocktail to make for entertaining, because:
it's quick and easy to make
it lends well towards mixing up in large batches
it can be made in advance
it looks extra festive when decorated with fruity garnishes
it — most importantly — IS DELICIOUS!
And this Sparkling Cranberry Orange Sangria recipe is no exception.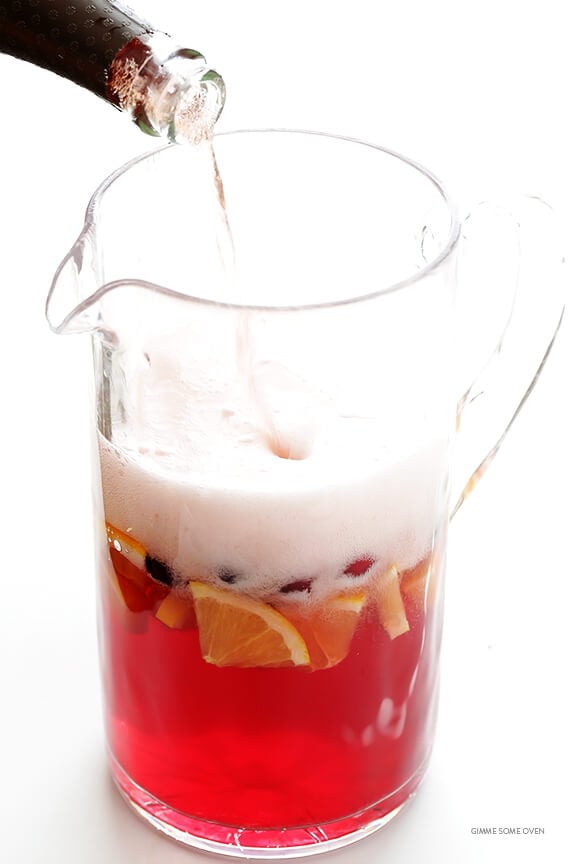 To make it, simply muddle some oranges and a cinnamon stick in some cranberry juice.  (I recommend using 100% organic cranberry juice, if possible.)  Let it sit in the fridge for awhile (or up to 8 hours) to let all of the flavors meld together.  Then when you're ready to serve, pour in a bottle of sparkling wine…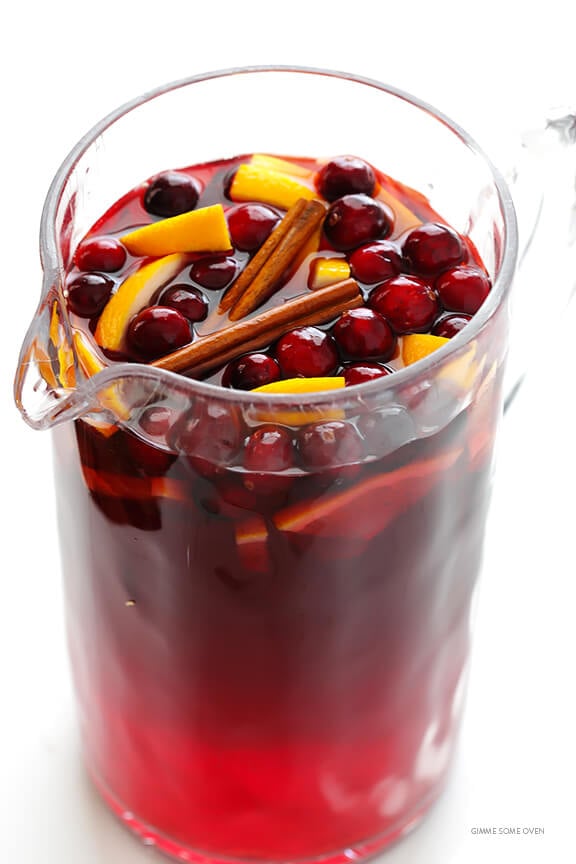 …and voila!  You're ready to go!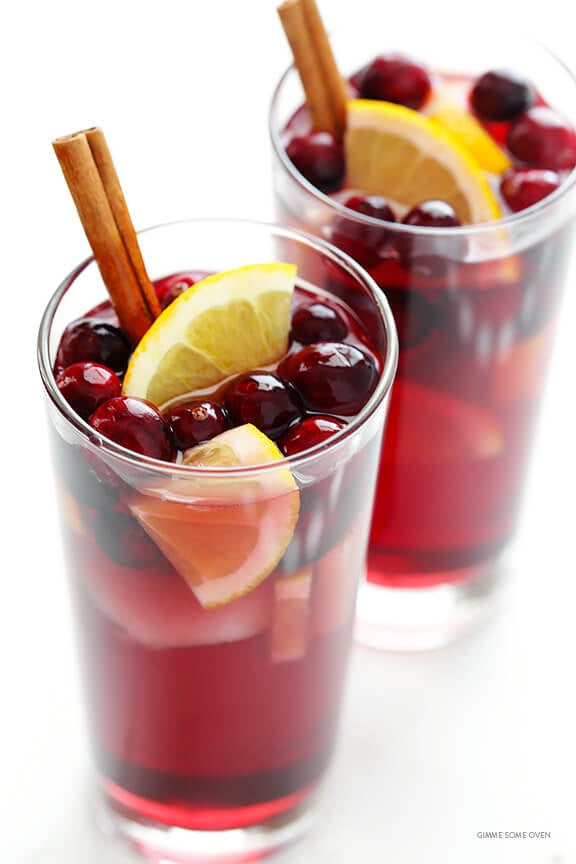 I served ours up with some extra fresh oranges, cranberries and cinnamon sticks, but feel free to garnish yours however you'd like.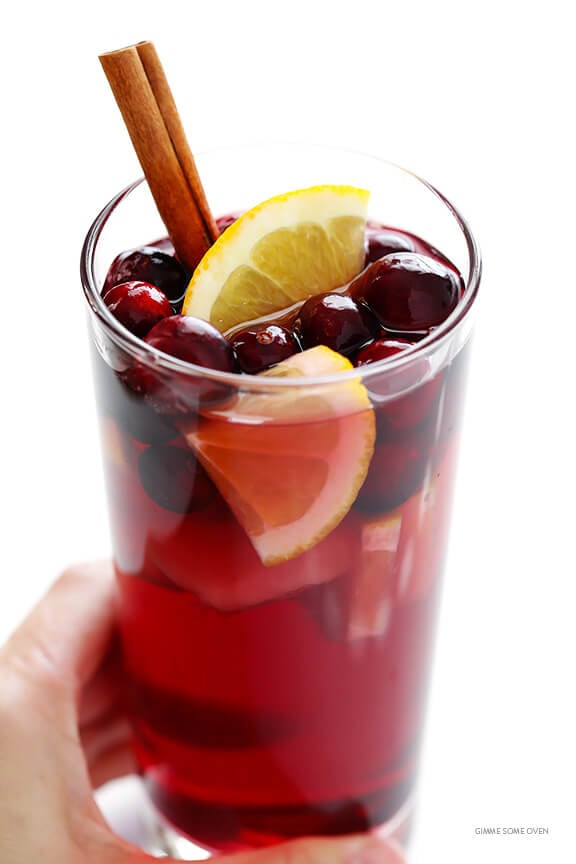 However you make it, I guarantee that this easy cocktail will come together in just minutes.  Which gives you more time to spend on your other Thanksgiving (or Friendsgiving) dishes and..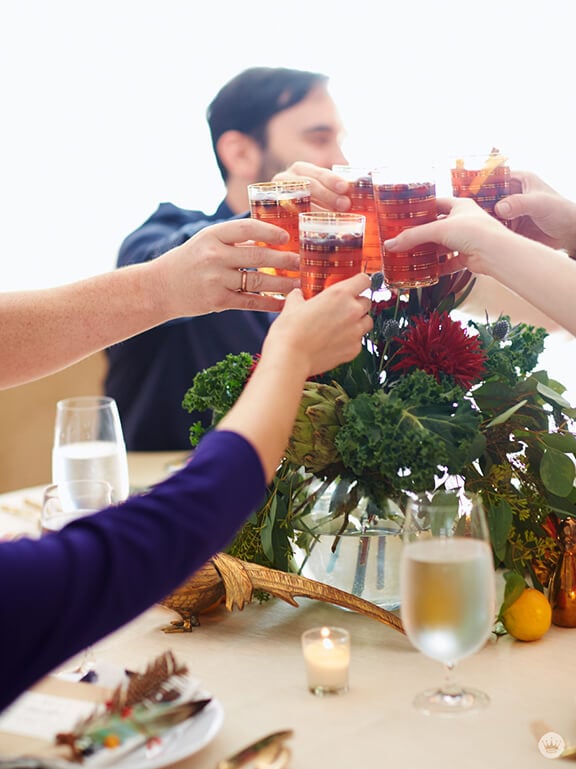 …much more importantly, more time to spend with your friends.  :)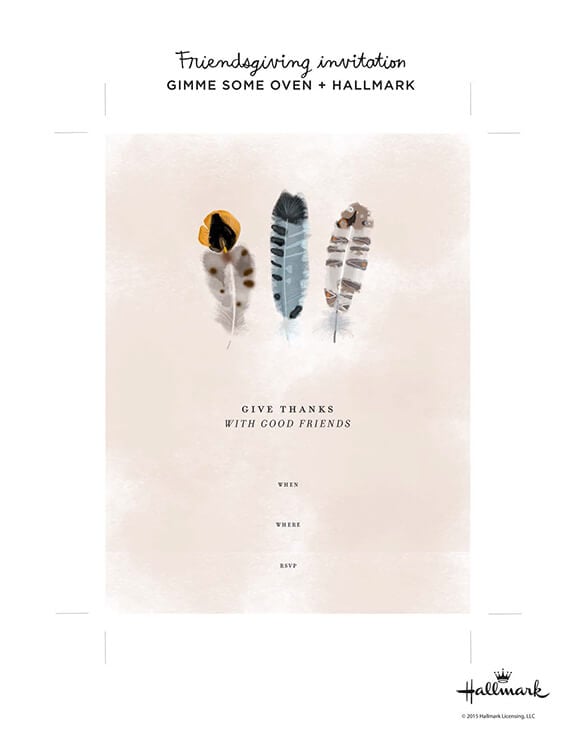 If you feel like hosting a Friendsgiving of your own, my talented friends with Hallmark's Think.Make.Share blog designed this cute invite that you can download (for free!) by clicking on the image here.  And of course, I have tons of great recipes in our Thanksgiving archive here on the blog that would be delicious for your celebration too.  ;)
So cheers to a season full of friends, and giving, and hopefully many more Happy Friendsgivings out there!
Sparkling Cranberry Orange Sangria
This Sparkling Cranberry Orange Sangria recipe is simple to make, and full of delicious holiday flavors that everyone is sure to love.
Ingredients:
Directions:
All images and text ©
If you make this recipe, be sure to snap a photo and hashtag it #gimmesomeoven. I'd love to see what you cook!