Spiced Chocolate Popcorn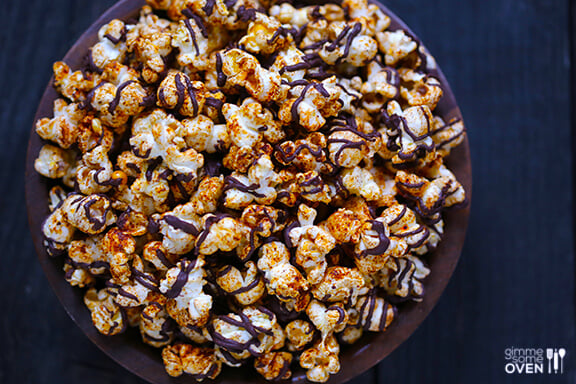 I have just spent the past four days in Tex-Mex food heaven.  So it seemed only appropriate that I kick off my week back home with a fun south-of-the-border-inspired treat — Spiced Chocolate Popcorn!
Ok, I should backtrack.
I had the complete privilege of spending the first three days of last week in sunny California at the Dole Taste Of Spain Salad Summit with some of my favorite blogging friends.  Then 8 hours after arriving home, I turned around and hopped on a plane to spend the final four days of the week in San Antonio attending their mega gourmet food festival, Culinaria.  And it was amazing.  From enjoying beautiful fresh salads and sangria and paella…to uber-trendy cocktails and corn "mousse" and one of the best Mexi meals of my life…the week has pretty much been this foodie's dream come true.

MY LATEST VIDEOS
But last night I came home and am now back to the world making my own food again.  And my own snacks, of which homemade popcorn has always been a favorite!  I realized the other day, though, that I haven't shared many of my popcorn recipes on the blog!  That's probably because they usually consist of a little dash of spice here, and a little zest there.  But still, this lack of popcorn recipes is a serious problem and must be remedied!  :)
So before I left for my foodie whirlwind, I photographed my favorite Mexi-spiced popcorn.  Although this time, I decided to kick it up a tad by drizzling it with some melted dark chocolate to give it a "Mexican chocolate" twist.  Amigos — I'm pretty sure this one may win the prize for most addicting popcorn ever.  I loved it.  And now question why on earth I don't drizzle more popcorn with chocolate.  It's so easy, delicious, and really — a little chocolate can stretch a long way with popcorn.  (And when made with dark chocolate, it's also vegan.)
Definitely a quick, easy and crazy delicious snack, and still healthier than most of the butter-drenched popcorns out there.  It is without a doubt one of my favorites!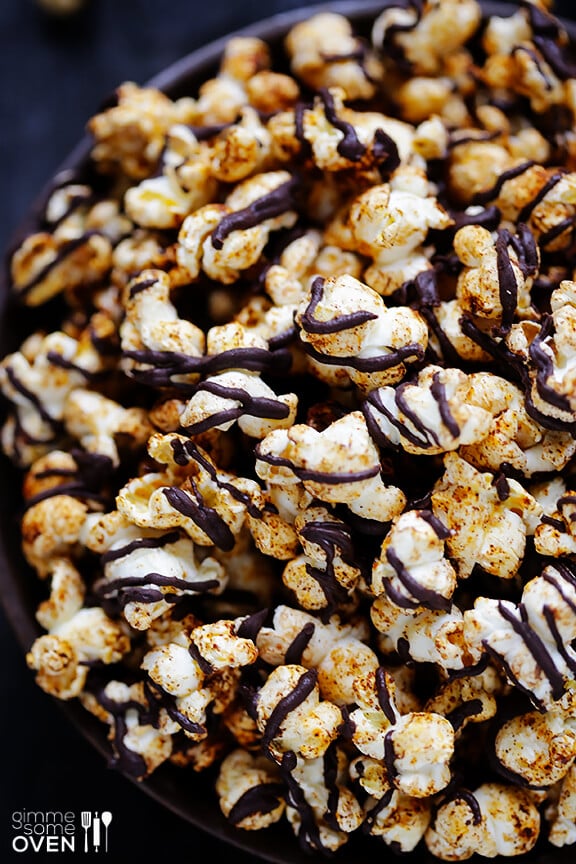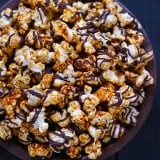 Spiced Chocolate Popcorn
All of the flavors of Mexican chocolate come together for this salty, spicy and sweet popcorn!
Ingredients:
4 cups popped popcorn (*see note below*)
2 tsp. chili powder
1 tsp. cumin
1/2 tsp. salt
pinch of cayenne
2 Tbsp. butter, melted (*or margarine or melted coconut oil to make it vegan*)
3 ounces dark or semisweet chocolate, melted in the microwave or double boiler
Directions:
To make 4 cups of homemade popcorn on the stove, add a high-heat oil (I prefer grapeseed or avocado oil, but you can use vegetable or canola) to a medium saucepan until the bottom is just barely covered (about 2-3 tablespoons). Add about 2 heaping tablespoons of popcorn kernels to the pan, or enough so that the kernels form a single even layer on the bottom of the pan. Cover pan, and turn heat to high. After a few minutes, the kernels will begin to pop. Keep the lid on, but give the pan a few good shakes as the kernels continue popping so that the bottom kernels do not burn. Once the popping slows to at least 2-4 seconds between popping, immediately remove from heat and pour the popcorn out into a serving bowl.
Meanwhile, in a small bowl, whisk together the chili powder, cumin, salt and cayenne until combined.
When the popcorn is ready, measure out about 4 cups. Then toss the popcorn with the melted butter and the chili mixture until it is evenly coated. Spread the popcorn out in a single layer on a piece of wax paper, or a foil-covered baking sheet. Use a fork or a pastry bag to drizzle the chocolate over the popcorn. Then let the it rest for 15 minutes for the popcorn to return to room temperature. (Or you can pop it in the refrigerator or freezer to speed up the process.)
Transfer to a bowl and serve.
All images and text ©
If you make this recipe, be sure to snap a photo and hashtag it #gimmesomeoven. I'd love to see what you cook!