Spicy Rosemary Peanuts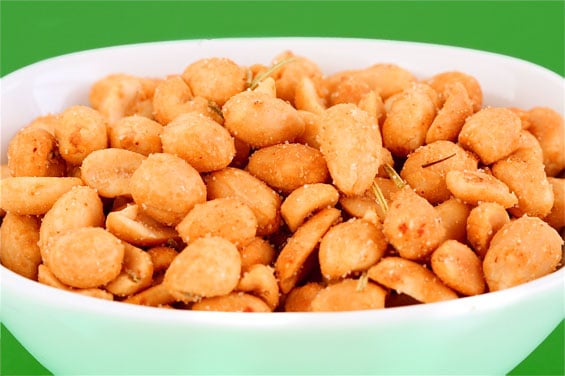 If you would have asked what recipe I anticipated being one of my favorites from '09, I'm pretty sure I never would have dreamed….peanuts!
But yes, it's true.  This recipe has quickly become a favorite.  And has now been my most requested recipe of this Christmas season.  These little guys are just irresistible!!!
The great thing is that this recipe literally only takes about 10 minutes to whip up.  And the combination of the savory rosemary and garlic, paired with the subtle heat of the cayenne, plus the extra bit of butter and salt is absolutely perfect.  And absolutely addictive.
So if you're looking for a great protein-rich snack, or a fun little appetizer to take to a party or give out as gifts, I totally recommend giving these a try!  I guarantee you'll be pleasantly surprised.  :)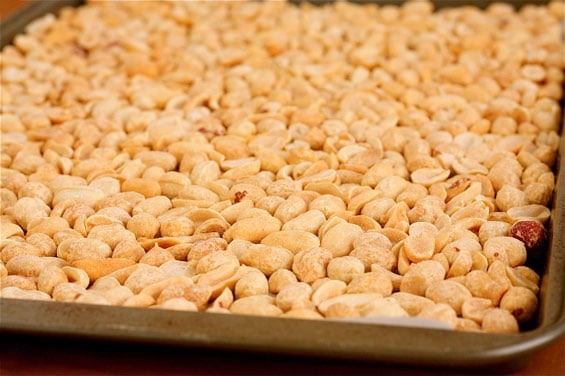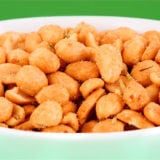 Spicy Rosemary Peanuts
Ready for a salty snack? You'll love this Spicy Rosemary Peanuts Recipe!
Ingredients:
1 lb. dry-roasted peanuts
1 Tbsp. unsalted butter, melted
2 Tbsp. fresh rosemary (or 1 Tbsp. dried rosemary), finely chopped
1 tsp. garlic powder
1-2 tsp. salt (to taste)
1/2 tsp. cayenne pepper
Directions:
Preheat oven to 375 degrees.
Line a baking sheet with parchment paper and spread out peanuts in an even layer. Toast in oven until golden, about 8 minutes.
Meanwhile, in a large bowl, combine melted butter, rosemary, garlic powder, salt, and cayenne pepper. Add hot peanuts to bowl and toss with butter herb mixture until coated. Let cool.
Ali's Tip:
If you're using dried rosemary, don't skip the chopping step!  Just giving them a quick little chop helps release even more of the flavor inside, what I call, the "little twigs".  :)  OR, it's a little more difficult to find in stores, but a good friend introduced me a few years ago to powdered rosemary as well.  Absolutely brilliant.  Still has all of the great flavor, without the twigs.  (I know it's available at Penzey's!)
If you make this recipe, be sure to snap a photo and hashtag it #gimmesomeoven. I'd love to see what you cook!