Spinach Artichoke Chicken Pizza
Calling all of you spinach artichoke dip lovers!
Allow me to introduce you to one of my new favorites — Spinach Artichoke & Chicken Pizza!  Actually, the chicken is optional, but the spinach and artichokes are a must.  This one turned out to be fantastic!
I decided to go a little "lighter" with this recipe and went with a simple garlicky olive oil sauce.  (Although if you really want a creamy pizza, this would be yummy with some alfredo sauce!)  Then layered on lots of fresh spinach, artichoke hearts, chicken, and Mozzarella.  And then my favorite part — sprinkled the entire pizza once it was cooked with lots of Parmesan and pine nuts.  Mmmm.
Definitely a quick and easy dinner idea that's full of flavor.  And even though summer veggie season finally came to a close, I love that this pizza is still packed with the fresh spinach and jarred artichokes that are easy to find year-round.  I'm all for "green" anytime I can find it in the winter!
So if you end up making some spin dip for a party or for watching the game, be sure to pick up an extra jar of artichokes and you can stretch your other ingredients into a pizza too.  Or vice versa.  Or, just make the pizza!!  :)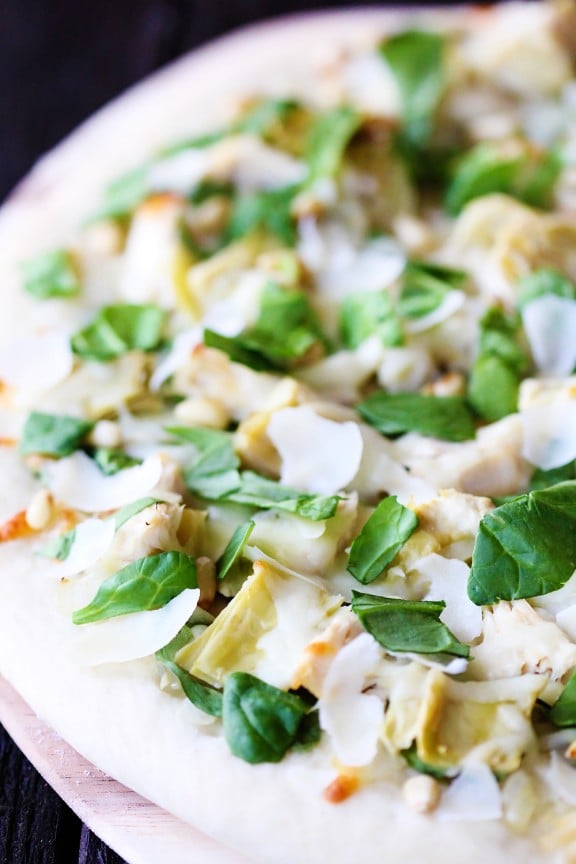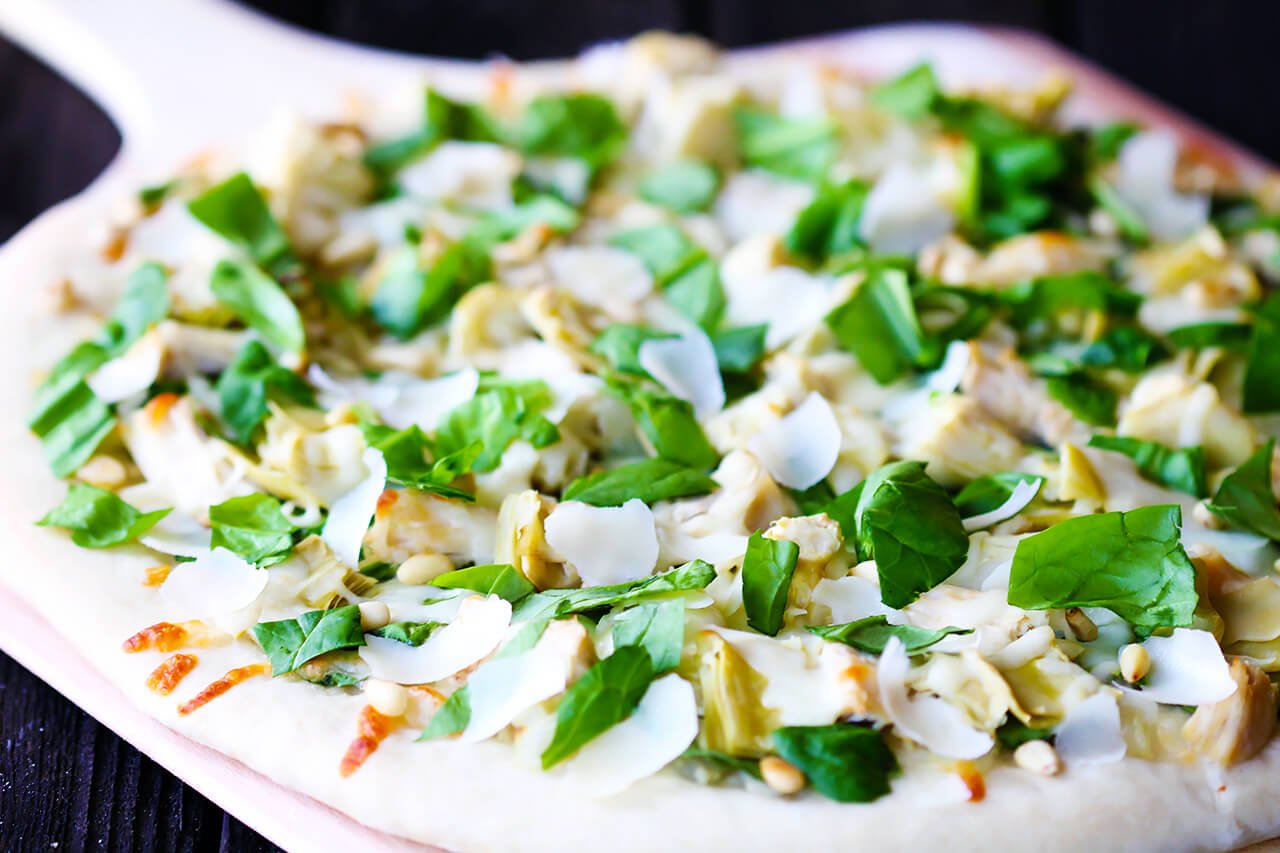 Spinach Artichoke Chicken Pizza
The classic spinach artichoke combination meets…pizza!
Ingredients:
1 medium unbaked pizza crust, homemade or storebought
3 Tbsp. olive oil
half of a medium white onion, diced
5 cloves garlic, minced
2 cups fresh baby spinach, loosely-packed
2 cups shredded cooked chicken
1 (14-ounce) jar artichoke hearts, drained and roughly chopped
1-2 cups shredded Mozzarella cheese
1/2 cup shaved or shredded Parmesan cheese
1/3 cup toasted pine nuts
(optional: additional 1 cup fresh spinach, chopped)
Directions:
Preheat oven to 425 degrees F.
Brush or mist unbaked pizza crust with about 2 Tbsp. olive oil until evenly coated.
In a saute pan, heat the remaining 1 Tbsp. olive oil over medium-high heat. Add the diced onion and saute for 4-5 minutes until translucent, stirring occasionally. Add garlic and cook for an additional 2 minutes. Remove from heat, and spread the onion-garlic mixture evenly over the pizza crust, leaving a 1-inch border.
Then layer on the spinach, artichokes and chicken in an even layer, and sprinkle afterwards with the Mozzarella cheese.
Bake for 10-12 minutes, or until the cheese is melted and slightly golden around the edges. Remove and immediately top with the Parmesan, pine nuts and additional spinach if desired. Serve immediately.
For a creamier pizza, feel free to use alfredo sauce in place of the brushed olive oil.
All images and text ©
If you make this recipe, be sure to snap a photo and hashtag it #gimmesomeoven. I'd love to see what you cook!