Spinach Artichoke Dip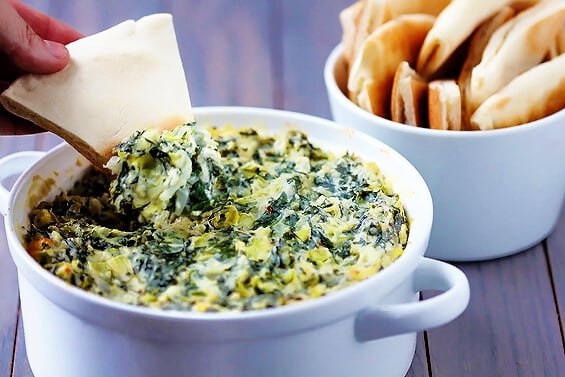 After food blogging for a little over 3 years now, there are still some longtime favorite recipes of mine that have yet to make it to the blog.  I recently realized that my favorite Spinach Artichoke Dip was one of them!  Craziness!!
I can't even begin to count the number of times that I have served this dip over the years.  And every single time, people go nuts over it.  The recipe developer in me has definitely experimented plenty of times with some different ingredient "twists", but my friends and family always seem to comment most whenever I play it straight and go with the classic spinach and artichoke dip.  I have to agree though — classics are classics for a reason.  And this recipe is gooo-OOOD.
Without a doubt, one of my favorite things about my recipe is that it is super easy to prep.  I just allot 5-10 minutes to chop and stir all of the ingredients together (which you can also save a step and do in a food processor if you'd like), pop it in the oven, and within another 30 minutes, this bubbly baked goodness is all ready to go.  The version I have tweaked over the years also calls for lots of garlic, and slightly "lighter" ingredients with reduced-fat cream cheese and light sour cream.  So when served with whole-wheat pita and veggie sticks, you might as well just call it health food!  ;)
So to all of my friends who have asked for the recipe over the years, finally, this one's for you!!!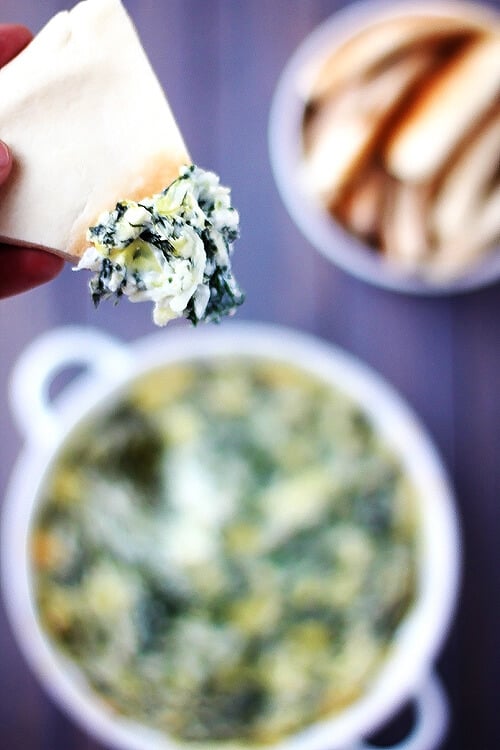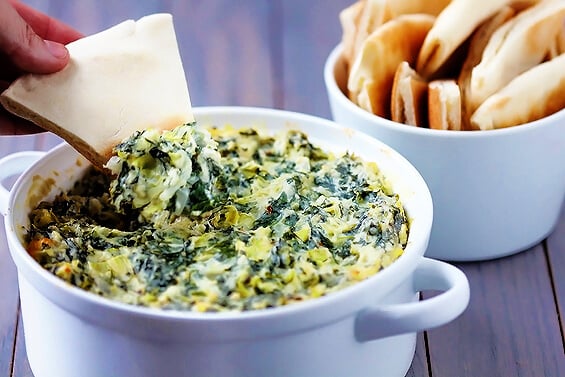 Spinach Artichoke Dip
Classic Spinach Artichoke Dip is super easy to make, and always a crowd pleaser!
Ingredients:
1 (10 oz.) package frozen chopped spinach, thawed and drained
1 (13.75 oz.) can quartered artichoke hearts, chopped and drained
1 cup light sour cream or plain Greek yogurt
4 cloves garlic, minced
4 oz. low-fat cream cheese, room temperature
4 oz. (about 1 cup) shredded part-skim Mozzarella cheese
2/3 cup grated Parmesan cheese
1/3 cup finely-chopped onions
1/2 tsp. black pepper
1/4 tsp. salt
Directions:
Preheat oven to 350 degrees F.
Stir all ingredients together in a bowl until blended. Transfer to an oven-proof dish, and bake for 20-25 minutes or until the cheese is melted. Serve immediately with pita, chips, chopped veggies, or whatever sounds good to you!
All images and text ©
If you make this recipe, be sure to snap a photo and hashtag it #gimmesomeoven. I'd love to see what you cook!
Ali's Tip: This recipe is also even easier when made in a food processor.  Just pop the onion and garlic in there, and pulse until chopped.  Then add the remaining ingredients and pulse until combined.  Boom.  Easy peasy.