10-Minute Spinach Lasagna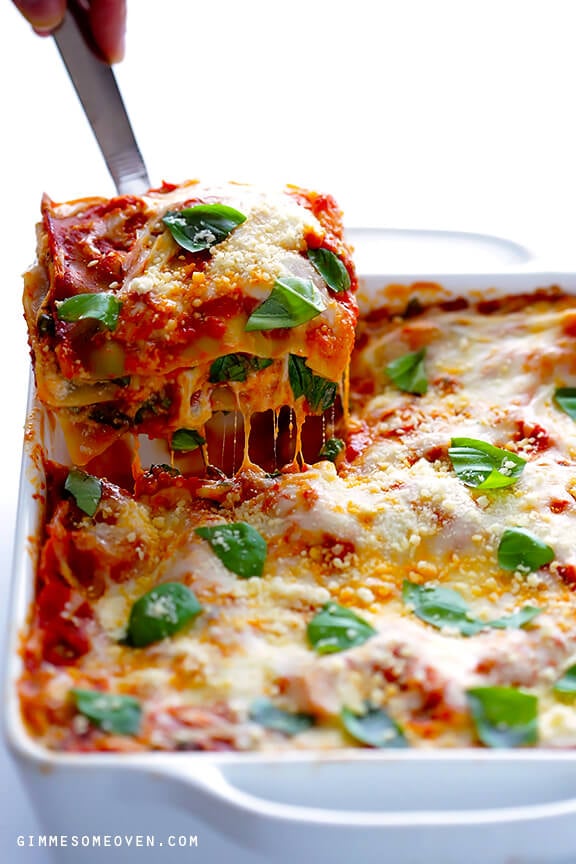 Since becoming a food blogger, my cell number has basically morphed into the cooking hotline for my friends.
Probably at least once a day, I get a text from someone asking whether a ____ can be cooked in the crock pot, or how to tell if _____ is ripe, or what side would go well with _____ entree, or a photo asking whether _____ is a cucumber or a zucchini.  Or most often, asking to taste-test whatever I posted on Instagram that day.  ;)
Last week, though, one of my neighbors was asking me about how to cook lasagna, since she pointed out that I did not have a classic lasagna recipe on my blog.  She also had questions about brands of no-boil noodles…and whether they need to be boiled…what recipe she should try…and yep, I realized it was high time I finally post a lasagna recipe on the blog.  So instead of going with a wild and creative lasagna recipe, I thought I would start out with a foolproof classic: 1o-Minute Spinach Lasagna.
This vegetarian lasagna is so hearty that even the meat-eaters in your life will love it.  It's made with a short list of classic ingredients, including lots of good-for-you fresh spinach and fresh basil.  (And my favorite marinara sauce recipe that I posted on the blog yesterday.)  And true to its name, once you have the ingredients lined up and ready to go, this recipe literally just takes 10 minutes to prep.  Then 45 minutes later, this fabulously delicious lasagna will be yours to enjoy.
Let's get our inner Garfield on… :)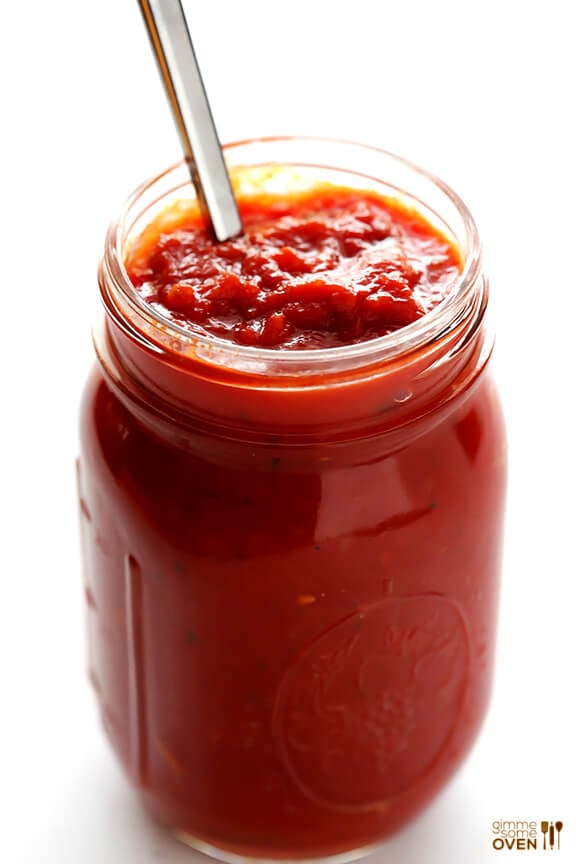 As I mentioned, I highly recommend using my homemade marinara sauce recipe to go in this lasagna.  It's fresh, simple, delicious, and so flavorful.  But if you're in a hurry, the store-bought jarred stuff will also work.  :)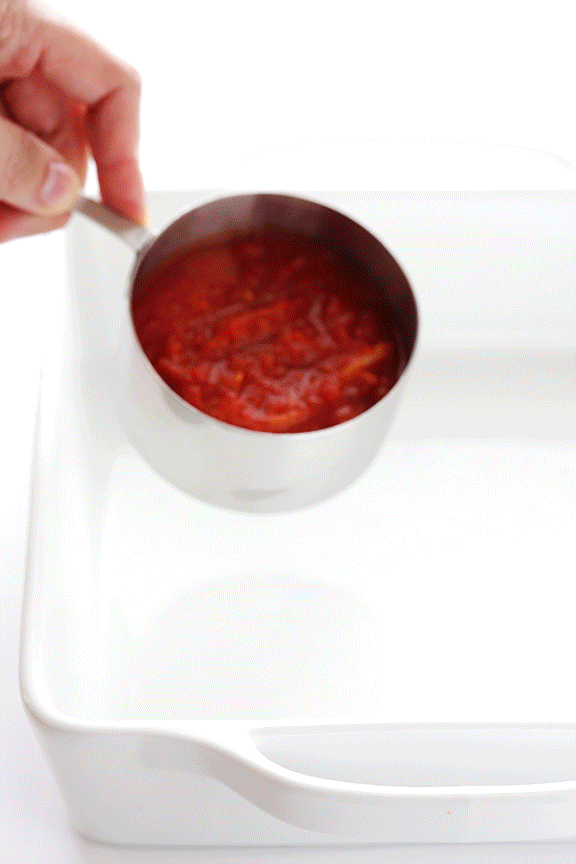 Lasagna is all about layering.  So here's how I make this one:
1) Sauce: Begin with a layer of sauce so that the lasagna does not stick to the pan.  I recommend my homemade marinara recipe.
2) No-Boil Lasagna Noodles: No-boil is key if you're going for the 10-minute version of this lasagna.  (Or you can also pre-cook some traditional noodles if you only have those on hand.)  I used DeLallo's flat lasagna noodles, which fit perfectly into an 8-inch square baking dish.  But whatever brand you use, feel free to break them up and lay them down in whatever pattern so that the noodles cover the sauce in a single layer.
3) Ricotta (or Cottage Cheese): This can be a tiny bit hard to spread on the noodles.  I recommend dropping it in small spoonfuls, and then spreading it around with a spoon.
4) Mozzarella Cheese: This is what makes the lasagna perfectly ooey gooey and stringy.  You can use pre-shredded cheese, but I always recommend buying a block of mozzarella and shredding it yourself for even better melting.  (Or you can buy a ball of fresh mozzarella, and slice it into thin coins to layer on top of the ricotta.)
5) Fresh Spinach and Chopped Basil: I love a good spinach lasagna, and I prefer to use chopped fresh spinach.  But you can also substitute in frozen spinach that has been drained.  Or other roasted or sauteed veggies — like zucchini, mushrooms, onions, etc. — will also work great in the "veggie" layer.  I also added some fresh basil in with the spinach, which gives it a great extra kick of flavor.
And then repeat!!  I did two layers of the list described above.  And then I topped the lasagna with a final layer of marinara, noodles and mozzarella cheese.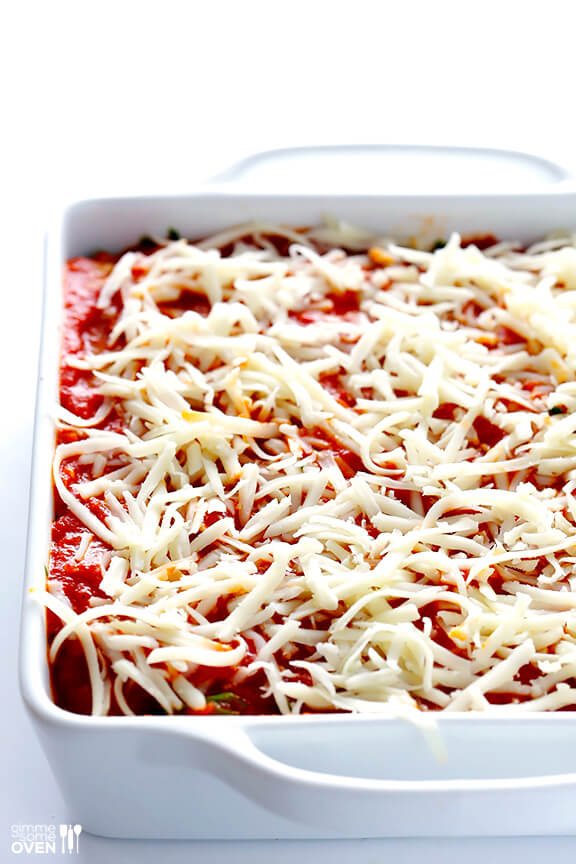 Once the layers are complete, cover the lasagna with foil and pop it in the oven for about 30 minutes.
Then remove the foil and bake it for a final 15 minutes until the cheese starts to brown around the edges.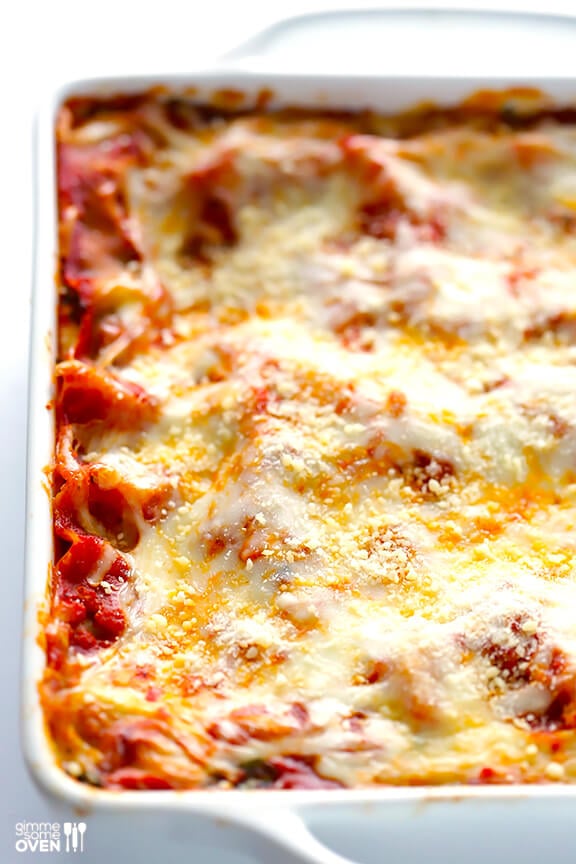 Once you pull the lasagna out of the oven, I like to toss on a layer of grated Parmesan…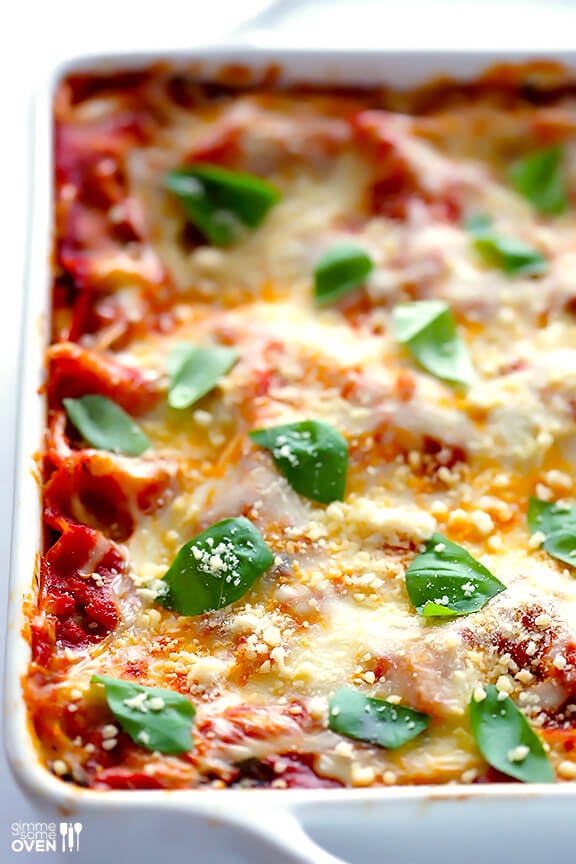 …and then a little extra fresh basil for color.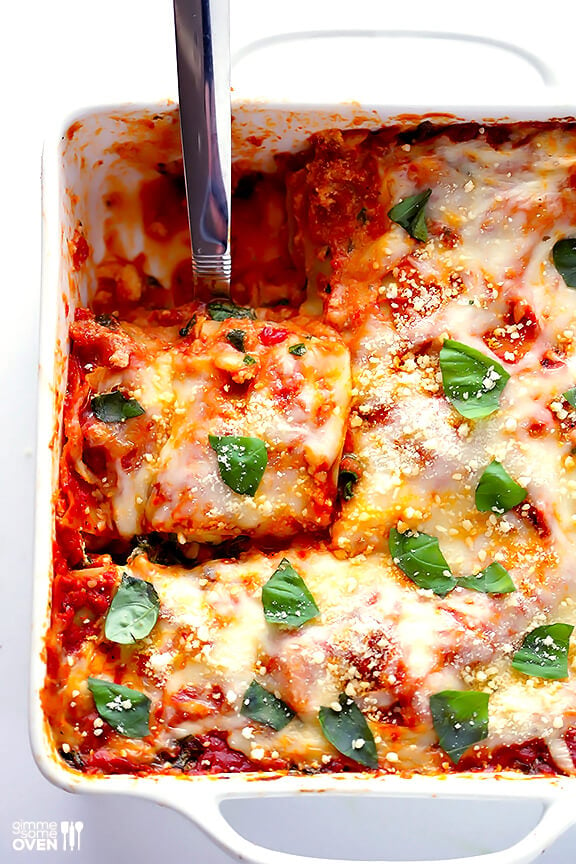 Then serve it up warm!!!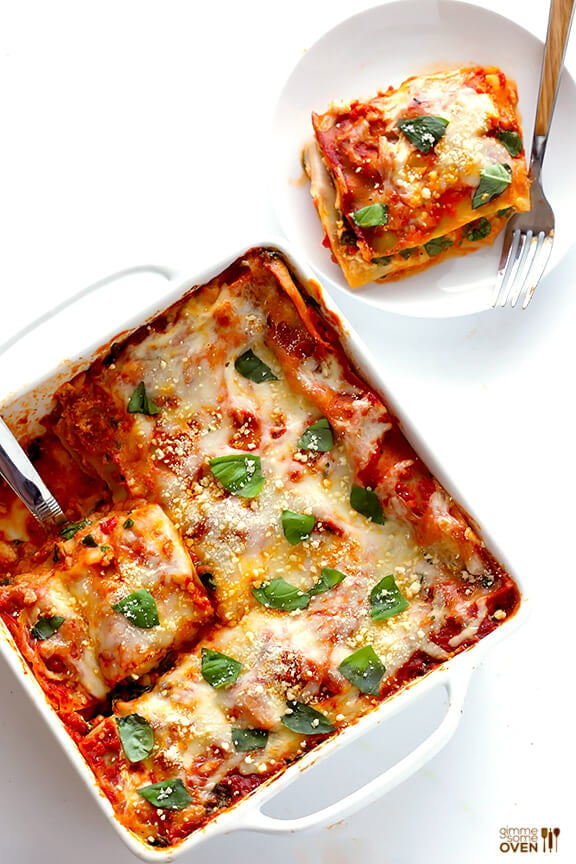 Oh man, I don't know how I waited 5 years to post this one on the blog.  But when it comes to comfort food as good as this, better late than never, right?  All the thanks goes to my neighbor, Leanna, for the request.  :)
Enjoy!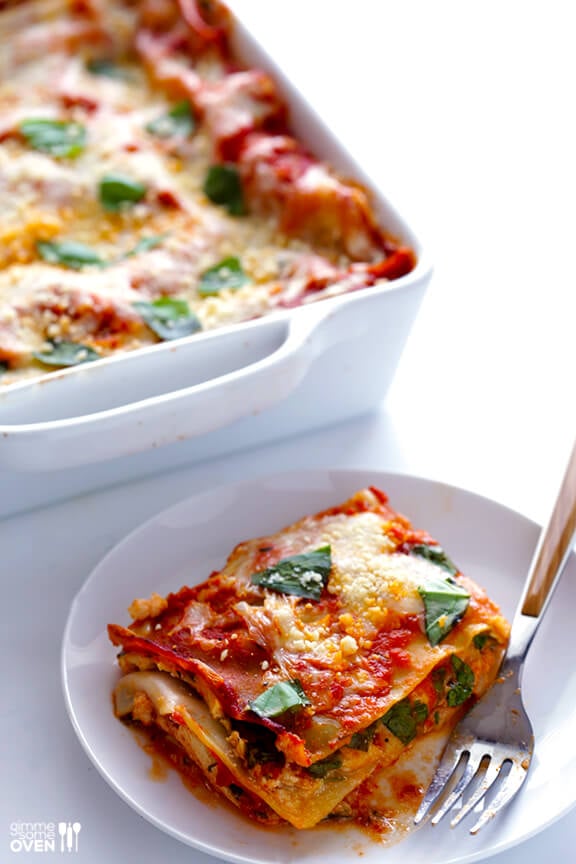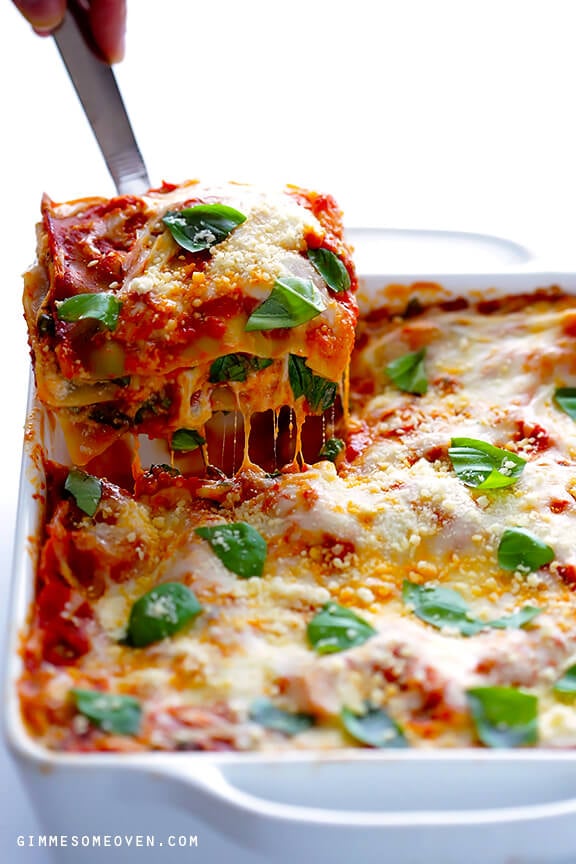 10-Minute Spinach Lasagna
This 10-minute spinach lasagna recipe is quick and easy to prepare, and super comforting and delicious!
Ingredients:
3 cups (or 1 24-ounce jar) marinara sauce, homemade or store-bought
9 no-boil lasagna noodles (you may not use the entire package)
1 (15 ounce) container ricotta cheese (or cottage cheese)
2 cups shredded Mozzarella cheese
2 cups chopped fresh spinach leaves, loosely packed
3/4 cup roughly-chopped fresh basil leaves, loosely packed and divided
1/3 cup freshly-grated Parmesan cheese
Directions:
Preheat oven to 350°F.
In an 8×8-inch or 9×9-inch baking dish, spread 3/4 cup of marinara sauce evenly across the bottom of the pan. Layer 3 lasagna noodles in an even layer, followed by half of the ricotta cheese, 1 cup of Mozzarella, 1 cup spinach and 1/4 cup fresh basil. Repeat with a second layer of marinara, noodles, ricotta, Mozzarella, spinach and basil. Then finish with a final layer of marinara, noodles, marinara and Mozzarella.
Cover pan with aluminum foil and bake for 20 minutes. Remove the foil and bake for an additional 10-15 minutes until the cheese is melted and begins to brown around the edges.
Remove and set on a cooling rack. Sprinkle with Parmesan cheese and the remaining fresh basil. Serve warm.
All images and text ©
If you make this recipe, be sure to snap a photo and hashtag it #gimmesomeoven. I'd love to see what you cook!
This post contains affiliate links.