Taco Popcorn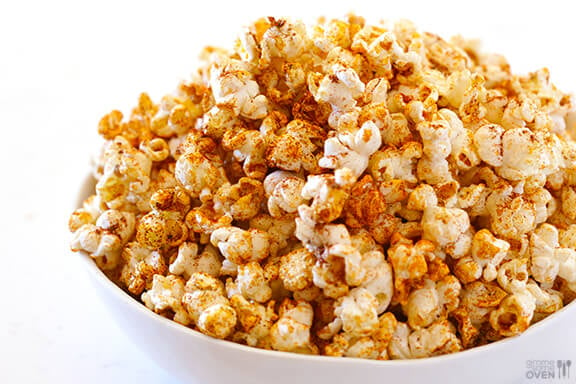 What goes well with popcorn?  Especially this taco popcorn?
Movies!!
Make that, movies galore.  I'm writing to you today from sunny and snowy Park City, where Sarah and I are covering the Sundance Film Festival for the first time.  As you can see from our Instagram pics (follow us at #gimmesomesundance), we are pretty darn excited.  Sarah has created an amazing calendar for us full of back-to-back movies galore, and I'm helping scope out some good eats and connect with good friends to make the experience all the more delicious.  So be sure to follow along with us on social media (@gimmesomeoven and @smags1 on Instagram), and check out Gimme Some Film for daily updates on our adventure, as well as more in-depth reviews to come.
And of course, no movie marathon is complete without some good popcorn!  So today I'm sharing one of my favorite healthy snacking recipes — taco popcorn!  As much as I love traditional popcorn, I really love adding in various seasonings when I make it for myself.  I love the extra flavor, and have also found that extra seasonings tends to cut out the need for butter, making the popcorn even healthier.  Some of my favorites are Spicy Italian, Cajun, Moroccan, and Greek seasoning blends.  But without a doubt, taco seasoning wins the award for most-used in mi casa.  So today, I thought I'd share with you my recipe for quick and easy (and light!) taco popcorn.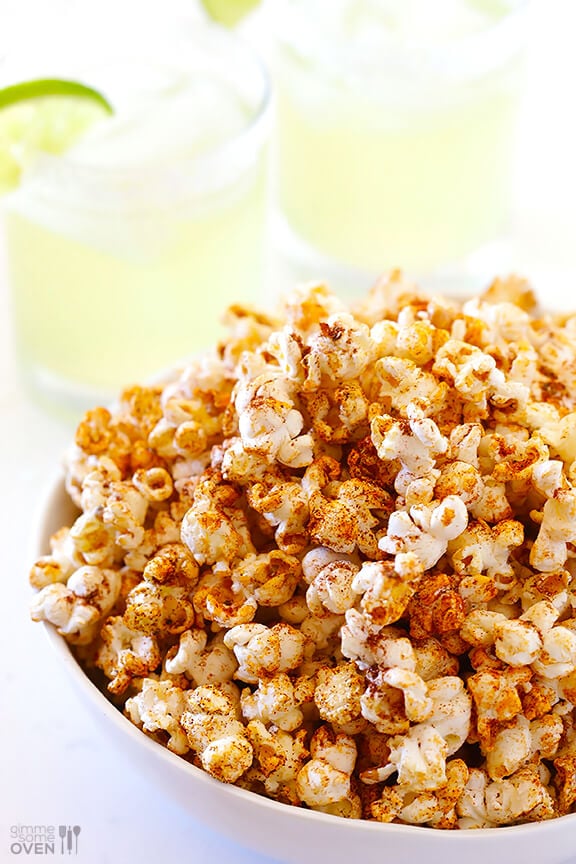 Of course, you can buy taco seasoning mix at the grocery store.  But yesterday on the blog, I shared my recipe for homemade taco seasoning, and highly recommend it.  It's preservative-free, gluten-free, super easy to make, and very tasty.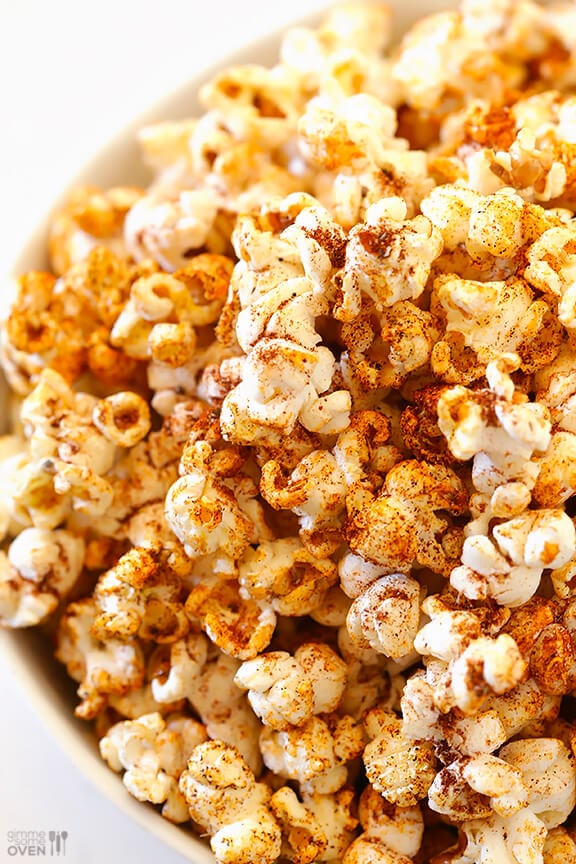 But that said, grab whatever taco seasoning you like best, and let's go!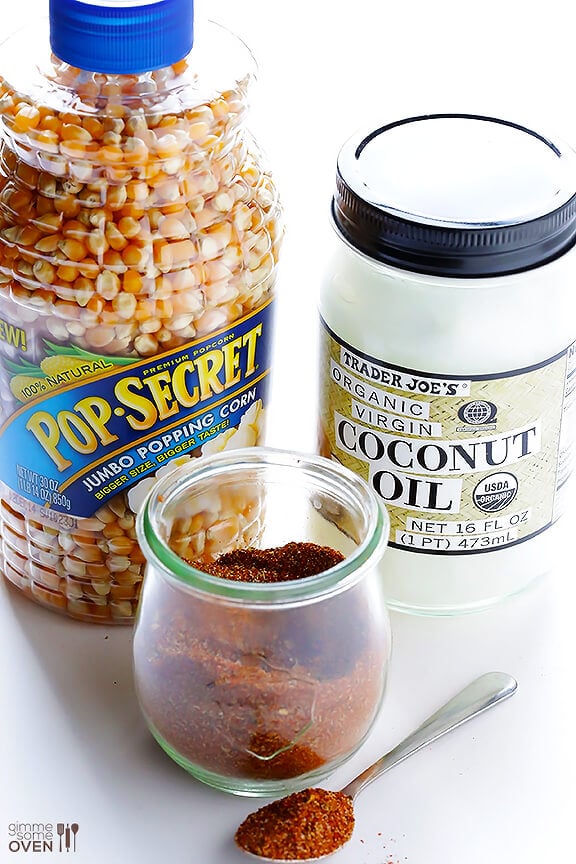 All you need are three basic ingredients to make this taco popcorn recipe:
popcorn kernels (I've been hooked on the "jumbo" popping corn lately)
coconut oil (love the tiny hint of sweetness it gives the popcorn)
taco seasoning (homemade or store-bought)
oh, and you'll need some salt
If you really want to add in some melted butter (or the vegan alternative, nutritional yeast), go for it.  But if you want a lighter version, I find the taco seasoning and salt to be plenty flavorful.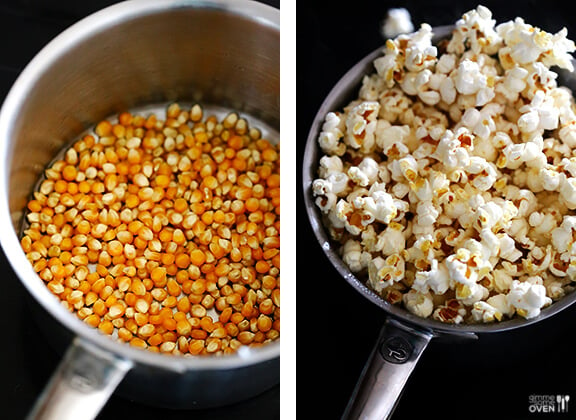 To make the popcorn on the stove, just melt some coconut oil in the bottom of a medium saucepan.  (There should be enough oil to coat the bottom of the pan.)  Add in the popcorn kernels, and give the pan a shake so that they form an even layer.  Cover and let the popcorn pop until it's all cooked.  (See tips below to avoid burning.)
Oh, and don't try and photograph popcorn while it's still popping on the stove.  As you can see in this pic, there are a few kernels flying.  When I snapped my second pic a few seconds later, there was popcorn everywhere!!!  ;)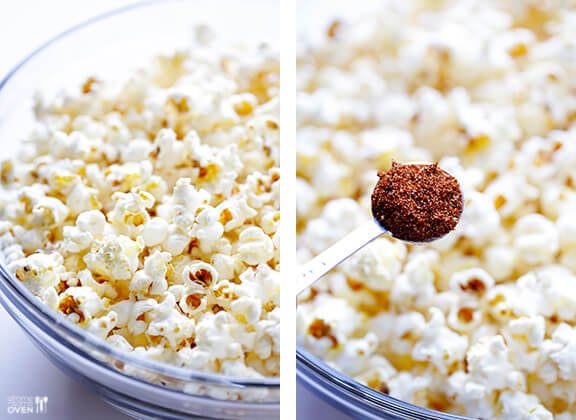 As soon as the popcorn is cooked, transfer it to a large bowl.  Then immediately sprinkle on the taco seasoning and salt, and toss to combine.
Please totally adjust the seasonings and salt to taste.  I tend to add on even more seasoning, since I like my popcorn really flavorful.  But less can be more, too, if you like it a bit more subtle.
All in all, a very flavorful and tasty snack.  Plus it only takes less than 10 minutes.  And, since we're in the middle of our healthy eating month on the blog, I'm happy to say that it's also pretty darn healthy and preservative-free.
Perfect for snacking, especially during a good movie marathon.  Enjoy, friends!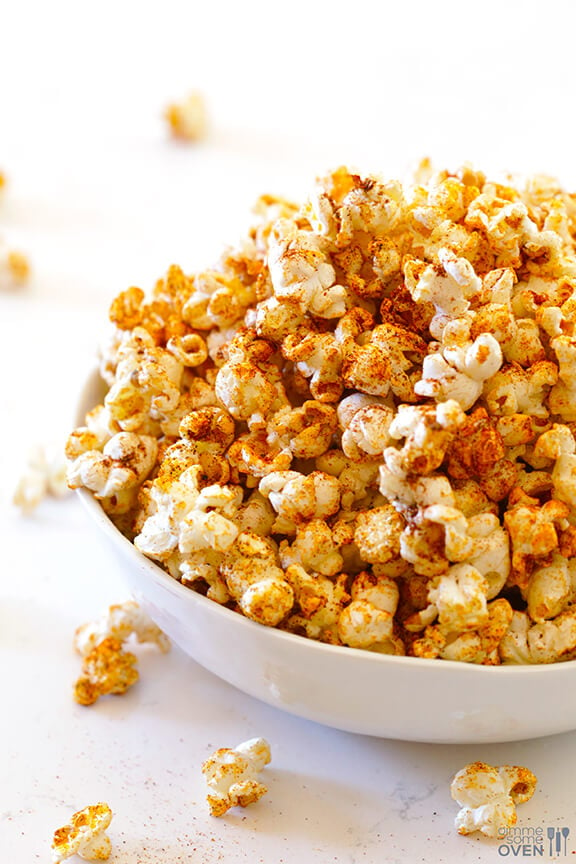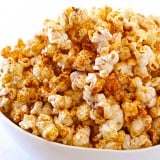 Taco Popcorn
Taco seasoning is the perfect topping for this taco popcorn. It's flavorful, healthy, and even has a bit of a kick!
Ingredients:
Directions:
Heat oil in a medium saucepan over high heat until melted. Add popcorn kernels, and give the pan a shake so that they level out. Cover with a lid and wait until kernels have popped. (**See tips below to prevent burning).
Once the popcorn is popped, pour it out into a serving bowl. Immediately sprinkle with taco seasoning and salt, and toss to combine. Season to taste with additional seasoning or salt if desired.
*The "skinny" version of this recipe does not call for extra butter, but if you'd like to toss the popcorn with some melted butter, go for it. A healthier (and vegan) alternative is also to toss the popcorn with nutritional yeast — my favorite.
**A good rule of thumb is to wait until there are at least 3 seconds between pops, so as not to burn the popcorn. I also like to give the pan a shake ever 15 seconds or so, in order to let the kernels fall to the bottom and the popped popcorn rise to the top, which also helps prevent burning.
All images and text ©
If you make this recipe, be sure to snap a photo and hashtag it #gimmesomeoven. I'd love to see what you cook!