Thai Chicken Quesadillas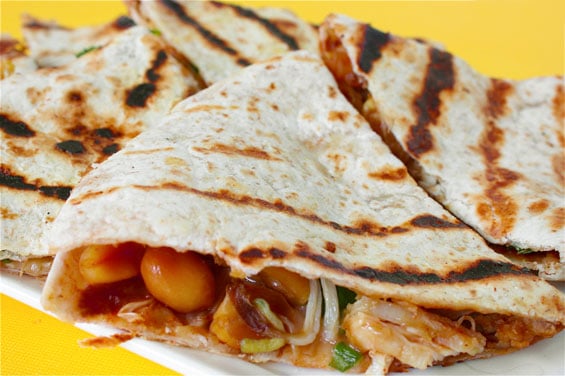 Somehow this turned into Asian food week at my place!  It all began with a craving for my favorite fresh Vietnamese spring rolls.  Then revisited my recipe for egg drop soup, followed by some fried rice.  And last but not least…these fantastic quesadillas!!
My original plan was to actually use up the leftover cilantro, bean sprouts, and peanut sauce by making this fantastic Thai Chicken Pizza from Closet Cooking (one of my favorite blogs that you should check out – he's phenomenal).  But when I arrived home late from work, and had about zero interest in making a pizza crust, decided to improvise and turn the recipe into quesadillas.
Suffice it to say…a total success. :)
I don't know how you can ever go wrong cooking with peanut sauce, but these were absolutely amazing.  AND, since I already had some chicken ready to go, they literally just took 15 minutes from start to finish – hooray!  Will definitely be revisiting these again soon…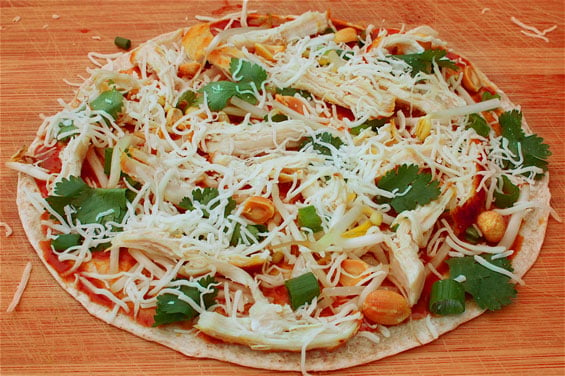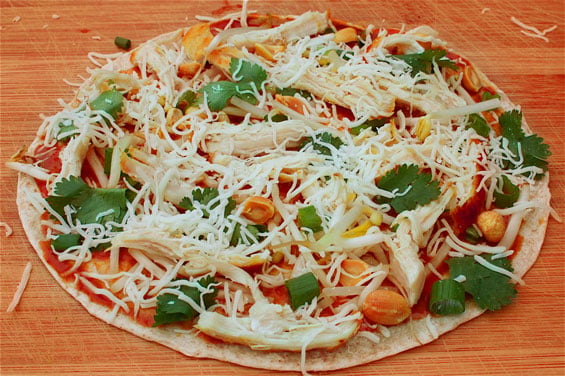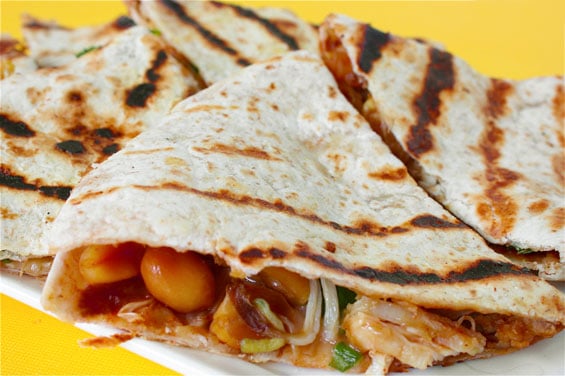 Thai Chicken Quesadillas
A quick and easy dinner with a Thai twist!
Ingredients:
2 tortillas (I used whole wheat)
2 Tbsp. peanut sauce, homemade or store-bought
1/4 cup cooked chicken, torn into bite-sized pieces
1 green onion, chopped
half of a carrot, julienned (optional)
small handful bean sprouts
1/2 cup mozzarella cheese, grated
2 Tbsp. peanuts
2 Tbsp. lightly packed fresh cilantro, stems removed
1 Tbsp. butter (optional)
Directions:
Lay out one tortilla on a flat working surface, and spread with the peanut sauce on top. Then sprinkle with the chicken, green onions, carrots, bean sprouts, mozzarella, peanuts and cilantro. Top with the remaining tortilla and gently press together.
Either in a skillet or grill pan, melt the butter and then add the quesadilla. Cook for about 2 minutes, and then carefully flip over and cook for another 2 minutes (or until tortilla begins to brown and cheese is melted).
OR, feel free to lay the quesadilla out on a cookie sheet, and bake in a 375 degree oven until the cheese is melted. (This is helpful for doing multiple quesadillas at a time!)
If you make this recipe, be sure to snap a photo and hashtag it #gimmesomeoven. I'd love to see what you cook!
Ali's Tip:

If you want to give these some extra flavor, try marinating your chicken before cooking in some soy sauce and rice wine vinegar.
These would also be terrific with shrimp, steak, pork, or just vegetarian!!