Toffee Chocolate Chip Cookies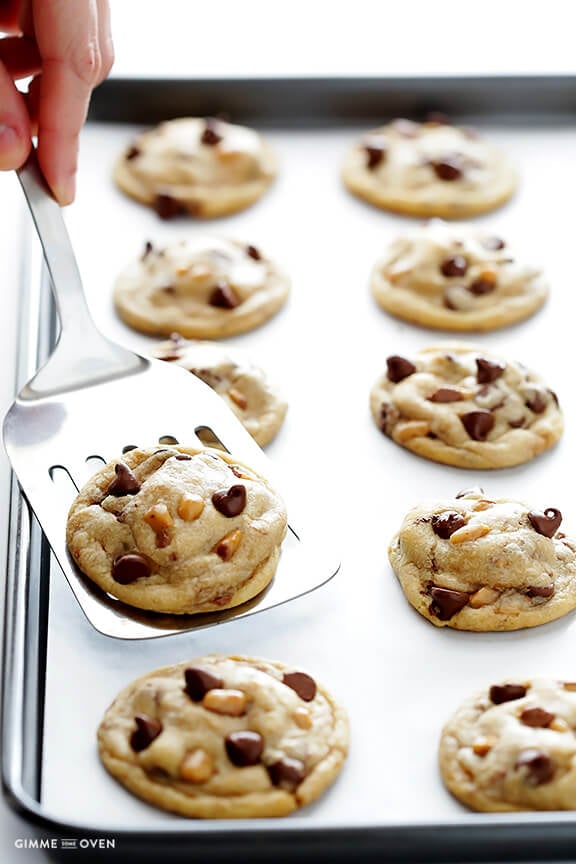 I seem to have developed a bad habit over the past few years of buying chocolate chips that never make it into cookies.
Does anyone else do this?!
Like probably many of you, I have an entire "baking supplies drawer" in my kitchen devoted to chocolate chips, sprinkles, dried fruit, nuts, you name it.  I tend to be a spontaneous baker, so I always want to have the staples for anything that could be sprinkled in (or on) baked goods ready and waiting to go for when the craving strikes.
But somehow it seems to have evolved into the "snack drawer" instead.  A little handful of butterscotch chips somehow turn into a quick dessert, the dried fruit gets tossed onto salads, the nuts serve as my favorite protein snack before a workout.  And those bags of irresistible Health bar chips that I keep buying to make a batch of my favorite toffee chocolate chip cookies?!  Well, let's just say that I have restocked them multiple times before any cookie action was taking place.
This past week, though, I finally followed through and used the toffee chips for their intended purpose.  And oh man, I highly recommend you do too.  These cookies = the best.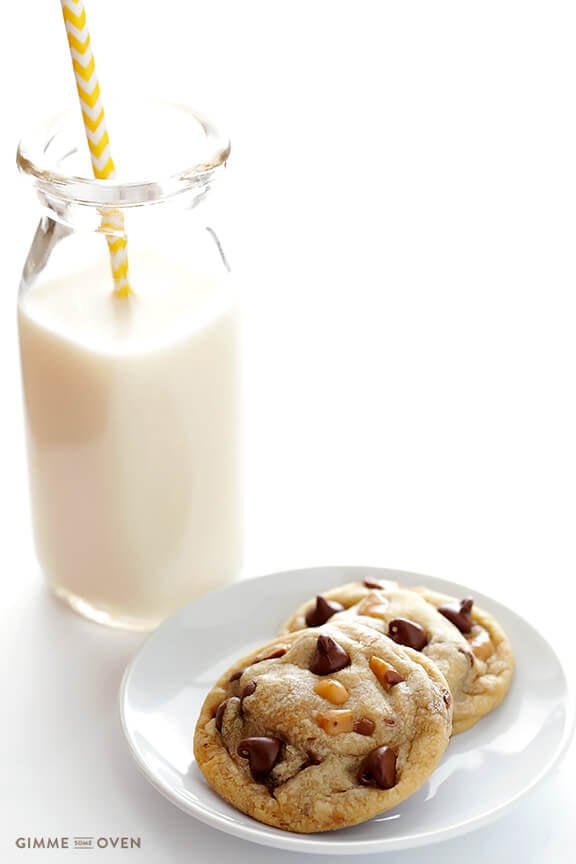 I'll be the first to admit that there's nothing revolutionary about this recipe.  It's basically just chocolate chip cookies with toffee chips used in place of half of the chocolate chips.
But still.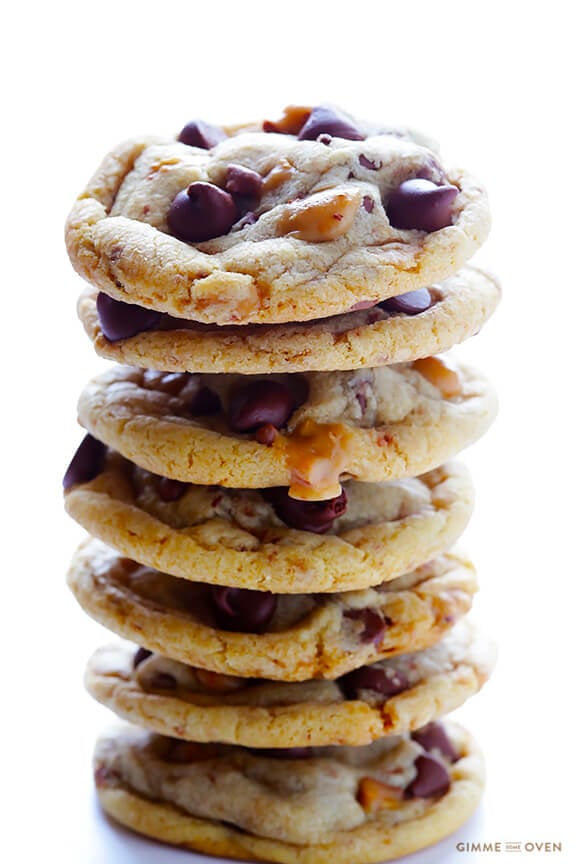 Soft, chewy, and extra-vanilla-y cookies?  Dotted with lots of semisweet chocolate chips, and the heavenly salty-sweetness of the toffee chips?  It doesn't get much better in my book.  And they are super easy to make.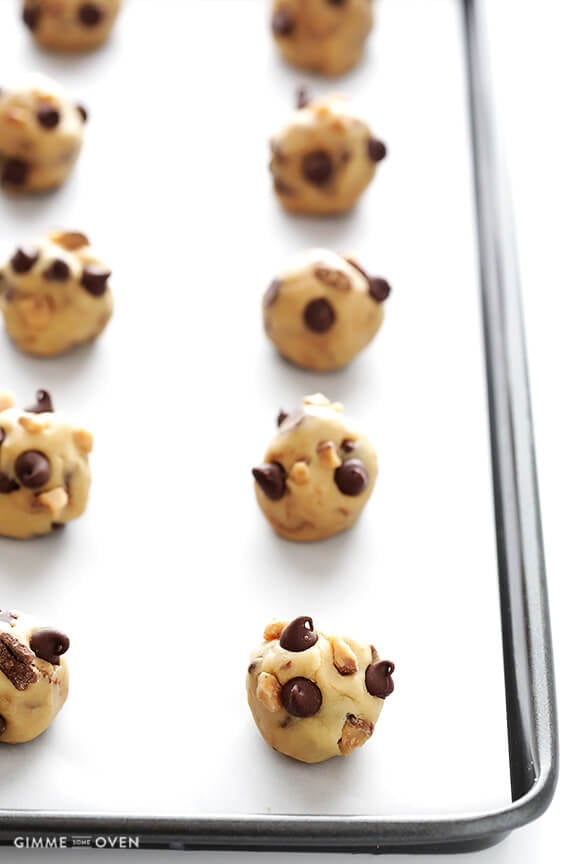 Simply mix up a batch of classic chocolate chip cookie dough.  Add in about half chocolate chips (you can use semisweet or dark chocolate chips), and half toffee chips (you can either use the Heath bar chips with or without chocolate).  Roll them up into small dough balls.  And then if you want to take the tip from a food stylist, poke a few extra chips on the outside of the dough balls.  Chill them in the freezer for about 5-10 minutes.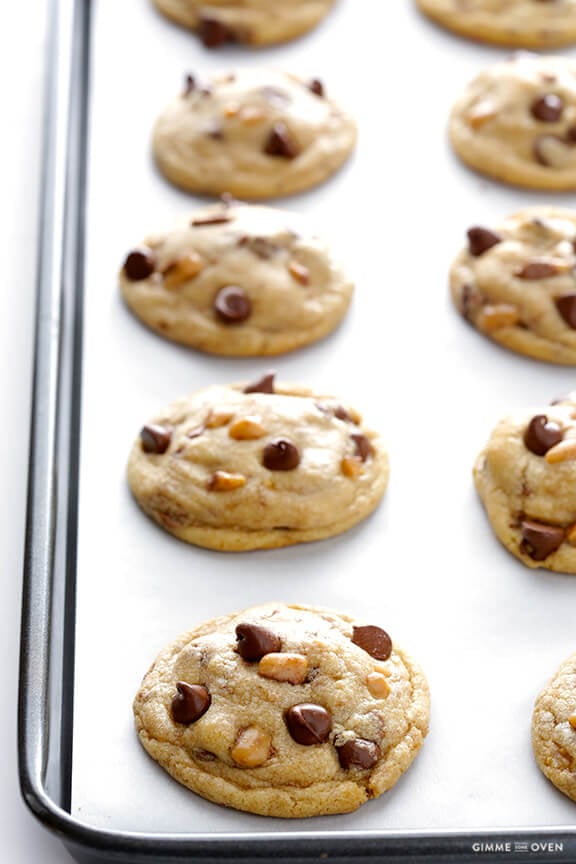 And then bake them up to soft and chewy perfection.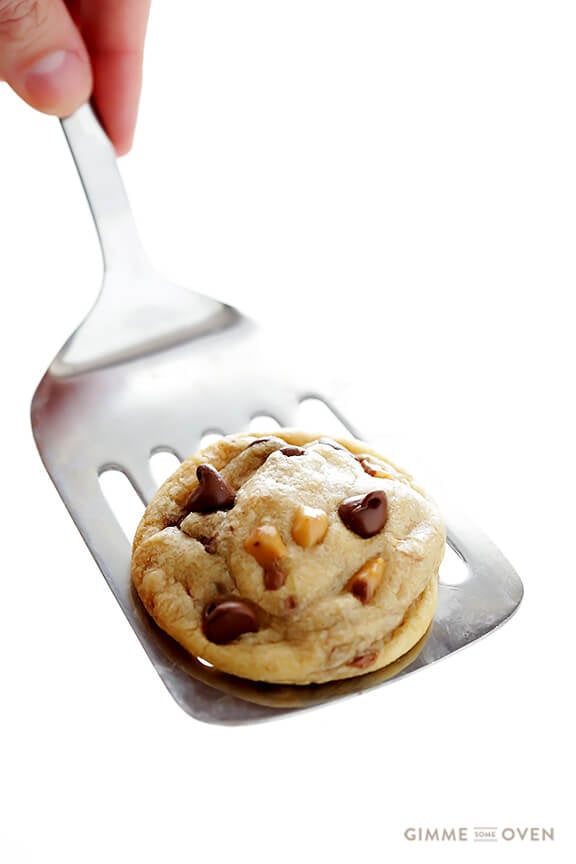 Now who can resist one of those beauties?!?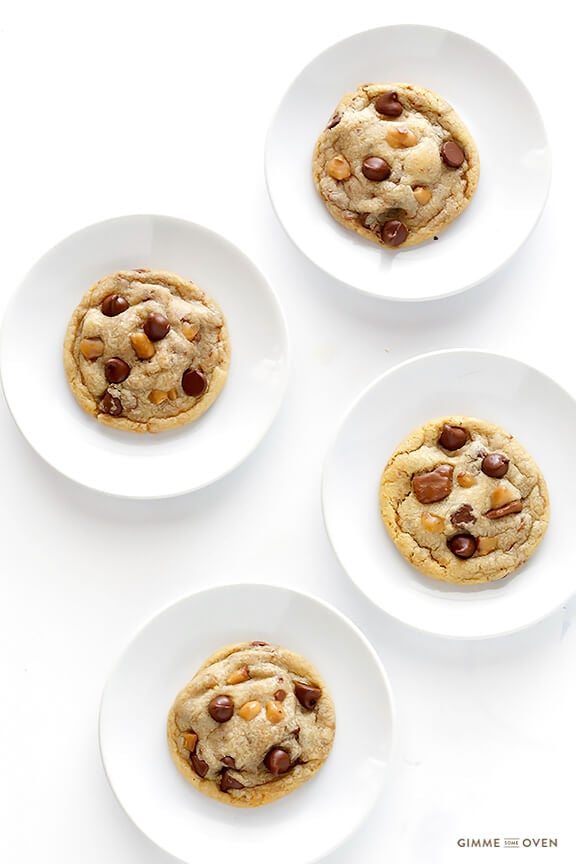 Not I.  So actually, I quickly spread the wealth around and passed them off to a bunch of friends.  Because sharing is caring, right?!  And having 3 dozen cookies in the house might be even more dangerous than my (ahem) "snack" drawer.  ;)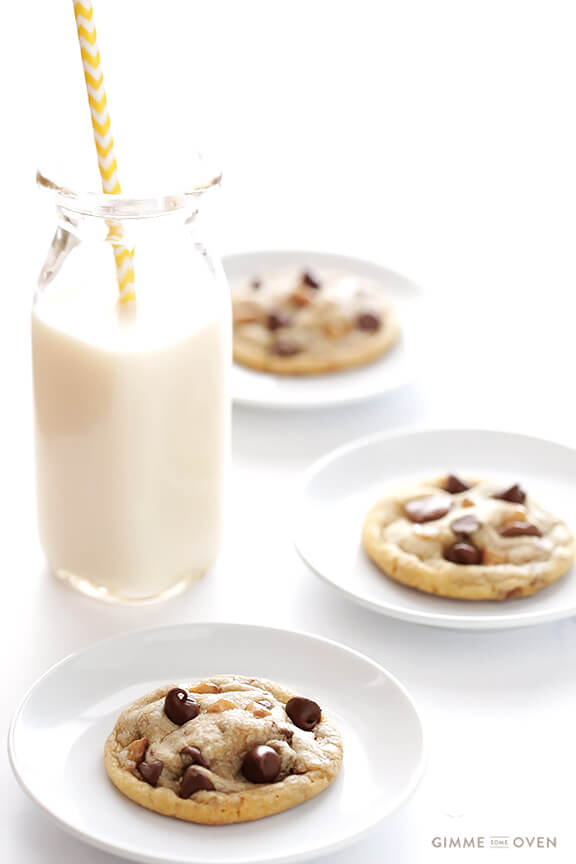 Hope you enjoy these guys as much as I did!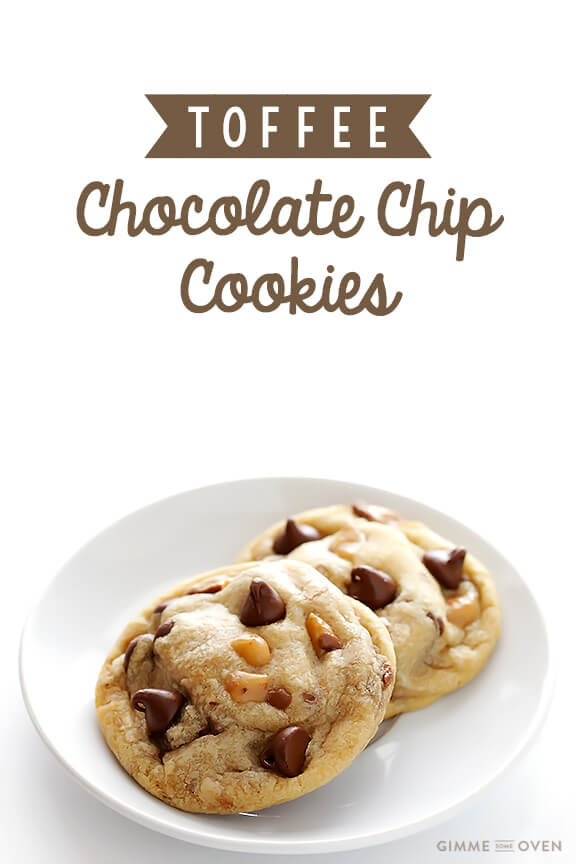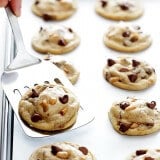 Toffee Chocolate Chip Cookies
These toffee chocolate chip cookies are soft, chewy, and filled with the sweet-salty-chocolatey goodness of toffee chips.
Ingredients:
3/4 cup (1.5 sticks) unsalted butter, softened
3/4 cup brown sugar
1/2 cup granulated sugar
1 egg
2 tsp. vanilla extract, store-bought or homemade
2 cups all-purpose flour
2 tsp. cornstarch
1 tsp. baking soda
½ tsp. salt
1 cup semisweet or dark chocolate chips
1 cup toffee chips
Directions:
Preheat oven to 350 F.
Using an electric mixer with the paddle attachment, cream together butter and sugars on medium speed until light and fluffy, about 2 minutes. Add egg and vanilla and beat in until combined, scraping down the bowl partway through.
In a separate bowl, whisk together flour, cornstarch, baking soda and salt until evenly mixed. Add mixture into the dough, and beat on low speed until combined. Fold in chocolate chips and toffee chips, and stir until just combined.
Measure dough into rounded tablespoon-fulls, and roll into round balls. Place on a parchment-covered baking sheet, and dot with extra chocolate and toffee chips if desired. Repeat with remaining dough. Then transfer the cookie sheet to the freezer and chill for 5-10 minutes.
Transfer sheet to oven and bake for 8-10 minutes, until the tops of the cookies ever so slightly begin to brown. Remove pan and let rest for 5 minutes. Then transfer cookies to a wire rack to finish cooling. Repeat with remaining dough.
Store cookies in an airtight container for up to 5 days.
If you make this recipe, be sure to snap a photo and hashtag it #gimmesomeoven. I'd love to see what you cook!