White Balsamic Vinaigrette + GIVEAWAY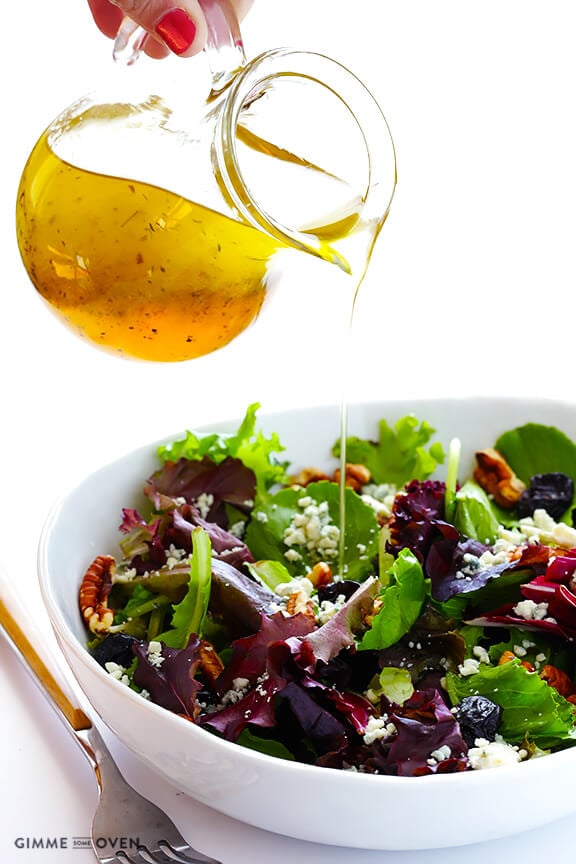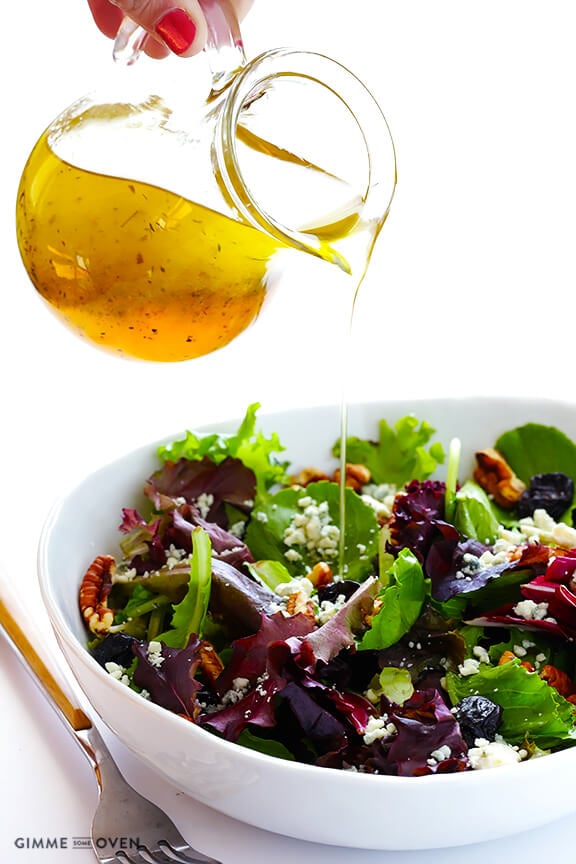 A few years ago, I officially became That Girl Who Doesn't Buy Salad Dressings.
Well, never say never, make that the girl who very rarely buys salad dressings.  Every now and then I cave for a new and interesting bottle at the store.  But I hardly ever finish it in time, partly because it's hard to get through a whole bottle in time (one of the joys of being single!), and partly because I usually just figure out how to make it myself.  Plus, making homemade salad dressings is ridiculously quick and easy.  And you can have full control over the fat and flavor.  And you don't have to worry about any pesky processed ingredients sneaking their way in there.
So today I thought I'd pop in with a quick post about my favorite homemade salad dressing of the year — this White Balsamic Vinaigrette.  It basically tastes just like the traditional balsamic vinaigrette that we all love.  But instead of turning your salad all brown, the white balsamic vinaigrette lets the vibrant colors shine through.
And speaking of vibrant colors — I have a really fun giveaway to share with you today inspired by the "Vibrant" SaladSavors from DeLallo Foods, including gifts from Kate Spade, Food52, TOMS, and more.  So be sure to scroll down and enter for a chance to win!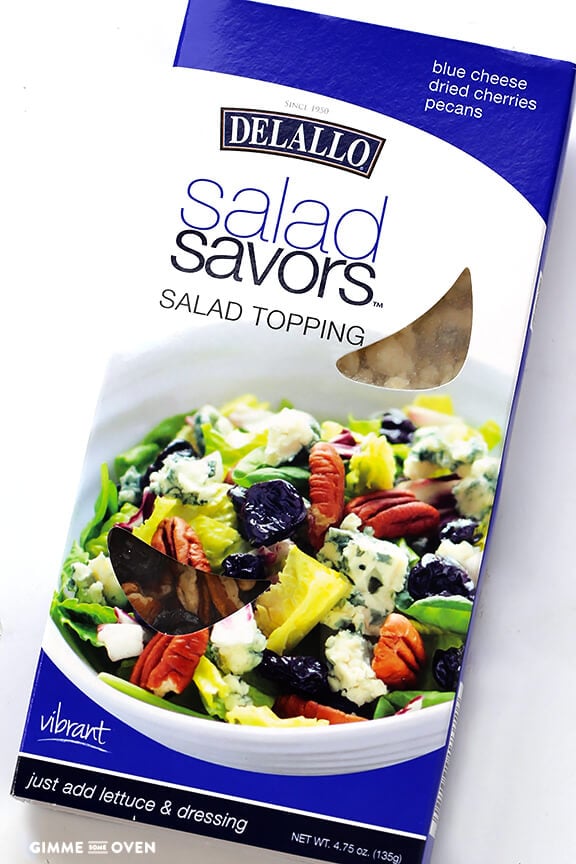 If you have been around the blog or my Instagram this past year, you have probably heard me gush about how SaladSavors have become one of my favorite meal shortcuts in the kitchen.  They are gourmet salad toppings made simple in these cute little kits.  And I am obsessed with them.
All you have to do is grab some lettuce, sprinkle on some toppings, drizzle on some dressing, and within minutes, a gourmet salad is ready to go.  No need to buy an entire carton of cheese, or a big bag of dried fruit.  Each of the toppings are perfectly portioned for a bag of salad greens.  Or if you're single like me, they work perfectly when spaced out over a handful of individual servings.
SaladSavors come in all sorts of various flavors, including:
Zesty Feta (feta cheese, Calamata olives, roasted red peppers)
Sharp Asagio (asagio cheese, sun-dried tomatoes, artichoke hearts)
Fresh Goat Cheese (goat cheese, dried cranberries, walnuts)
Bold Gorgonzola (gorgonzola cheese, dried pears, walnuts)
My favorite is Vibrant, which includes dried cherries, blue cheese, and pecans.  And my favorite quick and easy dressing to go with it is — you guessed it — this White Balsamic Vinaigrette.
I have to be honest that I didn't totally understand that white balsamic vinegar even existed until a few years ago.  But as soon as I whisked some into a vinaigrette, I knew that it was going to be a game changer with my salads.
You see, I love a good balsamic vinaigrette.  But the food stylist in me used to get so annoyed when tossing a beautiful colorful salad with balsamic and watching it all instantly turn…brown.  So much brown with traditional balsamic.  Sure, it still tastes good.  But when I have a particularly colorful salad, I have really enjoyed having the white balsamic option.  Or as DeLallo calls it, golden balsamic.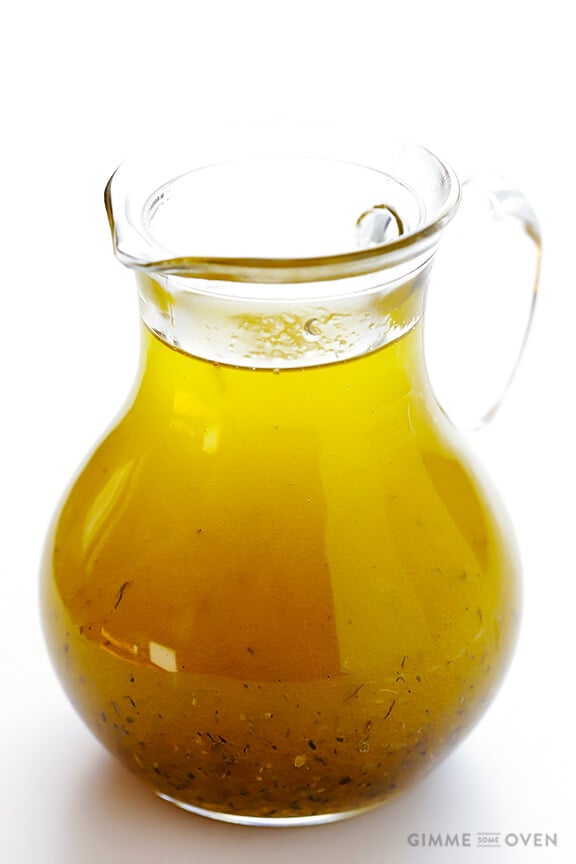 To make the white balsamic vinaigrette, simply combine some good-quality olive oil, white/golden balsamic vinegar, sweetener (I used honey), salt and pepper and Italian seasonings.  If you want some extra flavor, you could also add in some minced garlic.  Then whisk them all together until combined….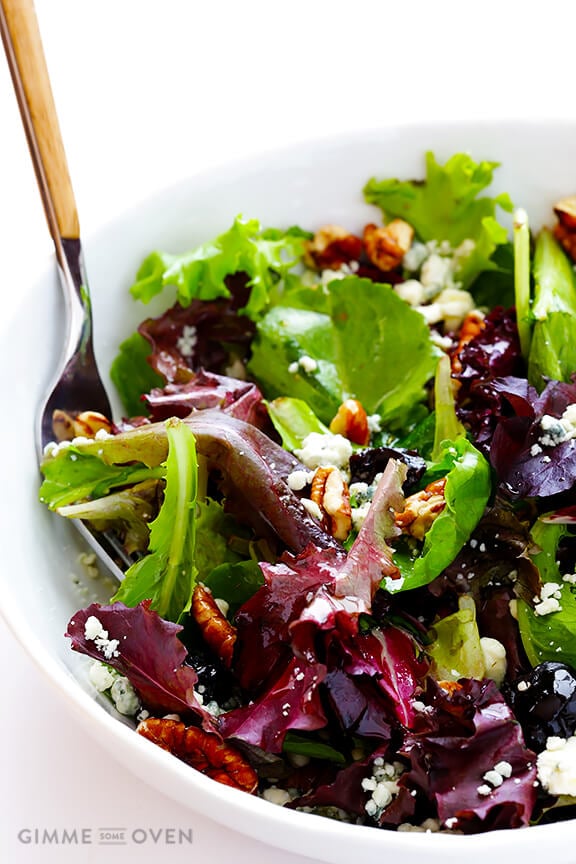 …and drizzle the vinaigrette all over your salad without turning it brown.  Brilliant?  Brilliant.
So here's how to make it!  And also, be sure to scroll below for a chance to enter our SaladSavors giveaway!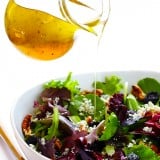 White Balsamic Vinaigrette
When you don't want to drizzle your salad with dark balsamic dressing, try this simple recipe for a White Balsamic Vinaigrette.
Ingredients:
Directions:
Whisk all ingredients together for 30 seconds or until blended.

All images and text ©

If you make this recipe, be sure to snap a photo and hashtag it #gimmesomeoven. I'd love to see what you cook!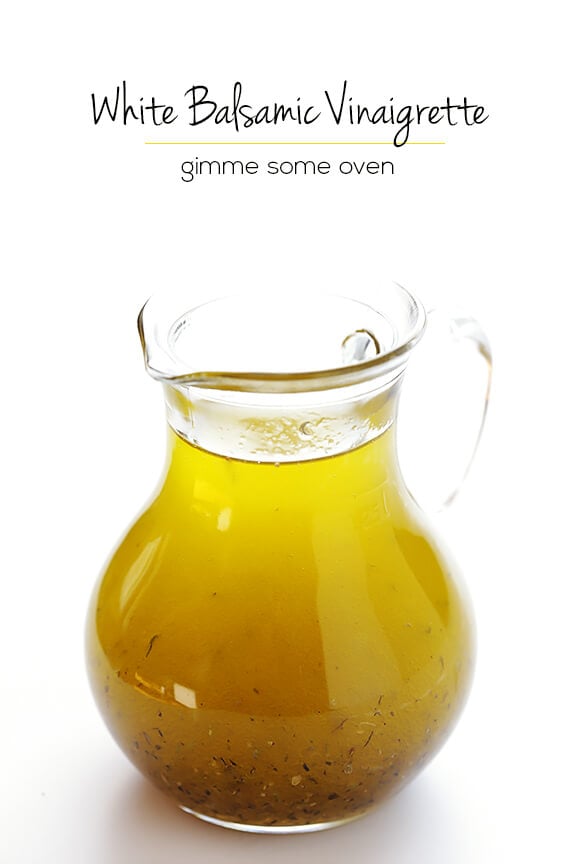 Salad Savors Giveaway
For something fun, I have teamed up with DeLallo Foods to giveaway a prize package inspired specifically by the Vibrant SaladSavors flavor.  Hope you enjoy!
Giveaway Prize Package:
One winner will win:
How To Enter: 
Follow the Rafflecopter instructions below.  Good luck!
This giveaway is a sponsored post in partnership with DeLallo Foods.  I am partnering with them this year to share all sorts of great recipes with you, and all opinions are my own as always.  Thanks for supporting brands I love that help make this site possible.