Chewy Ginger Molasses Cookies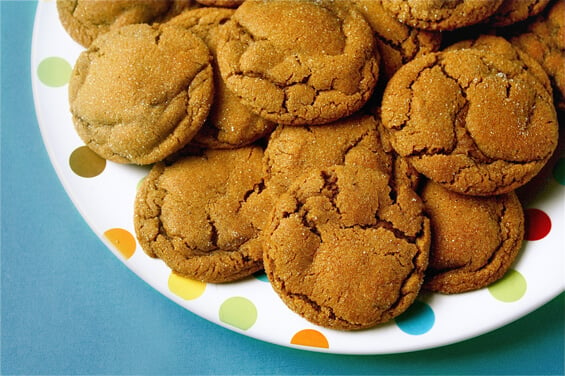 Sorry to have been M.I.A. from the blogging world for a few days!  In a random burst of spontaneity at Home Depot on Labor Day, I decided to hit up their paint sale and completely repaint my living room, dining room and kitchen.  Not entirely sure what I was thinking, but I'm pleased to say that – three days, 4 cans of paint (had one "oops"), a few helpful friends, and a few zillion sore muscles later – the project finished!  My new colors are a light tan, creamy white, and spring green.  Very fun!
So while this was admittedly my week to catch up on leftovers and frozen delights (although with a side of fresh peaches…which I'm thrilled are still in season around here), I did have this recipe to share from last weekend.   It officially kicked off my fall cookie marathon – yum!  Have so many favorite recipes that I associate with this season.  Granted, cookies are marvelous year-round, but some of these more "spicy" cookies remind me of all the yummy cider-ish flavors of fall.
Thus, here is my family's favorite ginger molasses cookie recipe.  It originally used shortening, but I sub in butter to do the trans-fat free thing.  And in my humble opinion, I think they're just about perfect.  In addition to being quite lovely, each cookie is wonderfully chewy, and sweet with a little bit of spice.  I made a batch to bring to one of my choirs at work last weekend, and they disappeared before I got the chance to save a few for leftovers!  Next time…more for me.  :)
Chewy Ginger Molasses Cookies
Ingredients:
1 1/2 cups butter, softened
2 cups sugar
1/2 cup molasses
2 eggs
4 cups all-purpose flour
4 tsp. baking soda
2 tsp. cinnamon
1 tsp. cloves
1 tsp. ginger
1 tsp. salt
Directions:
Preheat oven to 375 degrees.

In a medium bowl, whisk together flour, soda, cinnamon, cloves, ginger and salt. Set aside.
With an electric mixer, beat together butter and sugar until combined. Add in the eggs and molasses, and beat until combined. Then slowly add in the dry ingredient mixture until combined.
Roll the dough into small balls (about 1" in diameter). Fill a small bowl with sugar, and roll each ball in the sugar until it is completely coated. Place on cookie sheet, and bake for about 8-10 minutes. Once they are done, remove from the oven and let cool for a minute or two. Then transfer to wire racks to cool completely.

It seems that everyone has a specific preference with the "spicy-ness" of ginger cookies.  I find this recipe plenty flavorful, but if you'd like, feel free to experiment with adding more or less of the spices.  You could also throw in some nutmeg, allspice, or other favorites.

If you make this recipe, be sure to snap a photo and hashtag it #gimmesomeoven. I'd love to see what you cook!
Leave a Comment:
Comments
Trackbacks/Pingbacks