Classic French Onion Soup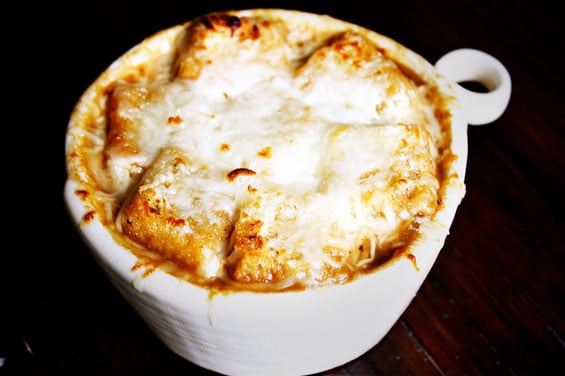 I've long been a fan of French onion soup.
For years in high school, while other normal teenagers were coming home to grab a bag of chips or some fruit to snack on, Yours Truly could be found cracking open a can of Campbell's French onion soup.  Oh yes, I had my little routine of warming it up, and then adding whatever toast/bread/croutons were available on top, sprinkling on some cheese, and then broiling it in the oven.  All of this "classy-ness" was, of course, to be enjoyed while watching "Fresh Prince" or the like…  :)
Anyway, suffice it to say, there's a reason why this soup is a "classic" in my book.  I absolutely love it.  Have ordered it at a few zillion restaurants over the years, and also make it at home often (although thankfully I moved on from my Campbell's can!).  I occasionally enjoy changing it up — by adding in bacon (and using the grease to saute the onions – YUM!), or using some red onions, or even making a "cream of onion" variation.
But a classic's a classic, so here's my favorite recipe!
Classic French Onion Soup
A favorite soup recipe - Classic French Onion Soup.
Ingredients:
1.5 lbs. (about 5 cups) peeled and thinly sliced yellow onions -- approximately 4-5 large onions
4 Tbsp. olive oil (or Julia prefers butter!)
1/4 tsp. sugar
3 cloves garlic, minced
3 Tbsp. flour
8 cups of beef stock or chicken stock (or a combination of the two)
1/2 cup dry white wine or dry white vermouth
1 tsp. worcestershire sauce (optional)
1 bay leaf
1/4 teaspoon of dry thyme
salt and freshly ground black pepper to taste
toasted french bread, or croutons
1-2 cups of grated Swiss Gruyere (or Asagio, Swiss, Mozzarella or Parmesan) cheese
Directions:
In a large heavy-bottomed saucepan, sauté the onions in the olive oil (and/or butter) on medium-high heat until well browned, but not burned, about 30-40 minutes (or longer). Add the sugar about 10 minutes into the process to help with the caramelization.
Sprinkle the flour over the mixture and stir for 2 minutes. Add garlic and sauté for 1 more minute. Add the stock, wine (or vermouth), worchestershire sauce (optional), bay leaf, and thyme. Cover partially and simmer until the flavors are well blended, about 30 minutes. Season to taste with salt and pepper. Discard the bay leaf.
Once soup is ready, ladle into oven-proof bowls or ramekins. Place sliced bread or croutons on top of the soup, and then cover generously with the grated cheese. Place bowl(s) on a cookie sheet for easier handling (and in case of spills!), and place into the oven set to "broil". Watch carefully, and when cheese is melted and bubbly and has begin to brown slightly, remove and serve immediately.

There are a number of recipes out there that recommend roasting the onions in the oven, rather than sauteing them on the stove.  So if you have even more time on your hands to make this soup, I'd totally recommend giving it a try!  Granted, there's less time spent having to constantly stir the onions, but I've somehow never found the extra 30-60 minutes that are added by the oven method.  Someday, someday...  :)

If you make this recipe, be sure to snap a photo and hashtag it #gimmesomeoven. I'd love to see what you cook!
Leave a Comment:
Comments
Trackbacks/Pingbacks
Pingback: Valentine's Day Love | Emilee's Journey