Classic Hummus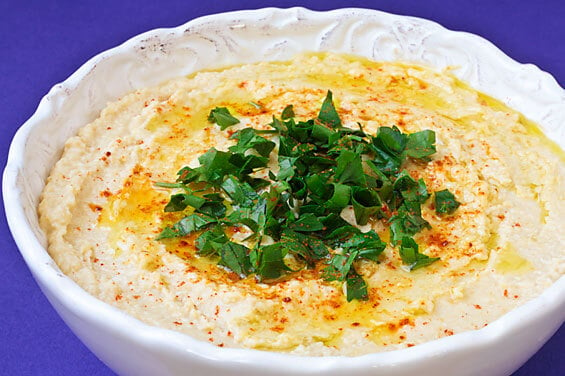 It's "Hip Hip for Hummus Week" at Gimme Some Oven!!!
Because really — why not celebrate this fantastic dip?!  It's fresh, super affordable, packed with great nutrients and protein, versatile, and of course…delicious!  (And heads and tails better when made at home, versus store-bought!)
We'll explore a variety of creative recipes this week, but to kick things off, thought it would be wise to go back to the basics with a classic hummus recipe.  Granted, if you ask ten different cooks what the perfect traditional hummus recipe would be, you'll likely get ten different answers.  :)  But in general, you'll find a smooth blend of chickpeas, garlic (often roasted), tahini (sesame paste), lemon juice and olive oil.  Plus some extra light seasoning and/or toppings if desired.  Completely simple, yet completely satisfying.
So dust off your food processor, and get ready for a fun week with a new hummus recipe each day — yay!
Classic Hummus
Classic hummus recipe that's easy, affordable, and delicious! Can be prepared in less than 5 minutes!
Ingredients:
1 (15 oz.) can chickpeas (garbanzo beans), drained
2 cloves garlic, peeled and smashed
2-3 Tbsp. tahini (sesame paste)
2 Tbsp. lemon juice
2 Tbsp. olive oil
1/2 tsp. cumin
pinch of salt and pepper (to taste)
1/4 cup water (or the leftover chickpea juice from the can)
optional toppings:
more olive oil
chopped fresh Italian-leaf parsley
paprika (or smoked paprika)
toasted pine nuts
Directions:
Add first seven ingredients (chickpeas thru salt/pepper) to a food processor, and blend until smooth. Add in the water (or chickpea juice) and continue blending until it reaches your desired consistency.

Garnish with optional toppings, and serve or refrigerate.

If you make this recipe, be sure to snap a photo and hashtag it #gimmesomeoven. I'd love to see what you cook!
Ali's Tip:
Even for the classic recipe, I like a little extra lemon juice.  And will often toss in a pinch of cayenne as well for an extra kick.  But otherwise, there's a reason why classics are classics!  :)
Leave a Comment:
Comments
Trackbacks/Pingbacks