Slow Cooker Spinach Artichoke Dip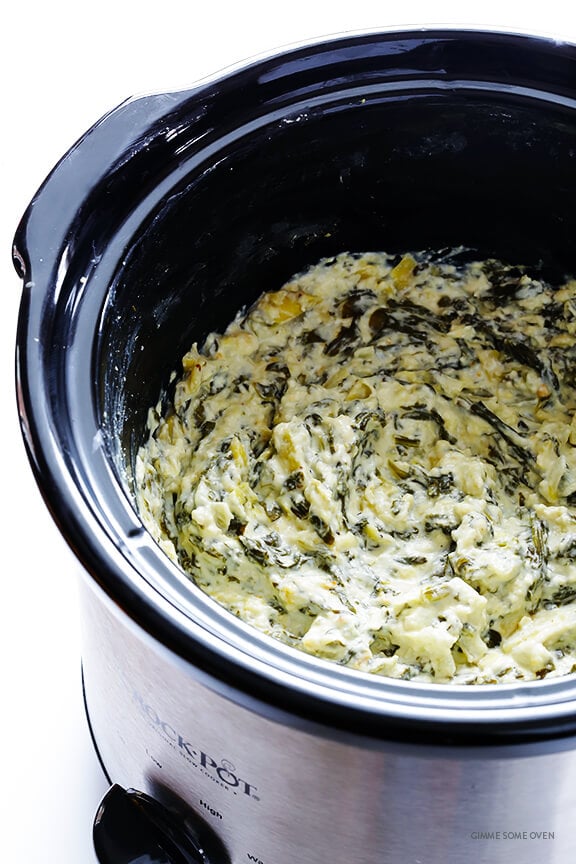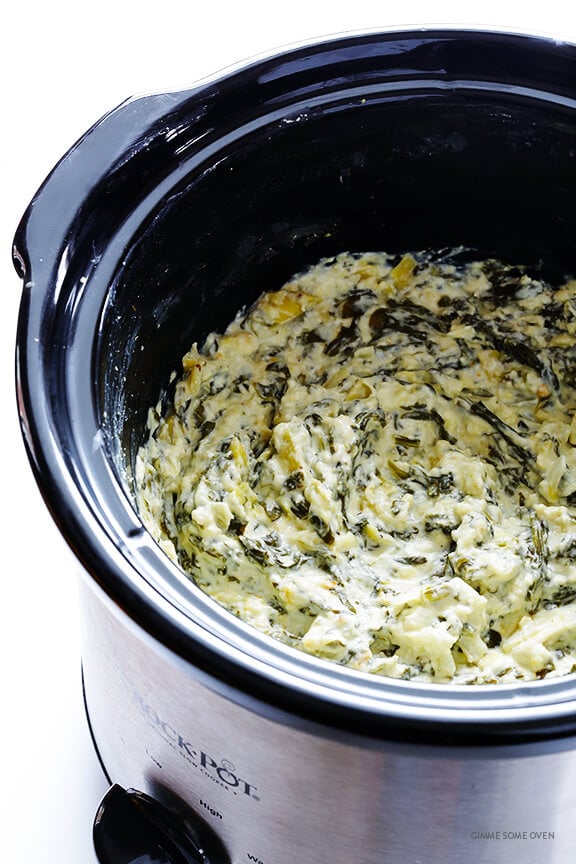 So, I realized yesterday that I'm going to be in Kansas City a grand total of five days this next month.  Five!!
Between a girls' weekend at the lake, some fun work trips to Pittsburgh and Minneapolis and New York, plus my first long road trip with this cute guy to chillax at a cabin in North Carolina, somehow the calendar filled completely up.  Which makes me completely excited (so many adventures ahead!).  And profoundly grateful (still can't believe that I have my dream job that allows me to travel!).  And — I'll admit — a little anxious (mostly because I have to do double the work before I leave, since no one's there to cover for me in my job while I'm away).
Needless to say, there's a mega to-do list sitting beside my computer that's staring back at me all day long.  And my natural little "achiever's" inclination is just to put my head down and power through.  But hey, these precious days at home are also the precious five days that I have to spend with the people I love here in Kansas City.  And as satisfying as it would be to stay in and cross more items off of the to-do list, I know from experience that happy hours and coffee dates and neighbor nights make for a much more satisfying and memorable days.  Of course, I prefer days with a good mix of both working hard and friend-ing hard.  But thankfully I have some good friends around to make sure that the latter is the priority.
Yesterday was no exception.  :)
With a full day of meetings on the calendar, I knew that there was already going to be far more work to accomplish than I had hours in the workday, and I considered clearing my schedule for the evening.  But mid-afternoon, I decided to throw the ingredients for my favorite spinach and artichoke dip into the slow cooker for the evening — partly because there's nothing I love more than a good spin dip, and partly so I'd have it waiting as a reminder not to get in workaholic mode and back out on my plans with friends.  Sure enough, come 5pm, the dip was bubbling and delicious and begging to be enjoyed.  So I closed up my computer and hit the road.  And hours later — after a lovely happy hour shared at the home of a dear friend, followed by a raucous stop by our weekly neighbor night back at my loft — I'm so glad I did.
Good food shared with good friends always wins.
Slow Cooker Spinach Artichoke Dip Recipe | 1-Minute Video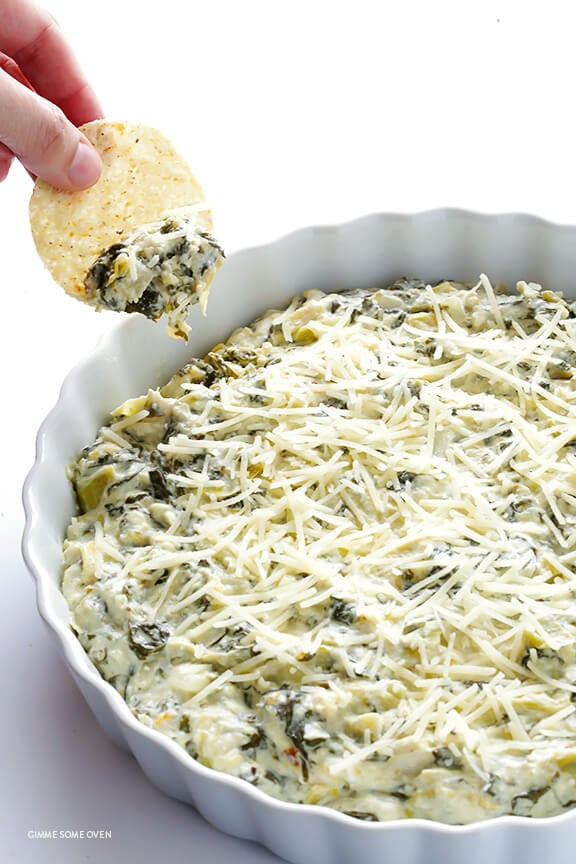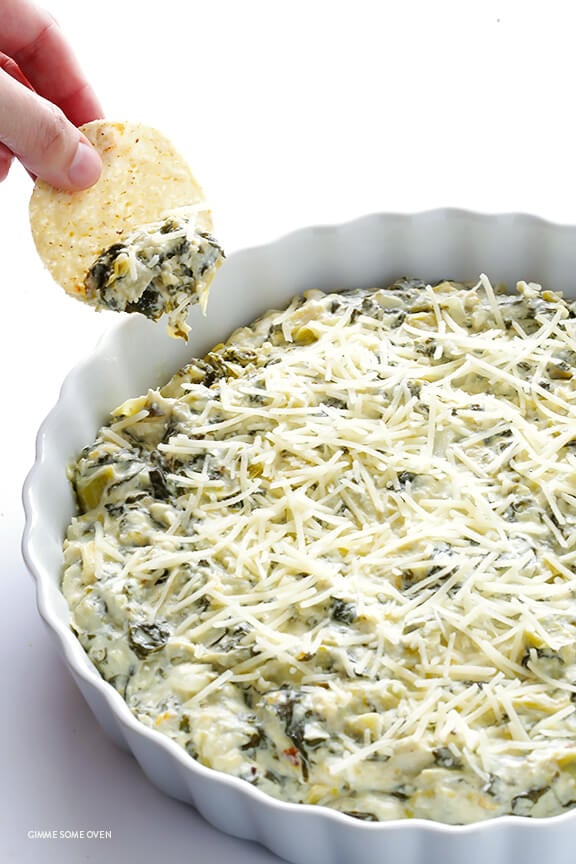 (Ahem, especially when it's made extra easy in the slow cooker!!)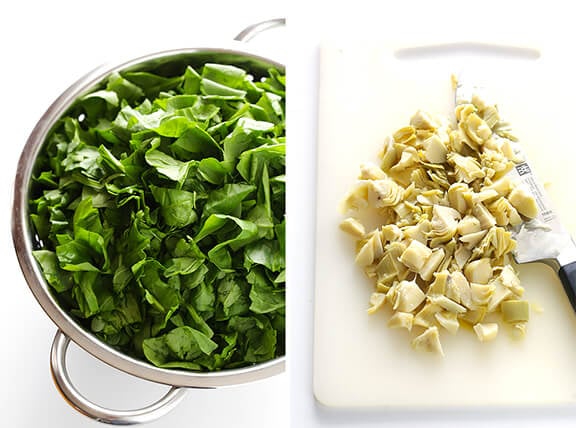 Seriously, I've been making spinach and artichoke dip in the oven and on the stovetop for years and years and years.  And I don't care if it's becoming a dip of the past, and other appetizers are more trendy.
I love me some spin dip!
Just ask my friends who watched me almost single-handedly polish off the little bowl of spin dip that we all ordered "to share" at a happy hour last week.  I mean, I don't know how that little bitty bowl was supposed to feed the five of us.  But I figured that since it was so good, it would only be appropriate to make another batch to actually share with everyone this week.  ;)
So I did!  But for something different during my crazy day full of meetings, I decided to try an experiment and toss all of the ingredients from my favorite spinach and artichoke dip recipe in the slow cooker (instead of baking them in the oven) to see what happened.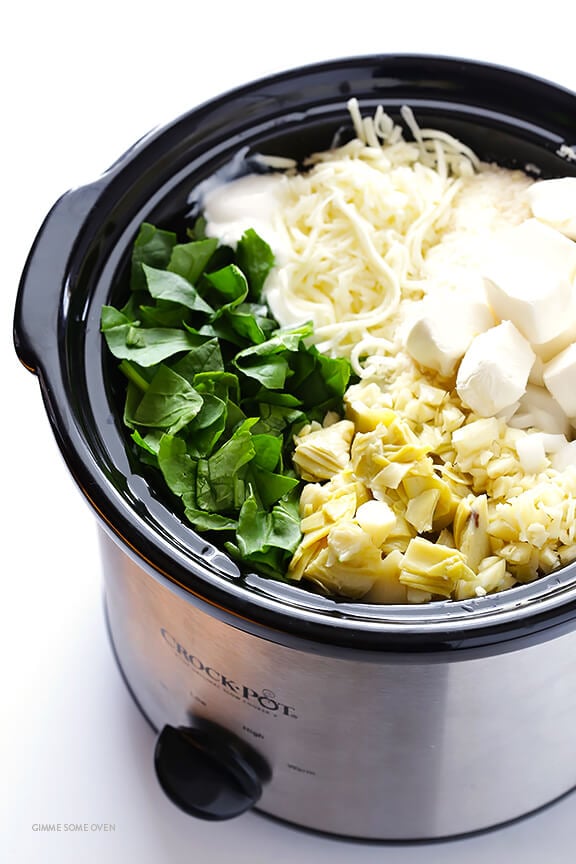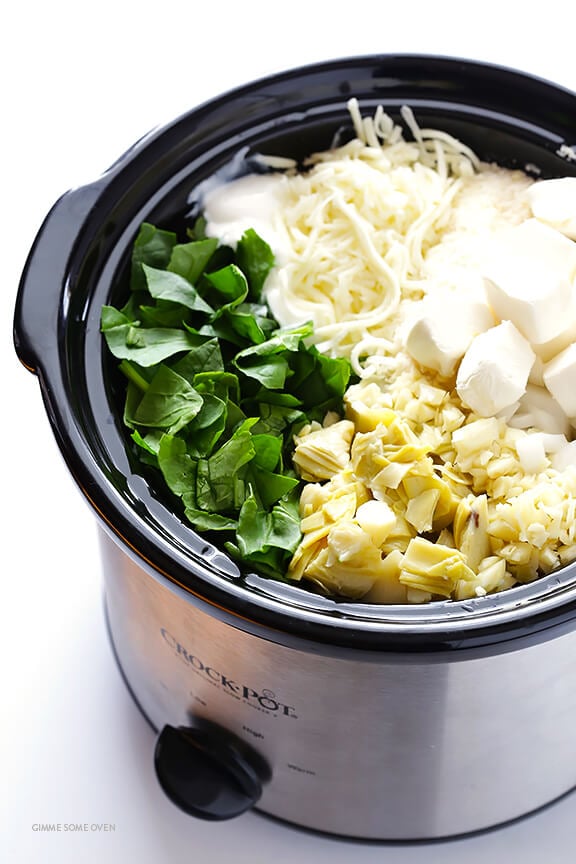 I just stuffed them all in.  (Note: That slow cooker is mostly full of fresh spinach — so much fresh spinach!)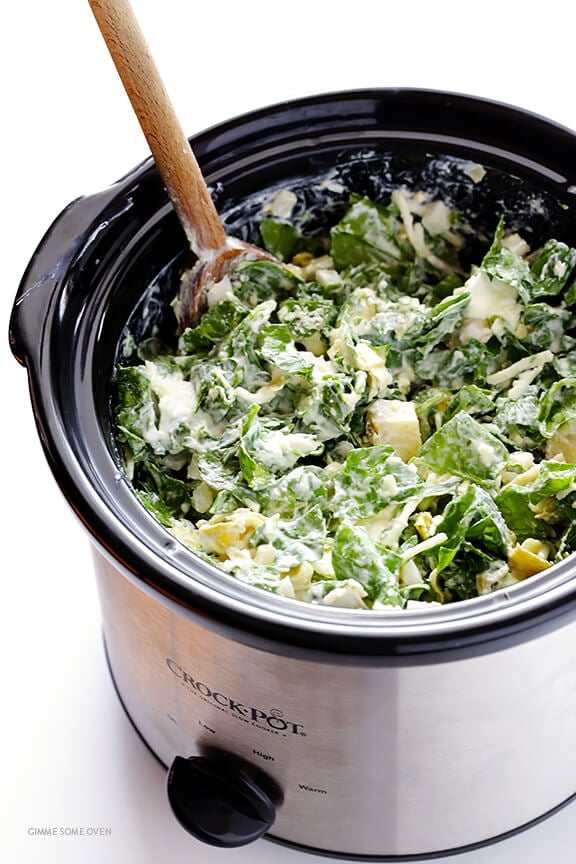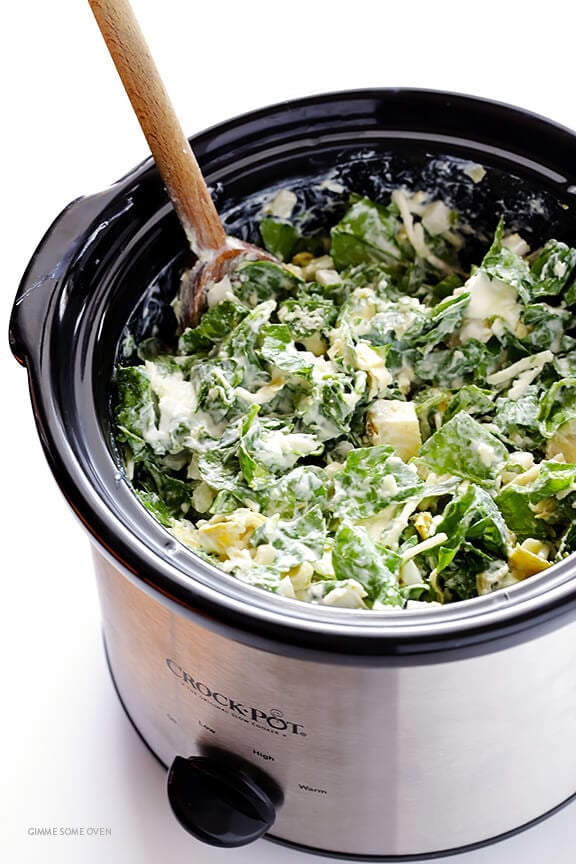 And then stirred 'em together.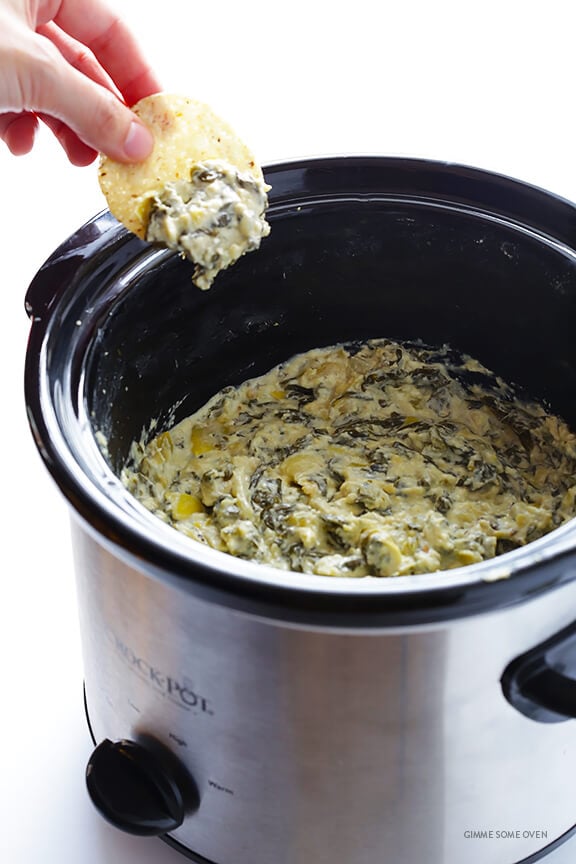 And sure enough, 2 hours later (or 3-4 hours, if you want to cook this on "low"), I couldn't wait to get out of the house and take this dip to share with my friends.
It was perfect!
It's literally chocked full of fresh spinach and zesty artichokes, it's super creamy (although made slightly healthier with low-fat cream cheese and Mozzarella and Greek yogurt), it's seasoned with a nice kick of garlic, and it is absolutely irresistible.  Trust me.  It's all gone.  :)
So if you're looking for an ultra-easy appetizer for busy nights, or game day, or whatever fun adventures you have planned this fall, I can't recommend this one enough.  It's a classic.  And at least in my house, it's going to be a slow cooker classic from now on.
Enjoy!
Slow Cooker Spinach Artichoke Dip
This Slow Cooker Spinach Artichoke Dip is super delicious, and EXTRA easy when made in the crock pot!
Ingredients:
1 (10 oz.) bag fresh baby spinach, roughly chopped
1 (13.75 oz.) can quartered artichoke hearts, chopped and drained
1 (8 ounce) brick low-fat cream cheese, cut into 1-inch cubes
1 cup light sour cream or plain Greek yogurt
1 cup shredded Mozzarella cheese
1/2 cup grated Parmesan cheese
1/3 cup finely-chopped white or red onion
4 cloves garlic, minced
1/2 tsp. black pepper
1/4 tsp. salt
Directions:
Combine all ingredients in a large mixing bowl and stir until evenly combined.  (You can also stir the mixture actually inside the bowl of your slow cooker, but it would be easier in a large mixing bowl.)  Transfer the mixture to the bowl of your slow cooker, that has been misted on the inside beforehand with cooking spray.
Cook on low for 3-4 hours or on high for 2 hours, or until the dip is completely warmed through and the cheese is melted.  Give the dip a good stir and season with extra salt and pepper if needed.
Transfer to a serving dish, and serve warm with chips or bread or pita crackers or whatever dippers you'd like.
All images and text ©
If you make this recipe, be sure to snap a photo and hashtag it #gimmesomeoven. I'd love to see what you cook!