Honey Beer Bread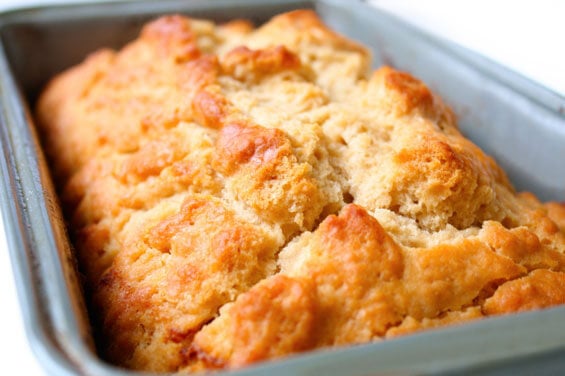 Every time we throw a party, it seems that leftover beer is always left as a little thank-you gift in our kitchen.  Which would be a delightful little surprise — except that (as I've mentioned before), my roomie and I are not beer-drinkers.  I've just never gotten into the taste+carbonation, and she's an uber-serious runner and pretty much always sticks to water.  So day after day this month, we've walked by this nice little 6-pack from a favorite local brewery, wondering what will become of it.
And then one day, we were both in the kitchen talking about what we were planning to cook the next day, and the answer was the same (surprise!) — beer bread!  :)  Ah, the fun of living with another baker.  So sure enough, our house has been filled with the unbelievable smell of freshly-baked bread this month.  Maybe not what our friends intended…but I'm all for it!
We all ended up loving this recipe as well.  The buttery, honey-wheat goodness is absolutely delicious — especially fresh from the oven.  And the batter literally takes less than 5 minutes to prepare.  What could be more simple??
So to all of you beer-drinkers and/or beer-bakers out there, I say….bring on the bread!!!  :)
Honey Beer Bread
You will love this sweet, delicious (and easy!) beer bread! Detailed recipe and photographs included.
Ingredients:
3 cups all-purpose flour
2 Tbsp. sugar
1 Tbsp. baking powder
1 tsp. salt
2 Tbsp. honey or agave nectar
1 bottle (12 ounces) beer
4 Tbsp. (half stick) butter, melted (**You can double this if you'd like**)
Directions:
Preheat the oven to 350 degrees F. Grease a 9x 5x 3-inch loaf pan.

In a medium bowl, whisk together the flour, sugar, baking powder and salt. Using a wooden spoon, stir the beer and honey into the dry ingredients until just mixed. (I recommend popping your honey in the microwave for a few seconds beforehand to make it easier to stir in!)

Pour half the melted butter into the loaf pan. Then spoon the batter into the pan, and pour the rest of the butter on top of the batter. (Use a pastry brush to spread it around if you'd like.)

Bake for 50 to 60 minutes, until top is golden brown and a toothpick/knife inserted in the middle comes out clean. Serve immediately.

Ali's Tip:

If you're a big fan of beer-cheese bread, add a cup or so of cheddar (or your favorite cheese) into the batter to give it the queso-kick.  :)

If you make this recipe, be sure to snap a photo and hashtag it #gimmesomeoven. I'd love to see what you cook!
Leave a Comment:
Comments
Trackbacks/Pingbacks