Restaurant-Style Salsa
Enjoy chips and salsa at home that are as good (or even better!) that your favorite restaurant with this restaurant-style salsa recipe. It's fresh, delicious, and SUPER easy to make!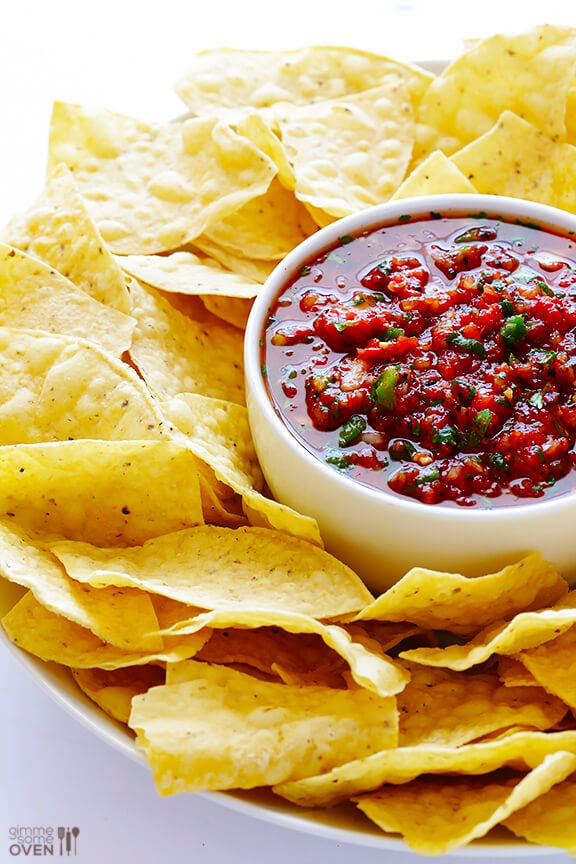 Alright friends — time for a Very Important Pop Quiz:
1) Who of you out there are obsessed with big fans of chips and salsa?
2) Who of you out there always end up asking for a second round of chips and salsa when you're out at Mexican restaurants??
3) Who of you out there basically end up making chips and salsa your main course when you're out at Mexican restaurants, taking those quesadillas or tacos you ordered home as leftovers???
(Ahem.)  I'm not guilty of any of those.
Just kidding.  One peek at my Instagram feed and anyone will know that chips and salsa are a mega importante part of my life.  Partly because they are my total version of comfort food.  Partly because chips and salsa usually mean that good friends and margaritas are nearby.  And partly because they are just so crazy, irresistibly, good.
So today I thought I'd join the ranks of other bloggers who have shared their favorite restaurant-style salsa recipes, and offer you my personal favorite.  If you search this site, you'll see that there are plenty of other salsa recipes on here that I highly recommend.  But if you're looking for a classic, fresh, milder, and super easy to make version that is akin to what you receive in restaurants, today's your lucky day.
It probably comes to no surprise to you that I'm a big of a salsa snob.  Good salsa is an absolute must at Mexican restaurants.
To me, it's kind of like the egg drop soup test at Chinese restaurants.  If the egg drop soup is good, almost always the main dishes that follow will be stellar as well.  The same goes for salsa.  If the salsa at a restaurant is fresh and well-seasoned and addictive, then chances are the rest of their food will be as well.  If it falls flat, ooooh baby, it's bad news bears with me.
I admit I'm kind of a harsh critic when it comes to salsa, but mostly because it is so darn easy to make!!  (And hard to mess up!)  So there's really no excuse why it fresh salsa shouldn't rock everyone's socks off.  And then have them dipping and double-dipping to get more.
Or…you know…making basically an entire meal out of it.  ;)
(And then mega-tipping your waitress/waiter for their awesomeness in refilling that bowl of chips — also very important.)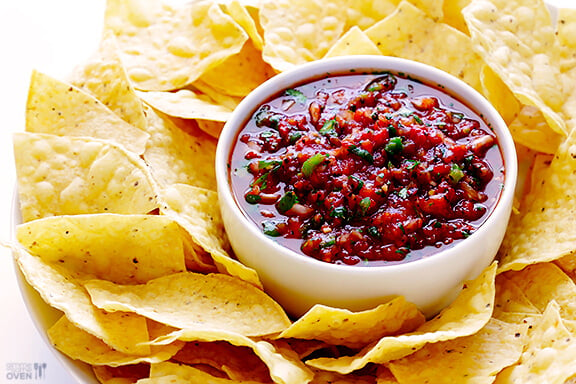 Most of the time when I'm out at Mexican restaurants, I always ask for the "hot" salsa, and spend most of my meal sweating it out from the spicy heat.  But I also definitely appreciate a good and milder fresh salsa.  So that's what we're focusing on today.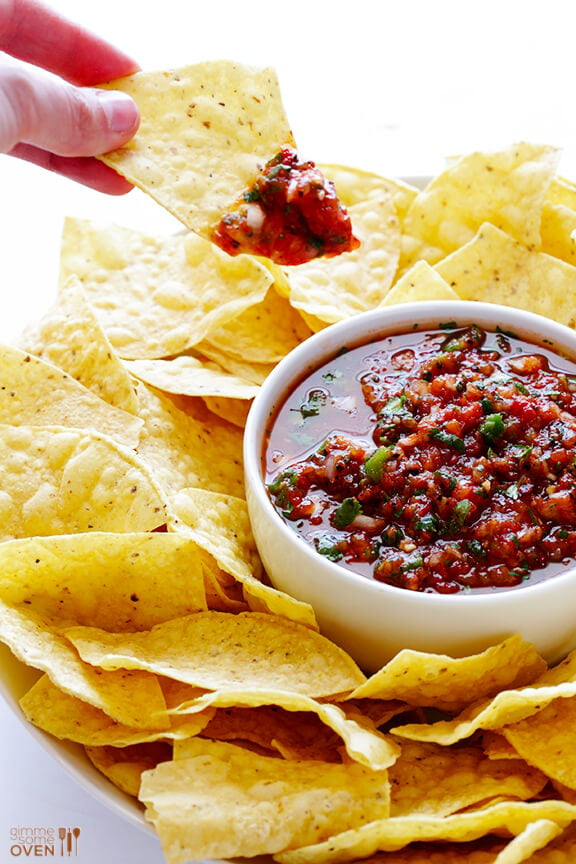 I have been making essentially this classic recipe for years and years and years.  And even though there are no funky extra ingredients in it, this salsa recipe always receives rave reviews from my friends.  So here's the how-to, so that you can make it for your friends.  Pronto.
First, a quick word about the tomatoes.  I think one of the biggest hesitations people have about homemade salsa is that they need to make it with fresh tomatoes.  Not true!!!  First of all, fresh tomatoes are only in season in the Midwest for about 2 months of the year.  (Otherwise they are basically bland and watery.)  But by contrast, canned tomatoes are canned at their peak of freshness, they are super inexpensive and easy to buy year-round, and you don't have to mess with seeding them.  Sure, you can go with fresh tomatoes if you really want.  But there is zero shame in picking up those pretty cans.
On that note, though, I am a big fan of using fire-roasted tomatoes in my salsa.  That extra roasted touch goes a long way in terms of extra flavor, so pick up those cans if they're available.  Otherwise, regular canned tomatoes will work just fine.
Feel free to also adjust the "heat" to taste with the jalapenos.  If you're worried about it being too spicy, just add in half of the (seeded) jalapeno to start.  If you like more heat, add in the entire jalapeno with the seeds.  (Or do what I like to do, and add two!!)  I also usually like to throw in a chipotle in adobo sauce or two, but that probably doesn't count as classic "restaurant-style" salsa.
Still, this salsa is about as easy as it gets.  No roasting, drying, or molcajete (mortar/pestle) workouts required.  Just toss all of the ingredients in a food processor or blender and pulse until combined.  For this specific salsa, I like to pulse until it reaches a consistency that is smooth but still slightly chunky.  But it's up to you — you can go smoother or chunkier.  Whatever's best.
If your salsa happens to be super water-y, you can also drain some of the extra liquid off.  (Or better yet, drain your canned tomatoes before adding them.)  I actually don't mind this salsa recipe being a little runny.  It will make the salsa chicken recipe coming tomorrow all the better too… :)
Once you have the salsa nice and blended, pop it in a serving bowl and dive in.  And then enjoy every last bite.
If you're a canner, this recipe is also awesome for canning.  But mine always disappears immediately.  ;)
Happy chips and salsaing, friends!
Restaurant-Style Salsa
This restaurant-style salsa recipe is easy to make, and full of amazing fresh flavor.
Ingredients:
2 (14-ounce) cans fire-roasted tomatoes, drained if you like a thicker salsa
3 cloves garlic, peeled
1 (4 oz.) can diced green chiles
1 bunch (about 2 cups loosely-packed) fresh cilantro
1 cup diced white onion
1 jalapeno, stem removed (and seeded, if you want less heat)
1 tsp. ground cumin
1 tsp. salt
1 tsp. sugar
1/4 tsp. black pepper
Directions:
Pulse all ingredients together in a food processor or blender until smooth, or your desired consistency is reached. Season with additional salt and pepper if needed.

Serve immediately, or refrigerate in a sealed container for up to 3 days.

(Optional modifications: If you're worried about the salsa being too spicy, just add in half of a (seeded) jalapeno to start, and then see if you want to add more. If you want more heat, add in the entire jalapeno with seeds, or even add in two jalapenos. If you want it extra "smoky", add in 1-2 chipotles in adobo sauce.)

**I am not a canning expert, but do believe this recipe can be canned successfully.**

If you make this recipe, be sure to snap a photo and hashtag it #gimmesomeoven. I'd love to see what you cook!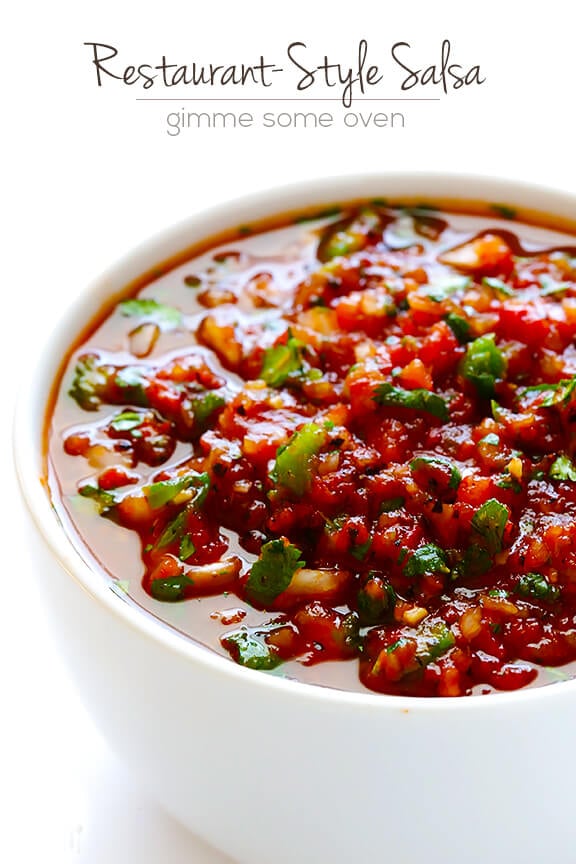 Leave a Comment:
Comments
Trackbacks/Pingbacks