Roasted Vegetable Enchiladas
Confession time.
For the first twenty years of my life, I was passionately anti-vegetable.
Sure, like most kids, I would happily eat any kind of potatoes, carrots and celery on occasion.  But nearly everything else — tomatoes, peppers, squash, zucchini, mushrooms, cauliflower, asparagus, or basically anything else that was actually good for you — was out of the question.  As I would say with a flip of my 17-year-old hair, "conversation closed."
But when I was in my early twenties, there was one simple word I learned that was a game changer: ROASTING.
Holy moly.  The first time I walked into a friend's house and was met with the overwhelmingly yummy smell coming from whatever she was roasting in the oven, I didn't care what the ingredients were — I was sold.
A decade later, I still roast a big pan of veggies nearly every week, and count it as one of the best possible treats (and smells!) that comes from my kitchen.  I'll eat them as my meal, serve them as a side, toss them in some soups or quesadillas, or whatever might sound good.  Can't get enough!
So for something different last week, I decided to combined a big pan of roasted veggies with some tortillas, black beans, cheese and some leftover homemade enchilada sauce I had (after making these chicken enchilada cups).  And voila — these Roasted Vegetable Enchiladas were born.  So simple, so flavorful, and SO good.
Definitely a perfect way to catch up on all those veggies I missed for the first half of my life!  ;)
Roasted Vegetable Enchiladas
Delicious roasted veggies overflow in these enchiladas.
Ingredients:
1 yellow squash, cut into 1/2-inch pieces
1 red pepper, cut into 1/2-inch pieces
1 medium red onion, roughly chopped
1 medium sweet potato, cut into 1/2-inch pieces
1 small head broccoli, roughly chopped
1 small head cauliflower, roughly chopped
1 (8 oz.) container button mushrooms, halved or quartered
2 Tbsp. olive oil
salt and black pepper
8 tortillas (use whichever kind you'd like)
1 1/2 cups red enchilada sauce, [homemade|http://www.gimmesomeoven.com/red-enchilada-sauce/] or store-bought
2 cans black beans, drained and rinsed
2 cups Mexican shredded cheese
optional garnishes: fresh cilantro, chopped avocado, pico de gallo, sour cream
Directions:
Preheat oven to 400 degrees F. Line a large baking sheet with aluminum foil.

In a large bowl, toss together the yellow squash, red pepper, red onion, sweet potato, broccoli, cauliflower, mushrooms and olive oil until evenly mixed. Season generously with salt and black pepper. Spread the mixture out evenly onto the covered baking sheet. (Vegetables should be mostly in a single layer. If your baking sheet is small, you may need to spread these out over two baking sheets.)

Bake for 30 minutes, or until the edges of the vegetables begin to crisp and they are tender. Remove and set aside to cool. Reduce oven heat to 350 degrees.

Meanwhile, prepare your enchilada assembly line. Lay a tortilla on a flat work surface, then spread the top of it with a generous few tablespoons of enchilada sauce. Sprinkle down the center with black beans, shredded cheese, and then lots of roasted veggies. Roll the tortilla up to close, then place it seam-side-down in a greased 9x13-inch baking dish. Repeat with remaining ingredients. Then spread any remaining enchilada sauce on top of the enchiladas in the dish.

Bake at 350 degrees for 20 minutes. Then remove dish and sprinkle extra cheese on top, and bake for 5-10 minutes more until the cheese has melted and the tortillas begin to brown slightly around the edges. Remove from oven and serve immediately, with garnishes if desired.

*To make these vegan, omit the cheese and use a vegan enchilada sauce.  (In my homemade red enchilada sauce recipe, just replace the chicken stock with vegetable stock.)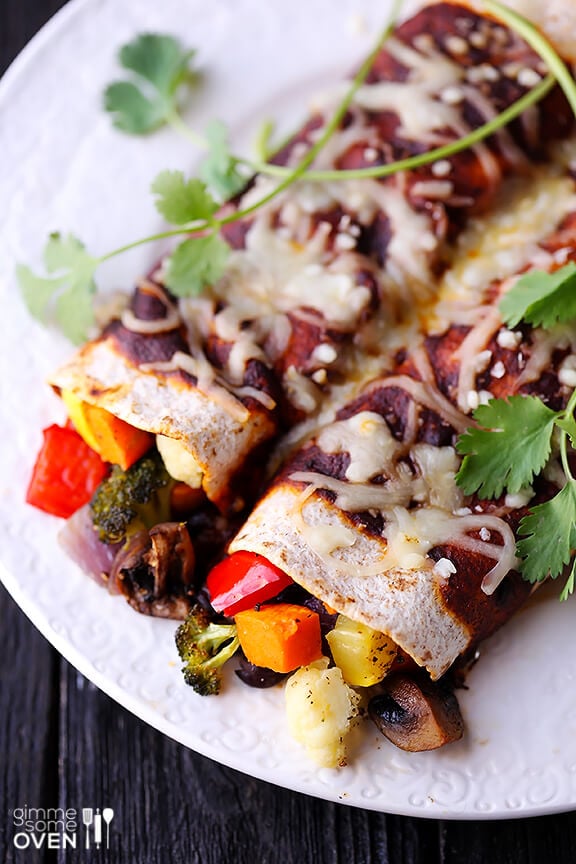 Leave a Comment:
Comments
Trackbacks/Pingbacks
Pingback: Veggie Recipe Round Up! | Linda Wagner

Pingback: Veggie Enchiladas | newtritionsavvysarah