5-Ingredient Potato Soup
Winter decided to arrive in Kansas City yesterday.  (Ugh.)  So I took that as the perfect cue to hop on a plane to sunny California at the crack of dawn this morning to (hopefully) meet the man of my dreams.  (Yay!)
That's right.  In just a few hours, I am going to be attending my first ever Hollywood film screening at the AFI film fest with my good friend Maria and the one and only…Tim Riggins.
Tim Riggins!!!
Ok, ok, my screenwriter friends have officially banned me from calling him that.  Or bringing him cookies as he walks in on the red carpet.  (Which I still think is a darn good idea.)  Or gushing about how much I loved him on Friday Night Lights.  No, if I get so lucky as to have the chance to meet Taylor Kitsch, I shall be calm, cool and collected and ask him about his "work", and his process, and such.  And maybe just once compliment him on his abs. ;
I promise to tell you all about it, and post lots of Instagram pics along the way!
But once I return from our little whirlwind trip to a new loft that is still in disarray after moving and a busy work schedule to boot, you'd better believe I am going to be making another batch of this 5-Ingredient Potato Soup recipe stat.  This is the second recipe in our 5-Ingredient Soup Week here on the blog, and even though I will admit I doubted it was possible, it absolutely rocks.  With just 5 ingredients that may surprise you…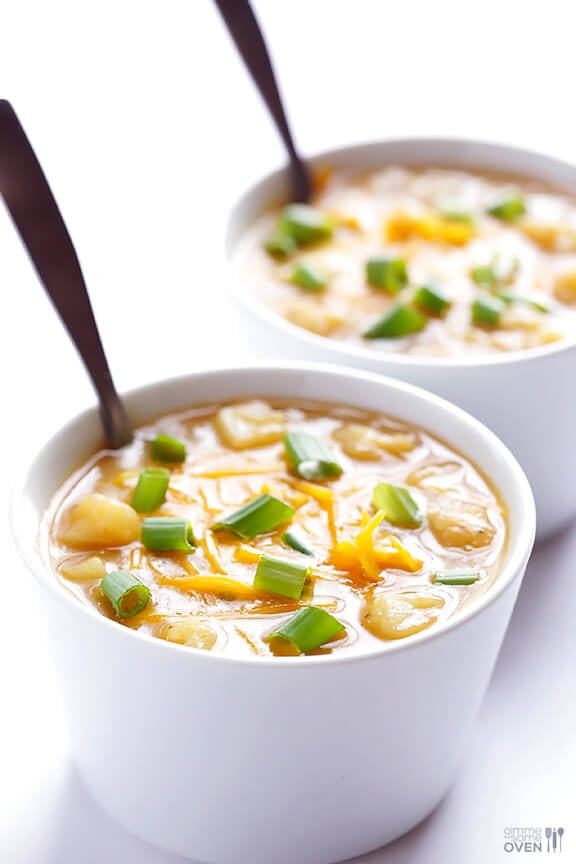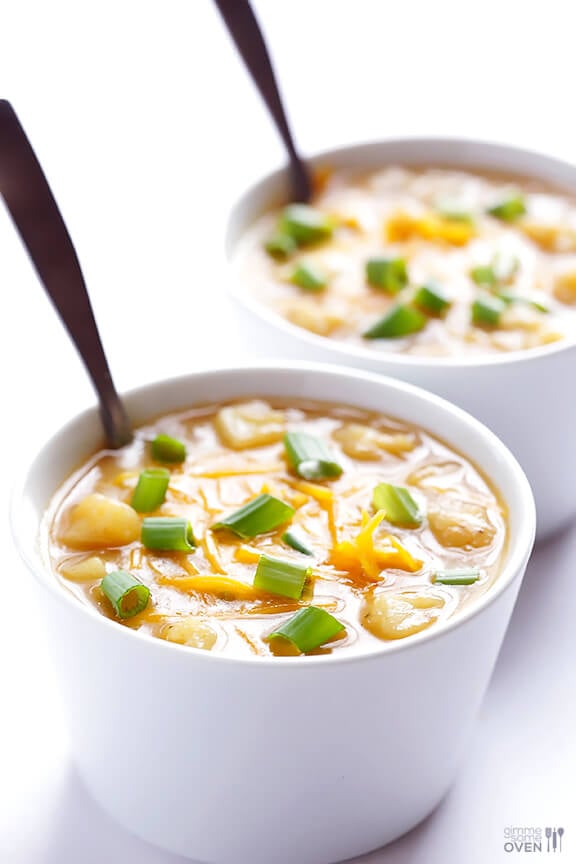 Without a doubt, classic potato soup was the recipe that I hoped to conquer with this series.  I have often used extra potatoes for thickening in potato soup, so I guessed that a 5-ingredient recipe might be possible.  But I was doubtful about seasoning and achieving that thick, rich and cheesy vibe that comes with classic potato soup.  Thanks to some rockstar ingredients, though, I think I figured it out!
The five ingredients for this potato soup include:
chicken stock (or you can use veggie stock) — lots of flavor, and you won't miss the cream!
green onions — we are using the green and the white parts of these
sharp cheddar cheese — I think the "sharp" part is key for more flavor
Old Bay seasoning — trust me, it's all the seasoning you need
hashbrowns (diced or shredded)
Wait, what is this about hashbrowns, you ask?
People, they are the secret ingredient to making quick and easy potato soup!  Hashbrowns are simply precut, uncooked potatoes that are perfect for cooking in soup.  They save you a bunch of time, and (at least at my grocery store) cost about the same as a few pounds of fresh potatoes.  Score.
So all you do is basically simmer all of the ingredients — minus the cheese — together until the potatoes are cooked and soft.  Then puree most of the soup with an immersion blender (or you can transfer the soup to a traditional blender).
Stir in some cheese until it's nice and ooey gooey and melted.  And then serve the soup warm garnished with green onions and extra cheese.  And voila!!!
This 5-Ingredient Potato Soup recipe is seriously the perfect quick and easy comfort food for the winter.  I'm pretty sure that Tim Riggins would dig it too.  ;)
Enjoy!!!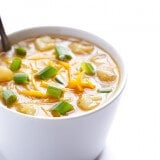 5-Ingredient Potato Soup
This 5-Ingredient Potato Soup is super simple to make, and perfectly thick and flavorful!
Ingredients:
6 green onions, thinly sliced with white and green parts separated
5-6 cups chicken or vegetable broth
2 lbs. frozen hash browns or fresh Russett potatoes, cubed or shredded
2 Tbsp. Old Bay seasoning (or any Cajun seasoning)
1 cup shredded sharp cheddar, plus extra for serving
Directions:
In a large stockpot, stir together the white parts of the sliced green onions (not the green hollow parts), broth, hash browns and seasoning. Heat over medium-high heat until the soup reaches a low boil, stirring occasionally. Reduce heat to medium-low, cover, and simmer for 10 minutes, stirring occasionally.
Once the potatoes are cooked and soft, use an immersion blender to puree most of the soup until it is nice and thick. (Or you can transfer the soup to a traditional blender, and puree it there until smooth.) Return soup to stockpot, and stir in cheddar until combined.
Serve warm, garnished with extra cheddar and the green parts of the green onions.
*Note that this is definitely the 5-ingredient version of potato soup.  You are totally welcome to add some extra seasonings if you like.  This version is simple, simple, simple.  :)
All images and text ©
If you make this recipe, be sure to snap a photo and hashtag it #gimmesomeoven. I'd love to see what you cook!
Be sure to check out my other 5 ingredient soup recipes: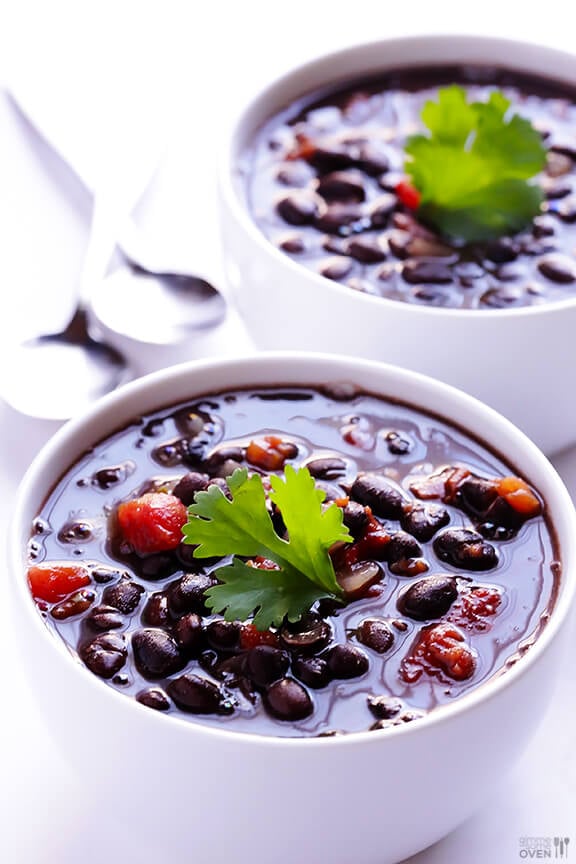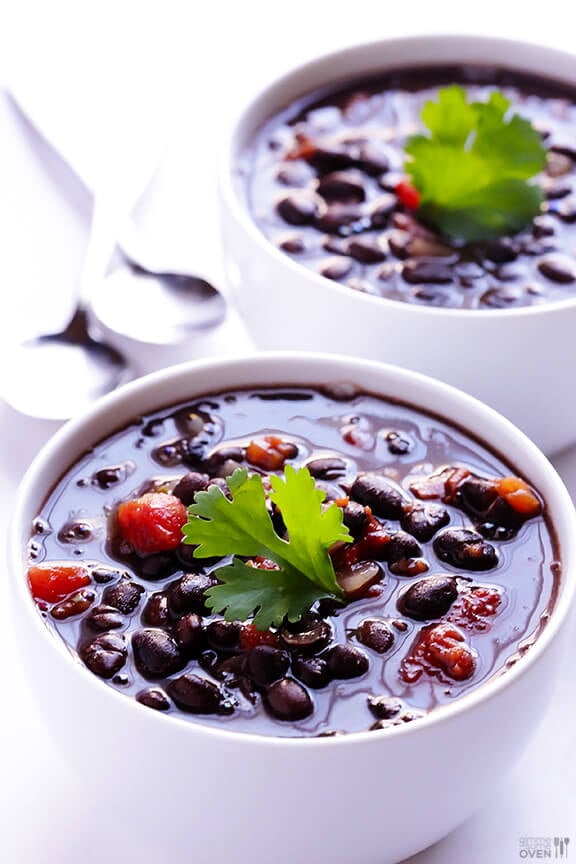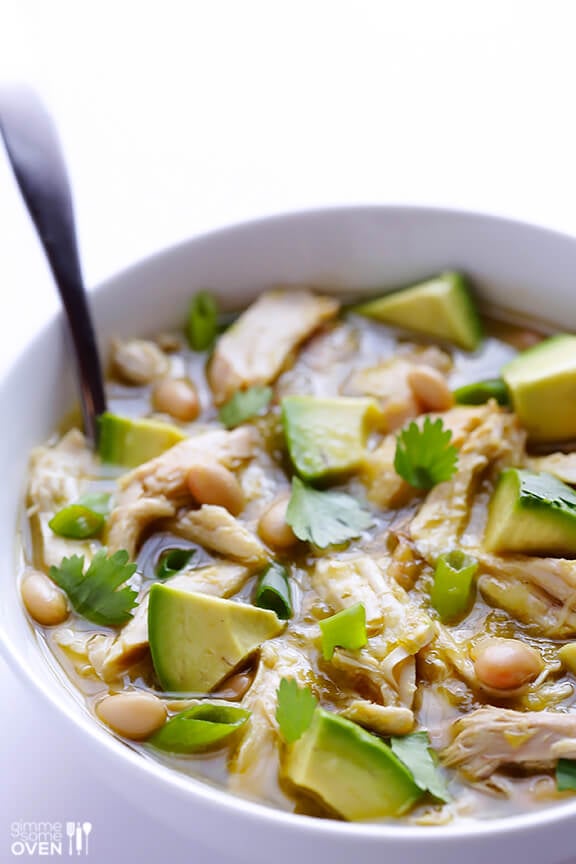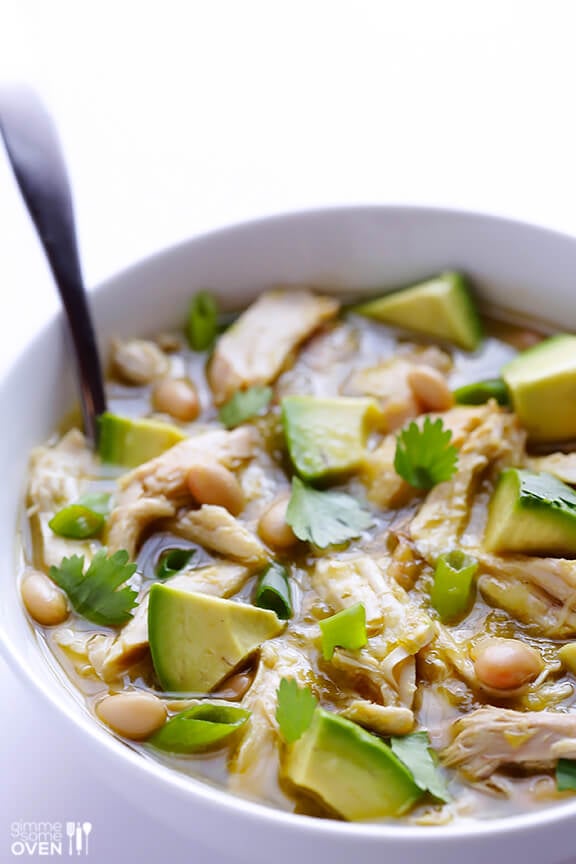 5 Ingredient White Chicken Chili