Brain Power Smoothie (Blueberry Avocado Smoothie)
Healthy eating month continues on Gimme Some Oven today with a smoothie I've been hooked on lately.  It's basically a blueberry avocado smoothie recipe, but I like to call it my brain power smoothie because it's chocked full of tasty ingredients that are good for brain health.
And let's be real — I'm a total nerd, so anything smart and brainy sounds good to me.
Speaking of being nerdy, I'm not quite sure why this came to mind, but have I ever told you the story on here about me winning my 4th grade spelling bee?  Oh yeah, I rocked it at my elementary school with the word "a-u-t-u-m-n, autumn".  So I was sent to the regional spelling bee to represent the school, but unfortunately I got eliminated on the first round.  My word?  (Now please picture a packed auditorium full of parents and students with an awkward old man very dryly reading the words.)
Cleavage.
(And yes, I asked for the definition.)
I think that may have been the most "scandalous" moment that spelling bee crowd had seen in years.  But thanks to that darned "a", my spelling bee career didn't go much farther.  At least I learned a new definition about "splits in rock formations".  :)

But I digress…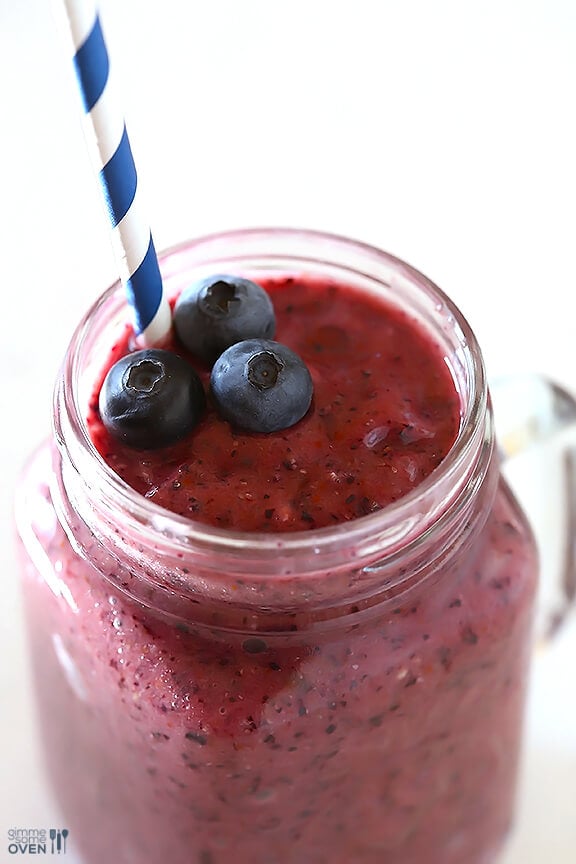 So whether you're also into spelling bees, or (like me nowadays) would just like help remember where on earth you laid your keys, this brain power smoothie is here to help.  It's super tasty and sweet, it's easy to make, and it's oh-so-good for you.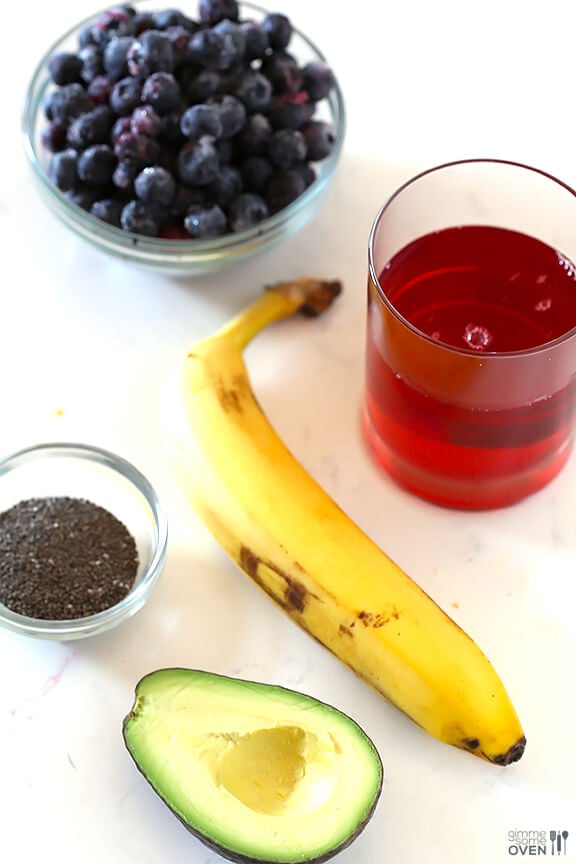 The 6 "brain health" ingredients you need are:
blueberries
avocado
banana
chia seeds
pomegranate juice
ice
Just google 'em.  They are all fantastic "food for thought".  :)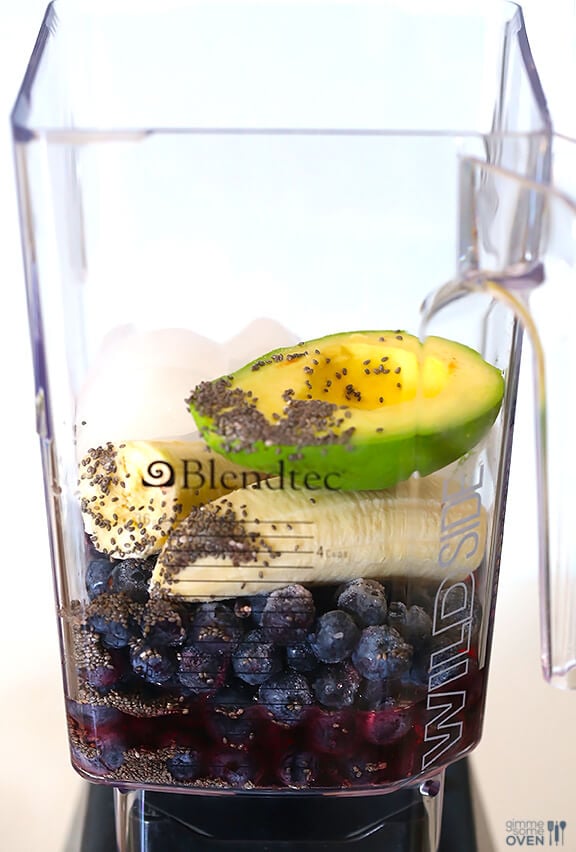 And making this banana avocado smoothie couldn't be easier.  Simply add everything to a blender…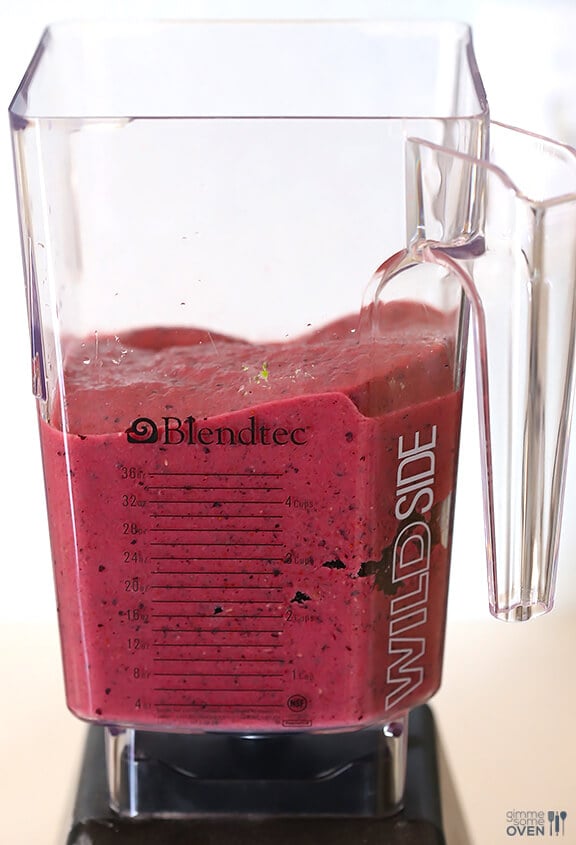 …and blend until it's nice and smooth.
Then dive into that yummy berry flavor and just feel yourself getting smarter.  S-M-A-R-T-E-R, smarter.  :)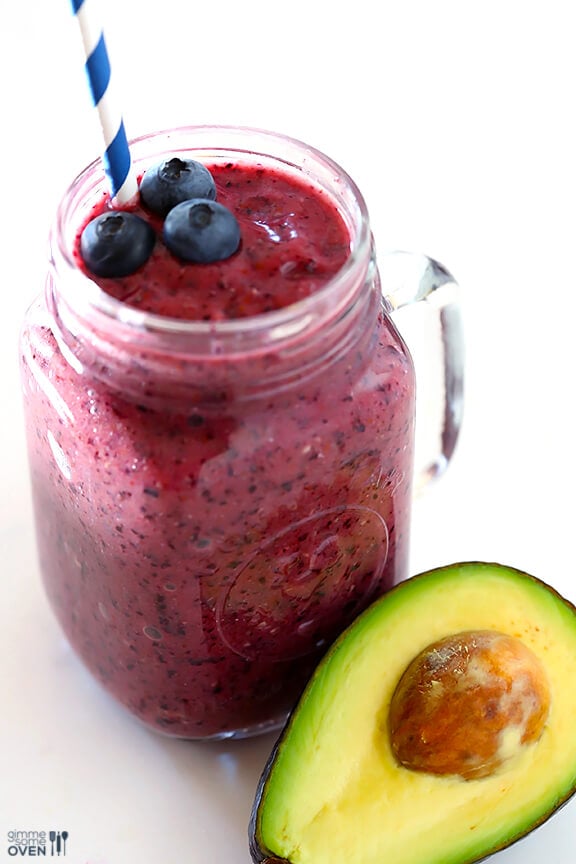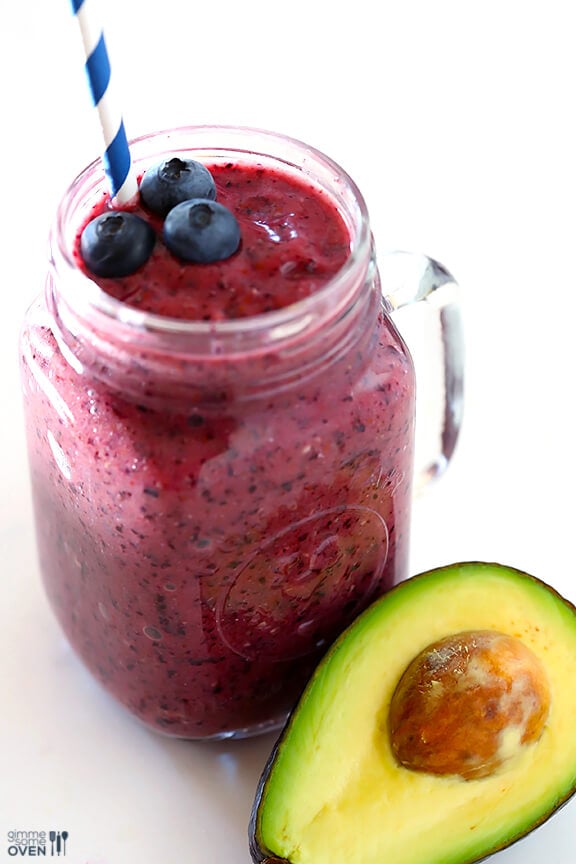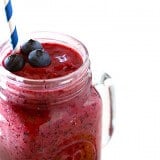 Brain Power Smoothie (Blueberry Avocado Smoothie)
This Brain Power Smoothie (Blueberry Avocado Smoothie) is packed with delicious ingredients that are all great for brain health.
Ingredients:
2 cups blueberries
1 cup pomegranate juice (or any berry juice)
1 cup ice cubes
1 Tbsp. chia seeds
1 ripe banana, peeled
half of an avocado, peeled and pitted
Directions:
Add all ingredients to a blender and pulse until combined and smooth.  If the smoothie is too thick, add more juice.  If the smoothie is too thin, add more ice.
All images and text ©
If you make this recipe, be sure to snap a photo and hashtag it #gimmesomeoven. I'd love to see what you cook!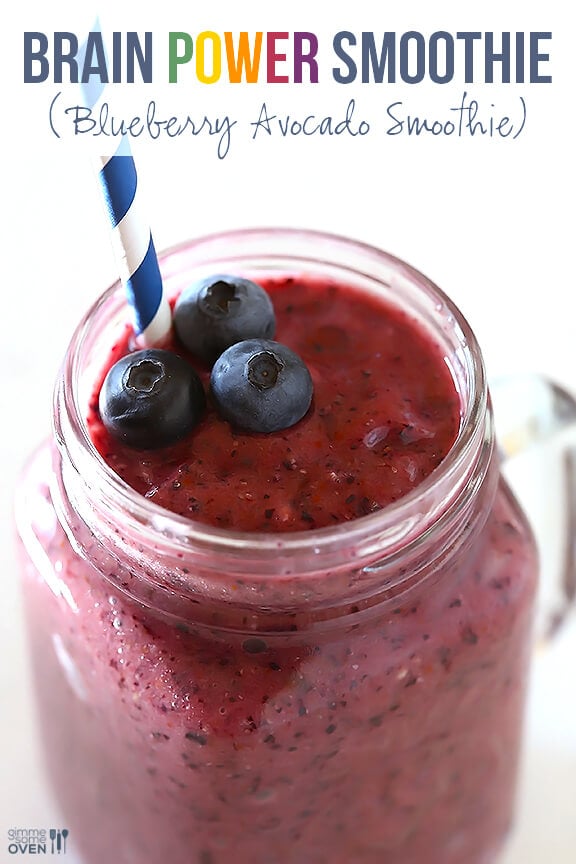 Be sure to check out these other great smoothie recipes too: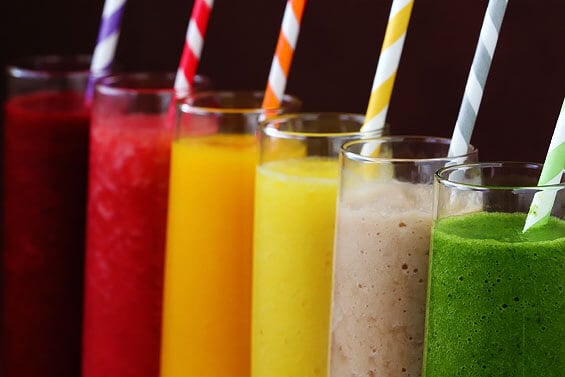 10 Favorite Smoothie Recipes from Gimme Some Oven