Chicken Enchilada Pasta Bake
Last night, I was having a conversation with all of you great folks on our Facebook page about comfort food.
The responses were fantastic.  And promptly made me very hungry.  :)
From pizzas, to salads, to pot roast, to cheesecake, to chocolate, and on and on, it sounds like there is a heck of a lot of great food out there that makes you all oh-so-comforted.  But can you guess what the most popular food group was?  Oh yes — pasta.  You all LOVE your pasta!  I'm right with you.
I've always said that my favorite comfort food is a three way tie between pasta, enchiladas, and egg drop soup.  So when I was dreaming up new recipes recently, I had the idea to see what it would be like to combine them.  Ok, not the egg drop soup, it stands — and probably should aways stand — alone.  ;)  But the idea of an enchilada pasta sounded tasty!
So this past weekend, I made a double batch of my favorite homemade red enchilada sauce.  And then instead of turning it into chicken enchiladas, I took most of my normal enchilada ingredients and tossed them together with some shells to make chicken enchilada pasta!  But since it's winter and casserole season, I decided to pop it in the oven with some extra cheese and make a chicken enchilada pasta bake.
Best idea of my week.
This pasta pretty much fulfilled all of my chicken enchilada pasta hopes and dreams…and then some.  :)
I was a little worried that I would be weirded out by the idea of all of my favorite enchilada ingredients in a pasta, but it tasted like the most natural thing in the world!  The sauce was flavorful and awesome, as always.  And when tossed with some shredded chicken, corn, black beans, onions and chiles, it tasted just like my favorite chicken enchiladas.  But I loved getting to enjoy it with some nice, chewy, pasta al dente!
And I couldn't resist throwing some extra avocado and fresh cilantro on top.  As I pretty much like to do any possible chance I get.  ;)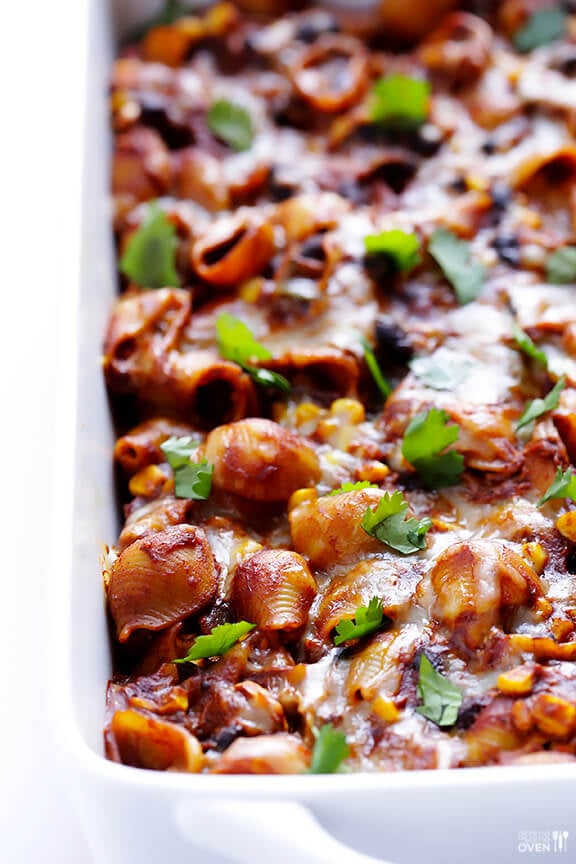 But while I went for my classic chicken enchilada ingredients, you could totally sub in whatever you love.  Not a chicken-eater?  Nix it and add in some more black beans!  Not a fan of black beans and corn?  Feel free to add in some roasted veggies!  Want some extra kick?  Saute in some jalapeno or serrano peppers with your onions.
Basically, do whatever you need to do to make this the chicken enchilada pasta of all your hopes and dreams.  ;)
Oh, and save me a serving!  ;)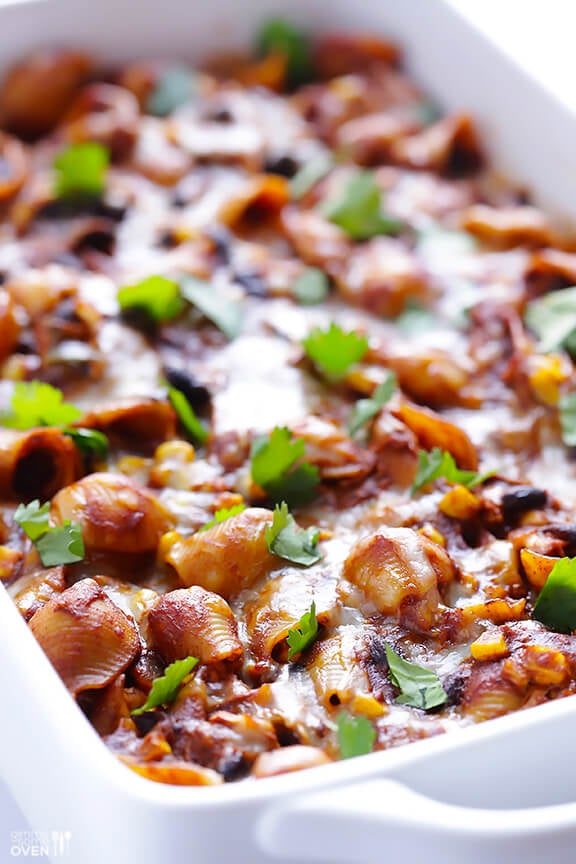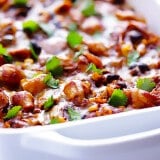 Chicken Enchilada Pasta Bake
The best of chicken enchiladas and pasta come together for this great new comfort food — Chicken Enchilada Pasta Bake!
Ingredients:
1 lb. dried pasta (I used large shells)
1 Tbsp. olive oil
1 small white onion, diced
1 (4 oz.) can diced green chiles
3 cups enchilada sauce, homemade http://www.gimmesomeoven.com/red-enchilada-sauce/ or store-bought (about two 10-ounce cans store-bought)
3 cups shredded cooked chicken http://www.gimmesomeoven.com/slow-cooker-chicken-recipe/
1 (15 oz.) can black beans, rinsed and drained
1 (15 oz.) can whole-kernel corn, drained
2.5 cups shredded Monterrey Jack or Mexican-blend cheese
optional toppings: diced avocado, fresh cilantro, sour cream
Directions:
Heat oven to 350 degrees.
Cook pasta in generously-salted boiling water until al dente according to package instructions.
Meanwhile, heat oil in a large skillet over medium-high heat. Add onion and saute for 5 minutes, stirring occasionally, until onion is translucent. Add green chiles and saute for an additional 2 minutes. Add enchilada sauce, shredded chicken, black beans, and corn, and stir to combine.
When the pasta reaches al dente, drain and remove from heat. Add the enchilada sauce mixture to the pasta, and stir to combine. Stir in 2 cups cheese until just combined, then transfer the pasta to a 9×13-inch greased baking dish. Sprinkle pasta with the remaining 1/2 cup cheese.
Bake for 15 minutes, or until cheese is melted and the mixture is warmed through. Serve immediately with optional toppings.
All images and text ©
If you make this recipe, be sure to snap a photo and hashtag it #gimmesomeoven. I'd love to see what you cook!