The Friday Five (Memorial Day Recipes Edition)
This post may contain affiliate links. Please read my disclosure policy.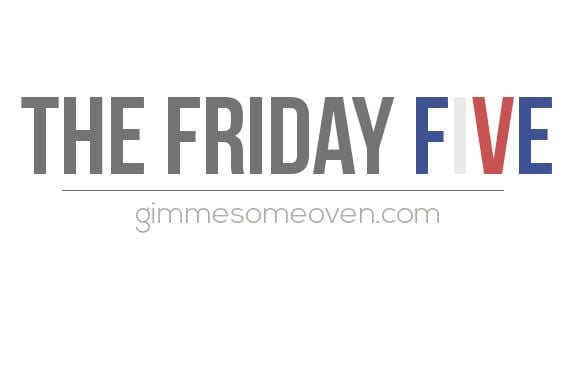 Happy Memorial Day Weekend, friends!
I hope you have a lovely and relaxing 3-day weekend ahead, hopefully shared with lots of friends and family. I going to be popping down to visit my parents (and see the new house they're building!) in Wichita for a few days. But otherwise, hopefully keeping the agenda work-free and catching up on some R&R here with friends in Kansas City.
Speaking of KC, I'm stoked to be attending my first Sporting KC game tonight! I am the worst sports fan ever and know next to nothing about the team or the league. But I know how to cheer!!! And I can't wait to finally see the high-tech stadium that everyone's always talking about, and have a relaxing night out sharing some KC pride with my neighbors. :)
Anyway, I already shared my "Sparkleritas" (Red, White and Blueberry Margaritas) on the blog this morning. But for those those looking for some last-minute Memorial Day recipes, I pulled together a few favorite recommendations from food bloggers below.
For those of you hitting the road this weekend, safe travels! And to everyone, I wish you a meaningful and wonderful Memorial Day weekend!
5 Epic Burgers To Try
5 Epic Veggie Burgers You Should Also Try
5 Creative Potato Salads
5 Scrumptious Pasta Salads
5 No-Bake Easy Pies For Dessert