Guiltless Chocolate Chip Pancakes + Cookbook Giveaway
In my dream world, I would live in a home overflowing with of books.
Rows upon rows, shelves upon shelves, cases upon cases, thousands upon thousands of books.
I was actually thinking back to my early days of Pinterest recently, remembering when the site was brand new, and I'm pretty sure that 90% of my pins were those epic houses and libraries and nooks that were filled to the ceiling with beautiful libraries of books.  Not recipes.  No, I was more inspired in the early days of Pinterest by all things book-ish, and fell in love with the idea of dwelling (literally) in the midst their great stories and knowledge and wisdom.
But as much as I would love to live in a house that was filled to the brim with thousands upon thousands of books, I made the decision to downsize a few years ago and simplify life by selling my house and half of my belongings.  And in doing so, I donated half of my books — already hundreds of books — to charity.  It was a bittersweet process, to be sure.  But a good one.  (Simplifying always is in the end, right?)  And for a sentimental person like me who naturally wants to hold on to everything, there was one simple question which helped me decide what to keep — would I actually re-read it?
With so many books and cookbooks, the answer to that was a simple "no".  Especially with my cookbooks.  I loved the look of having rows and rows of cookbooks lining my kitchen, and loved the initial flip-through to oooh and ahhh over the delicious photos.  But I have always found most of my recipes online, and decided that most of those books might get more use in some other cooks' kitchens.
But.  When The Skinnytaste Cookbook arrived on my doorstep last week and I began thumbing through the beautiful pages of recipes and healthy eating tips galore, I knew in an instant that this one was going to be a "keeper".  And I couldn't wait to dive in and actually start cooking all of those recipes that I had dog-eared.  So today I'm happy to be giving away a copy of the cookbook to one of you (see below for details!), and share with you the first recipe of Gina's that I made — Guiltless Chocolate Chip Pancakes.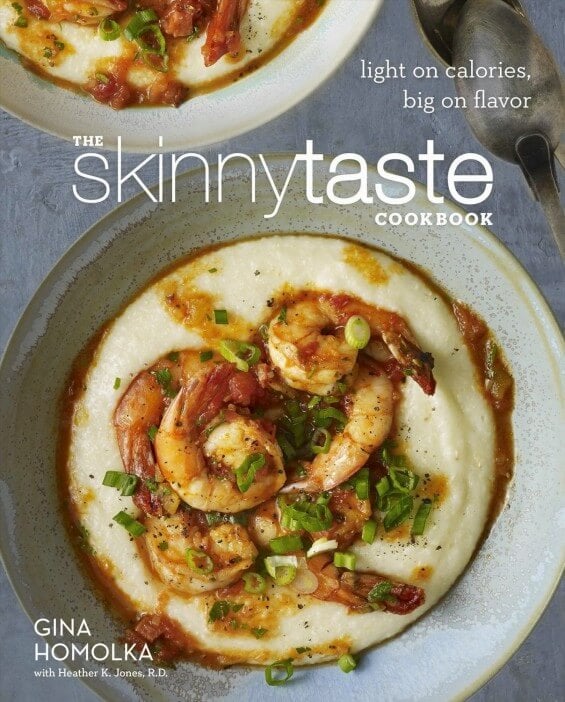 Of all the cookbooks from my food blogging friends, I have to say that I have probably been looking forward to this release the most.  I have been following Gina's blog seemingly forever — from the days that it began as Gina's Weight Watcher Recipes, through her decision to rename it Skinnytaste, and up through the release of her very first cookbook this past month.  And while everyone has been absolutely blown away by the success of the book (hello #1 spots on Amazon in the month even before it was released, and subsequent New York Times Best Seller status), I don't think any one has been surprised.
Because this girl and her recipes are simply wonderful.
First off, let's talk about her recipes.  Anyone who has read Gina's blog for years know that her recipes are good.  Make that, consistently good.  She began her site with the intention of sharing "delicious, healthy, low-fat, family friendly recipes", and she has not wavered from that purpose in 5+ years.  She is an absolute pro at lightening up classic recipes and coming up with creative new creations of her own, and people keep coming back for more because she is also consistent in keeping everything approachable and using everyday ingredients.  I have definitely learned tons of tips and tricks from her about healthy cooking over the years, and love how she has translated so many of my favorite comfort food dishes into (what my friend, Kate, distinguishes as) "feel good" recipes.  Especially her Baked Chicken Parmesan — the best!!!
But I have to say, I am an even bigger fangirl of Gina's nowadays after having had the chance to get to know her in person over the past year.  Somehow I lucked out this year, and we ended up on three trips together, and as you're reading this we're actually back in Utah together at another retreat.  And let me just tell you, this girl is a positive delight in person.  She's warm, encouraging, funny, smart, hard-working, positive, thoughtful, and always smiling.  She's the mom of two beautiful girls, one in elementary school and one in college (although Gina doesn't look a day over 30).  Oh, and she is totally a New Yorker and has the best accent, which always makes this Midwesterner happy.  :)
But what impresses me the most about Gina is how she has stayed so incredibly humble and grateful and plugged into her community, even while experiencing tremendous career success.  Just earlier this month, she was on national TV on evening selling thousands of copies of her new book, and then the next morning she was hanging out in cozy slippers soaking up some girl time with friends and graciously helping me brainstorm some recipes for a project, like it was no big deal.  Because while this stage of her career is a very big deal (and well-earned, I would add), she's keeps things in perspective, and knows that all of the friends and family in her life are an equally big deal.  And continues to be her awesome self within her community, as well as rocking it on the shelves at Target.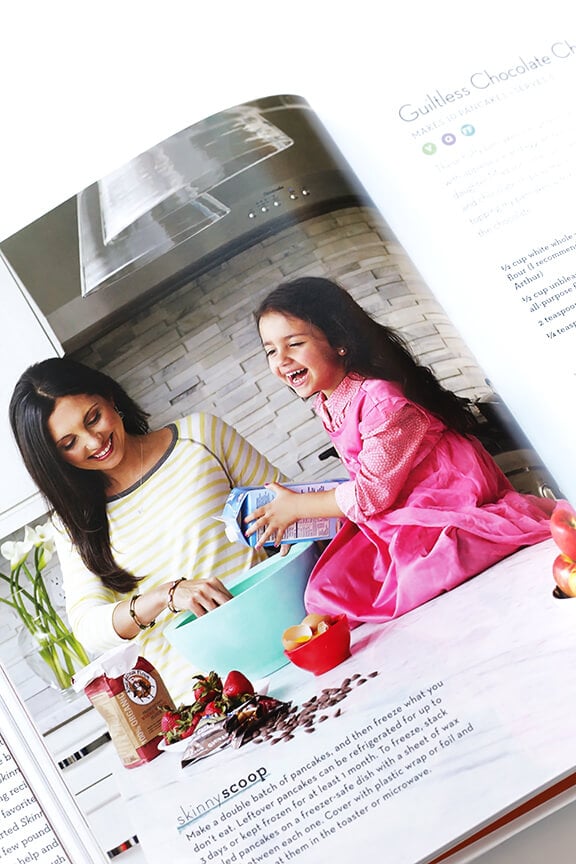 Anyway, I could go on, but just trust me — she's great.  :)
As are these Guiltless Chocolate Chip pancakes that are in her new cookbook.  And this adorable photo of Gina and her daughter making them.  (I love her little princess dress!)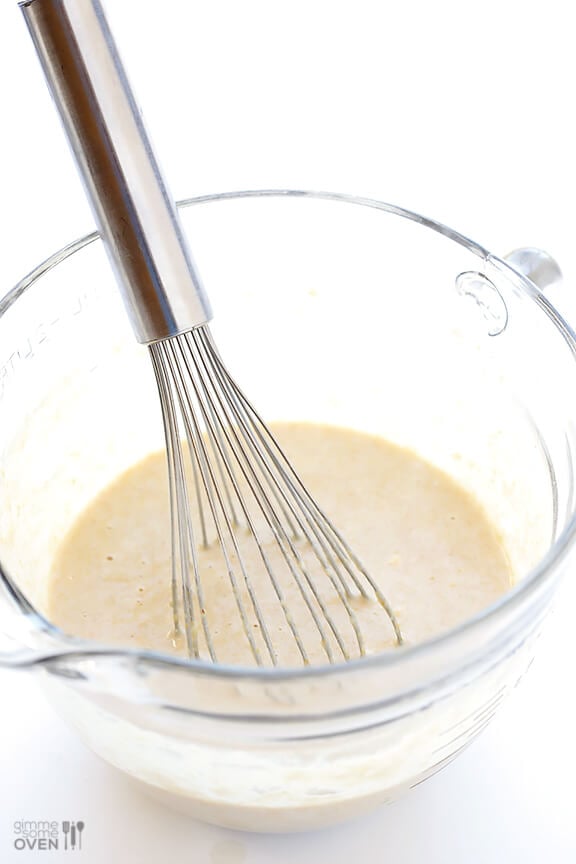 True to form with Gina's site, these pancakes are lightened up significantly in terms of fat and calories, but they taste just as decadent as ever.  Part of that is due to this delicious batter, which is made lighter with egg whites.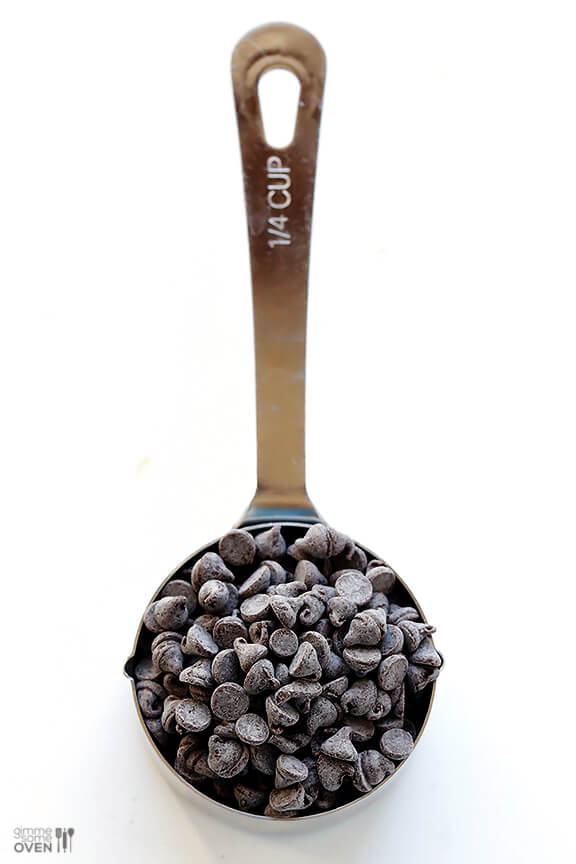 And part is due to the use of one of my favorite ingredients — mini chocolate chips.  Each pancake gets a sprinkle of them, which is enough for a satisfying (yet not overly) chocolate-y breakfast.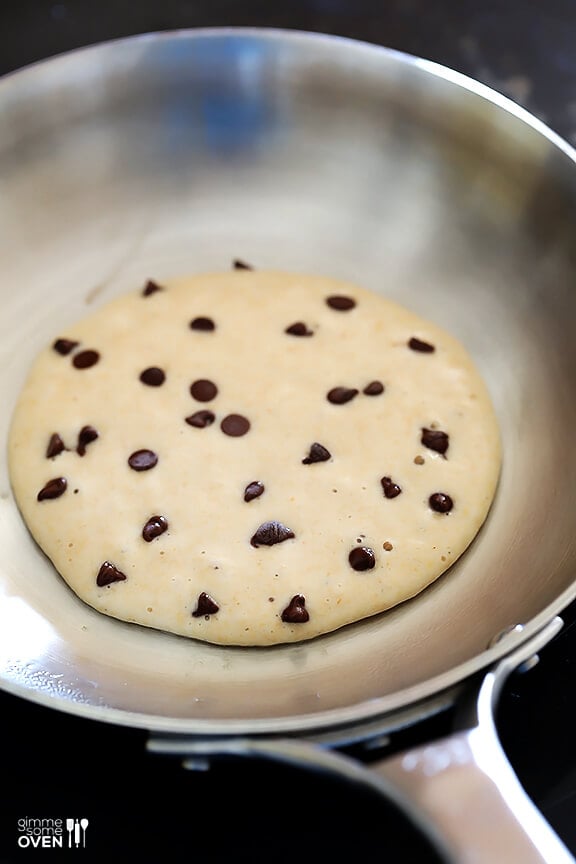 Just cook them up in a griddle or skillet…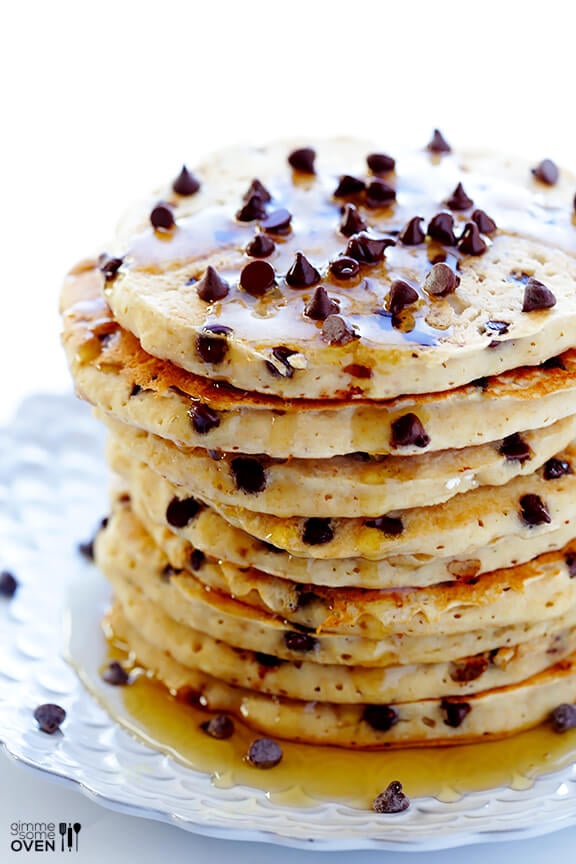 And then you can serve them plain, or drizzled with a little bit of honey or maple syrup.  I surprised myself and didn't use all of the chocolate chips in the recipe, so I sprinkled the extras on top.
Pretty sure I wouldn't have guessed "guiltless" from looking at this photo, but that's Skinnytaste for you.  ;)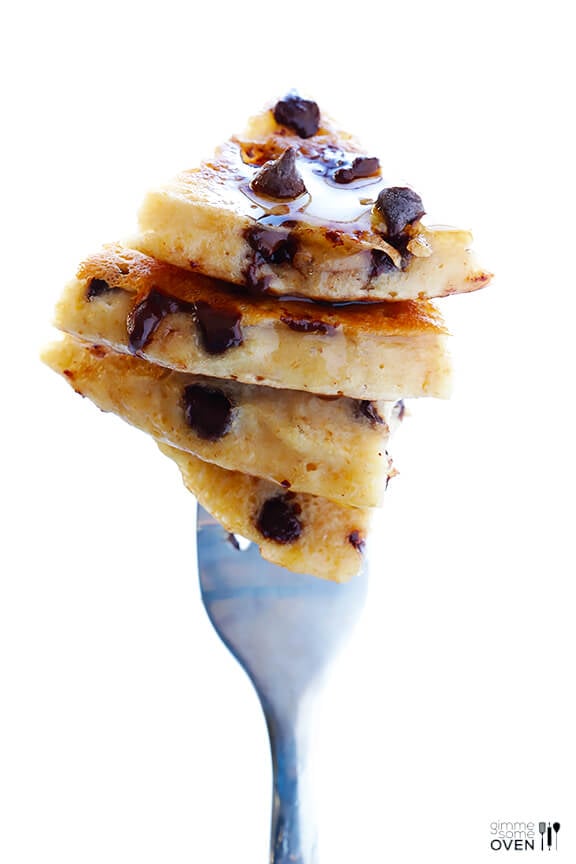 Just like Gina says, they are "delicious, healthy, low-fat, and family friendly".  And I would add, crazy good.
So all that said, if you'd like to enter our mini giveaway here for a chance to win a copy of The Skinnytaste Cookbook, just leave one comment below telling us your favorite comfort food (that is lightened up, or that you would like to see lightened up).  And I will chose a winner on November 1.
Or, you can just pick up a copy for yourself online or at a local bookseller if you'd like, which I highly recommend.
Thanks for a great recipe, a great cookbook, and just for being great, Gina!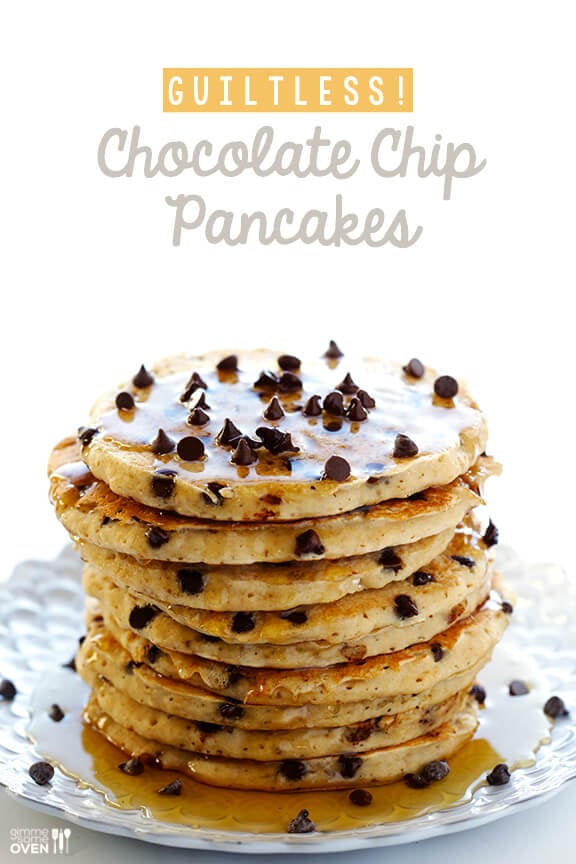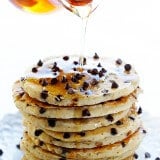 Guiltless Chocolate Chip Pancakes
These guiltless chocolate chip pancakes are so sweet and comforting, yet all the more enjoyable knowing they are made with lighter ingredients.
Ingredients:
1/2 cup white whole wheat flour
1/2 cup unbleached all-purpose flour
2 teaspoons baking powder
1/4 teaspoon kosher salt
1/2 cup unsweetened applesauce
1 cup unsweetened almond milk (or soy or low-fat dairy milk)
3 large egg whites
2 teaspoons canola or vegetable oil
1 teaspoon pure vanilla extract
cooking spray or oil mister
1/4 cup mini chocolate chips
honey or pure maple syrup, for serving (optional)
Directions:
In a large bowl, whisk together the flours, baking powder and salt.
In a separate bowl, combine the applesauce, almond milk, egg whites, oil and vanilla.  Stir the flour mixture into the applesauce mixture until just moist, being careful not to overmix.
Heat a large nonstick griddle over medium-low heat.  When hot, lightly spray the pan with oil.  Scoop out 1/4 cup of pancake batter for each pancake, then sprinkle 1 teaspoon of chocolate chips on top.  Cook until the pancakes start to bubble and the edges begin to set, 1 1/2 minutes.  Flip the pancakes over and cook the second side until golden, 1 1/2 minutes.  Repeat with the remaining batter.
To serve, put 2 pancakes on each of 5 serving plates and then top with honey or maple syrup (if using).
If you make this recipe, be sure to snap a photo and hashtag it #gimmesomeoven. I'd love to see what you cook!
Also, for any of you bloggers or photographers who might be interested in how I shot the above pancakes-on-a-fork, I just published a post on How To Photograph Floating Food on the new Photography Resources section of the site.  If you're interested, check it out!